If you have kids, you have done the whole back-to-school shopping thing plenty of times, making you an expert at it by now. (No. 2 pencils: check!, loose-leaf paper: check!)
But if your son or daughter is going away to college for the first time this fall, your annual tradition is about to be a completely different experience.
The debate over which binder cover to get is going to be traded out for which bedspread to buy. And whether or not you have enough ink pens is going to be less important than what kind of push pins will hold up photos from home better. Yup, college is all about learning, but some of the most important supplies you can buy for your incoming freshman are ones that will make their dorm feel comfortable as they adjust to living on their own for the first time.
So, what do they really need, aside from the basics? We chatted with Madeline Fraser and Lizzie Grover, founders ofZoom Interiors — an online interior design company that specializes in small spaces like dorm rooms. Parents and students often go to them for decor consultations and they generate a final shopping list for the space.
Check out their suggestions below.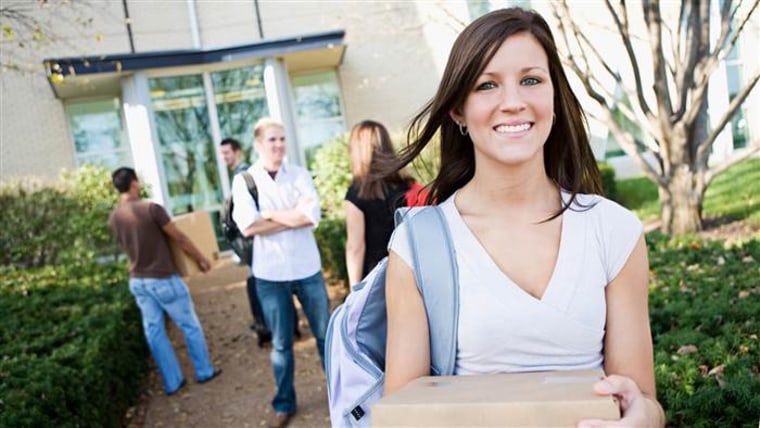 What they need
Good lighting
"This is a huge must," says Grover. "The main goal is to make the room feel as homey as possible, but most dorms have LED lighting."
And that doesn't quite equal "cozyness." That's why table lamps (one for the desk and one by the bed) are a good investment.
"We know space is an issue, so there are great sconces that plug into the wall, or you can hang string lights for a natural feeling glow."
RELATED: Summer organizing to get you ready for the holiday season
Clear push pins
"Utilize the vertical space and use your wall space as much as possible," says Fraser. Sometimes the simplest things like clear push pins can do so much. She says they not only assist with the hanging of art, but can be a unique and fun way to store things like hats, jewelry, belts, and ties on the wall.
Ottoman
Pick up one that has storage on the inside of it so they can stash some of the clutter but also use it as extra seating, Grover suggests.
Bed risers
"This may be a little obvious," Fraser says, "but you can get four feet extra under your bed with these things." She recalls raising her dorm bed so high that she was able to get a set of drawers under there, a win for a room that is notorious for its small size.
RELATED: Five things organized people do every single day
Washi tape
Let's face it — dorm rooms aren't the coolest spaces. But this colorful tape is all the rage among DIYers right now, and Grover says that it can transform a room. "You can use it to cover ugly built ins wood tones or play with colors and patterns," she says.
Area rug
This is great if your son or daughter has a roommate and wants to define their space, says Grover. It also adds color and texture, making the space reflect who you are, she adds. "You just want to make sure you're not too matchy matchy," she says.
What they don't need
Bulletin board
"Unless you have cool one, they're not that awesome because they're so standard," says Fraser. "Just use a push pin in the wall." If you're feeling creative, she suggests using washi tape to make an outline of a board.
Folding chairs
"They're not comfortable," says Grover.
Lots of towels and linens
"We have a lot of parents buy three or four sets of sheets and towels," Grover says. "It just takes up room. When in doubt, don't buy it. You can always come back."
Both agreed that less is more when it comes to decorating your child's dorm room. Another tip they gave is to go with white if you don't know what color to choose. "It makes the space feel bigger and brighter," Fraser says. "For guys' rooms, gray is a good staple."
"Have fun with it; don't take it too seriously," she adds. "It's really a time to have fun decorating and not get stressed out."