Color is a powerful thing — so why not put that power to good use when painting your home?
"Color is the ultimate tool for creating the mood in any space," says interior designer Kelly Berg, owner of Story & Space, a boutique firm specializing in color. Berk, along with other experts, is chiming in on the best paint colors to use when creating a relaxed vibe in a room — and it looks like blue and green take the cake.
But here's how to use them effectively: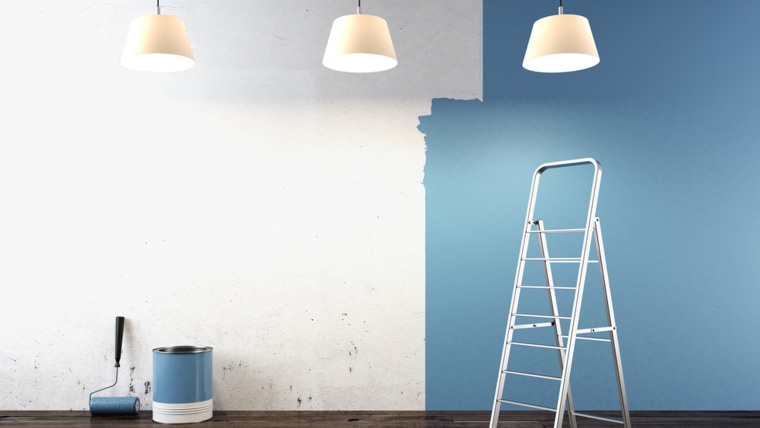 Rule of thumb
Generally speaking, soft, muted tones of cool colors like blue, green (and even purple) will create a serene effect (light and dark shades work equally well).
Bedroom and bathroom
The specific room you're painting is an important factor when it comes to choosing a calm paint color. Soothing blues, for example, are popular in the bedroom and bathroom. "The association of blue with water and sky and the infinite nature of each adds to blue's calming effect," says architectural color consultant Amy Krane of Amy Krane Color, located in New York.
Kitchen and home office
Greens, on the other hand, are both relaxing and great for concentration (especially for those who are partial to the great outdoors), making it a perfect match for workspaces, like the kitchen or office. "Think about a muted green," suggests Krane. "Add touches of brown or grey to keep it low key, blue to keep it restful, red to enliven it."
What not to do
Ultra bright, opposing colors like orange, red and yellow can kill your chill, Krane says, so limit sunny shades to small decorative accents and accessories.
Bottom line
There are definitely collective responses humans have toward color, but personal preference matters too. Says Berg: "The more we can trust our basic innate responses, the closer we can get to creating spaces that reflect our desired mood."
We can't throw shade on that.