/ Source: 90 Degrees by Reflex
First comes love, then comes registering.
Before anyone walks down the aisle comes the fun yet tricky task of registering for wedding gifts. And with that product scanner from your favorite home store comes a load of decisions. Do we really want 800-thread count sheets? Vitamix or NutriBullet? Are these the bowls we will want to eat ice cream out of for the rest of time? What do you mean you like those curtains? How could I possibly marry someone who likes those curtains?!
Many, many couples have walked the wedding registry path and lived to talk about it. Here are tips from a few former brides.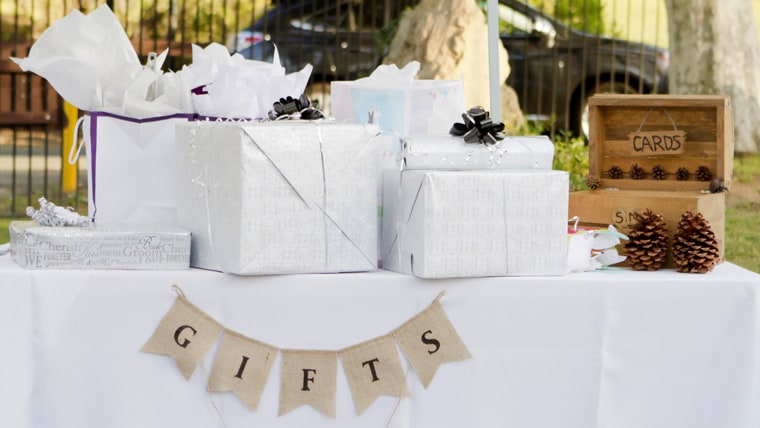 1. First things first: Register.
I didn't want to build a registry at all, and then friends started sending my husband and me the most random gifts. Well, not random. Just not things we like. In a one-bedroom Brooklyn apartment, there are only so many heart-themed prints you can hang! So we built a registry late in the game and added things we were excited about (Apple TV! furry blankets! pretty frames!). We still got a few gifts that we'll never use — at least not as long as we live in New York City — but taking control of the gift-giving ended up being a huge relief for the both of us. –Lauren Sullivan
2. Consider a honeymoon registry — or an elegant way for friends to gift you cash.
Your guests want to celebrate you, and give you something you'll love — but it can be hard for friends to get excited about clicking a box on your registry and sending you that cheese grater you asked for, or the remaining four water glasses you need.
If you add a honeymoon registry (Honeyfund is easy to use), you can let your friends give you fun experiences like "1 safari tour" or "1 helicopter ride" — you create items on your honeymoon wish list, and while the gift is technically cash (the site allows your guests to either send you a check or PayPal the amount), the giver will feel like they gave you a moment to remember. Plus, when you send your thank-you notes, you can actually thank them for the experience they gave you! – Meena Hart Duerson
3. But register for some real things as well.
Your more traditional relatives and friends will want to get you something tangible. Not everyone will feel comfortable gifting cash, and they'll want to get you something concrete for your house. Make sure you choose a few things you'd actually like to receive, or you'll struggle with people sending you things off-registry that you don't like — and can't return. –Meena Hart Duerson
4. Choose items in a range of price points.
There's nothing more frustrating than going to send someone a gift — and finding the only thing left is the $5 plastic spoon or the $5,000 sheet set. Make sure there are options in the middle! –Meena Hart Duerson
5. Skip the fancy china.
Unless you're close friends with Duchess Kate and she'll be coming over regularly for tea, you won't miss it. We registered for a really nice set of china, but when no one bought those items, it was the biggest relief. We ended up just getting ourselves a set of more everyday dishware, which are much cheaper to replace when things get chipped or broken! –Meena Hart Duerson
6. Register somewhere that reflects your lifestyle and your taste, but definitely look for special events!
Crate & Barrel opened early on certain Sundays for registering couples and had mimosas, paninis and breakfast pastries that were delivered to you as you walked around the store. The food alone was soooo worth the repercussions of holding a registry zapper after a flute or two of champagne. "Why yes, we SHOULD register for those silk curtains we never knew we needed, and I should probably have another panini for good measure." -Carissa Ray
7. Simpler is better.
I had no questions about the black-and-blue stoneware we registered for. I mean, you've gotta eat, right? And we received even more settings than we zapped.
Eight years later, I'm totally sick of it and wish I'd realized that the plates were "tippy" when you cut food on them, something we couldn't tell in the store when deciding we needed 10 settings. I now find myself drawn to simpler pottery that fits our lifestyle now and that mixes and matches well rather than having one matchy-match set of dishes. Also, with a butterfingers husband, this helps us avoid replacing full sets when he inevitably drops something in the kitchen. -Carissa Ray
8. Don't select décor items specific to where you live if you're not really, really certain you're in what will be your long-term home. Even then, see above – simpler is better.
My husband and I owned a home in Seattle and unexpectedly received and accepted a job offer in New York City. All those kitchen items that were so perfectly displayed in the newly remodeled kitchen of our first home now had to be packed into a New York City kitchen (or stored in my mother's basement).
Now that we're thinking about what will be our next family home with our two little girls, hindsight would have me fill that registry with more gift cards and cash to have put toward remodels and necessities that came up in our early marriage. -Carissa Ray
9. Take a breath.
The stuff we were gifted was, in many cases, just stuff. A few things we loved, some that were quite handy and many we could certainly live without (and in many cases these years later, are living without). -Carissa Ray