Want to get something unique and fun for the hostess of a summer bash? Robyn Spizman, gift guru and author of "The Thank You Book," shares suggestions that have a personal touch — and won't end up in the re-gifting bin:
At-Home Dinner Parties
Breadwinner breads, $15 per loaf
No time to bake? Send a delicious loaf! Breadwinner's sweet, homemade seasonal loaves are made fresh and weigh in at a rich two pounds of deliciousness. Choose from flavors like "Sweet Home Ala-Banana Bread," "Papa Don't Peach" and "Better Than a Bubble Bath Mocha Chocolate Chip," or combine two for the "Bunk Bread" or three for a "Breadage a Trois" gift box. 1-866-514-LOAF/ www.breadwinnerbreads.com
Monogrammed soap, $28
This elegant gift set of three monogrammed 5-oz. soaps from Lands' End arrives in a simple, gracious white gift box. The soaps, triple-milled in the U.S. for purity and longevity, are a soft white. Monogrammed for free with the initials (single or triple) of your hostess, this set makes for a sophisticated and simple gesture of gratitude. So next time you're visiting for a weekend or a dinner party, thank your hostess with the monogrammed soap set, which she'll undoubtedly proudly have on display in her powder room the next time you drop by. 1-800-800-5800/ www.landsend.com
Wine 'n Dine, $27 for a set of 6
Juggling a food of plate and a drink can be tricky, especially if you're trying to socialize at the same time! Make it easier with these clever plates, which feature a slot for wine or champagne glasses. Break-resistant and festively colored, these plates even give you a free limb for using a fork, shaking hands or stocking up on more delicious eats! www.beveragefactory.com
Barbecues and Picnics
Spinning Appetizer on Ice, $37
Gift-giving isn't stressful with products like Salad on Ice ($23) or spinning Appetizer on Ice ($37). The innovative serving bowl and platter have an ice compartment that keeps food cool and crisp. It also features utensils that hook right onto the bowl for safe keeping — this is the freshest salad bowl and appetizer platter out there! Hand wash recommended.
1-866-323-9654/ www.simplysmartliving.com
Lake, Mountain or Vacation Home Get-togethers
Table Topics card games!, $24
This fun game is guaranteed to start conversation and keep it going for hours. Pull cards and answer questions like "What was the worst job you ever had?" and "Where would you go if you could go anywhere in the world?" The questions are designed to invoke reflection, reminiscing and engaging conversation. A great activity for after the kids are in bed! Couple, family, teen, girls' night out, spirit and book club versions are also available. 1-888.365.0056/ www.uncommongoods.com.
Artful candles, $30
Keep the light on with candles that are also art! Made using a special wax painting process, they feature shimmering swirls of gold intertwined with rich jewel tones for an elegant centerpiece. After the candle has burned, the gorgeous blown-glass globe makes a wonderful decorative bowl or repeat candleholder! 1- 706-258-2700/ www.wrapsodyinblueridge.com
Pool Parties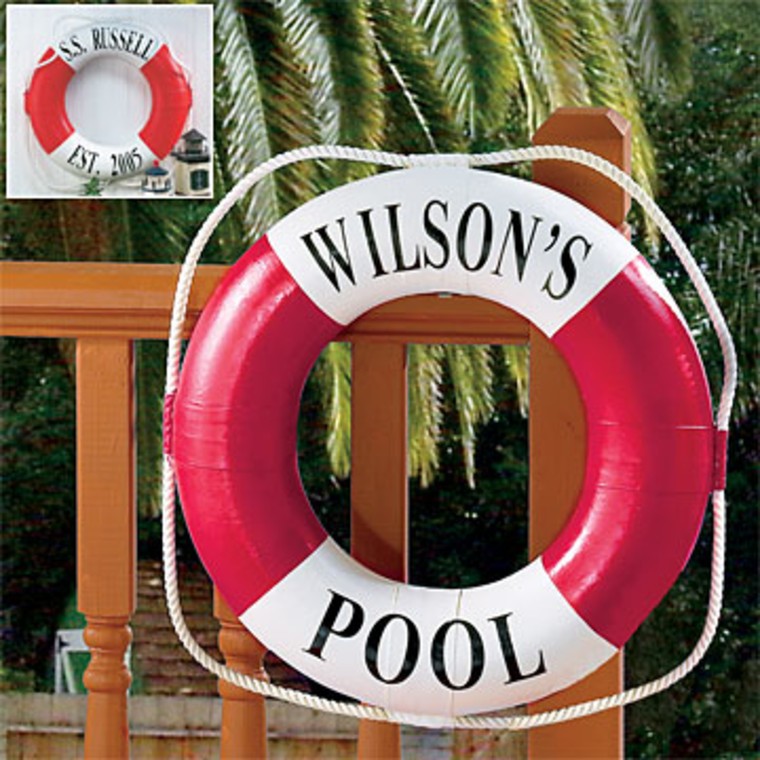 Personalized life preserver ring, $50
A gift that will remind everyone to have fun and stay safe! This personalized life preserver is the perfect gift for your favorite water-loving hostess. Kids will love it, and with its traditional design it makes a charming decorative addition to any poolside. Save the day with this extremely durable, for-looks-only gift! Go overboard! Personalized with 2-line message up to 12 characters per line, for decorative use only. 1-800-326-6626/ www.personalcreations.com
Remote control floating serving tray, $50
Let the pool bums float in peace with this handy tray that can navigate from raft to shore and back again! It can hold up to five 12-ounce cans of soda and up to 16 ounces of your favorite snack. It can move backward, forward, left and right, and rotate 360 degrees. It won't capsize and the remote has a range of 25 effort-free feet! 1-800-543-3366/ www.hammacher.com
Beach Parties
Steady stick table and wine holders, $54
Outdoor eaters can enjoy all the elegance of wine or champagne without the worries. Four glass holders, a bottle holder and a bamboo table are designed to stick stylishly and practically in the ground wherever the picnicking or outdoor enthusiast feels hungry (or thirsty!). Holders and table available separately. 1-877-733-3683/ www.redenvelope.com
Personalized cookie messages, $13
Choose a memorable non-copyrighted snapshot of the family, hostess or party crew and have it put on a dozen brownie lollipops ($27 per dozen; 2 dozen minimum) or check out the "Say It In Cookies" message in a box (Starts at $13 for an 8-letter message). These incredible edibles are outrageous and picture perfect! 1-866.576.1122/ www.veronicastreats.com 
Pup-cakes For the pet, $30 for a set of four pup-cakes; $8 for one cake
Consider bringing a fun treat for the queen or king of the household. These pet sweets from the utopia site for pets will be a huge hit! Check out the pet toy cupcakes (pup-cakes), sweets and more! Muttropolis' darling "Pup-cake Squeaky Dog Toy Set" is available at www.muttropolis.com and is sure to please both hostess and hound! The set includes four hand-detailed, super-soft velour squeaky dog toys perfectly modeled after actual chocolate and strawberry cupcakes, a strawberry shortcake and a truffle torte! $30 for a set of four pup-cakes or $8 for a single cake plus shipping and handling. All are available at www.muttropolis.com or by calling 1-888-688-8799.Fore more gift tips and suggestions, visit RobynSpizman.com