That last great summer vacation may have faded too quickly into the back-to-school blur — but the memories will last a lifetime. Keep them alive in your home every day with these 6 fun ideas for enshrining travel mementos, souvenirs and photos as home décor.
Fridge magnets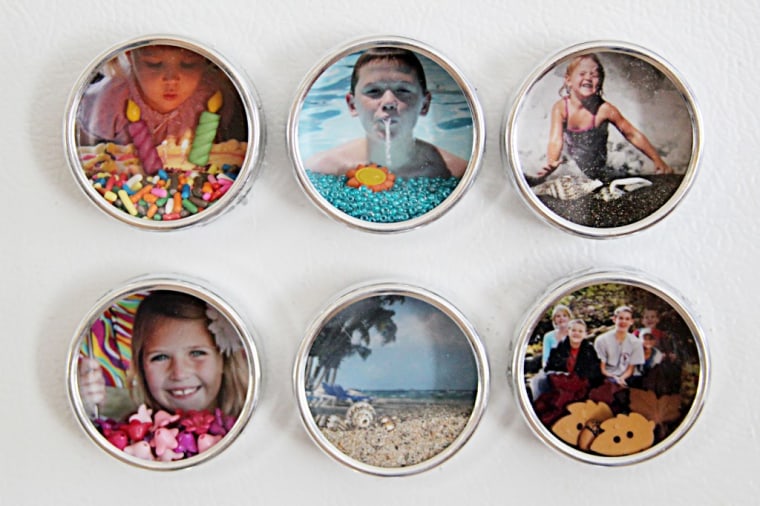 What's a more trafficked place in the house than the refrigerator? Remember those sunny beach days every time you reach for the milk with fridge magnets filled with vacation photos, shells, sand — whatever you like! Crafts Unleashed has the tutorial.

Memory jar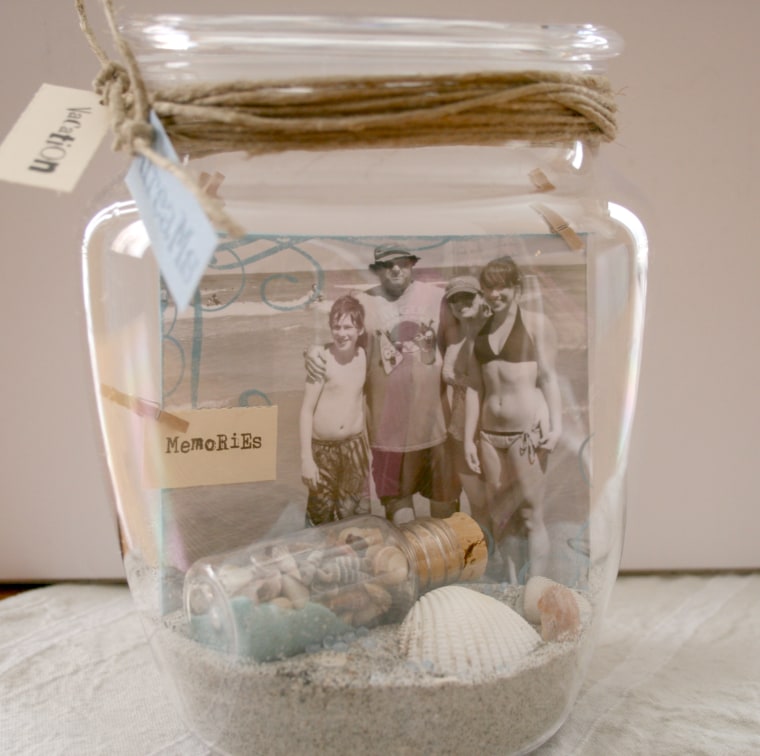 A simple glass or acrylic jar becomes magical when filled with vacation photos tucked into sand salvaged from that special beach you never want to forget. Place it on a mantle or shelf for warm fuzzies every time you pass. Echoes of Laughter has a charming example.

Sand gallery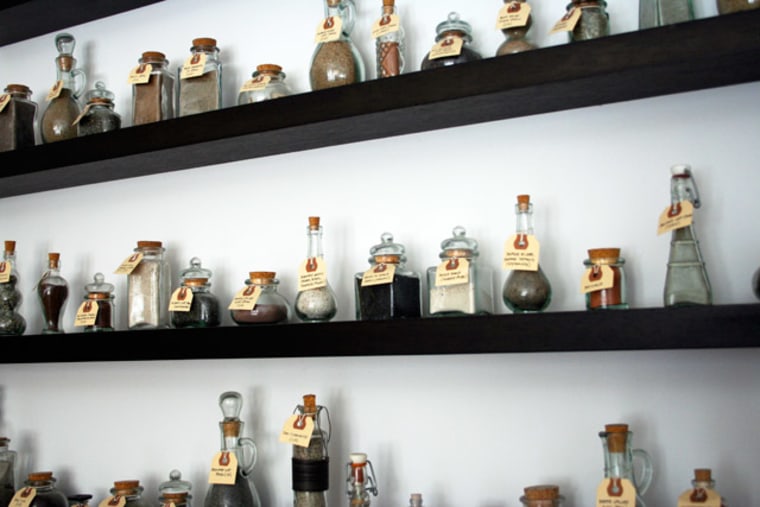 If you never want to forget the feeling of running your toes through the warm sand of that perfect summer vacation destination, take a handful home and add it to a conversation-starting collection stored tidily in labeled jars. Try it with water and even dirt from cherished locations too, as Egg2Cake demonstrates.

Postcard-filled vase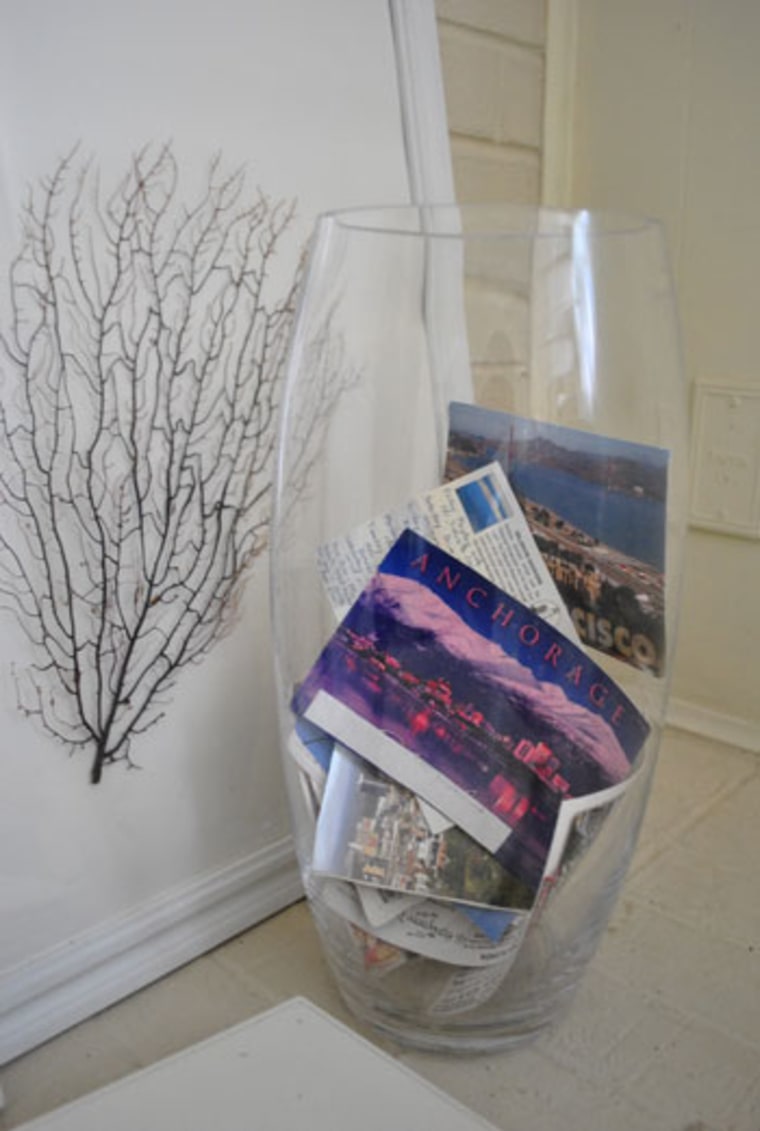 Forget spendy souvenirs — sometimes it's the simplest things that make the best memories. On each vacation, pick up a postcard for pocket change. Use it to record your fondest memories from the trip and mail it to yourself. When you get home, drop it in a vase and add it to a colorful collection you can grow — and cherish — as the years go by and the vessel fills with fond memories. Young House Love has the idea.

Map photo wall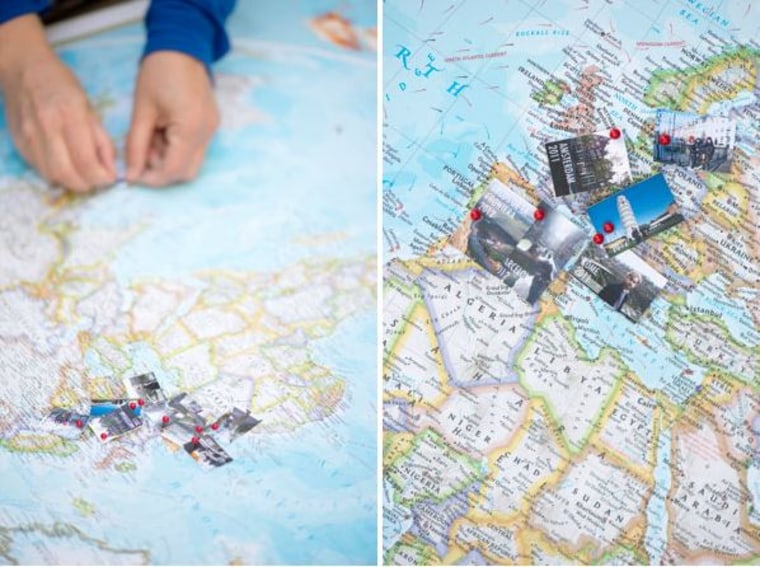 Here's an idea that is as educational as it is a warm reminder of every place you have been together as a family, like Jordan Ferney did on her blog Oh Happy Day. Use a large wall map to pin tiny, dated photos in the locations you've visited. Keep adding as you go, and the map becomes a wonderfully nostalgic décor piece, as well as a chance to educate kids (and grownups!) about where everything is in the world.

Gallery wall

Dedicate a hallway or wall in the house as a special place for vacation memories to live on forever. Pick up a collection of like frames — or make them all different for a rich, flea-market inspired look as eclectic as your travels — and fill them with photos, maps, ticket stubs, art or even coins. Keep adding to the wall after each trip to watch the collection grow. Bigger Than the Three of Us has a colorful example (plus a free download of a travel-lovers' quote to add to the wall).
Alesandra Dubin is a Los Angeles-based writer and the founder of home and travel blog Homebody in Motion. Follow her on Facebook, Google+ and Twitter.