Beach chairs and towels are a great deal. Sunscreen and summer produce? Not so much. We asked the experts how to spot the best bargains at Costco, Sam's and BJ's.
A few rules for starters
Costco, Sam's Club, and BJ's Wholesale Club offer big savings on everything from alcohol to sweet treats. But it takes a careful shopper to spot the real deals. The wholesale stores are known for their cheap prices and bulk items. In fact, it's easy to go in and assume you're getting a better deal than if you shopped at a grocery or specialty store -- which you often are, just not on every item. Many people justify even the most expensive items because of the vast quantity they are receiving -- but really, are you going to use all that ketchup? We've come up with a list of what to buy and skip this summer to ensure you're spending your money wisely.
Here are a few things to keep in mind before you shop. When you make an impulse purchase at Costco or Sam's, it tends to be a big one, so make sure you're buying something you really want or need. Second, always check per-unit pricing. Just because something is in an enormous container doesn't make it cheaper. Finally, don't join a warehouse store until you've tried shopping there. Some will let you sign up for a free trial membership before requiring you to commit.
RELATED: 5 things you should never buy at Costco, Sam's Club (and 6 things you should)
Buy This: Beach Chairs
You can get two super chairs with all of the bells and whistles for about $60 at a warehouse store, says Andrea Woroch, a consumer savings expert at kinoliinc.com. While it's possible to find cheaper basic chairs at Target or CVS, the quality won't be as good and they won't have those luxury touches. Think hard about how much you want that drink holder and fancy headrest!
Skip That: Sunscreen
Sure, sunscreen can be expensive, but with the right coupons and timing, you can save much more buying it at a grocery or drug store, says Jackie Warrick, Chief Savings Officer and President at CouponCabin.com. Plus, sunscreen has an expiration date and loses its effectiveness over time, so if you buy a large amount, it will likely go to waste before you can use it.
RELATED: How to buy food in bulk and save money at the grocery store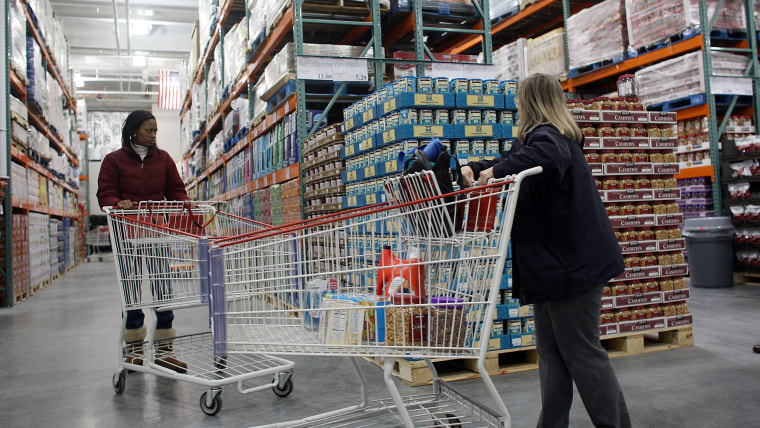 Buy This: Boogie Boards
Too many travelers buy boogie boards and surf boards on impulse, while on vacation, at hugely inflated prices. You're much better off planning ahead and picking a board at a warehouse store before your trip, says Woroch.
Skip That: Pool Supplies and Cleaners
Unless you're an expert, you should consult a specialty retail shop that can help you find the right equipment for maintaining your pool, says Woroch. Specialty shops also offer a wider selection of brands and products. Look for deals during popular holiday sales and at the end of season.
RELATED: Dollar store deals--what to buy and what to skip
Buy This: Beach Towels
Warehouse stores offer the best prices on beach towels this time of year, says Woroch. You can find good deals elsewhere, but only during end-of-the-season sales at places like Macy's. "Multipacked beach towels are a good value at warehouse stores," agrees Yeager. "They are a beefier towel. You can find towels at a dollar store, but they are so flimsy they are almost like a paper towel."
Skip That: Flip-Flops
A warehouse store might have higher quality flip-flops, says Jeff Yeager, author of The Ultimate Cheapskate's Roadmap to True Riches. But given that most people replace their flip-flops every year, do you really need a high-end brand? "You might be better off at the dollar store." Besides, warehouse stores might make you buy flip-flops in bulk, which most of us don't need.
RELATED: Cheapism: 25 things that are cheaper at Whole Foods
Buy This: Charcoal
"I always buy my charcoal at a warehouse store," says Yeager. You have to buy relatively large quantities, perhaps two 20-pound bags cellophaned together, but it is considerably cheaper than at your local supermarket. Plus, if you're doing lots of summer grilling, you'll go through it quickly. Charcoal also keeps for a long time. "Nothing bugs me more than when we run out, and I end up running to the supermarket, where I pay for 10 pounds what I pay for 40 pounds at Costco."
Skip That: Pool Floats
You can easily find gigantic floats at warehouse stores, says Woroch. But for most of us, a basic blow-up lounger will suffice. Pick those up from Walmart or Target instead, for a mere $8 to $20.
Buy This: Swim Suits
Swimmers can find quality brand swimwear for less at warehouse stores, says Yeager. "My wife teaches water aerobics and she swears by the ones in Costco."
RELATED: What to buy and skip at Trader Joe's
Skip That: Summer Produce
Even salad-loving families will have trouble getting through six heads of romaine before it begins to wilt, says Warrick. There is no point in buying produce in bulk. You'll get better savings at your local grocery store, or at a summer farm stand. And when you buy smaller quantities, you're less likely to waste food. "The warehouse stores make no effort to specialize on seasonal produce," Yeager concurs. "Their produce is unchanged year round. They always have what they have. If you live in an area with great fresh tomatoes, you won't find them at Costco."
Buy This: Hamburger Meat
These items can probably be found for less at your local discount grocer, says Yeager, but the big box stores offer much higher-grade products. "There's almost restaurant-grade meat and produce and cheese," he says.
You can find large portions of ground chuck for hamburger patties at nearly 40 percent less than at grocery stores, says Woroch. Use them to feed a large gathering and simply freeze what you don't use for future meals.
RELATED: Does it pay to be a warehouse club member?
Skip That: Tents
You may find a tent or two at warehouse stores, says Yeager. But you won't find much of a selection, which makes it hard to figure out if the tents are actually a good value. "I would rather go to an REI store, where I could at least see 18 different tents that might interest me, as opposed to just one."
Buy This: Tires
With the change of season, it's time to rotate your tires again. And warehouse stores offer the most competitive deals on tires, says Woroch. Plus, you can get them fitted while you shop for the rest of the things on your list.
Yeager says you'll save 10 to 20 percent on the same tires sold at automotive stores. Warehouse stores also offer great service, he adds. They'll put the tires on for you while you shop.
RELATED: What you need to know when buying a refrigerator
Skip That: Ketchup and Other Condiments
No matter how many barbecues, picnics, and birthday parties you host this summer, you're unlikely to get through one of the massive bottles of ketchup or mustard for sale at warehouse stores, says Warrick. Leave them for the food service industry. You're better off using coupons for smaller bottles of condiments.
Buy This: Frozen Foods
You can save a bundle on frozen party appetizers like mini-tacos, dips and more for a summer barbecue or party, says Warrick. Warehouse stores have a deserved reputation for offering high-quality frozen items plus you'll save on the large quantities you'll need for a party.
Items like ice cream bars are also great bulk buys for summer parties because they have a lengthy shelf life, says Andrea Woroch, a consumer savings expert at kinoliinc.com. For example, you can find a 24-pack of Snickers Ice Cream bars for $9.98 at Sam's Club, while Kmart offers a 12-pack for $7.99. That's nearly 40 percent more expensive per unit than Sam's Club.
RELATED: Shopping for a new washer or dryer? What you need to know
Skip That: Designer Clothing
If you spot your favorite designer clothing on the racks at a warehouse store, be wary, says Warrick. Most famous designers make less expensive summer lines just for warehouse clubs and outlet stores -- and these lines may be lower quality. So if you want long-lasting, well-made clothing by top designers, shop elsewhere.
Buy This: Kiddie Pools
Children's pools and other summer recreational equipment are always good buys at warehouse stores, says Yeager. "You can find them cheaper elsewhere, but you're getting commercial grade at Costco, etc." After all, you want a pool that will last summer after summer, and not need constant replacement.
RELATED: Repair or replace? Jean Chatzky shares what to do when costly home items break
Skip That: Floral Arrangements
Online flower deliver companies like FTD and 1-800 Flowers always offer coupons, especially during popular holidays, says Woroch. Search sites like FreeShipping.org to find online coupons for money-off plus free shipping.
Buy This: Patio Furniture
Patio furniture also tends to be a fabulous deal this time of year, says Warrick. Warehouse stores have the lowest prices. They also tend to have higher quality goods than places such as Kmart. Woroch scored two poolside wicker chaise loungers for $40, with a five-year warranty at a warehouse store, a price she found was half of what she saw online.
However, places like Costco and Sam's are not necessarily going to be offering the top styles and colors, says Warrick. So if those things matter to you, you may want to shop elsewhere. You don't want to drag home a bunch of chairs and tables only to find that you can't stand the way they look in your yard.
RELATED: Sheets 101: How to buy bedding
Skip That: Lighter Fluid
Go to a dollar store for lighter fluid where you'll get a better deal, says Yeager. Worried that dollar store products are more toxic than what you'd buy at the grocery store? "The whole idea of pouring lighter fluid on charcoal is not healthy to begin with," says Yeager. "Either don't go down the road at all, or save money by using Chinese lighting fluid."
Buy This: Alcohol
Stock up on wine, liquor, and beer for your summer get-togethers at a warehouse store instead of a liquor or grocery store, says Warrick. The discounts are usually deeper. If you're going to need vast amounts, for a wedding or a party, you'll save time and money by getting it all in one place.
RELATED: Shopping for your home at Target? Designers share what they buy — and skip
Skip That: Bicycles
Bicycles are not a bad value at warehouse stores, says Yeager. "But if you are at all serious about cycling, they won't have bikes that are of any interest to you." Head instead to a cycling shop and compare brands and deals.
Buy This: Luggage
Costco, Sam's and BJ's have high quality suitcases for less, says Woroch. A two-piece Samsonite spinner set, including a 27-inch case and a carry-on can be found at a warehouse store for $199. At other stores and on the Samsonite website, the 27-inch case alone can run you as much as $550!
RELATED: Buying a new mattress? Here's what you need to know
Skip That: Fishing Rods
"I'm not impressed with the selection of fishing rods" at warehouse stores, says Yeager. They might have only two varieties. And you aren't really saving money. "If you are a novice, it might make sense, but as soon as you get more involved in a sport, you realize there are so many other choices out there and this is not going to cut it." So, go to a specialty store to find the best bargains on fishing gear.
Buy This: Hoses
The hoses you'll find at warehouse stores may not be the cheapest, says Yeager. But they're the high-quality kind of hoses used by professional landscapers so they're a great investment for your yard.
RELATED: The 11 best cleaning products to try this year
Buy This: Gardening Supplies
Costco and other warehouse stores have extraordinary deals on both indoor and outdoor plants, says Yeager. For example, you can pick up a flat of impatiens for $8 at Costco. "The prices are very good, even compared with a Home Depot," says Yeager. "The selection, however, is limited." Flowers tend to be all one color. Still, they are generally healthy plants. Warehouse stores are also the place to go for things like gardening soil, fertilizers, weed killer, grass seed, and Miracle Grow. "The savings are incredible. If you need anything in quantity, it is phenomenal." Gardening equipment such as rakes, hoes, and shovels are also terrific deals. You won't find a wide selection, but they will be a good quality. "As with power tools, the quality is commercial grade at warehouse stores," says Yeager. "If you find hedge trimmers at Costco, they will be really top-end hedge trimmers."
Skip That: Pickled Things
The best deals on pickles, hot peppers, olives, and other pickled items can be found at dollar stores, says Yeager. A 160-ounce jar of delicious baby dills costs a mere buck.
RELATED: How often you should clean your dryer — and the right way to do it
Buy This: Fans
Fans are the perfect item to pick up at a warehouse store, says Warrick. They're not only reasonably priced, but they also help reduce your energy bills. Another bonus: fans at warehouse stores are usually higher quality than what you'd find at other discount stores.
Skip That: Massive Containers of Cheese Puffs
A giant jar of colorful snacks may look alluring on the shelves, but make sure you taste something before you buy it in bulk. Yeager's wife once bought a massive jar of cheese puffs, but found them repulsive once she got them home. Five years later, that jar still sits on their shelves, as a reminder to use common sense. The same goes for buying party snacks; don't serve your guests something you haven't personally found scrumptious!
RELATED: When to throw away olive oil, flour and more pantry staples
Buy This: Electronics
Electronics are a great value buy at warehouse stores, says Woroch. At first glance, a flat screen/HD TV may not look like it costs less than at other electronic stores, but warehouses offer extended warranties already built into the final price. What's more, electronics are usually bundled with extras. For example, a camera may come with a case and extra memory cards, for the same price as the camera alone at a specialty store or electronic retailer. Those who shop online for electronics at warehouse sites might also find instant rebates for additional savings, so it pays to investigate those deals.
Caveat: Yeager warns that warehouses don't always offer the best value, another reason to shop around. Also, the selection is limited, so unless you're happy with the one or two brands offered by the warehouse store, shop elsewhere.
Skip That: Books
Warehouse stores only stock bestsellers. To make money, they have to sell items in large volumes. So unless you're searching for the latest John Grisham or Danielle Steele, shop online for the best deals.
Skip That: Dishes and Cookware
Unless you want a kitchen devoid of any personality or variety, don't bother with dishes and cookware at warehouse stores. You'll only find one or two variations on each kitchen item, says Yeager. And the price isn't really less that what you'd find elsewhere. You're better off going to a store that offers a huge selection and finding something that suits your taste and budget.
RELATED: Best places to shop online for cheap home decor
Skip That: Anything Canned
Cans sold at warehouse stores are just too big for individual families. Only an institution will use five pounds of three-bean salad before it goes bad. The same goes for bottled items; no one ever needs to buy a five-pound jar of mayonnaise (not if you want to live to see the New Year). Also, supermarkets will usually beat out warehouse store prices on canned vegetables, says Regina Novickis, consumer savings expert for SurfMyAds.com. You can often combine a coupon with a sale, saving even more. Since canned vegetables have an extended shelf life, you can stock up during a sale.
Buy This: Over-the-Counter and Prescription Drugs
Most warehouse stores have pharmacies and good prices on drugs. Because the FDA regulates drugs, the stores cannot require you to be a member to buy drugs there, says Yeager. In general, their medicine, including prescription drugs, can cost as much as 50 percent less than local pharmacies.
Skip That: Vitamins
You may assume that because you take your vitamins every day, it's a terrific idea to buy them in bulk, right? Wrong, says Warrick. Vitamins expire so it's not something you should stock up on in big quantities.
Buy This: Heavy-Duty Paper Plates and Cups
Good quality plates and cups are pricey unless you catch a sale. You may be able to find coupons and sales for the local grocery store, but for big parties, you rarely have enough coupons to go with the number of packages you'll need.
RELATED: 5 clever decorating hacks to give your home a high-end look at a low price
Skip That: Eggs
How many eggs do you really need? And do you have space in your refrigerator? It's almost always a better idea to buy your eggs at the supermarket. But if you're throwing a New Year's Day breakfast for 25 of your closest friends, or serving quiche to all of Santa's elves, then go for it.
Buy This: Nuts
Savings on nuts are massive. You can buy a three-pound bag of almonds at Costco for about what a pound of almonds would cost at a grocery store, says Yeager. Plus they're great for holiday parties, healthy snacks and gifts.
Skip That: Soda
Soda is often discounted at grocery and chain stores. You can get better deals per can by waiting to shop sales and/or using coupons, says Novickis.
Buy This: Batteries
Buying batteries in bulk is a great way to save, says Novickis. Check expiration dates, but these should be several years out, so it makes sense to buy in bulk. All those holiday toys and gadgets need batteries, so it's always good to have extras in the house.
RELATED: 'Fixer Upper' hosts share their favorite decorating accessories
Skip That: Cleaning Products
It might seem like a great idea to pick up large quantities of cleaning products but over time, most cleaning products lose their effectiveness, says Warrick. Buy fresh products every few months (you can find great deals at dollar stores) instead of buying in bulk.
Buy This: Appliances
The initial price of items like washers and dryers may not seem much cheaper than appliance retailers. But most will offer an extended warranty along with bonus items, like two pedestals, built into the price. The cost of those could run you an additional $500 at department stores and specialty retailers. The downside: you'll have a much more limited selection of brands and models for appliances and electronics. When it comes to small kitchen appliances like toaster ovens and coffee makers, which aren't sold with a warranty or in a value set, you may be better off shopping sales at retailers like JCPenney, Target or Walmart. Here's a quick tip: grab a $5 off $50 coupon code for Target from CouponSherpa.com.
Skip That: CDs and DVDs
These items are not a good value at big box stores, says Yeager. The selection is extremely limited, including only the biggest-selling hits. Plus, you can generally get much better deals online.
RELATED: 5 home upgrades you can do this weekend
Buy This: Laundry Detergent
Stocking up on laundry detergent at a warehouse store is always a good idea, since it's cheaper and doesn't go bad. Just don't buy more than you can comfortably store.
Skip That: Toilet Paper
It may be tempting to stock up, but items used daily are most likely to be sold at a deep discount everywhere, including the grocery store, says Novickis. Be sure to watch for sales and coupons. Another plus: you'll find more variety at grocery stores.
Buy This: Arm & Hammer Baking Soda
Shop the warehouse stores for this, says Novickis. On average, when you buy a bundle at a warehouse store, you'll only end up paying 85 cents per box. Use it for baking, cleaning and keeping your refrigerator fresh. It doesn't spoil, so it's fine to stock up.
Skip That: Diapers
Don't buy tons of diapers when you don't know what size your baby will need in a few weeks, says Warrick. Babies grow quickly and diapers aren't cheap. Buy them as you need them online or at your grocery store.
RELATED: How can I remove scratches on stainless steel appliances? Answers to your home questions
Buy This: Razors
Razors don't go bad. And as long as you keep shaving, you'll use them, says Warrick. Plus, they're easy to store so it's always a good idea to stock up.
Skip That: Condoms
Buying condoms in bulk is never a good idea since they expire. And condoms past their expiration dates can have a pretty big impact on your life. Remember the classic Friends episode in which Rachel told Ross she was pregnant and he realized that condoms, in fact, do expire? Says Warrick, don't risk it.
Buy This: Cooking Oil
It's one of those things you never think to buy, but then run out of just when you need it. Buy a bigger bottle and save big. Olive oil is a particularly good deal. Warehouse stores usually have a few different brands and gallon jugs that offer huge savings over the grocery store, says Yeager. "I think we pay around $20 for a gallon and if I go to a grocery store I seem to buy a tiny vial of it for $7.99. It's more than a 50 percent savings."
Buy This: Flea Medicine
Flea medicine can be extremely pricey at veterinarians' offices and pet shops. You'll always get a better deal on this at a warehouse store.
RELATED: 5 new IKEA products that are so worth the schlep
Skip That: Shoes
Most of the shoes sold at big box stores just don't stand up to long-term wear, says Yeager. They may look nice, but once the soles come unglued, you'll be left with buyer's remorse.
Buy This: Toothbrushes
You only get a free toothbrush from your dentist twice a year but you're supposed to change your toothbrush four times a year. Why spend $4 a pop when you can save on a larger quantity, says Warrick.
Buy This: Candy
Here's another holiday tip. Buy a three-pound box of chocolates and divide them up into individual gifts. Big box stores often stock upscale brands of chocolate, including Toblerone and Leonidas. Get your home holiday ready by filling a dozen bowls with discount candies and scattering them around the house. Or use the candy as stocking stuffers.
Skip That: Gas
The prices at warehouse stores have to go up along with the rest of the country. Pay attention to gas stations in your area to ensure you're really getting the best deal. But there are times when big box gas can offer very good savings, says Yeager. "When gas prices shoot up, they often decrease their margin on gas prices to draw you in. Sometimes there is no savings. But when gas hits $4 a gallon, Costco comes out with $3.75. I think they do it to bring in customers."
RELATED: 12 marble home items that won't drain your bank account
Buy This: Cookies
Here's a great tip to save money on Christmas cookies. Buy a massive package and then divide them into six or so pretty little containers and you'll have six gifts for the low price of one megabox. You can also often find a half-dozen separate cookie tins packaged together. Oversized packages of cookies are also terrific for holiday parties.
Skip That: Baked Goods
Warehouse stores force you to buy baked goods in such large quantities that chances are they'll go bad before you can use them. For example, you generally have to buy at least two dozen bagels. If you can't eat those in a day or two, they'll be using up a lot of freezer space. But if you're hosting a dozen or more people for brunch, it may be a good idea.
Buy This: Christmas Trees
Warehouse stores really stock up with holiday merchandise, including Christmas trees. Though the price of a tree is generally a great bargain when compared with local Christmas tree shops, negotiating opportunities will be thin on the ground at the big box stores, says Woroch. Compare prices in your area and ask your local tree vendor if he or she has wiggle room in the price before heading to Costco or Sam's Club. Otherwise, check out the faux tree deals at the warehouse stores. They'll get you through several seasons, saving you more each year.
RELATED: Love Anthropologie's home decor? Here's how to get the look for less
Skip That: Gift Wrap
Santa might do well to stop at a warehouse store for his wrapping paper. But unless you also are buying gifts for the entire planet, you won't be able to use the vast quantities of paper you have to buy. Sure, you might use it in the future, but that means you also need storage space. Not worth it.
Buy This: Party Food
Most food items sold in large quantities are not only a great deal but will keep you stocked for large family or work gatherings, says Woroch. From frozen appetizers and finger foods to desserts and gift baskets, you'll save 30 percent over local supermarket deals. But don't buy more than you plan to use.
Buy This: Decorations
Come holiday time, wreathes, candles, cardboard reindeer cut-outs, lights, nativity scenes, and other decorations are often less expensive at warehouse stores than other stores, says Warrick. Many also have handcrafted holiday cards, lawn ornaments, donut-makers, and even glitter.
RELATED: 5 new IKEA products that might actually be worth the trip
A version of this story originally appeared on iVillage.
This story was originally published Oct. 28, 2013 on TODAY.com.