One Michigan dad went above and beyond when he created the ultimate playhouse for his two daughters.
The constructional feat is so beautiful that we're willing to bet some of you would trade in your actual homes for a chance to live there. The playhouse boasts two stories and has a set of swings, two rock walls, a giant slide and a rope ladder. And soon, dad Adam Boyd is going to add a zip line — a request from his 5-year-old daughter, he told TODAY.
"That's been her number one goal since we started," he said.
Boyd, who works in construction, started building the playhouse last year. He had some roof trusses left over from a job, and a credit at the lumber yard.
"It snowballed into what it is," he said. "As I was building and building, I just kept on thinking about my girls, and wanting them to be proud of something I built."
Boyd, 39, has two daughters with his wife: 5-year-old Avery, and Violet, who turns 2 years old in December.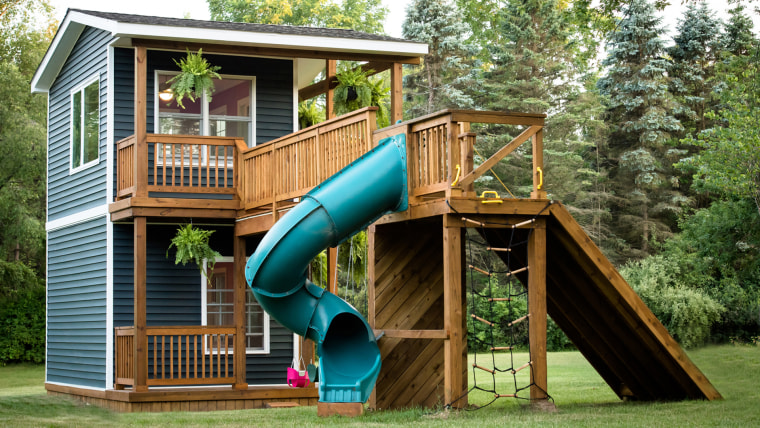 "I had the shell up in four or five days and that was with my guys," he continued. "Then after that I did most of it myself, which wasn't always easy. I missed a lot of family functions, pool parties with my girls."
The project kept Boyd busy for about a year, but his older daughter helped.
"She helped paint and do some sanding," he said. "It was very rewarding for me. One day she looked me right in the eye and said, 'Daddy, what can I do now?'"
Inside there's a play kitchen and plenty of toys and books. The walls are painted two shades of purple — one to represent Violet, and a darker shade that Boyd's oldest daughter loves.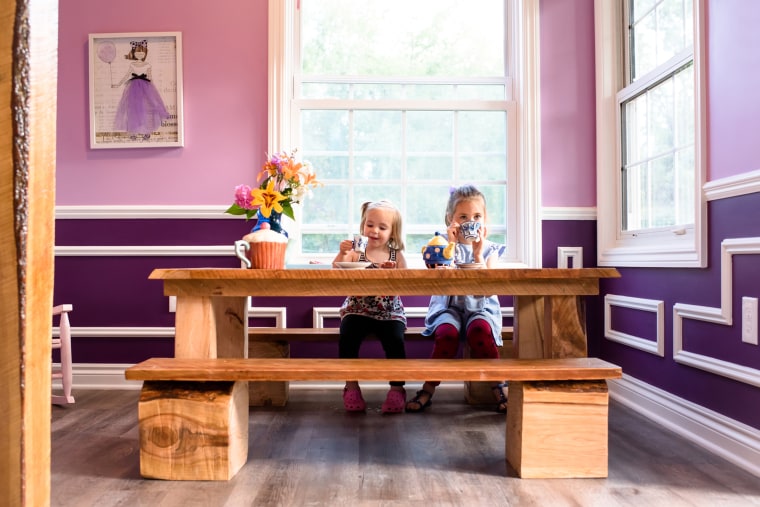 "I wanted to keep the girly princess thing going," Boyd said.
Now the family, who live in Highland, Michigan, are in the playhouse almost every day.
"If the girls are out there, we're out there, too," Boyd said of himself and his wife. "The girls love it. They play all the time. My wife has tea parties with them. They play restaurant in there. Avery will get out a reading book and that's the menu, and my wife will order a pizza, and Violet will order a burger and fries all the time."
"It's been really cool," he continued. "And a very good learning space, and creativity space. No electronics in there! There could be, but we opted not to do that."
Since photos of the playhouse went viral, Boyd has even been fielding requests from people who are interested in hiring him to build one for their children — so many that he stared a new construction company: Spoiled Rotten Homes, which will focus on elaborate playhouses.
"I figured people would think it's way too over-the-top, but I'm getting a lot of positive feedback," he said. "There's a big market for things I didn't even realize."