There are some things about Christmas that are just known. For example, the fat part of the Christmas tree goes down, the skinny part goes up.
Well, brace yourselves. In this topsy-turvy year of 2017, even the trees are undergoing a makeover. Meet the upside-down Christmas tree, one of the trendiest items of the season.
Arguably, it's a space-saver, since most of us have fewer decorations occupying our ceilings (though consider your ceiling fan if you go this route). And by opening up all that real estate on the bottom, there's more room for crèches, model train sets and presents. Plus, more ornaments can be put out of reach of little hands.
Seems like a win-win.
However, not everyone finds them festive.
But before you cry "disrespect," believe it or not: Upside-down trees are an old, old custom from Eastern Europe and were used in the Middle Ages, TheSpruce.com noted. They represented the Trinity, and Christ being crucified, those Middle Age Eastern European Christians believed. So while it feels new, it's actually a return to an old form.
And anyway, people have been playing around with just what a Christmas tree can be for a while now; last year Montreal made headlines by erecting a very tall, spindly tree. And can we forget how people were letting their too-tall pines "poke through" the roof in 2016?
But if you want a reverse tree, shop around. Target's is currently going for over $1,000; Wayfair has a pre-lit version for about a tenth of that. Amazon has quite a selection in various price points.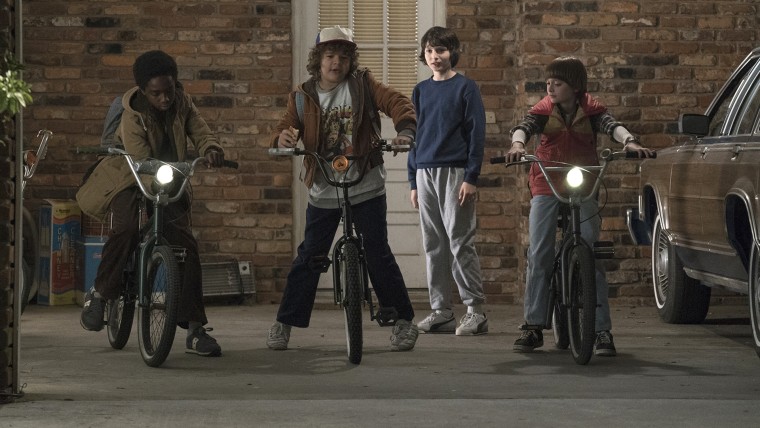 That said, let's remember that the popular Netflix show "Stranger Things" sent its characters into the "upside-down." And Target does seem to have a direct line there.
So however you decide to hang your tree this year, we will support you. But if you end up summoning the Demogorgon in the process, you better hope you bought a few extra presents.
TODAY has affiliate relationships, so we may get a small share of the revenue from your purchases. Items are sold by the retailer, not by TODAY. All prices are subject to change and items could sell out based on the merchant's inventory.
Follow Randee Dawn on Twitter.