This year, you can really do it: keep your family organized amid a sea of school crafts, assignments and appointments.
One of the best ways your family can kick off the new year is to make organization a priority. We've put together some tips to help your mornings and nights run smoothly.
Don't ever waste time looking for a pencil to do math homework with again. This portable "Homework Caddie" keeps all essentials in one place and can be moved to any room in the house!
Speed up the lunch box process by doing a little prep at the start of the week. On Sunday night, slice up some fruits and veggies and put them in snack-sized bags so that they are ready to be put into lunches for the entire week.
RELATED: See if your state has a tax holiday for back-to-school shopping
Set up a "launching pad" in your home where everything your family needs to get out the door is all in one place. You'll be amazed at how much time (and stress) you'll save when you aren't frantically running around the house looking for John's left shoe!
Don't spend any more time looking for missing papers. Give your child's messy folder a much needed upgrade with this brilliant organization hack! You'll thank us later.
Preparing is the key to being organized and keeping sane.
Do the following before going to bed: Folder prep, backpack prep, clothes prep, schedule. Watch the video for more details!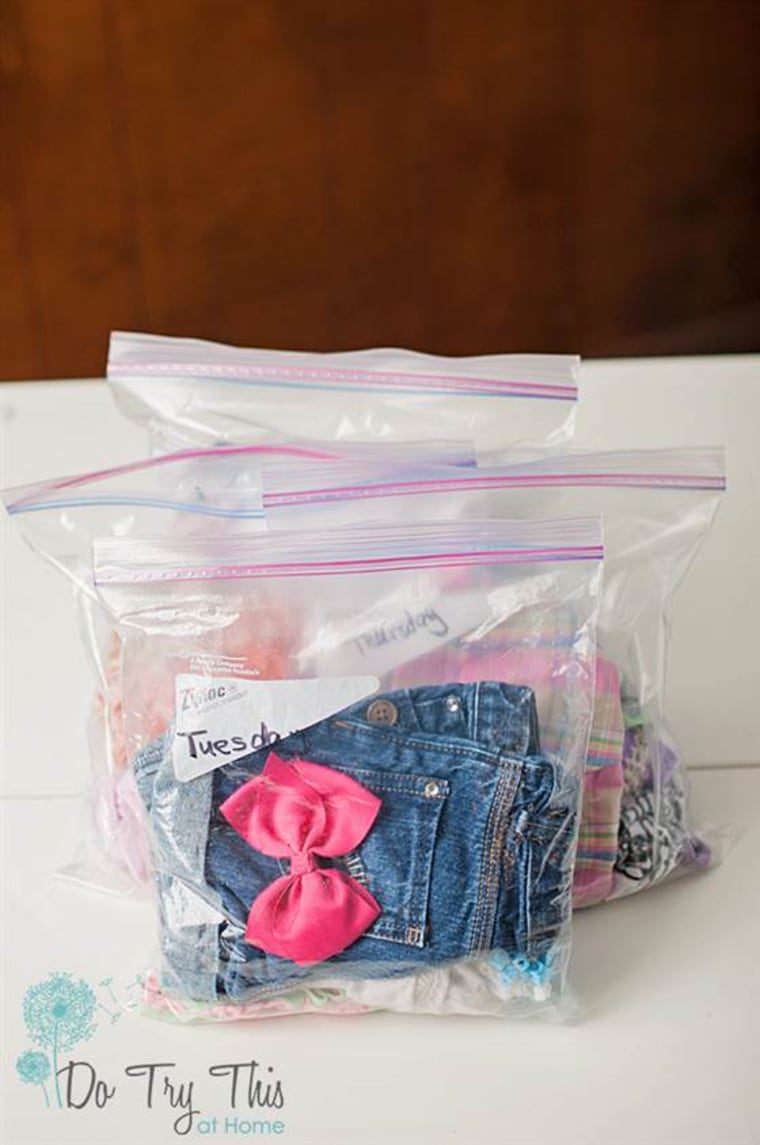 Spending too much time picking out an outfit in the morning is a common mistake. Put a set of school clothes that are ready to be worn in a Ziploc bag, labeled with the day of week it's for.
RELATED: 'Poke back': Why one psychologist says parents should tell kids to fight bullies
Are your kids always losing their charger or stealing yours? Need a new home for lonely paper clips and staples that always end up on the floor?
You can use Altoids containers and tins as a way to organize small items. Watch the video for tips on adding creative touches. Pro tip: Glue magnets on the back and it will instantly be locker-friendly.
Did Johnny complain about the apple that was packed in his lunch, blaming you for not knowing that he really wanted a banana? Have no fear — we have a solution!
In your fridge, label three bins as veggies, fruits and snacks. Fill them up with different types of healthy food for the week in small containers or plastic bags. Have your child pick out one item from each bin every day for lunch.
RELATED: Cool for school: Could one of these 10 school lunch ideas replace the ol' PB&J?
Hit the hardware store for ultimate organization. This paint swatch planner is fun for the whole family to help make and it costs less than $20.
Love this article? Sign up for the TODAY Parenting Newsletter to get more inspiration straight to your inbox.