Trunk-or-treating is where trick-or-treating meets tailgating, and it's a new Halloween tradition that's been taking over parking lots everywhere.
In fact, in many neighborhoods, "trunk-or-treating" has replaced trick-or-treating as a safe and family-friendly way to celebrate Halloween. But safe definitely does not have to also mean boring. Here are three easy ideas to help you plan an epic trunk-or-treat display.
1. A Harvest Pumpkin Patch
Not everything about Halloween has to be scary! A cozy harvest pumpkin patch theme will appeal to younger kids and is an inexpensive way to celebrate the fall season.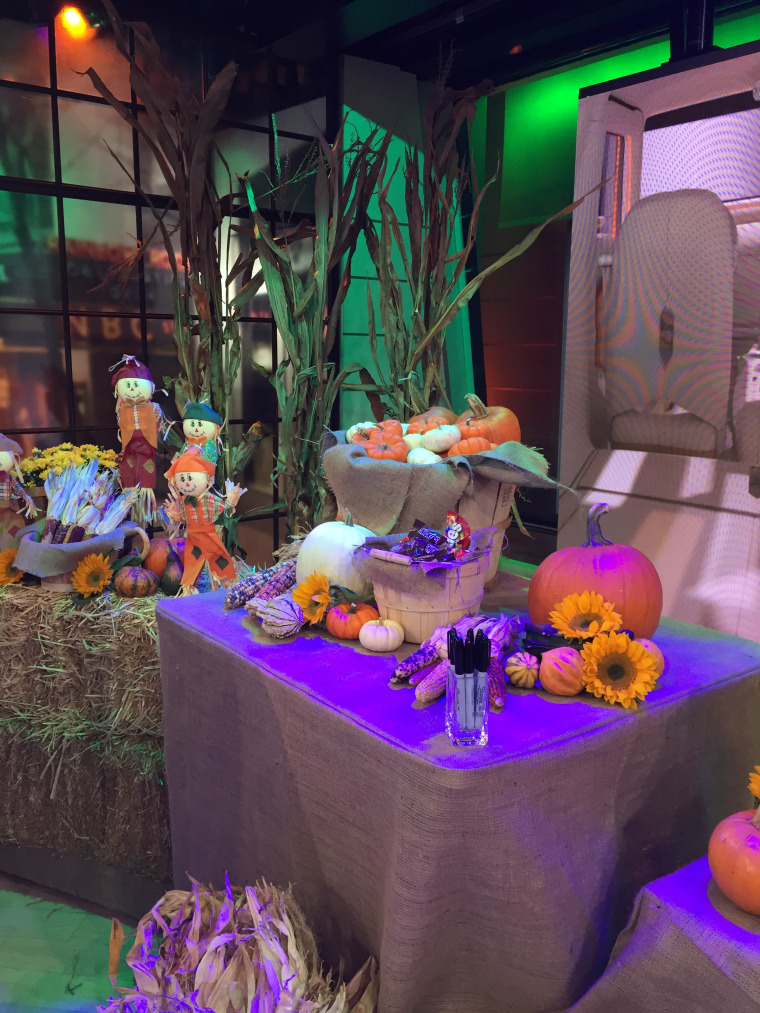 Decorating tips:
Head to the grocery store or farmer's market to stock up on fall produce like pumpkins, squash, apples, and dried corn. Display in rustic baskets or boxes alongside fresh fall flowers like mums, marigolds and sunflowers.
Display pumpkins in a variety of shapes and sizes — the bigger and weirder, the better! A basket of baby pumpkins doubles as a cute giveaway for the kids, or turn it into an activity by offering paints and stickers for kids to decorate their own pumpkin.
RELATED: 9 shockingly easy Halloween decorations you can make yourself
Rich textured fabrics like burlap and plaid give a warm and cozy feel to the display. No need to buy anything new — old holiday tablecloths, fabric napkins or even bedding can be repurposed in this display. To extend the experience, drape oversized tablecloths from your trunk down to the ground, creating a larger space to setup your props and decorations.
Bales of hay or dried corn stalks from the garden store give the scene a festive look and provide additional seating space for tired kids (and parents!). Can't find them? DIY your own by wrapping cardboard boxes with burlap fabric and raffia from the craft store.
2. A Haunted Tiki Party
Add a little humor to your trunk-or-treat display (and repurpose those old summer or birthday party props) by combining two different party themes to create something new and unexpected.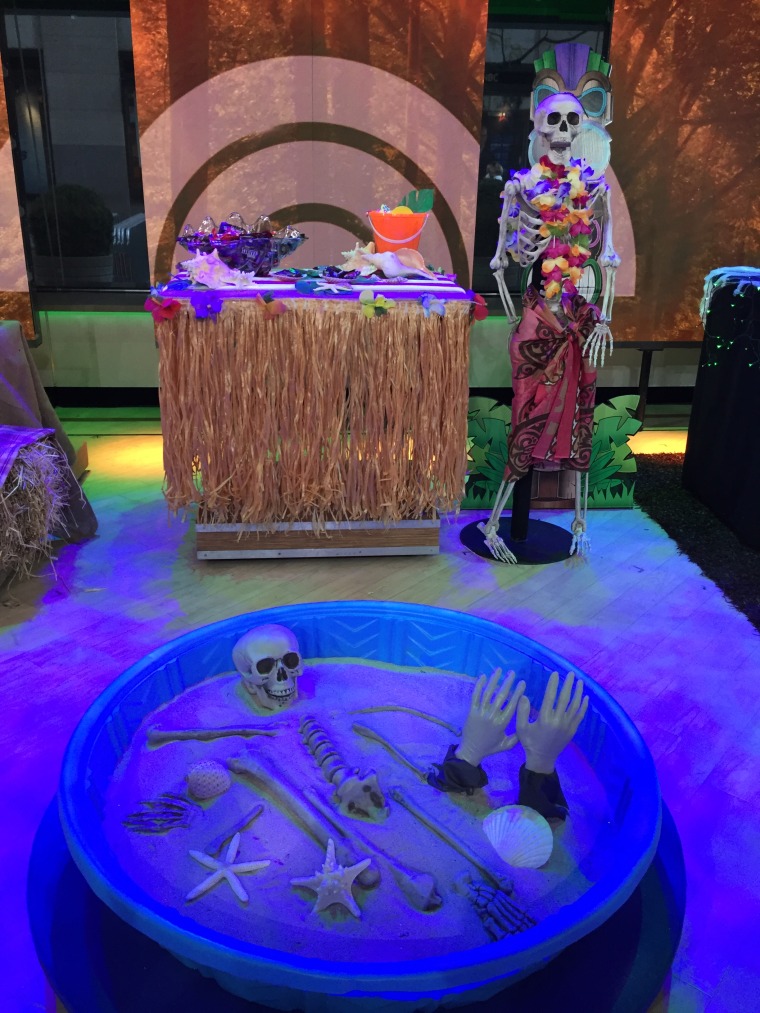 Decorating tips:
Give a skeleton a silly makeover, by dressing him in a hula skirt or sarong. Don't forget to add a few plastic leis around his neck!
Create a spooky beach scene by filling a plastic kiddie pool with sand to create a DIY sandbox. Tuck in a mix of Halloween props like plastic bones, skeleton hands and skulls in the sand.
Bag of bones, $19.99, Amazon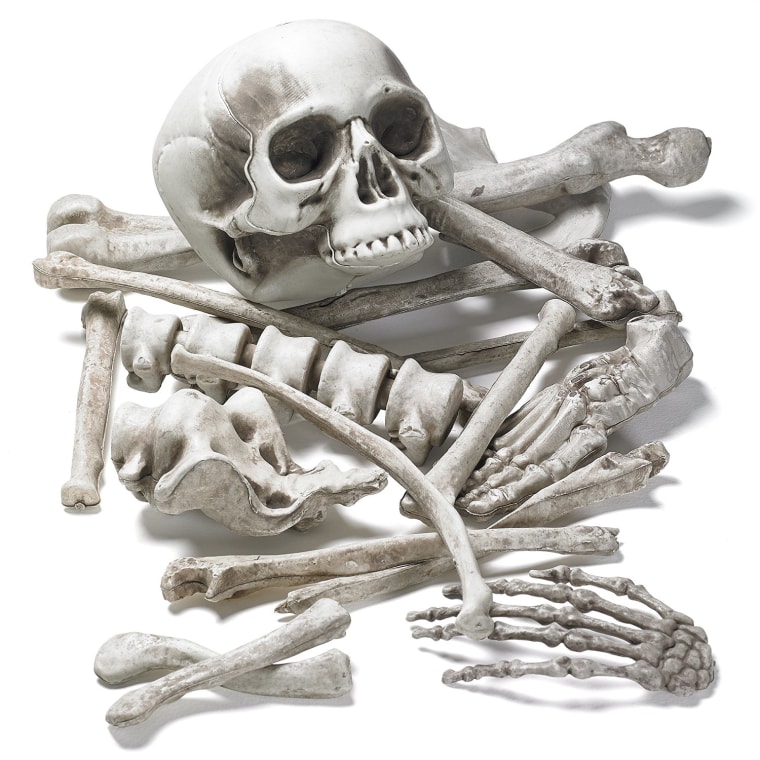 Cardboard stand-ups from the party store, like a tiki totem pole or giant palm trees will also dress up the display.
Totem pole cardboard stand-up, $37.99, Oriental Trading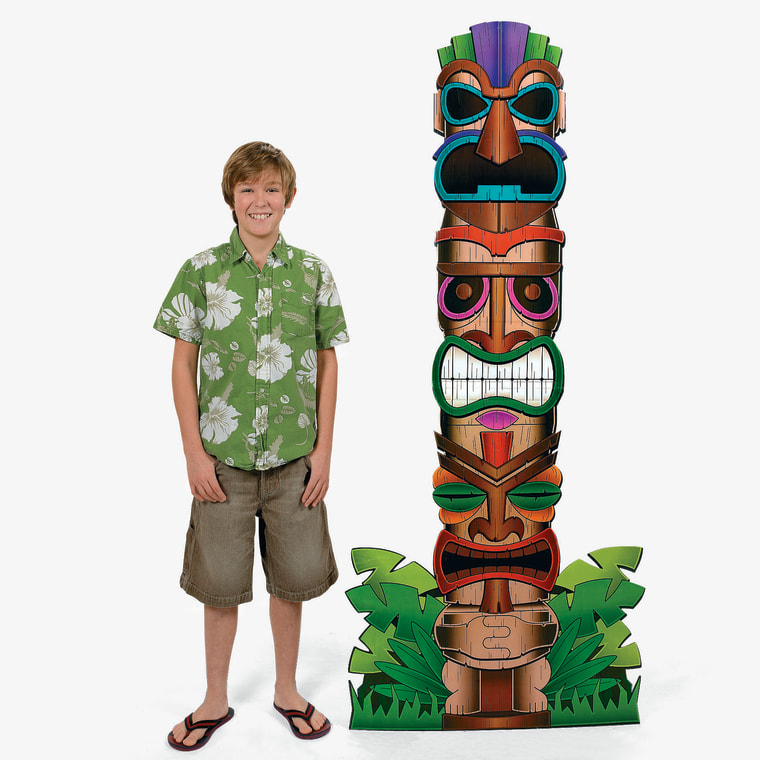 Fill a clam-shaped punchbowl or oversized sea shells with candy and small beach-themed toys for the kids. Decorate around them with tropical flowers and leaves.
RELATED: 3 easy ways to decorate your front door this Halloween
3. A Spooky Graveyard
Prefer something a little scarier? Turn your car trunk into the ultimate spooky graveyard scene full of zombies, vampires and all things that are frightening!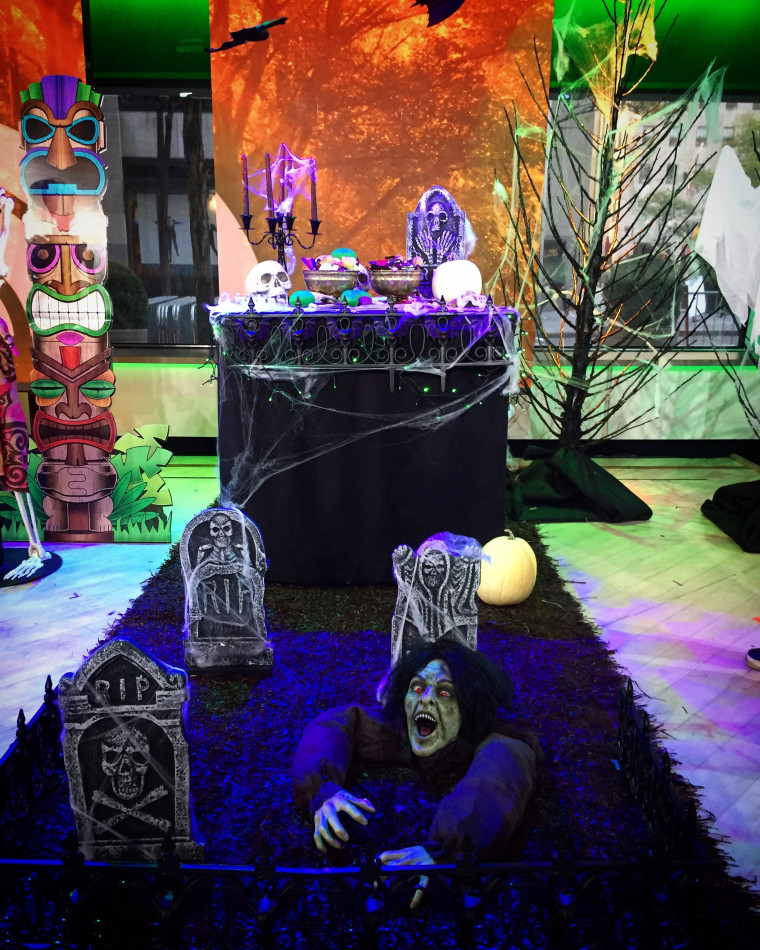 Decorating tips:
Cover the inside of your trunk with plain black fabric (we used an oversized black tablecloth) then layer with textured fabrics like torn gauze, stretchy spider webs and white cotton batting to add a ghostly feel. And don't forget to use the open trunk door to hang decorative elements like ghosts, plastic bats and glowing LED lights.
Ensure that everyone can take part in the fun regardless of allergies or dietary restrictions by offering a few non-food giveaway options that match your theme.
Coffin Toy Chest, $15.98, Oriental Trading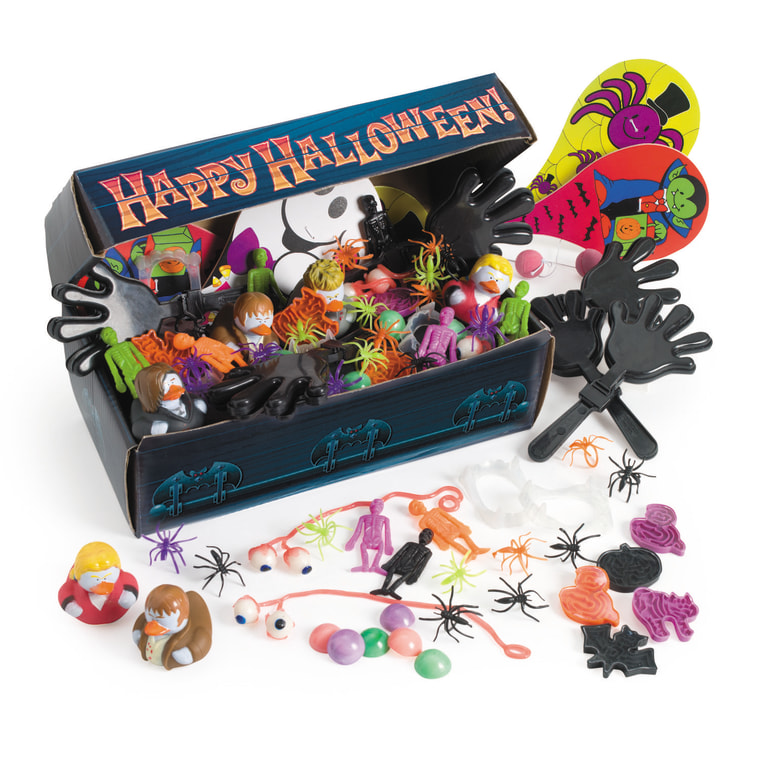 Layer the ground with an oversized jute or synthetic fiber rug (think giant welcome mat) to mimic dirt. Add Styrofoam gravestones, plastic bones and white and black pumpkins.
Download Halloween sound effects to play as part of your scene, or add an element of surprise with mechanical gadgets, like this Clawing Zombie Groundbreaker that lights up and cackles when touched.
Clawing Zombie Groundbreaker, $29.99, Oriental Trading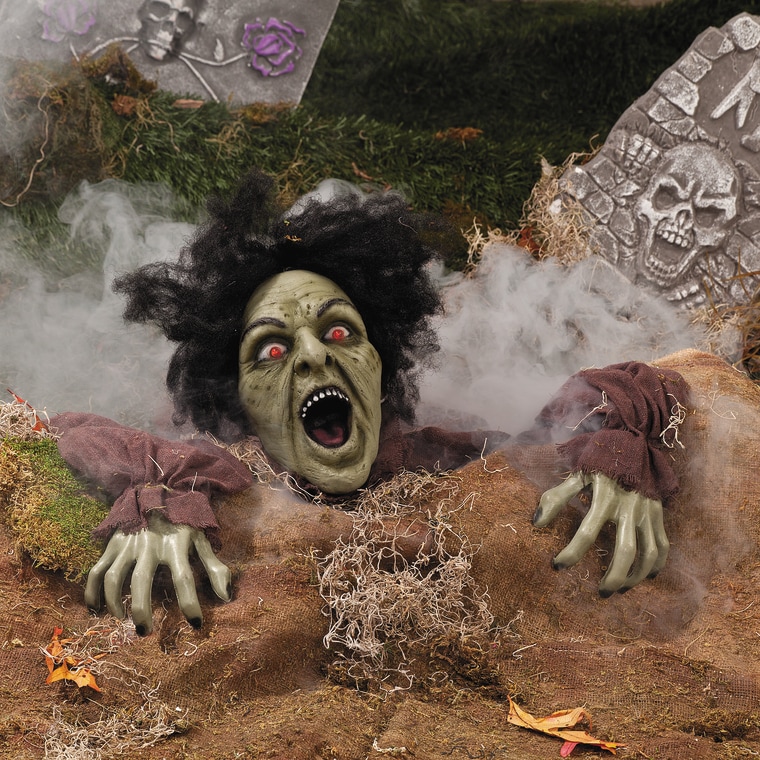 RELATED: People can't stop watching this Halloween 'monster garage' go up and down
Lastly, look around your house for décor items that can be repurposed in your display. For example, an old candelabra can be spray painted black and wrapped with a spider web. Make it extra spooky by melting old red holiday candles onto black or white tapers to give them a "bloody," look.