Vacation is a time to relax, but even the most serene getaways can be stressful when you're in an unfamiliar place.
That's why Jill Dressel, a private flight attendant who travels frequently, decided to buy the Belle Hop travel door alarm.
During her flight attendant training, Dressel was shown videos depicting how easy it is to open swing bar locks on hotel doors. She had heard of this tiny travel alarm from colleagues, and purchased it to feel safer while traveling for work.
"When you're staying in a hotel, you never know what kind of lock you'll have on your door," Dressel told TODAY. "This is a really loud alarm that not only scares a person from coming in but also gives you time to get up."
How does it work? The battery-operated device has two thin metal blades that slide into the crack between the door and doorframe. There's also a cord that you can loop around the door handle to keep it in place. Once you set the alarm, if anyone opens the door, the movement of the blades triggers a motion sensor and makes a very loud noise.
Thieves often target hotel rooms with tools and tricks, posing a risk to both you and your belongings. Since you can only set up this alarm while you're in the room, and you'll only hear it if you're within earshot, you should still use the safety box or take other precautions to protect your things.
If someone tries to get into the room while you're there, though, this alarm could be a lifesaver.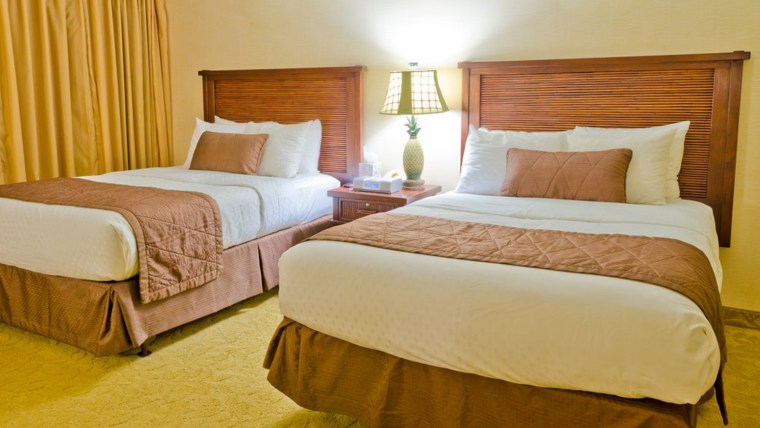 Once, it actually alerted Dressel of someone outside her door. "I was staying at a hotel in Nice, and someone jiggled my room door, setting off the alarm," she said. "I quickly got out of bed, looked through the peephole and saw a man walking away."
The product also has an LED flashlight built in to navigate in the dark, and it's small and lightweight, fitting easily in a suitcase.
While it's great for hotel safety, the alarm can also be handy for other situations, too. One Amazon reviewer said it is served as an alert if a parent with Alzheimer's disease wandered out of the house. Another used it to alert them when their teenager tried to sneak back into the house.
It not only works on doors, but windows, too.
In addition to the travel alarm, to help you stay safe in a hotel room, you can take a few other flight attendant-approved precautions, too. Covering up the peephole with tape, or leaving the "Do Not Disturb" sign on the door even when you're out of the room will make it seem like you're still there.