TODAY landed a spot in holiday history on Tuesday, as the morning show got its very own Christmas window courtesy of the team at the iconic Fifth Avenue store Henri Bendel's.
Touring the holiday window displays at the city's department stores is a New York tradition, and Bendel's visual director Gilbert Santana worked with his team of designers to craft a special scene featuring the TODAY anchors, unveiled this morning at the NBC Experience Store in Rockefeller Plaza.
To show off the hard work that went into creating the playful caricatures, Santana took TODAY behind the scenes at his Santa-style workshop. "We actually start from taking the picture," he said, explaining they created cartoonish sketches from photos of the anchors which were then used as models for the figures in the window.
"You have to accentuate all the parts," Santana explained. "You know, the nose, it goes bigger. The ears go bigger." Matt's exaggerated ears, for example, are there to show he's "certainly a great listener."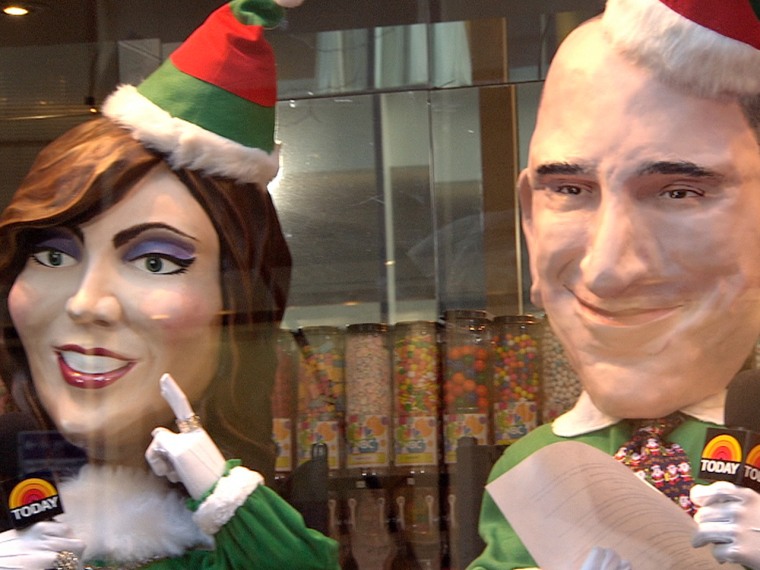 The anchors came face to face with their holiday doppelgangers on Tuesday morning, a moment Santana said he was nervous about. "You always have the little thing of, 'Do they - will they like it? Will they be offended?'" he said.
But the team seemed thrilled at the caricatures, which share the window with a rock star Santa complete with a nose ring.