One of the perks — or hazards, depending on how you look at it — of writing home stories for TODAY.com is learning about all of these cool DIY projects, then getting the itch to do them to my own house.
I recently wrote an article about Smart Tiles, a peel-and-stick gel tile that has been getting rave reviews from customers, and ended up pitching the idea to my husband after becoming obsessed with the concept.
The tiles are a great alternative to real tile backsplashes which can be beautiful, but also très expensive and hard to DIY. Since we're living in a rental right now, we didn't want to spend too much time or money on something that we couldn't take with us when we move. But after seeing all the customer pictures with Smart Tiles in their kitchens, I wanted, needed, had to have them in my own house.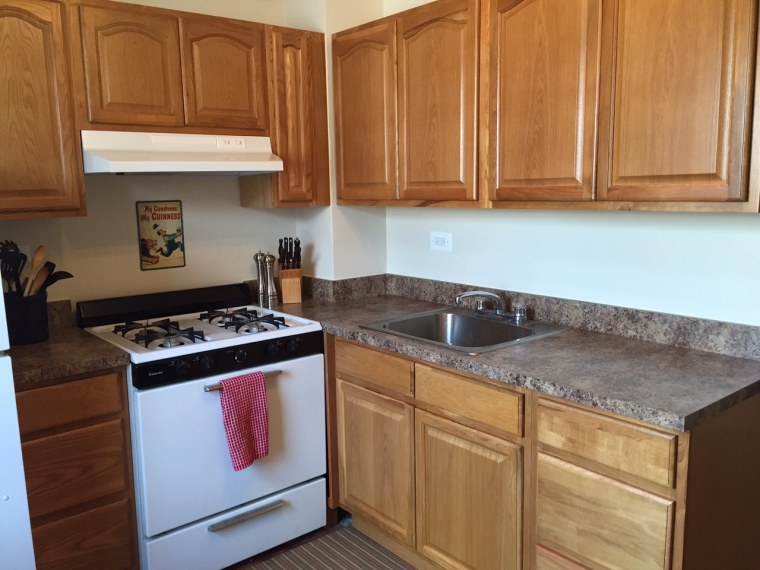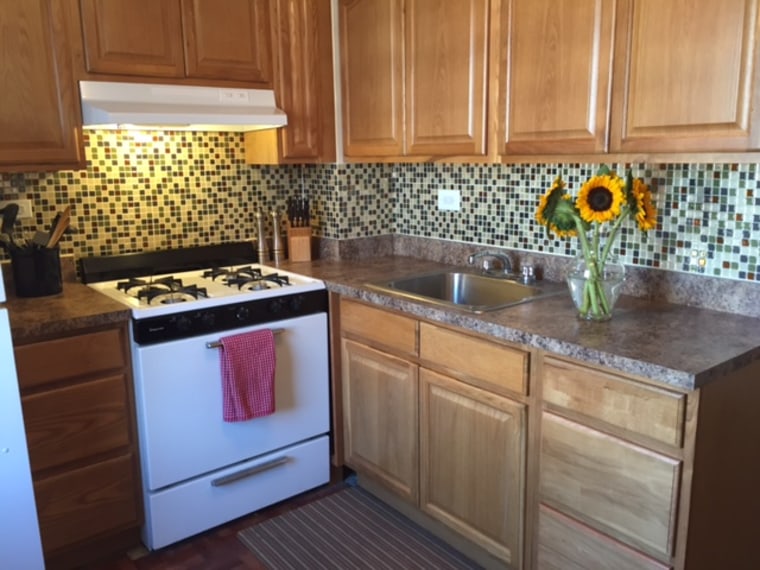 We chose the "Idaho" tiles for our backsplash makeover. (Tip: always order 10 percent extra of anything like this since mistakes do happen in the application process. We had to throw a couple away.)
The pieces are very thin, but feel substantial thanks to small tiles made out of a special gel which give it a 3-D effect. When we got the box, we assumed they had forgotten to send us the rest of them because it was so light. But they were all in there.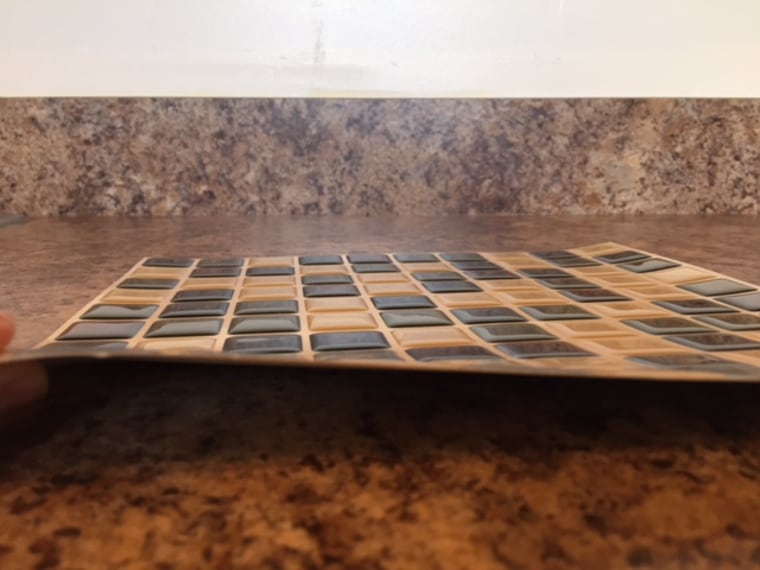 It took about two hours from start to finish to apply them. We loved that there was no real mess involved, just some trash from the adhesive backing. Cutting them to fit was super easy — we used a knife and cardboard box.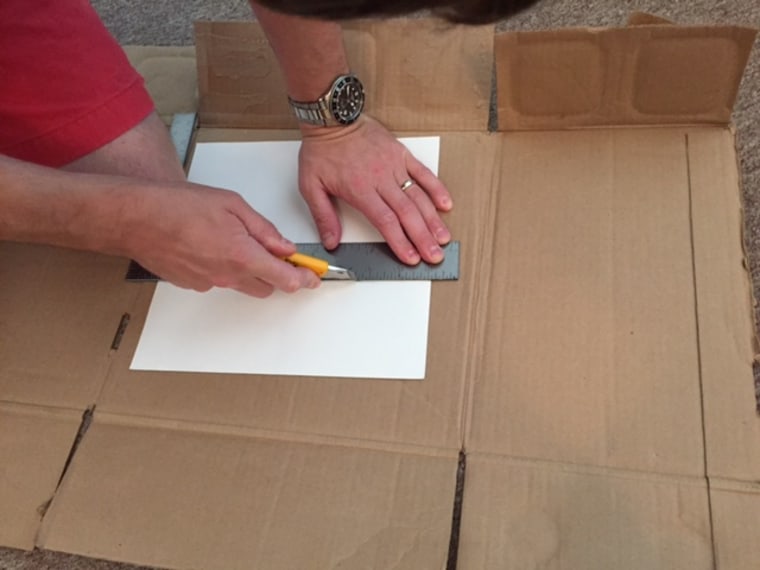 A few things to note if you're doing these:
1. If the wall's been recently painted, you should wait at least 21 days before applying the tiles. It should also be cleaned right before to make sure there's no grease or dirt, which would make it less sticky.
2. Corners can be tricky. It's best to fold the square on the outer corner so that there's a smooth line. For inside corners, use two separate pieces and meet at the seam — just remember to make sure the tile colors match if you're cutting them down the middle.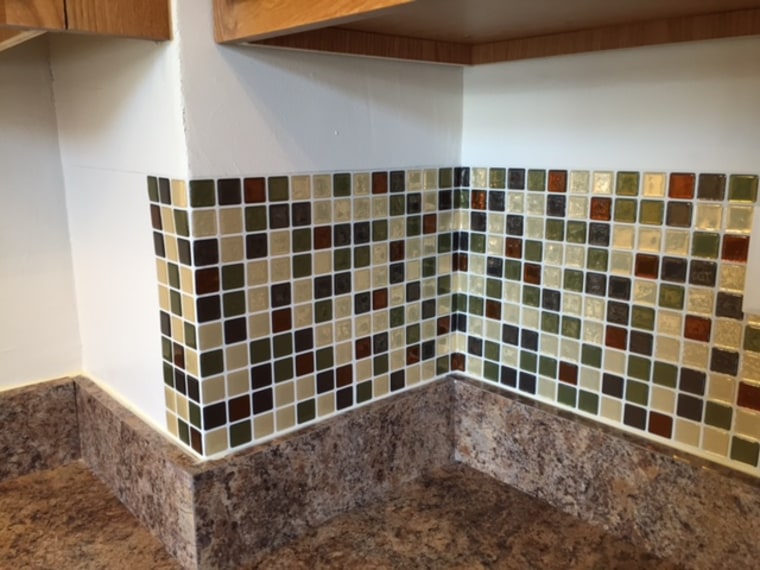 3. Take any outlet or switch plates off and make sure the tiles go a little past where the edge of the plate would hit. We learned that the hard way as our plate was apparently butting up against the tile edge and ultimately pushed it off the wall, so we had to redo that one a week or so later.
4. When you take them off, they totally rip the paint off the wall. Like I said before, we made a few mistakes and had to take some off, and when we did, it was kind of disaster. While these are temporary, I would just make sure you have the OK from your landlord (or a secret backup can of matching paint to fix the wall when you move out).
Once we had them on, the results were really exciting. They have a real glass tile effect, especially when the light hits them.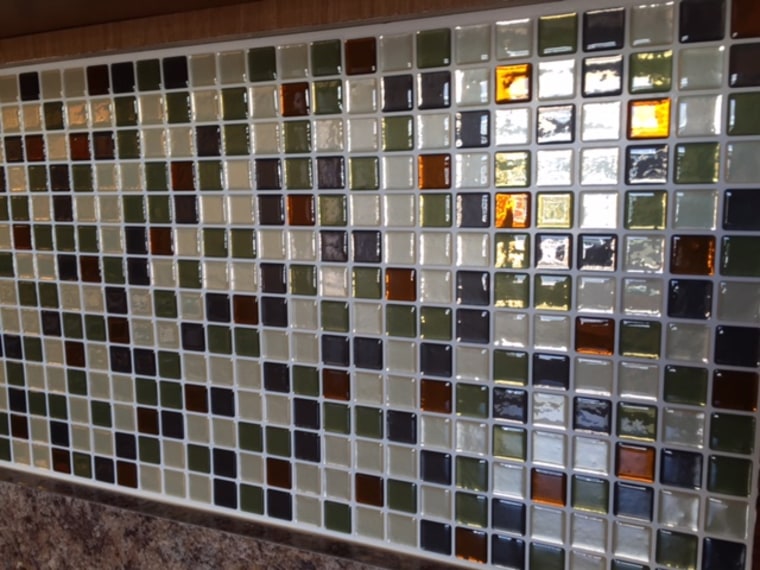 We also bought two under-the-counter lights so we could highlight the walls at night (we have no shame in our pride for this project). Also, everyone who's come over has admitted that at first glance they looked real, and that they wanted to do this to their own kitchen. I guess they could be lying to stroke our egos, but I like to believe it's true!
I recommend Smart Tiles if you're looking for an easy and inexpensive way to spruce up your temporary space. Obviously, they're not as fancy as real tiles, but until you're ready for that commitment, this is the next best thing.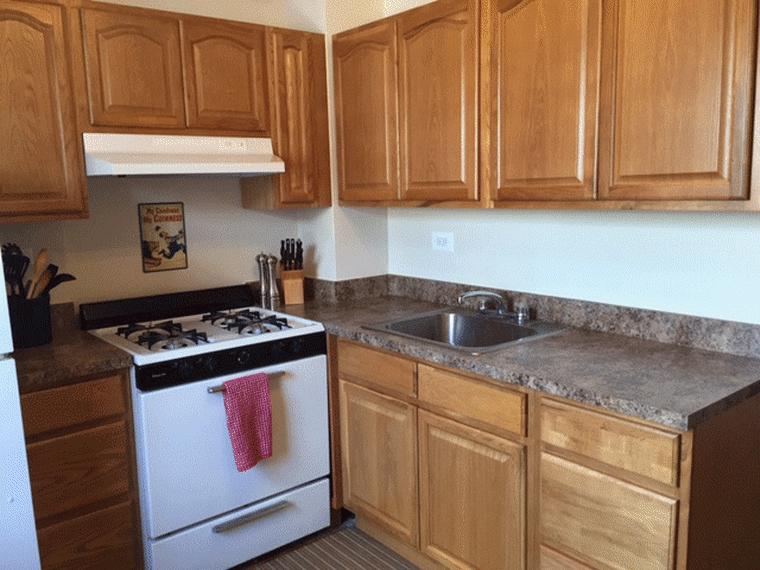 Smart Tiles are available at places like Home Depot and Wayfair.com, as well as thesmarttiles.com.
This article was originally published on Oct. 8, 2015 on TODAY.com.