Pull out those costumes, string the spiderwebs and get your pumpkins ready!
With Halloween fast approaching, TODAY.com wants to help you throw the best Halloween party yet. We've tested the foods, DIY'd the décor and even created pumpkin-carving stencils for your bash. All you have to do is scroll, click and celebrate!
And see how all these ideas fit together in this interactive video of our ultimate Halloween party — just click the white circles for more info on all the elements:
DECORATIONS:
1. Marquee letters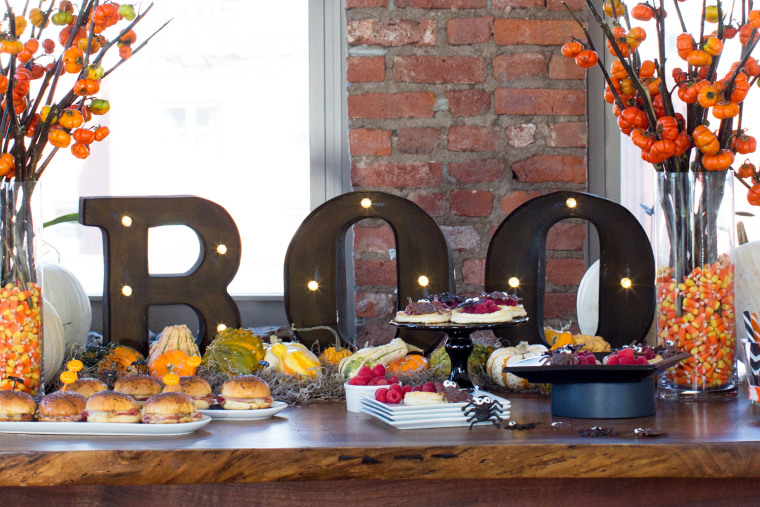 Marquee letters are such a hot trend in home décor this year that you may be inspired to keep this going even after the holiday's over — and we won't blame you one bit. Use marquee letters as a centerpiece at your Halloween party to spell out phrases as a centerpiece at your table, like "BOO" or "SPOOKY."
You can create your own marquee letters following this DIY from the Property Brothers. If you're not feeling crafty, we spotted these battery-operated letters from Michaels craft store for less than $30 a letter. (Insider tip: Michaels has loads of coupons on its app!)
Try the DIY: How to make metal or cardboard statement letters
2. Ceiling pinwheels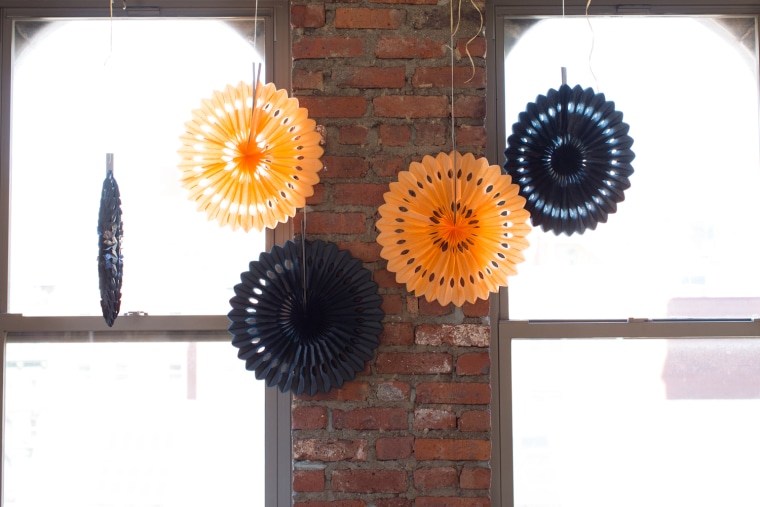 Create a dynamic backdrop by hanging paper pinwheels from the ceiling, for a festive look that's inexpensive to pull off. This is another great party element that you can either DIY or buy: Follow this tutorial to make the pinwheels yourself, or check out your local craft store to pick up a bunch for only a few dollars each.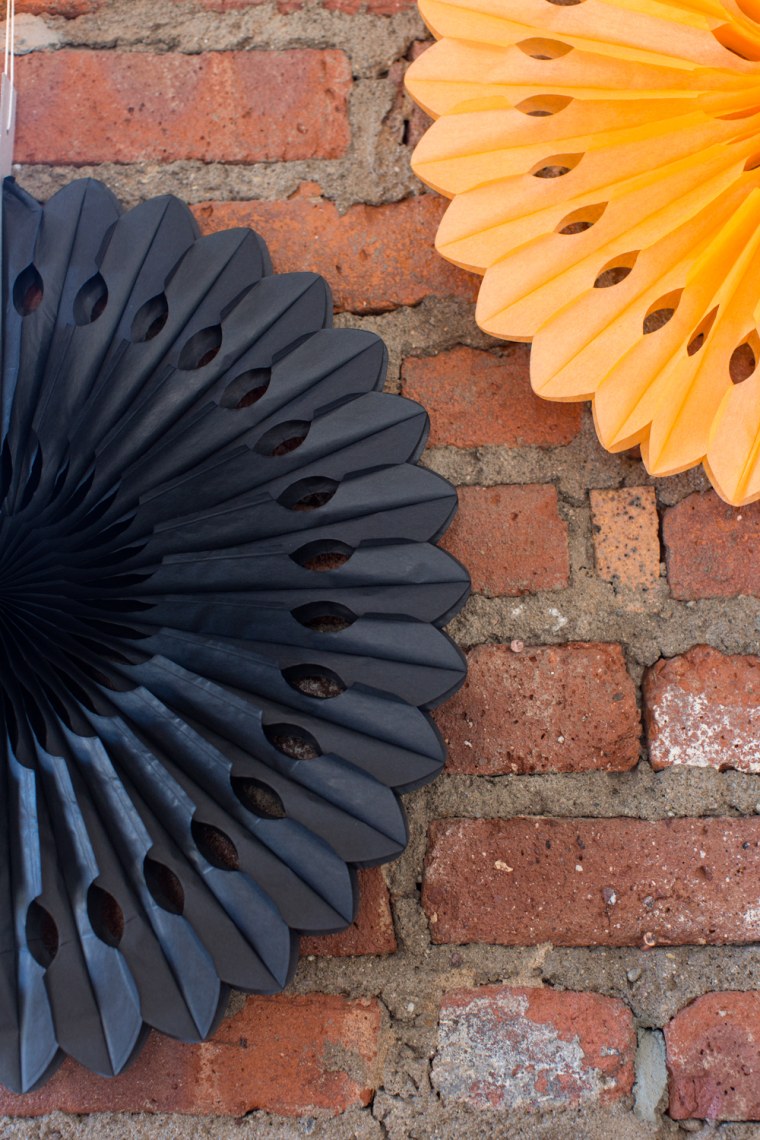 3. Candy corn vases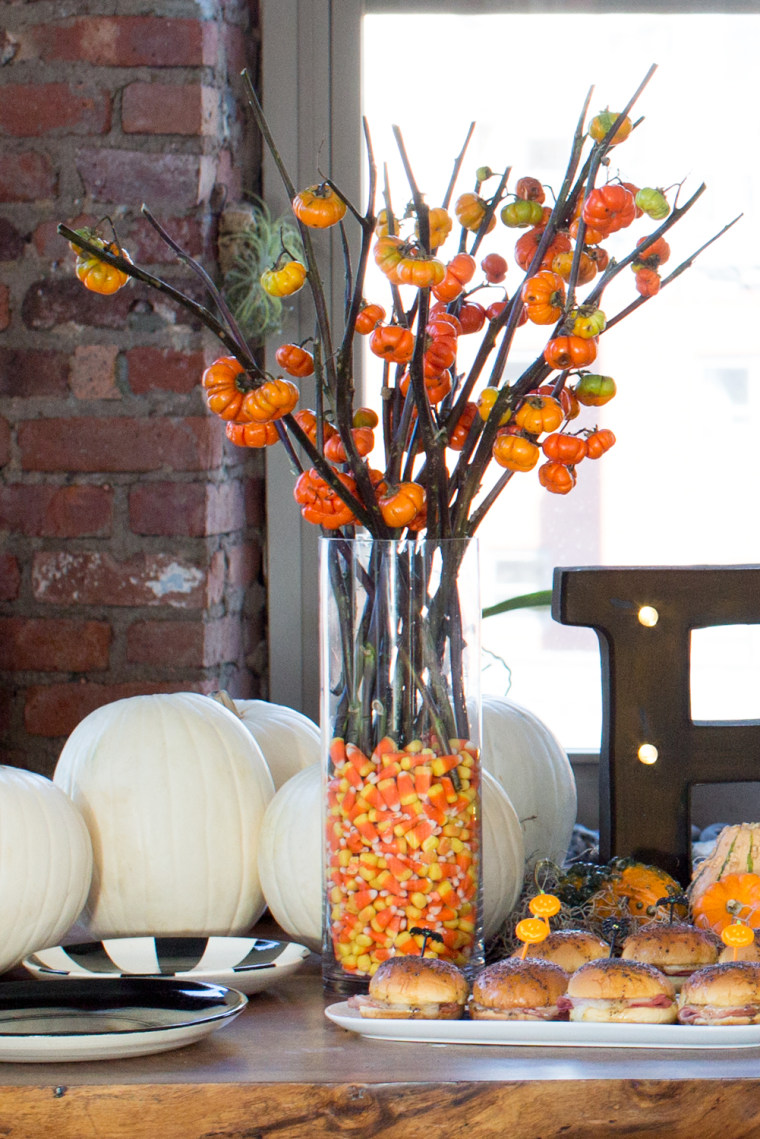 Halloween décor doesn't get any easier (or inexpensive) than this DIY. Fill vases halfway with candy corn, then add branches from your yard. Place the vases throughout your party and you'll create an instant Pinterest-worthy look.
4. Pumpkin bowl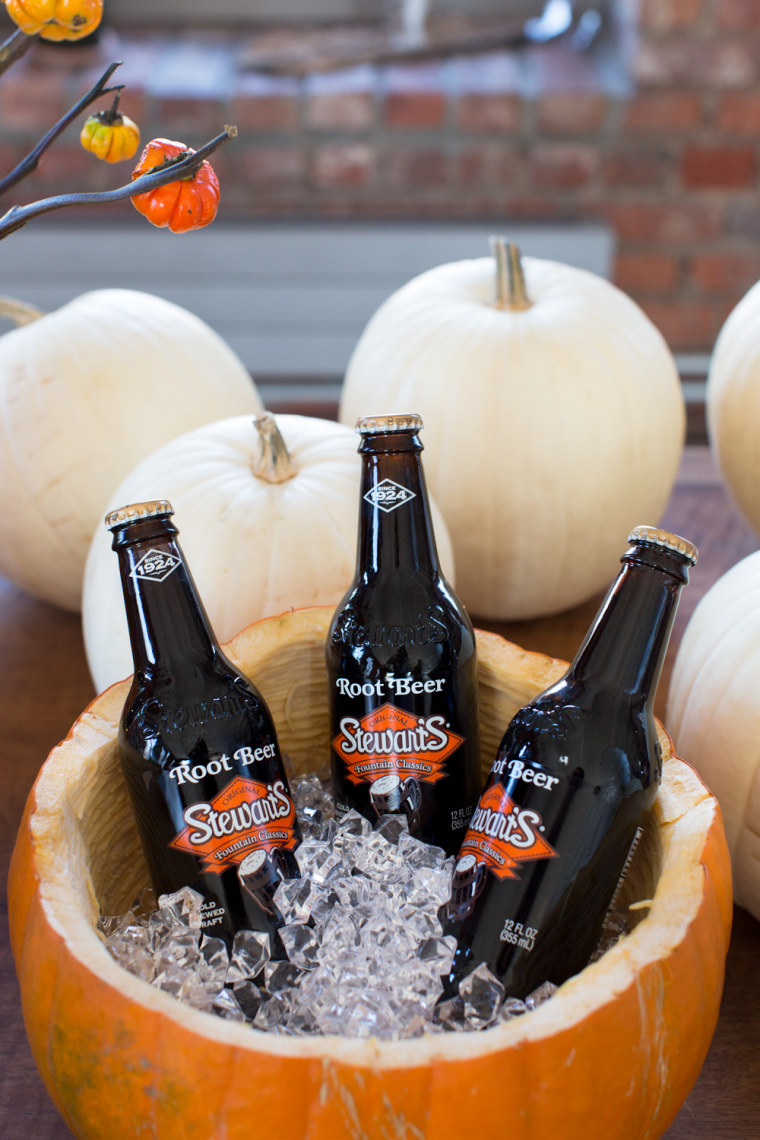 Make your pumpkin work overtime this Halloween by making it both a decoration and a beverage drink holder, in just 3 steps:
To make it, simply:
1. Cut off the top half of a pumpkin.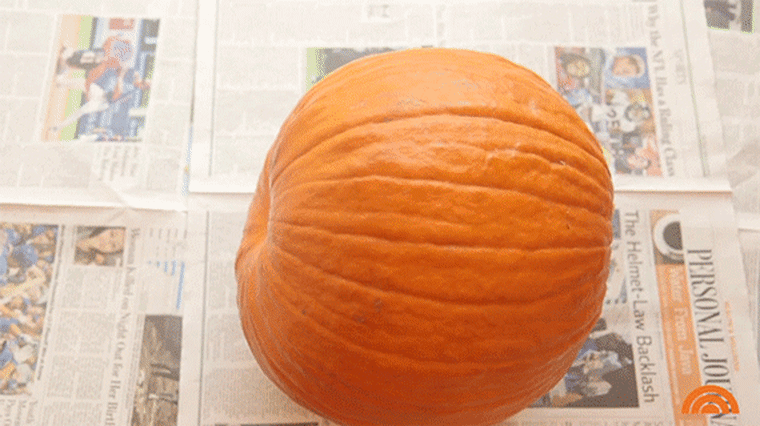 2. Scoop out the seeds.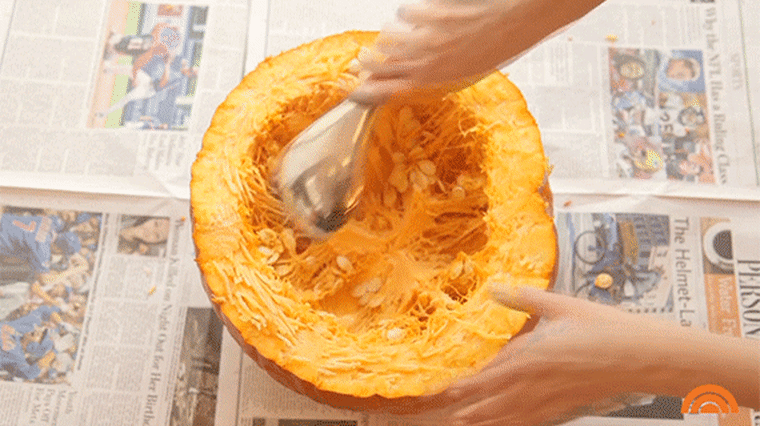 3. Add a bowl or bucket to the pumpkin to hold ice, drinks.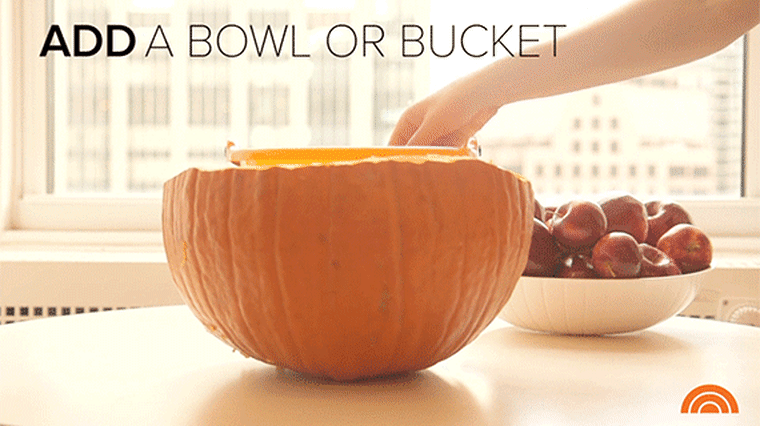 Add drinks and enjoy! You can learn more about the DIY here.
5. TODAY pumpkin stencils
While we're talking about pumpkins, may we suggest bringing a bit of the TODAY Halloween spirit into your own home with these pumpkin-carving stencils, patterned after the TODAY sunrise and Wrangler, our puppy with a purpose.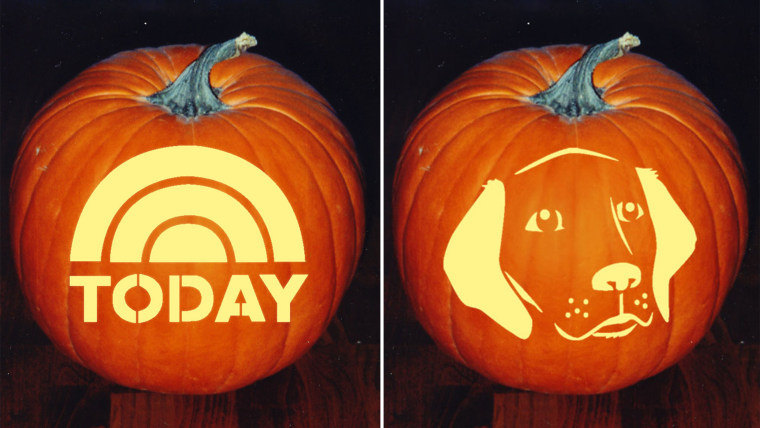 All you need to do is print out the PDFs found here, cut out the black graphics and tape each piece to a pumpkin in the same order it's in within the PDF.
Trace the design, remove the paper and cut along the lines. It's (almost) like having Wrangler in your own home!
FOOD:
6. Ham sliders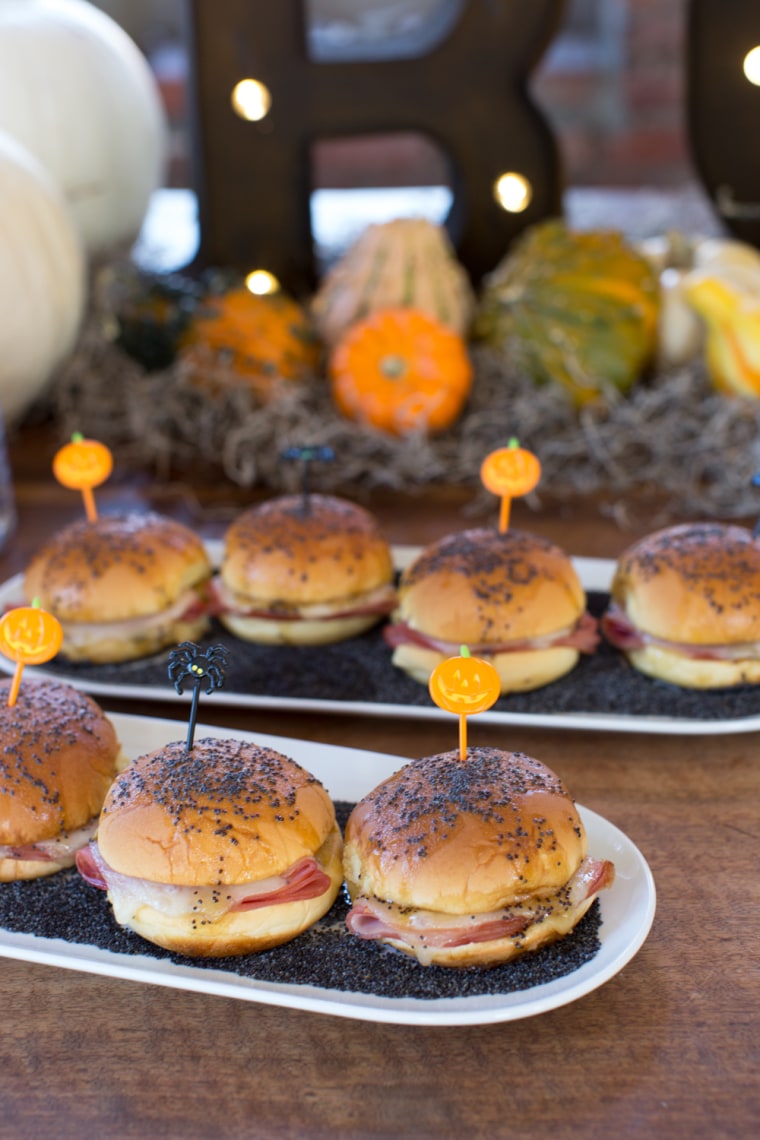 While Halloween is all about candy, you should probably have some real food at your party before guests embrace their sweet tooth — so look no further than these mouthwatering ham and cheese sliders.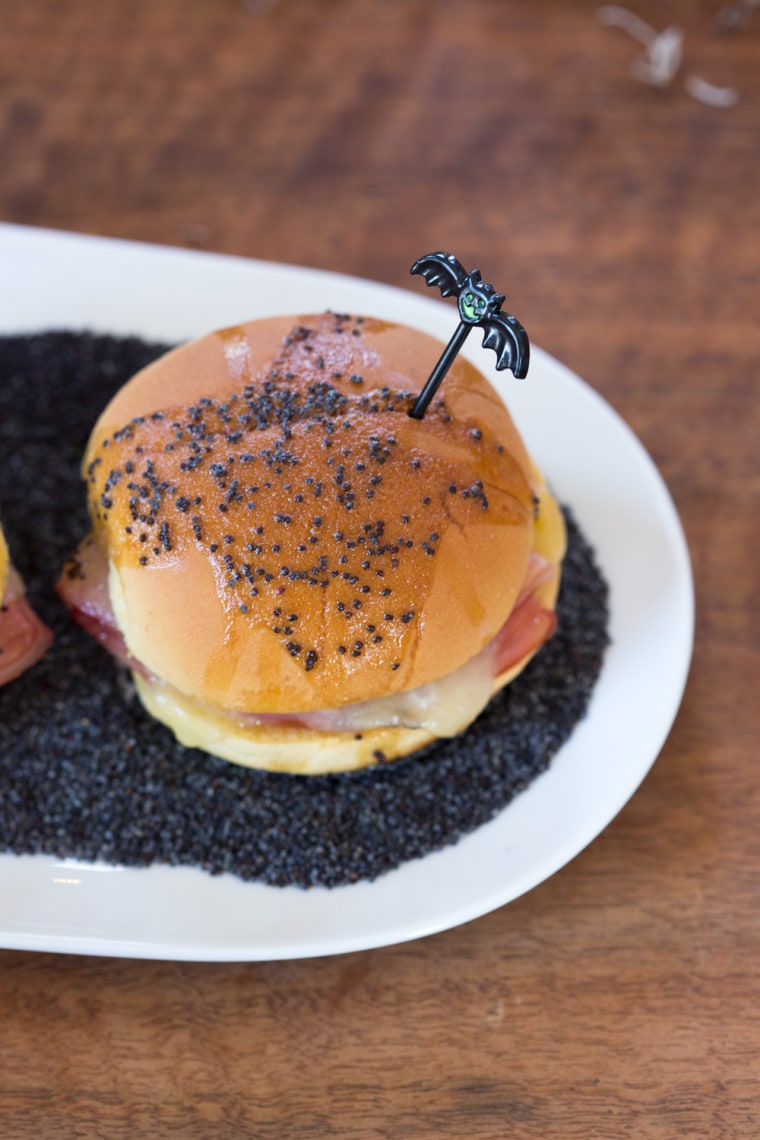 With a buttery mustard sauce and gooey provolone cheese, these will definitely be a hit. Find the recipe here.
7. Spooky raspberry tarts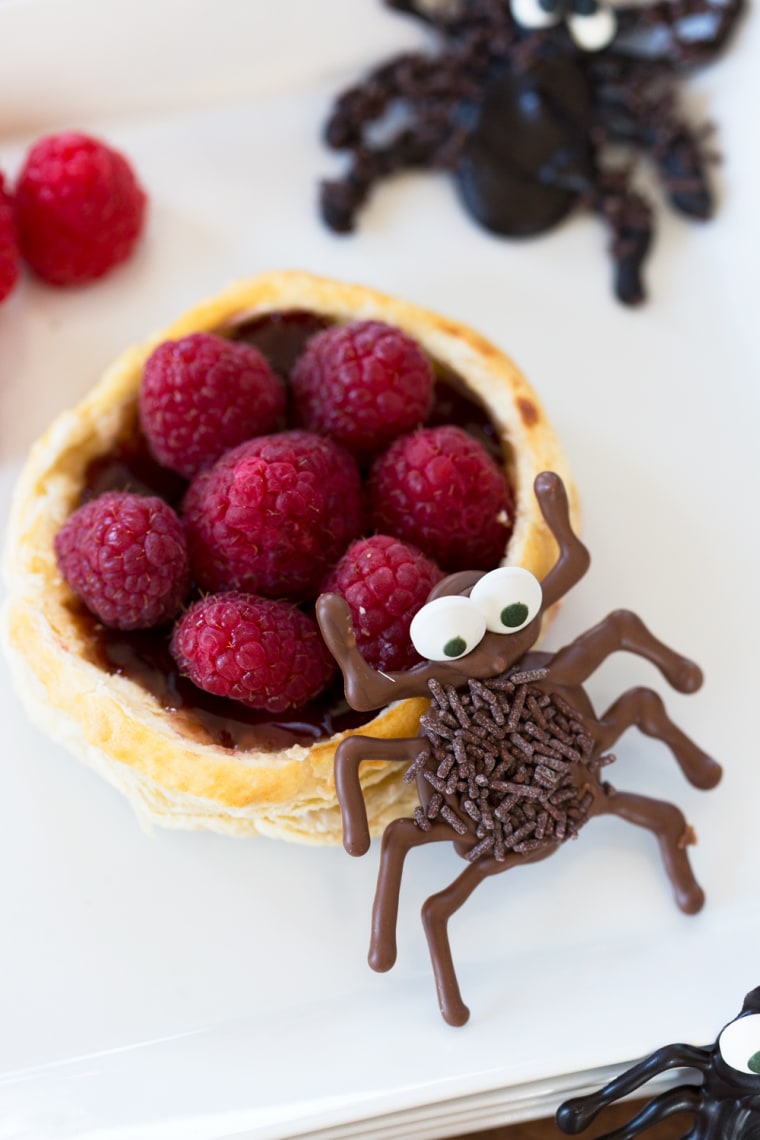 Here's a riddle: When are spiders ever cute? When they're made out of chocolate! And that's the case with these fun "Spooky Spider Raspberry Tarts."
A little tip from us to you: Make extra spiders and plant them around your party as a fun (and tasty) surprise. Find the recipe here.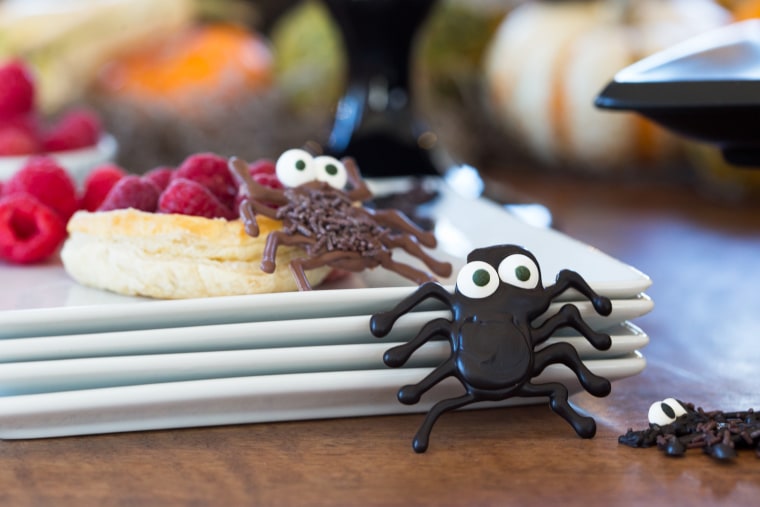 8. Sour Goblin drink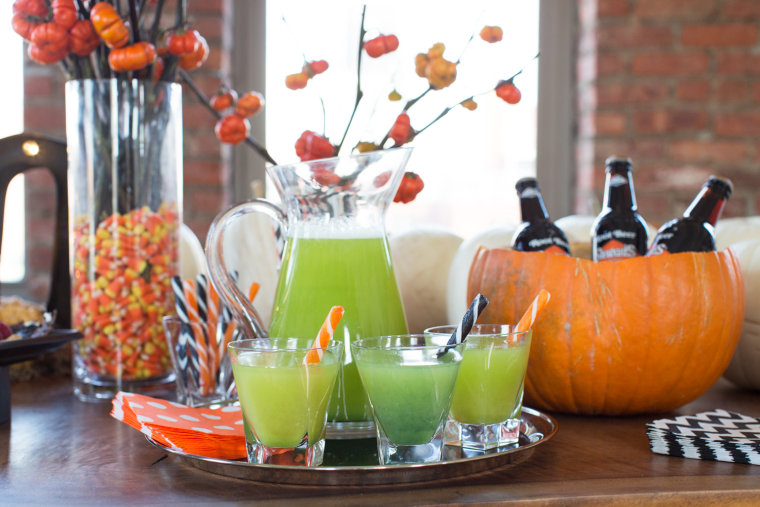 Make sure no item goes without an eerie touch at your party — drinks included. This tasty green drink can be made for kids or customized for adults (with a little touch of vodka).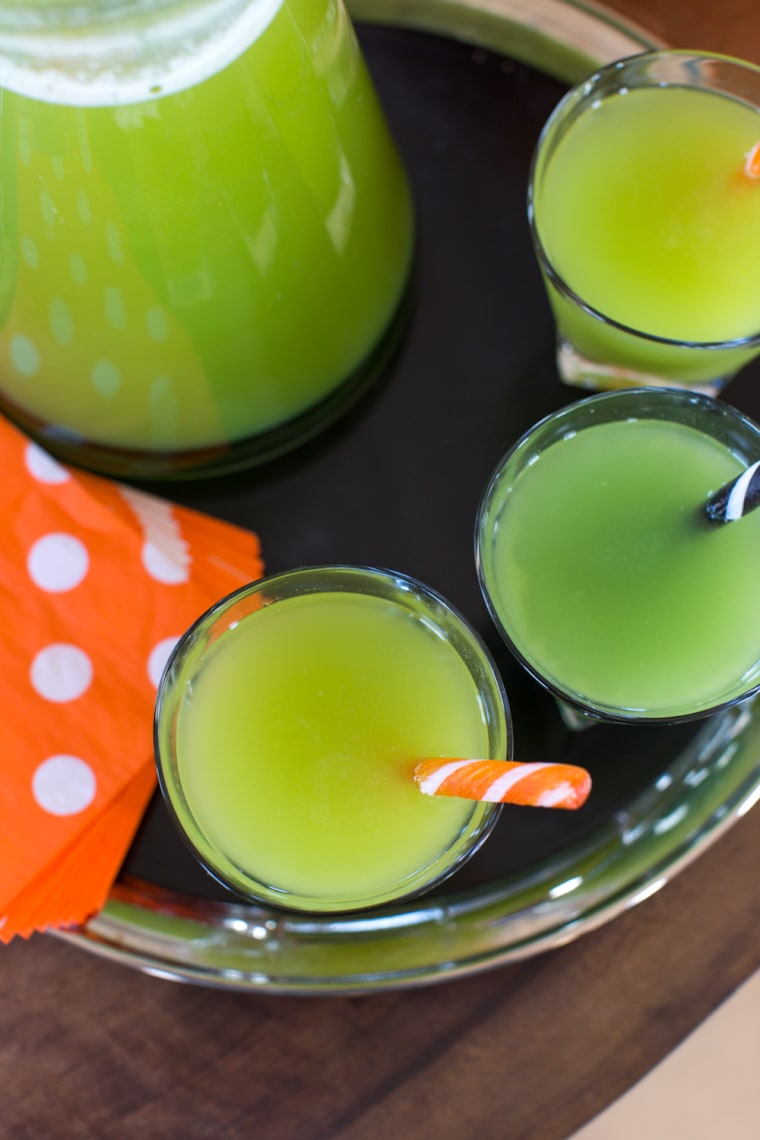 Ingredients:
2 packets unsweetened lemon-lime Kool-Aid
48 ounces pineapple juice
1 pint lemon sorbet
1 liter bottle of cold, plain seltzer
Sugar, to taste (optional)
1-2 cups vodka, to taste (optional)
Instructions:
Mix Kool-Aid with 2 quarts of water. Set aside.
Add sorbet to large punch bowl. Pour in pineapple juice. Add Kool-Aid mix and vodka (start with one cup). Before serving, add seltzer water. Give it a taste and add sugar if you want more sweetness. Adjust the amount of vodka if necessary.
9. Candy bar
Trick or treat in your own home by setting up a candy bar!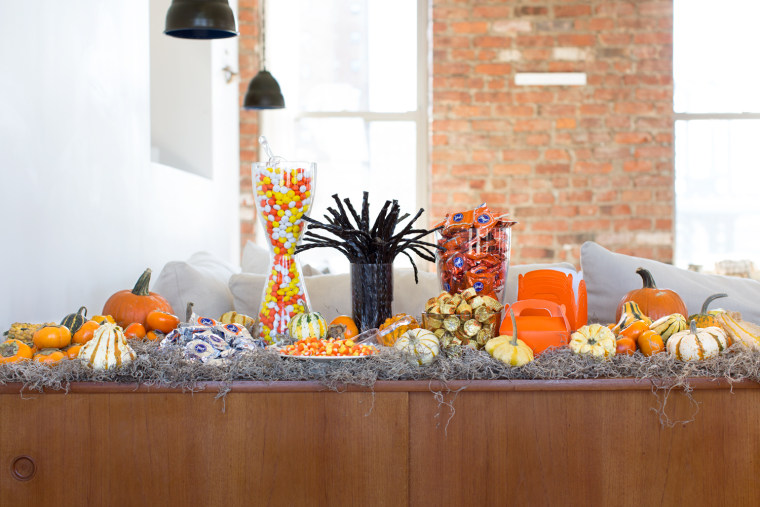 Simply fill some jars or vases with your favorite candy, then add scoops and baggies for guests to fill with their favorites.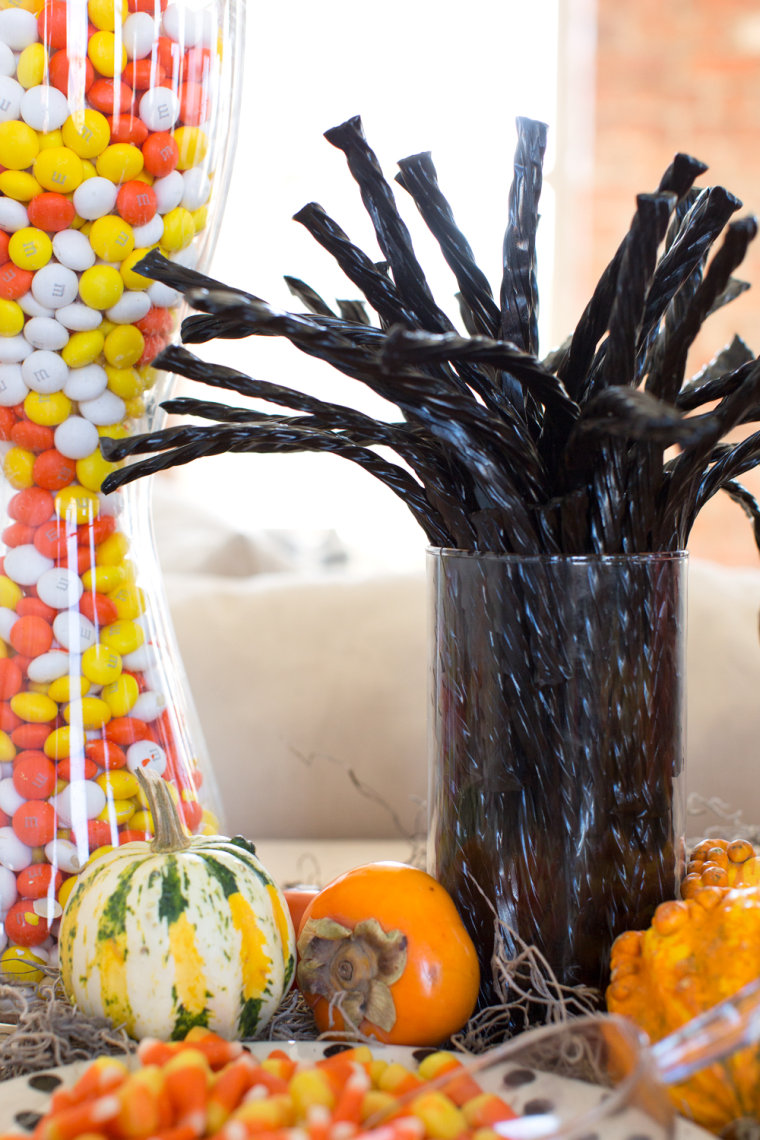 Add moss and pumpkins around the jars to keep up with that cozy fall feeling.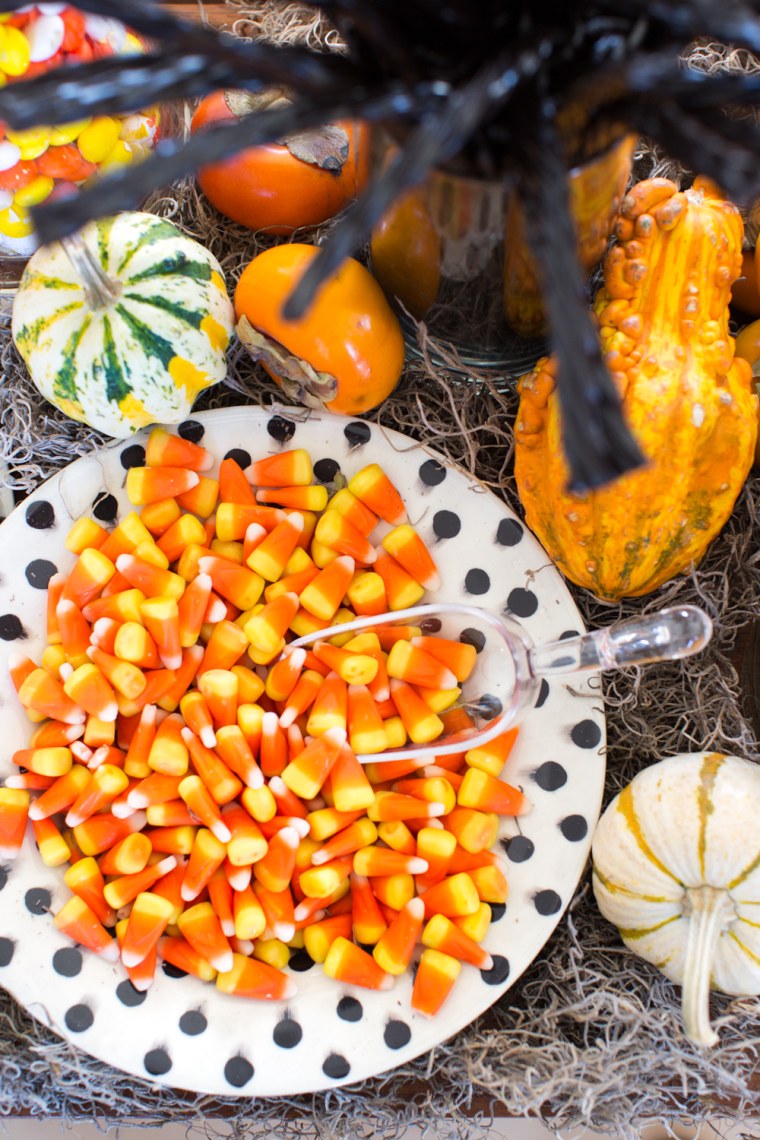 ENTERTAINMENT:
10. DIY photo booth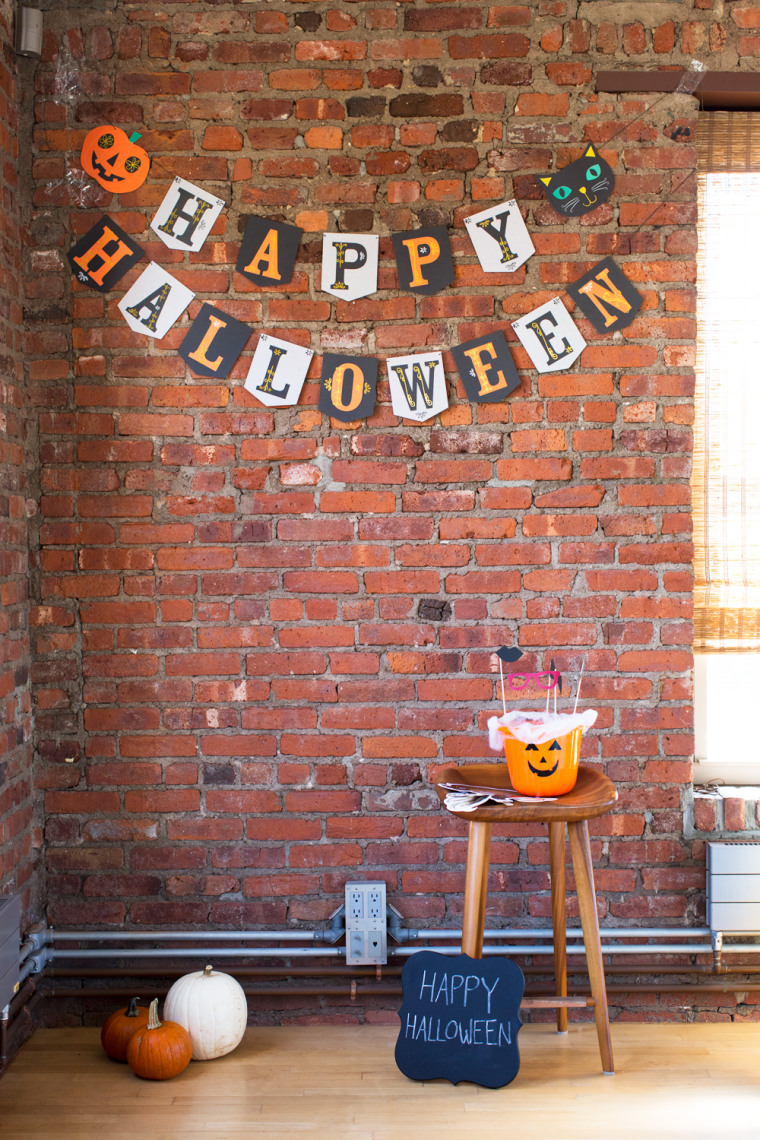 Create a night your guests will remember by setting up a photo booth. You can even download our printable Kathie Lee Gifford, Hoda Kotb and Wrangler masks to use as props! Click here to get your own.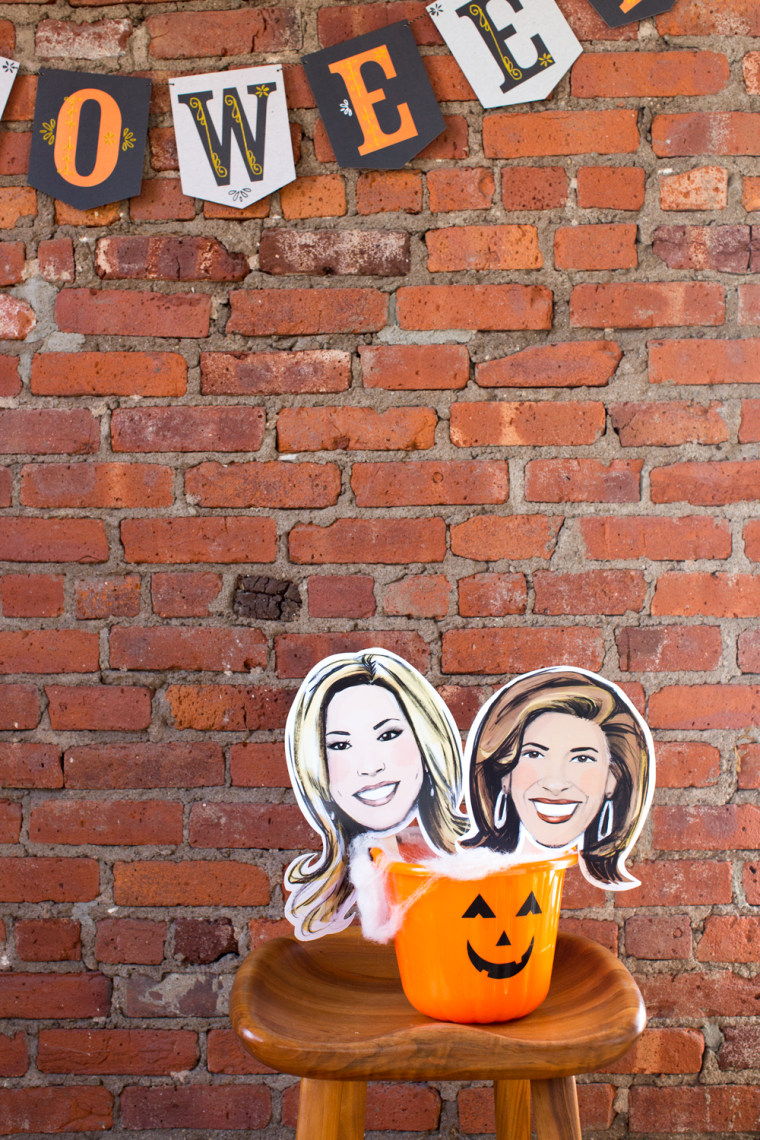 To set up the photo booth, follow the simple rundown below.
Instructions
Using an empty wall in your home, hang a Halloween-themed garland across the wall.
Add pumpkins, a stool and other props for guests to pose with. (Check out our downloadable masks here!)
Set up a camera on a tripod, or invite guests to take photos with mobile phones.
Say cheese!