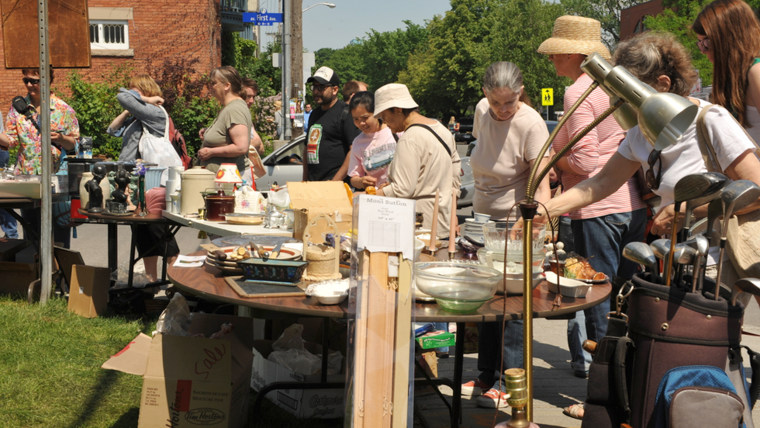 Garage sales are a staple of summer. Shopping someone else's castoffs for fabulous finds can be fun, but how can you be sure you're getting the best bargains? We asked garage sale gurus to share their tips to help you walk away a happy shopper.

1.Have a plan.

"If you are serious about it, look on Craiglist, in the newspaper, and on garage sale websites that aggregate all the local sales to get a general idea of where you're headed first," recommends Bruce Littlefield, lifestyle expert and author of Garage Sale America. "The best neighborhoods generally have the best stuff."
You can also avoid wasting your time at a dud of a sale by scouting it out from your car. "If you see multiple people walking away from a sale and they don't have anything in their hands, it's time to turn and run," Littlefield says.
"If we see a bunch of kid's stuff and kid's toys from the road, we usually don't stop because that indicates it's a younger couple just getting rid of their stuff," says Amie Sikes of HGTV's "Junk Gypsies" who, with sister Jolie Sikes, scours garage sales and flea markets to find trash they can turn into treasure. "We normally look for older neighborhoods and things that have more interest, like furniture or yard items."
2.Time it right.

"If selection is your goal, get out early because people who go to garage sales a lot, especially professionals like me, will go out early and get the best items and best choice of the items," says Lynda Hammond of GarageSaleGal.com and author of The Garage Sale Gal's Guide to Making Money Off Your Stuff. "Go out to sales on Fridays. A lot of people think Saturday is the best, but Friday is a great day because you'll get the best selection." If you're looking for a deal, shop late when prices will likely drop, Littlefield says.
3.Take time to chat with the seller.

"If you can create a relationship with them, they will give you a better deal because they once owned this stuff and they want it to go to someone they like," Littlefield says.

"Some sellers are sad that they have to sell their stuff and will appreciate someone asking about an item so they can tell the story," adds Hammond.

Related story: Show me the money! 11 ways to make more cash at your next garage sale
4.Do a quick sweep.

Once at the sale, do a walk through to quickly find anything you're interested in. "We don't stand and go through the clothes rack, unless something cool or funky like a fur coat or kimono catches our eye," says Jolie Sikes. "We don't go through crystal, glassware, and vases from florists, either. Be relentless, be persistent, be quick. "
5. Look beyond the obvious.

Some hidden treasure is just that: hidden. You have to look for its potential. The Junk Gypsies look for bigger items like lamps and solid wood furniture, even if it's not in good shape. "We can't do much with particle board furniture," says Jolie, "but solid wood is almost always a good buy. You can add architectural pieces and decoupage, stain, or paint it."
Artwork is another item where beauty is in the eye of the beholder, says Amie. "Art is subjective, so maybe someone is selling something a kid did in high school art class, or maybe the wife did an art class back in the 70's—something just really special that the seller doesn't see the value in," she says. "You can even embellish them, add a favorite quote, or even add rhinestones. You can take it and upcycle it and make it your own."
6. Claim stuff you might be interested in.

"If you love it, pick it up and walk around with it," Hammond says. "I've tried to be real cool and pretended I didn't want something to try to get a better price, and someone always swoops in behind me and picks it up."
If you like more items than you can carry, ask the seller if you can start a little pile somewhere safe, Littlefield suggests. "Then you've started a relationship, and it enables you to negotiate for a group price," he says. "It always works out in your favor. They will usually round down."
7. Don't be afraid to ask for specific items.

"If you don't see something you're looking for, ask the seller," Hammond suggests. "For example, 'Do you have any old cameras?' A lot of times they will think, 'Oh yeah, I do!' and go in the house and come out with something."
8. Avoid dangerous or broken items you can't fix.

"Things I wouldn't buy are cribs, mattresses, car seats, or safety items for children, or any opened lotions and potions," Littlefield says.
9.Calculate an item's value to you.

"It's valuable if you actually have a use for it," Littlefield says. "I'm not going to a sale to find the Beanie Baby worth $500. It's useful to me if I can use it in my life, or give it as a gift to someone else. Anytime I see a fun vintage board game, I get it for my friend Michelle who collects them."
If you are looking for potential valuables to resell, "look on the bottom or underside for markings or descriptions and don't be scared of the dirt," Littlefield says, "Use your smartphone and look on eBay for what someone really paid for it."
10. Negotiate, but nicely.
"Don't be shy when it comes to negotiating," Hammond suggests. "If a seller has something marked at $10, see if they'll take $7."
Of course, never insult their stuff. "If they have a cookie jar priced at $10, don't say 'That cookie jar isn't even worth $5,'" she says. A better tactic is to ask, "What's the best you can do on that?"
"If you see something you want, but you can't afford it, do the 'kiss and the kick,'" Littlefield suggests. "Say you love it, but then point out it's imperfection. 'Oh I love this vase! … Hmmmm, it has a little nick in it.' The seller will usually lower the price."
Also, don't dress to impress. "You're dressing not to impress," Littlefield says. "If you show up in fancy clothes and a fancy car, you will definitely pay full price. Wear ratty sneakers and a t-shirt."
11.If you love it, buy it.

"If it's a low price and a decent find, buy it," Hammond says. "Maybe someone in your family can use it, or you can have a garage sale and sell it for more. Take a chance on it. If worse comes to worse, take it to Goodwill and get a tax write-off."
Ellen Sturm Niz is an editor and writer living, parenting, and working in New York City. Follow her on Twitter, Pinterest, Tumblr, and Google+.