Replacing the floors in your home is a surefire way to give your space a fresh, new look. At the same time, purchasing quality flooring and hiring an experienced professional can get pricey — fast.
If you're craving a new floor and aren't afraid to go DIY, attempting your own flooring project can save you lots of money. Of course, it can also turn into a huge mess if you don't do all the research first. To save you from a major headache, TODAY Home consulted the pros to find out exactly what you need to know before starting your own DIY flooring project.
Want more great tips delivered straight to your inbox? Sign up for TODAY's Everyday Solutions newsletter!
DIY flooring isn't for the faint of heart
Looking up DIY flooring ideas can be fun, but make no mistake: Installing a new floor isn't easy. "Even relatively simple materials, like vinyl or laminate, require a lot of careful calculations and precision cutting for the patterns to be just right," said Dan DiClerico, an expert at HomeAdvisor.
In other words, if you're new to the DIY home renovation world, it may not be the best idea to start with flooring.
Then again, if you're up for the challenge and don't mind doing your research, learning how to install floors can pay off. "An intrepid DIYer who tackles the project could save hundreds, if not thousands of dollars," DiClerico said.
Before you get ahead of yourself, though, make sure you spend plenty of time poring over how-to videos and deciding which type of flooring will work best in your home.
"Before you go on a tool-buying spree, you want to determine the type of floor you are laying and do your research. Go online and look at installation videos for the products you selected and talk to the supplier about the warranty conditions and get advice on how to deliver, treat and install the flooring product," said professional contractor Mike Holmes, whose DIY Network series "Holmes & Holmes" airs Tuesdays at 9 p.m. ET/PT.
The right tools make a world of difference
Renovating a home is a lot like cooking: Without the proper tools and ingredients, your end results won't look right. So once you select a type of flooring, it's time to track down the right tools to install it. Here's a quick cheat sheet of the tools you might need:
Laminate, vinyl and click hardwood:
Underlayment (unless the laminate comes with pre-attached padding), transition moldings
Jamb saw, table saw, miter saw, circular saw, jig saw, ¼-inch or ½-inch spacers
Hammer, 6-foot level, tapping block, tape measure
Moisture meter, 6 mm to 8 mm Polyethylene sheet plastic as a moisture barrier over concrete
Pencil, T-square, glue as needed, tape
Safety glasses, broom/vacuum
Tile:
5 gallon buckets
Straight edge, 6-foot level, speed square, spacers,
Undercut saw, wet saw (with diamond blade), angle-grinder (with diamond blade), tile-snapper
Grout sponge, microfiber sponge
Safety goggles
Trowel, margin trowel, ear protection, rubber gloves
Tape measure, pencil, drill, mixing paddle, knee pads
Utility knife, grout, mortar
DIY hardwood floor (or solid bamboo):
Pencil, chalk line
6-foot level, tape measure
Miter saw, table saw, 60-tooth carbide tip saw blades, jam saw
Broom, cloth rags
Eye and ear protection, dust mask, gloves, knee pads
Floor fasteners
Hygrometer (to test home temperature and humidity), moisture meter (for wood subfloor and flooring), calcium chloride test (for concrete subfloor)
Painters tape, PVA wood glue
Compressor with regulator
Drill and drill bit set
Hammer, nail set, hardwood nailer
Rubber mallet and pry bar
Peel-and-stick vinyl tiles:
Tape measure
Chalk line
Utility knife
Handsaw (to cut around doorframes)
Pro tip: Most of the heavy-duty power tools are available for rent from a local hardware store, so you won't have to shell out hundreds of dollars on tools you'll rarely use again.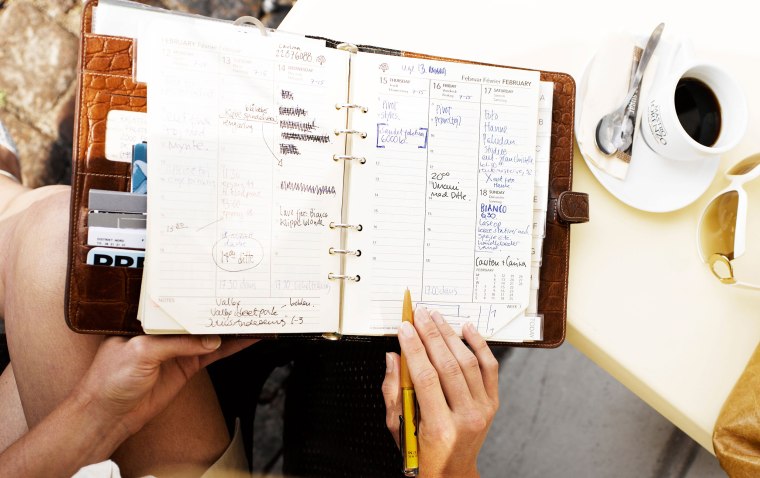 Things will probably take longer than you expect
In an ideal world, you'd watch a few YouTube videos then breeze through your DIY floor installation, but things are easier said than done. As a general rule, the process of installing a new floor can take anywhere from one day to several days, depending on the size of the space. The type of flooring you're using will also influence the length of time of your project.
"Click-together floors typically take less time than nail-down floors. And the DIYer's expertise will affect the time it takes — more experienced flooring DIYers will typically finish projects more quickly than less experienced, just due to the learning curve," said Mike Horn, senior VP of sales and services at Lumber Liquidators said.
Of course, you'll also want to set aside enough time to prep your floors before diving in. "If the project involves a lot of surface preparation, including ripping up old carpets and making the subfloor sound, level and solid, that alone could eat up an entire day," DiClerico said.
If you've got a helper and are working with a smaller space, DIY floor installation can be a nice weekend project. But if you're dealing with a larger, more complicated installation, it can take twice as long.
"If you're not in a huge rush, I'd advise splitting the work over two or three weekends. It can be very tedious, plus it's tough on the knees and back, so you'll appreciate the time off between sessions," DiClerico said.
Here's a quick cheat sheet of how long it might take for your DIY flooring project:
Tiling a bathroom floor: 2-3 days (as long as your subfloor is prepped, clean and ready to go)
Large room with laminate click-together flooring: approximately 1-2 days (the cuts around the perimeter take time)
Installing hardwood floors: 2-3 days
Peel-and-stick versions: half a day, depending on the size of the room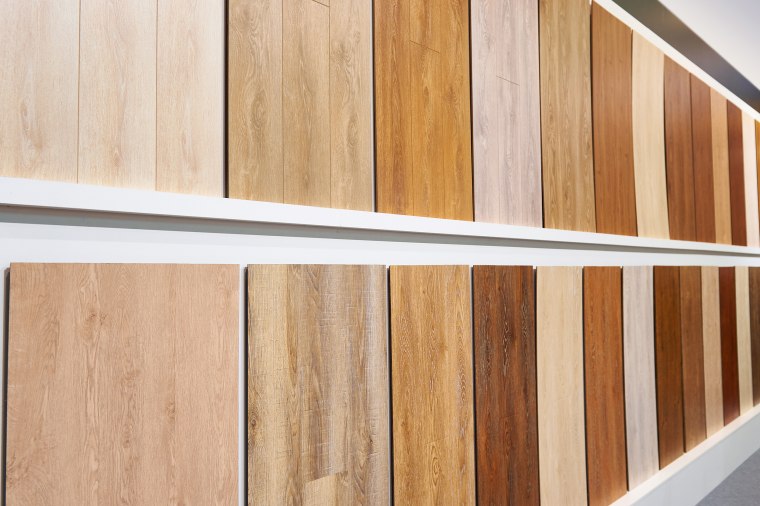 No two flooring types are alike
Between laminate, tile, vinyl and hardwood floors, there's a flooring solution for every person and every room out there. And they each come with their own sets of pros and cons.
Laminate:
What is it? "Laminate flooring is a synthetic product made out of fiberboard with a photo of any material (wood, stone, etc.) glued to it, with a protective plastic layer on top," DiClerico said.
Pros: Installing laminate is relatively easy and it's also easy to maintain. Laminate is inexpensive, extremely durable and resistant to staining, scratching, wear and fading. "Laminate is perfect for busy homes with kids and/or pets, where style is appreciated, but so are budget and durability," Horn said.
Cons: Laminate can sometimes look and feel like plastic, and you won't be able to sand it down and refinish it the way you can with solid wood flooring. This flooring option also isn't ideal for kitchens or bathrooms. "Laminate floors are susceptible to moisture from food and water spills and can be marked and dented when things are dropped," Holmes said. Laminate is also prone to shifting and small cracks between the boards with changes in humidity or traction movement.
Hardwood:
What is it? "There are two options for hardwood — solid or engineered. Solid hardwood is just how it sounds; it's milled from solid wood, and there are both finished and unfinished options," Horn said. "Engineered hardwood is real hardwood with a plywood, medium-density fiberboard (MDF) or lumber core. This core means that it is more stable than solid hardwood and can be used in any level of the home."
Pros: Hardwood floors offer a classic, timeless look and there are several types from which to choose. "Hardwoods come in a wide variety of species and each species has a different hardness rating, meaning some are more or less durable than others," Horn said.
Cons: Similar to laminate, hardwood flooring isn't a great option for kitchens or bathrooms. The process of installing hardwood floors is also a bit more time intensive and expensive than some of the other flooring options.
Vinyl:
What is it? This synthetic flooring option comes in sheet and tile options.
Pros: Vinyl is waterproof, so it's ideal for bathrooms, basements or anywhere else hardwood and laminate isn't recommended. It's also easy to DIY and affordable.
Cons: Vinyl isn't as durable as a flooring option like hardwood.
Tile:
What is it? Tile flooring comes in a variety of colors and materials (like porcelain).
Pros: Tile is perfect for an indoor-outdoor living space. Porcelain tiles are also one of the more durable flooring options. ""They are easy to clean, with no off-gassing, and last for years," Holmes said. "I like porcelain better than ceramic tile: It's less porous and more resistant to moisture, more dense so it can handle heavier loads and the color of tile is continuous all the way through, so chips and cracks are almost invisible." Tile is ideal for any high-traffic area and rooms that are close to a water source, like a kitchen, bathroom or laundry room.
Cons: Tiles are one of the hardest flooring options to install.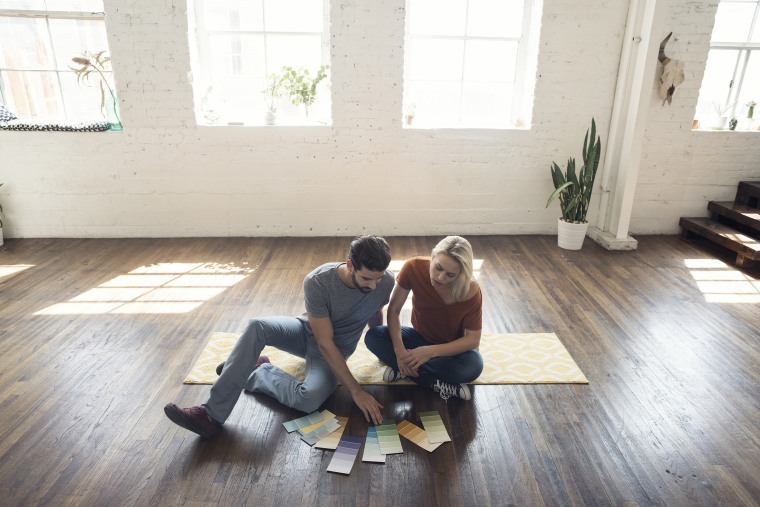 Different types of flooring = different installation process
The way you install your flooring will certainly depend on which material you're working with, but every installation process starts the same way: prep time.
"Once you've gathered all your tools and materials, the project starts with surface prep. You might be able to go right over the existing floor, if it's stable and sound, but some patching will probably be required to level out the surface," DiClerico said. "After the surface has been prepped, you're ready to map out the pattern. The calculations will depend on the size and shape of your tiles, strips or boards."
Some types of flooring also need to get used to their new surroundings before getting installed.
"If the floor requires acclimation, lay the flooring flat and leave it in the room(s) it will be installed in to acclimate for the amount of time listed in the installation guide," Horn said.
Want some specific tips for your flooring type? Check out this cheat sheet:
Hardwood:
Start off by removing the existing flooring and anything fastened to the floor. "If the subfloor is in good condition (no evidence of moisture, mold, warping or wood crumbling, etc.) just make sure it's smooth and level and give it an extra good cleaning," Holmes said. "If the subfloor is not in good condition, then you will have to replace it. If the subfloor is concrete, make sure the surface is smooth, level and patched."
The process of installing hardwood flooring is somewhat similar to the click system, but you'll need nails and a pneumatic (air) flooring nailer to nail each piece into place into the subfloor.
Don't forget to let your hardwood planks acclimatize for a few days (ideally three) in the room they'll be used in. You can also open up the boxes and mix the planks up so the pieces are varied.
Laminate:
With a laminate "click flooring" or tongue-and-groove system, you can install your flooring by clicking pieces together over an underlayment that rests on the subfloor. That means there's no need for nailing or gluing!
Before doing anything, Holmes recommends removing any existing floor and making sure your subfloor is in good condition.
Like hardwood, let your laminate pieces acclimatize for a few days.
Tile:
Installing tile is a bit different than installing laminate or hardwood. "Tile installation requires mortar and grout instead of nails, glue or simply clicking the planks together. The process it a little more labor intensive than a click-floor installation because of this, but it is still doable for a DIY project," Horn said.
If you're tiling a bathroom, you might want to use a waterproofing underlayment system. "When installed properly, it will ensure a waterproof seal of your floor and it also provides an added protection against tile movement, which causes cracks in tiles and grout lines," said Holmes.
If you're up for the job, make sure to familiarize yourself with mixing mortar, cutting tiles, using spacers and applying grout to the seams.
Vinyl:
Vinyl type peel-and-stick flooring is ideal for the DIYer. Start by marking out the center of the room using chalk lines and do a dry run by placing the tiles out on the floor with the backing still on. "Divide your floor into quadrants and start your first tile in the center of the room and work out from the quadrants," Holmes said. "Make sure the tiles butt up (next) to each other, unless, of course, you plan on having a grout line. Then you will have to use tile spacers between each tile."
Next, place tiles in a step pattern and make sure the arrows on the back of the tile all follow the same direction. This is especially important if there is a specific design to your tiles. "As you approach the edge of the wall or corners, (you) will need to cut the tile. Make sure you mark this correctly as you will have to cut the tile to fit the space. And when going around corners, make a template from a piece of cardboard and use this to cut your tile," Holmes said.
Please double check tile before you cut and remove the backing. Once the floor is done, you can use a roller to make sure the tiles are secure.