Laura and George W. Bush opened the doors of their Crawford, Texas ranch for a beautiful spread in the August issue of Architectural Digest, and former first daughter Jenna Bush Hager opened up to TODAY.com about her memories in the home, where she tied the knot with husband Henry Hager back in 2008.
As a homesick Texan — happily living in New York — our ranch in Crawford is my most cherished place. It's remote, and people — including Savannah — have joked that when they covered my dad during his presidency they were literally reporting among hay bales and tractors. It really is isolated, but it has been an oasis for my family. 

It is also a great place to throw weekend house parties. In college, I lived an hour and a half away, so we were often road-tripping to Crawford. The land is incredible; my dad has built miles of hiking trails for my mom through canyons. A couple of years ago we took friends there for the Fourth of July. They couldn't believe the heat — July in Texas! — but they loved it: Hiking, swimming and fishing, and at night we would lie on blankets and watch the stars.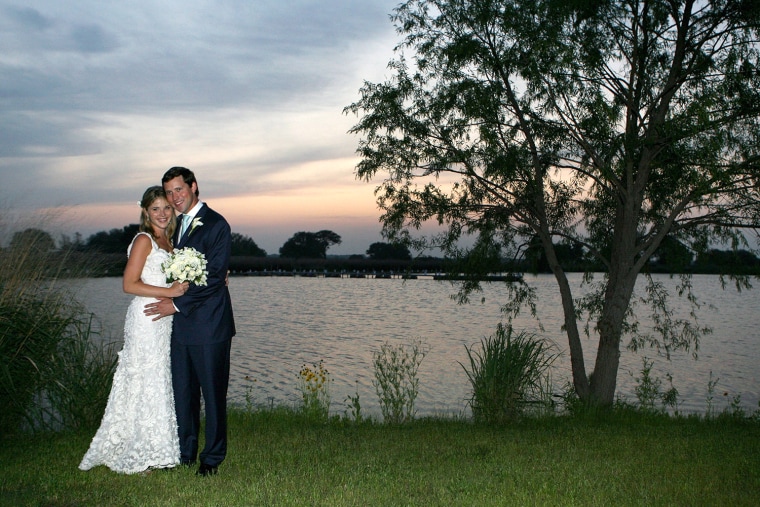 It is such a special place to Henry and me that we gave up the opportunity to get married at the White House — which believe me, disappointed quite a few — to get married at a place that feels like us. Under the stars of a big Texas sky, life feels limitless. 

The Breezeway: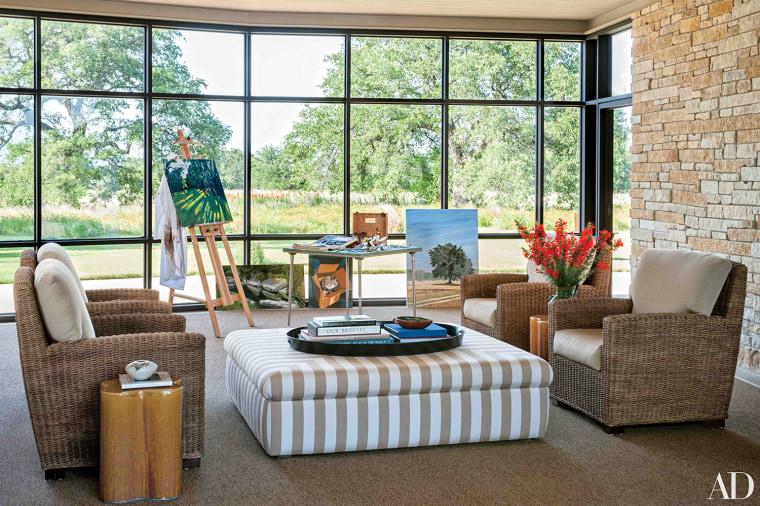 The Breezeway is the heart of the house. More recently, since my dad took up painting (which was a shock to us all!), it's become a place where he paints, but it's always been a place where our family has spent time. Because it is open air, we eat as many meals here as possible, including many Thanksgivings with my darling grandparents. It's a room that has a lot of soul and cherished memories.
The Study:
This is my dad's study, and this photo captures his newfound passion for painting. His first subjects were pets, and he's painted all the animals that we've loved dearly. He recently painted my cat Bernadette, and the painting hangs in my daughter Mila's room. In this photo, you can see his paintings of our beloved dogs Spot and Barney. My dad has now moved onto landscapes. One of his favorite places to paint is our ranch.
The living room:
The living room (or the great room) at our ranch is a place where we spend a lot of time. My mom is a librarian, and we all love to read, so the room is built around a huge bookshelf complete with a ladder (which is out of the frame of this photo). We've been known to climb it to capture books at the very top of the shelf. Our house is constantly filled with music; my mom is an avid record collector! She's a Rastafarian — she has tons of Bob Marley and Jimmy Cliff records, as well as Bob Dylan, Paul Simon and George Jones. When my friends go to the ranch we love to put on records and dance around the room. 
The property pool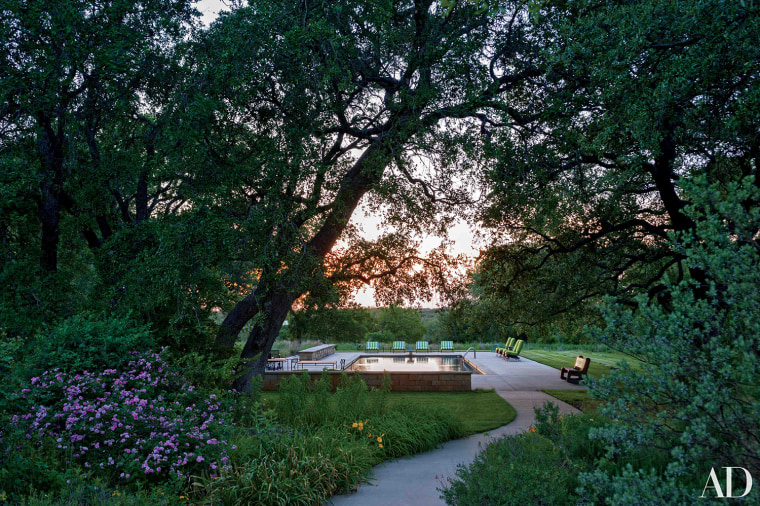 My dad calls this "the whining pool" because when my parents were building the ranch, my sister Barbara and I were in high school, and the one thing we fought for was a swimming pool. We complained until he finally agreed to build the pool! My dad just had knee surgery and now this is a place for his therapy.
Obviously the ranch is a place Henry and I are going to eternally cherish, because we were married there. And we try to get there as much as we can. I got to take Mila there for the first time over Christmas, and I felt like she was immediately a ranch baby! To have this place that's really solely about family and the outdoors is such a gift.