Hosting a Super Bowl party is serious business. Even the most seasoned professional spends a good chunk of the evening trying to minimize fumbles and avoid being blindsided with an epic mess later. Here are four simple host hacks to avoid property damage and dish disasters after the game. 
Laces out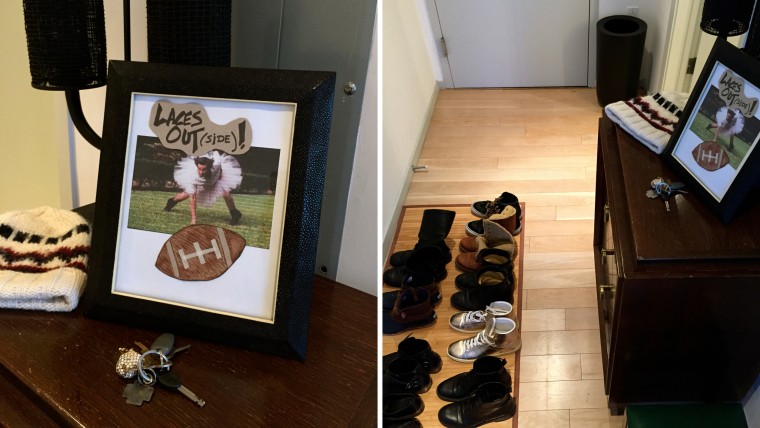 You will kick yourself later if you allow guests to sport their sneakers inside the house. Designate a clear space to store footwear by creating a sign that indicates where guests should place their shoes before entering the entertainment room/ home. Create a "LACES OUT(side)" sign using some basic household supplies: a printer, the inside of a cereal box, permanent markers, scissors and an old picture frame. 

Spiked snacks
No one wants to fumble with a plate full of food as they navigate a party. Serve entrees and apps in bite-size form with tiny toothpicks, keeping hands in position to celebrate (and not destroy your furniture with greasy fingers). Our favorite is the healthy reincarnation of a snack classic, Buffalo cauliflower bites. That's what we call a guilt-free touchdown. 
Party predictions 
A host shouldn't spend their time playing defense to potential party fouls. Since there is no way to prevent all spills and you probably don't want to stick to serving clear liquids, we may as well be prepared. Stock up on cleaning supplies that count, like an inexpensive wine stain remover that actually works. It's a game changer, folks. 
Personalize glasses 
Disposable plasticware can be wasteful, but does that mean we really have to suffer through double or even triple dish duty post-game? Nope! Create name tags for glassware using a sharpie and a roll of removable crepe paper tape. The party trick will help guests get to know each other and prevent others from intercepting the wrong cup when they are mingling.