Anyone who's ever gone to Ikea with a partner knows just how stressful the situation can be. You have every intention of setting up a gorgeous living room together, only to end up battling it out over the Söderhamn sofa and Kivik sectional. Tears may be streaming by the time couples make their way to the marketplace.
That's why this comedian's latest stunt is pure genius. Jeff Wysaski, who runs the Tumblr account Obvious Plant, set up a fake relationship saving station at an Ikea in Burbank, California.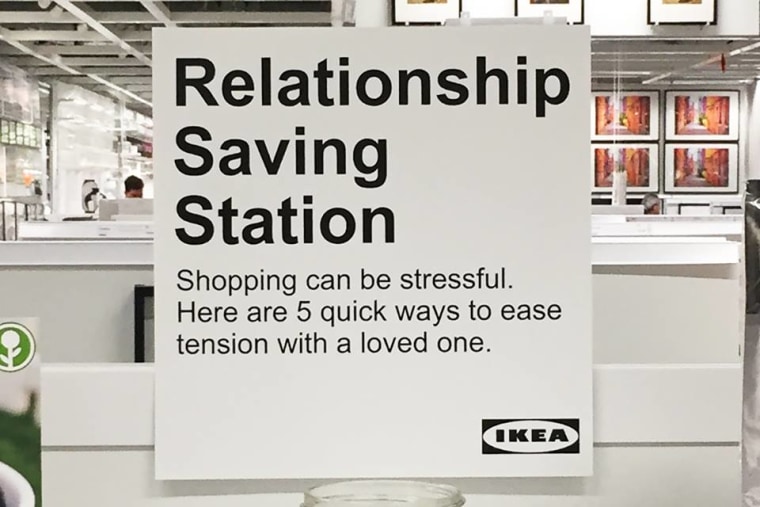 "Ikea is notorious for ruining a couple's afternoon," he told TODAY. "This was a fun way to try and address the stereotype."
Wysaski's pop-up offered five quick ways for couples to ease the tension. First, there was a picture of a cute dog sitting in a cup with the note, "Gaze upon it and remember there is joy in the world."
There was also a tiny horse figurine that shoppers were encouraged to yell at instead of each other.
Another solution suggested frazzled couples write down harsh feelings and put them in a "Frozen"-themed jar, where Elsa would help them "Let It Go."
Or you could blow bubbles to release some anger.
And finally, there were some funny costume hats because, "No one can argue while wearing these stupid milk hats," Wysaski wrote.
He said he came up with the ideas through brainstorming and "trying to think of weird or funny things that couples could do to get happy again."
Wysaski didn't actually see people's reactions after he set up the fake station. "Typically I'll put something up and then leave shortly after," he said.
But considering how many likes it's gotten on Twitter and Instagram, it seemed like people could relate.
This isn't the first time Wysaski has planted something in a store. He recently left some fake albums in a local music shop and added some fake dance classes to a local dance studio.