If you don't have days to devote to spring cleaning, you are in good company — and we are here to help.
Whether you have 15 minutes, 30 minutes or an hour, Molly Maid president Meg Roberts is breaking down every room in your home so you can get the job done and do more enjoyable things (basically anything else).
We have tackled the kitchen and the bathroom. Next up: the bedroom!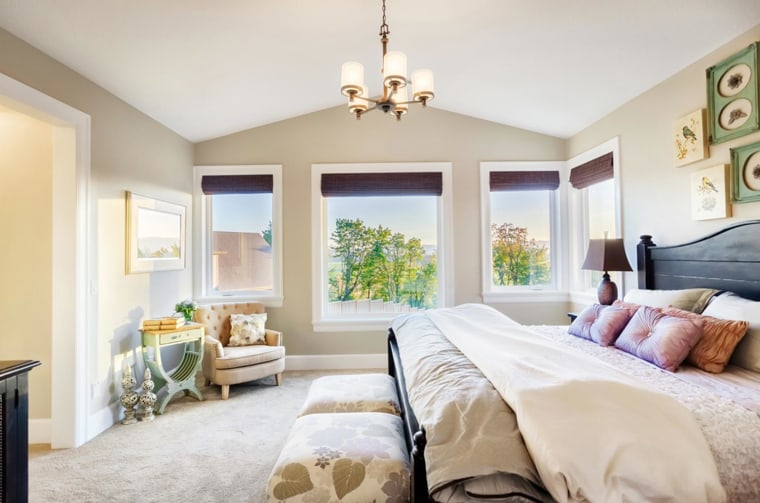 RELATED: Start scrubbing and dusting! Spring clean with these room-by-room tips
If you have 15 minutes, choose one of the following:
Dust nightstands and other furniture. Be sure to wipe those hard to reach places you have been neglecting during your regular dusting routine.
Clear out nightstand drawer. Time to toss out old cough drops and magazines. Wipe the drawer clean and restock it only with those items you absolutely need.
Dust light bulb and lampshade. Remember, bulbs shine 25 percent brighter when clean. To dust a lampshade, wipe with microfiber cloth. To dust pleated shades, use a clean paint brush.
Inspect electrical cords for cuts or frayed areas. Replace or repair as needed.
RELATED: How to clean a refrigerator in 15 minutes
If you have 30 minutes, choose one from above and one from the following:
Wash bed linens, duvet cover and bed skirt. If washable, wash pillows in a separate load. Not sure how to wash your pillow? Check out these tips.
Clean the mattress. Using an upholstery attachment, vacuum the top and sides of the mattress, especially at the seam lines and in the crevices between the mattress and the bed frame.For pillow top mattresses, rotate the mattress 180 degrees. If you have an older mattress that requires flipping, get a friend to help.
Deodorize the mattress. Keep odors at bay by sprinkling the mattress with baking soda. Vacuum the surface after 20 to30 minutes.
Clean the floors. Vacuum the carpet and sweep and mop hardwood floors. Be sure to vacuum under the bed. To mop tile floors, mix one gallon of hot water with one cup of distilled white vinegar. For wood floors, use a dry mop. For rugs and carpets, check out these vacuuming tips.
RELATED: 9 things in your house you have been cleaning the wrong way
If you have 60 minutes or more, choose two from above and one of the following:
Take dusting up a notch. When damp dusting is not enough, wipe down doors, window sills, baseboards, switch plates and door knobs with a microfiber cloth dampened with plain water mixed with a bit of dish detergent. Rinse cloth when it begins to leave residue behind.
Polish furniture. This includes nightstands and dressers.
Organize dresser drawers. After taking clothes out, wipe the inside down. Return folded clothes, removing any items you haven't used in a year. Bag what you took out and donate it to charity.
Clean mirrors and windows. When it comes to cleaning mirrors and windows, nothing beats microfiber — just make sure it's a microfiber cloth made for glass. Dampen the cloth lightly and wipe. No lint, no smelly chemicals — just shine.
Clean window sills. Wrap the tip of a flathead screwdriver with a cloth. Use it to scrape away built-up gunk in the track of the window sill. Remove leftover bits with a damp cloth or paper towel.
Wash curtains. If you have sheers, hang them right from the washer. They will dry in no time.
RELATED: 10 germy spots in your kitchen you don't know about — and how to clean them
Find more cleaning tips and tricks on TODAY's Pinterest board!