/ Source: TODAY Contributor
It's my favorite season: tech or treat! I've rounded up my top phantom finds, from haunted, animated trees to stacked jack-o-lanterns doing the "Monster Mash." Get your yard in gear for the spookiest time of the year!
1. LightShow 6-foot lamp post with lighted signs and short circuit effects, $69.98, homedepot.com
Give your street an eerie glow with this flickering lamp. Street signs point to "Zombie Zone," "Dead End" and "Vampire Way," giving trick-or-treaters a haunted host of options.
2. Werewolf rug, $79.99, spirithalloween.com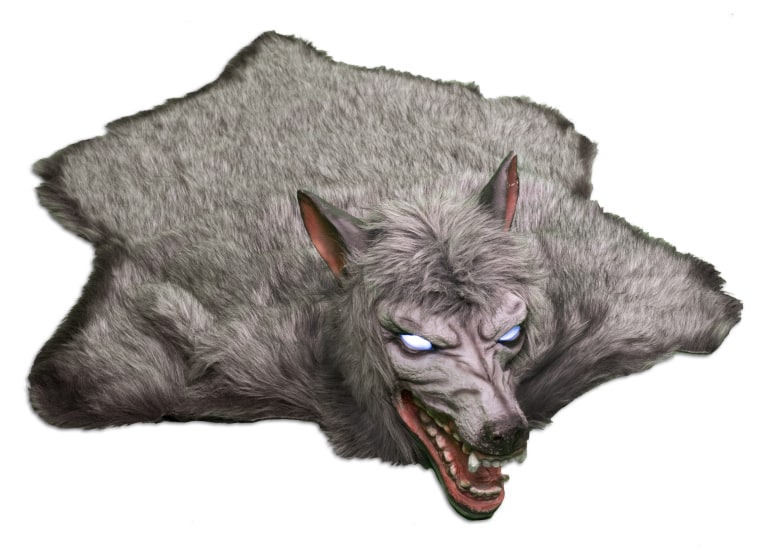 You're familiar with the old bear skin rug, right? Now, what if that bear was actually a werewolf with glowing white eyes and a mean growl? Let's just say you might want to reconsider stepping on this guy!
3. Seven-foot animated moving tree, $269.99, spirithalloween.com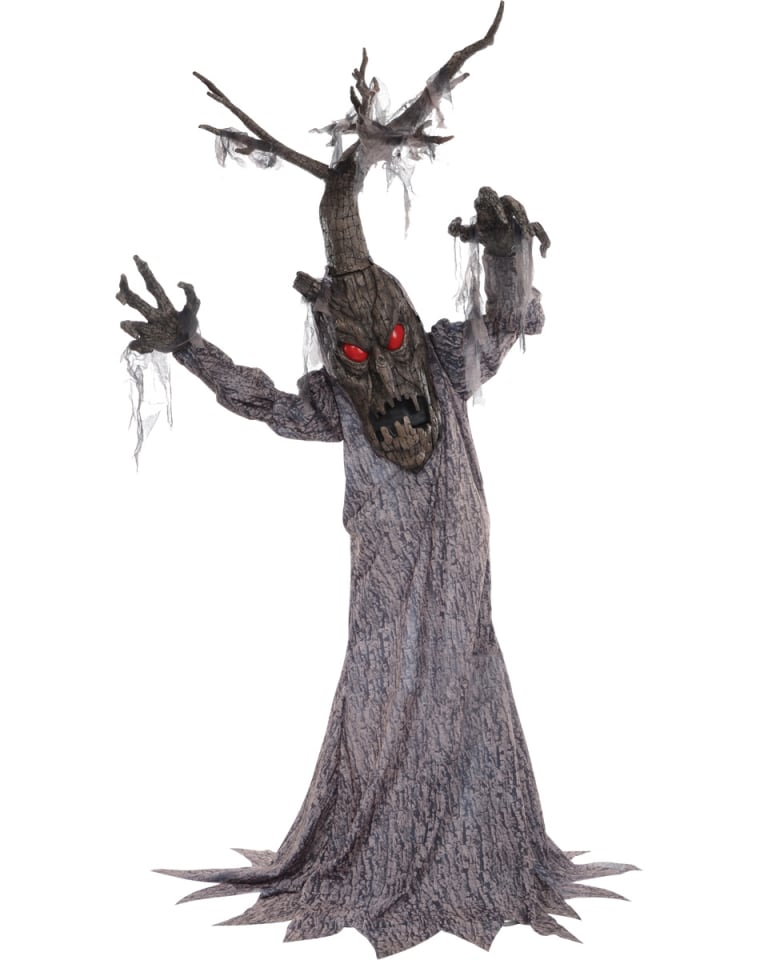 At 7 feet tall, this moving tree towers over even the tallest trick-or-treater escorts. Its eyes glow and limbs sway as it utters creepy phrases in a growling baritone.
4. Five-foot moonshine barrel zombie, $179.99, spirithalloween.com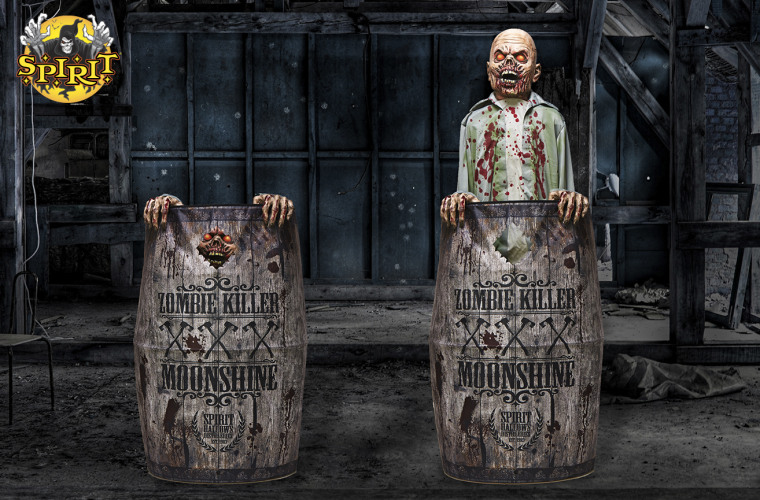 Hiding inside a rundown old moonshine barrel, this zombie jumps up with such force, it'll scare everyone at the party—including the hosts! Disgusting zombie chewing sounds make it that much more chilling. Comes with a step pad to activate. You've been warned - this takes some time to set up!
5. Three-piece lawn witch décor, $34.99, spirithaloween.com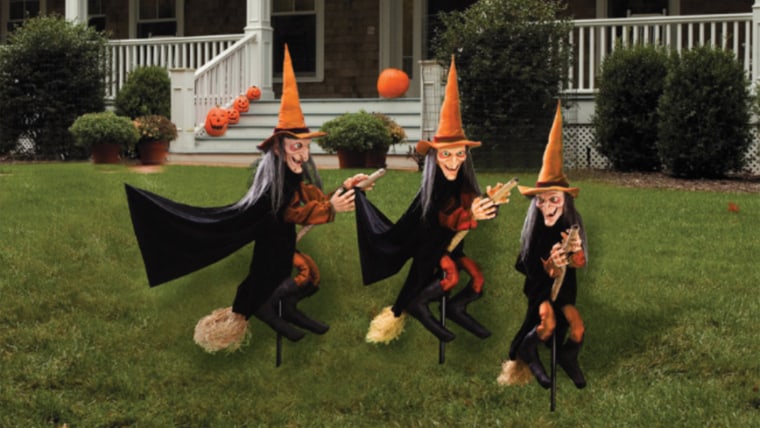 Stake these three witches into your lawn for some old-school lawn ornament fun. I love the attention to detail on these three ladies, as they ride their broomsticks—particularly their pointed eyes and pointy noses.
6. Scary tapping peepers, starting at $29.99, thinkgeek.com
"Tap, tap, tap." "Tap, tap, tap." These horrifying faces—which include a super creepy clown— suction onto a window and are motion activated, so as unsuspecting neighbors pass by, they tap on the glass and stare. So simple, but so spooky! You can also set them to tap three times every 10 seconds.
7. Faux flaming basket, $99, grandinroad.com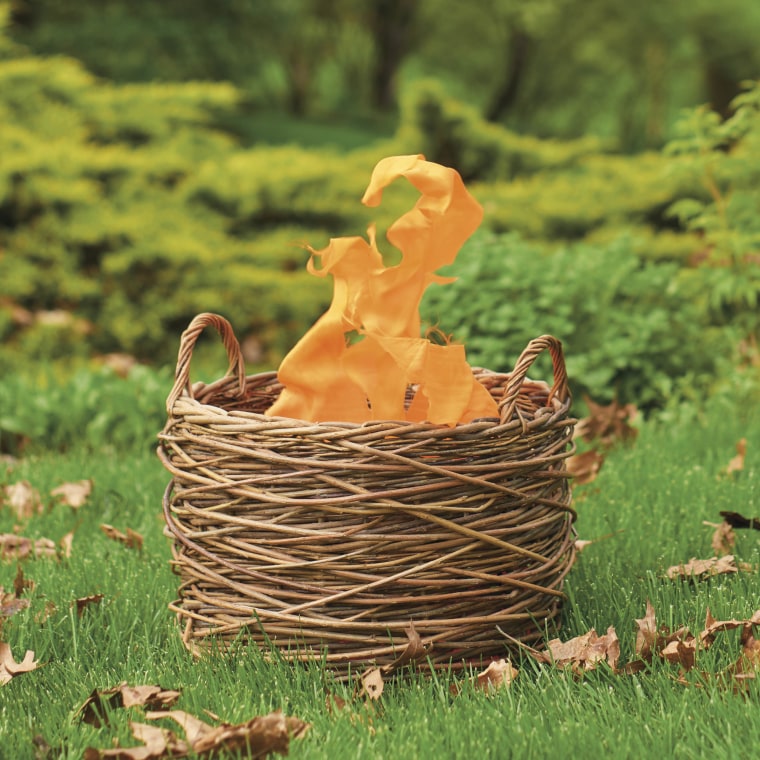 Great porch addition! The basket contains an amber light with a fan that blows fabric, which, coupled with the crackling fire sounds, looks surprisingly real.
8. Inflatable pumpkin light show, $99, grandinroad.com
These goofy, stacked jack-o-lanterns are ideal for Halloween lovers looking to entertain, but not scare. Measuring in at 7 feet tall, the lighted pumpkins sway and flash as they blast "Monster Mash." Plugs in and self-inflates in minutes.
9. Giant light up ghost, $19.98, hearthsong.com
No Halloween is complete without some good ghost action. This hanging ghost, which wears a witch's hat, flashes and glows in green, blue and red. Simple but classic.
You can follow tech contributor Katie Linendoll on Twitter and Facebook. And catch her new tech podcast Katie Linendoll Show.