He may be better known for the rages he throws over the pranks pulled by his son, but the man called "Angry Grandpa" expressed nothing but love and cried joyful tears after getting an emotional surprise recently.
Charles Green, the namesake of the popular "Angry Grandpa" YouTube videos, thought he was checking out another home for his son, Michael.
But Michael and his girlfriend had other plans.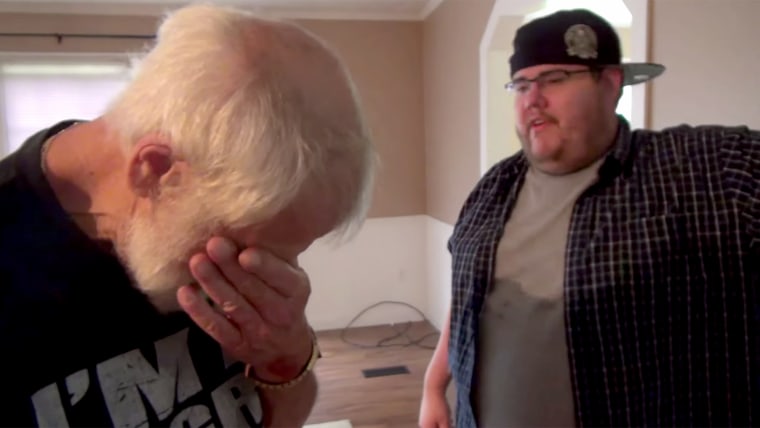 "For the past few months, Bridgette and I have been planning a huge prank on Angry Grandpa and today's the day we're going to pull it off," he says at the start of the video that's been seen more than 1.3 million times within its first few days.
"We've been taking my dad house hunting with us under the pretenses that he's looking for a house for me and Bridgette. The only problem is, he's been looking for his own house."
The video then shows Charles checking out the new house — and loving everything he sees.
"Michael, I like this. This is nice," he said, pointing out the wainscoting in the living room. They walk through the rest of the house, room by room, with Charles pointing out other touches that he likes — such as the roominess of a large bathroom shower.
After their tour (about two minutes into the video), Michael starts to come clean with his plan.
"I'd like you to have something like this too, Pop," he says.
"One day I will. Right now, you make it ya'll," his dad responds.
Michael then confesses why he and Bridgette brought him over.
"We are searching for a house for you," he says, before he pulls out a key and puts it in his dad's hand. "This is yours."
It takes a second for Charles to realize what is happening — he initially thought he was getting a key to his son's house — but once it sinks in, Angry Grandpa becomes a puddle of tears.
"No, no, Michael," he says in disbelief. "I don't deserve this," he says repeatedly, before sobbing into his son's shoulder.
Michael tells him he indeed does.
"Every kid wants to buy their father a house," he says.