New parents need all the help they can get. Thankfully, there are new products and solutions that can help both parents and babies in those first few years. With the help of Gilt.com correspondent Chassie Post, here are 10 great products for new parents and their little ones:
1. Hatch Baby Smart Changing Pad for iPhone, $249, Hatchbaby.com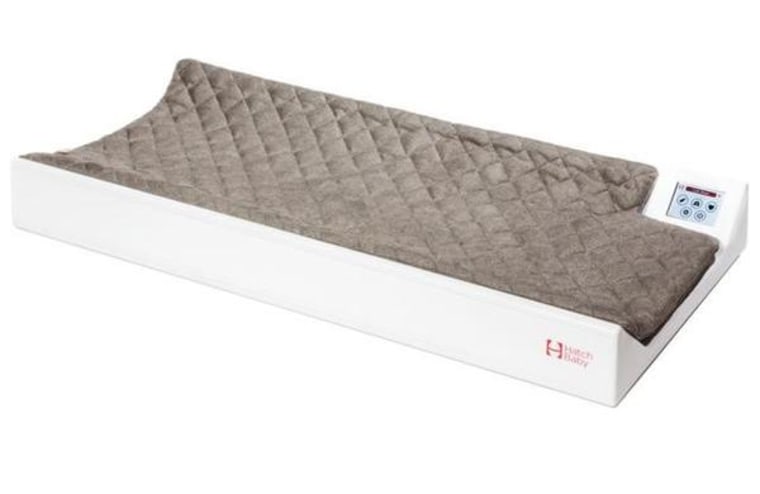 This smart changing pad has built-in technology that can actually help you monitor how your baby grows.
It combines a traditional diaper changing pad with a built-in, wireless smart scale. This makes it able to track your infant's health metrics, which is a great reassurance to new parents. With the Hatch Baby Smart Changing Pad, you can measure and track the following:
Infant weight and real-time growth data
Feeding amounts for breastfed babies
Diaper changes to make sure your baby is eating enough
It also synchs automatically with a companion app (the Hatch Baby app), which makes it easy to record nursing sessions, pumping amounts and more of what parents care about.
2. Feverfrida: IThermomenter for iPhone, $69.99, Target.com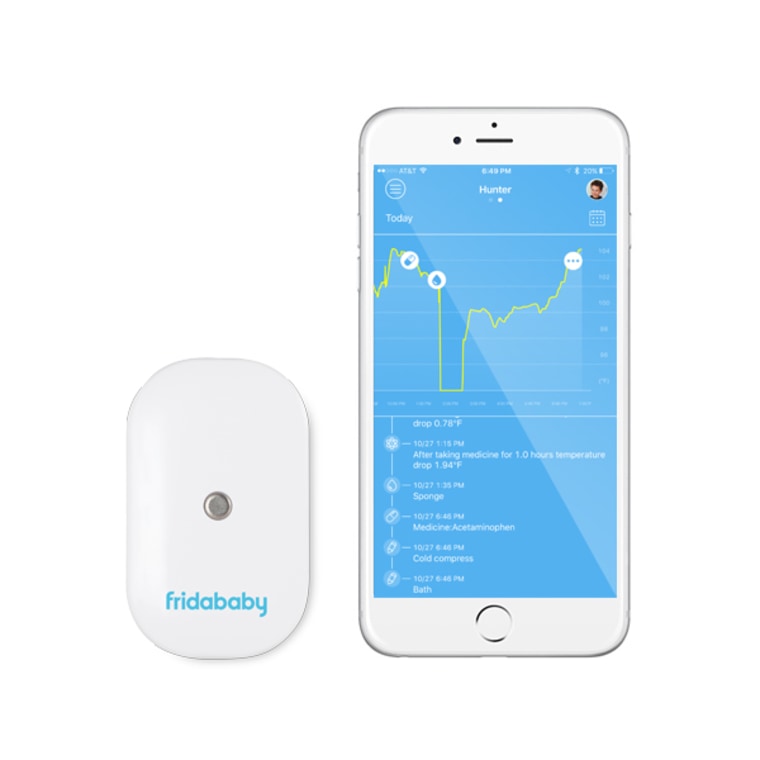 When your baby is sick, the last thing a parent wants to do is wake him or her to take their temperature. This clever gadget combines a thermometer and a baby monitor in one, making it super easy to get temperature data without waking your sleeping child.
Thanks to a tiny Bluetooth monitor and patch placed under the arm, this smart thermometer checks on your baby every four seconds without waking them. The Feverfrida then sends this information to your smart phone — so you're constantly aware of when the temperature goes beyond a pre-determined threshold. This also stores the temperature data for you, which comes in handy when it's time to call the pediatrician or you need to administer another dose of medicine. The device is also available at Fridababy.com.
RELATED: Bobbie's Buzz: Baby blankets, toys and gadgets you need now
3. Diaper changing Glove-Sak, $7.99, Babybumproducts.com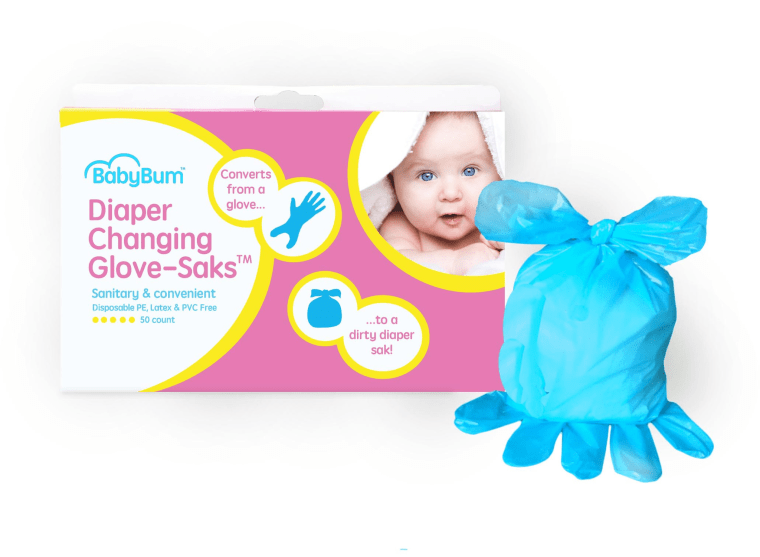 Dirty diapers can be a harsh reality for new parents. Thankfully, there are products out there which can help minimize the mess. These patent pending Diaper-Changing Glove-Saks are a sanitary lifesaver. They easily convert from a glove to a dirty diaper sack. It's vinyl and latex free, and is great for keeping at home or taking with you on the go.
4. Snoo Smart Sleeper, $1160, Happiestbaby.com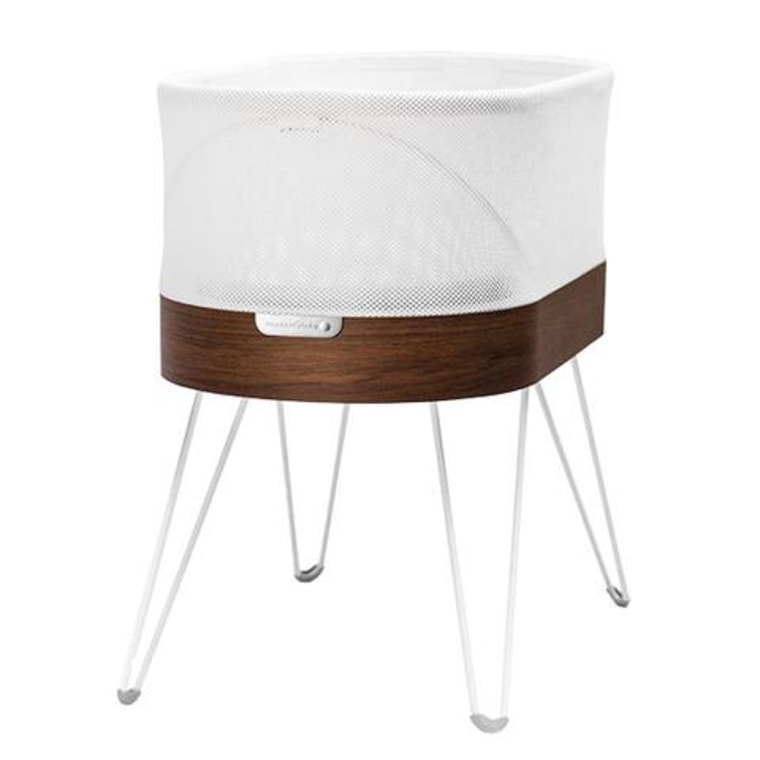 Snoo was created by Dr. Harvey Karp, the renowned pediatrician and child development specialist and author of the best-selling book "The Happiest Baby on the Block." He's also an assistant professor of pediatrics at the USC School of Medicine and Founder of the Happiest Baby, Inc.
So what is a Snoo? It's a smart sleeper for infants. In fact, it's the first major innovation in infant beds in over 1000 years and was developed with the help of designers at MIT. It works by boosting sleep throughout the night by imitating the rhythmic sensations that babies enjoyed in the womb.
The goal isn't just to help babies sleep better, but also to help remedy the primary complaint of new parents — sleep deprivation. Via a custom motor on the apparatus, parents can adjust the motion of the Snoo, from slow swinging to fast, tiny jiggles. As well, its specially engineered white noise automatically increases when the baby cries, and decreases once the baby calms down. The inventors equate Snoo to having your own personal night nurse. What can be better than that?
There's also a Snoo Sack Swaddle, which features special wings to keep babies safely on their backs. You can pre-order the Snoo now and it begins shipping on November 1.
5. Peapod, $79.99, Kidco.com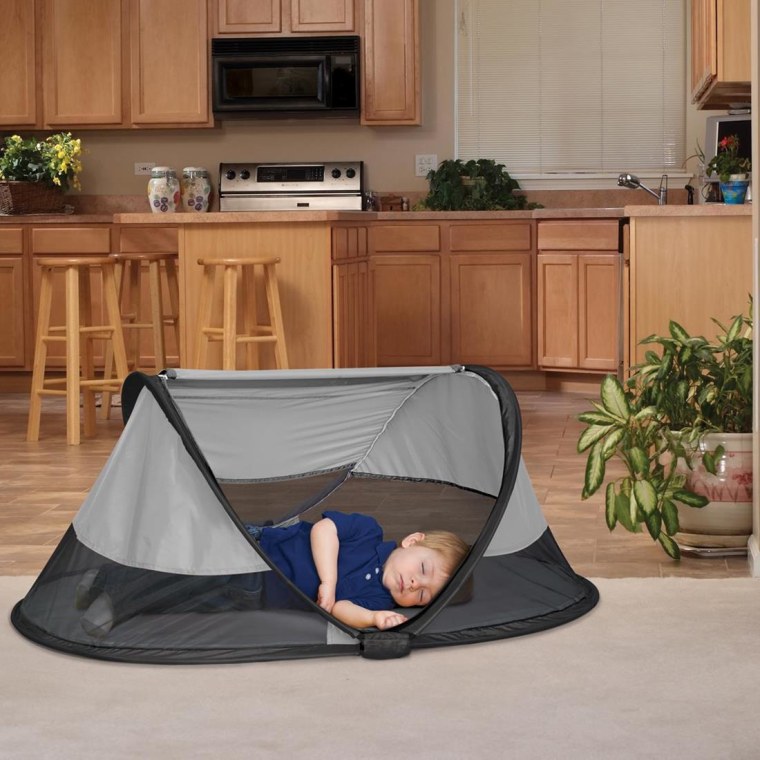 The Kidco Peapod is a lightweight indoor/outdoor travel bed perfect for kids who are one to three years of age. It has a lightweight mesh that promotes airflow (doubling as an insect screen), and creates a super cozy space for the child to rest.
Parents like it, too. It weighs under three pounds, and easily folds up for traveling. If you love to camp or picnic, the Peapod is a great accessory to have on hand for when your child is ready to nap or sleep for the night. We also love it for indoor use — like for hotels or sleepovers — when you need a place to safely contain your child for sleeping through the night.
RELATED: 6 Ways Parents Grow Up While Their Kids Do
6. Self installing Car Seat for iPhone, $499.99, 4moms.com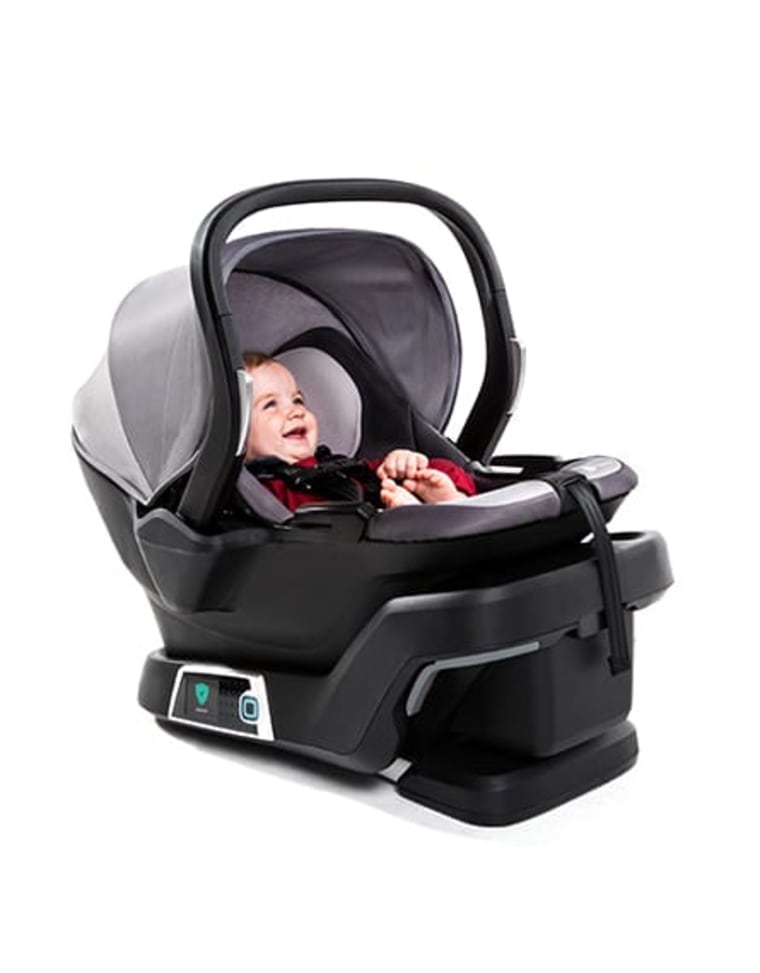 New parents know the struggle is real when it comes to installing car seats. Thankfully, this one — dubbed the world's first self-installing car seat — is meant to alleviate that stress.
Through robotics technology and advanced sensors, this smart car seat installs itself correctly by automatically leveling and tensioning its position once inside the car. Before every ride, it alerts you that installation is complete. Talk about peace of mind!
7. SoundBub, $59.99, Wavhello.com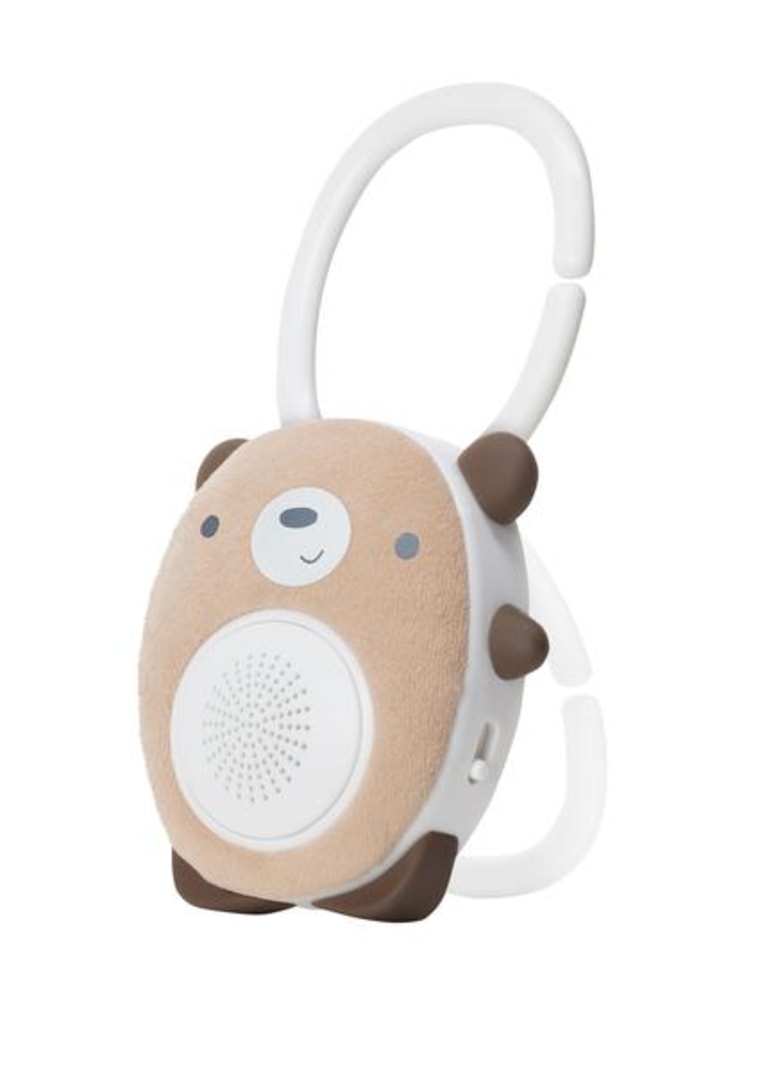 This Bluetooth enabled portable speaker is designed to be a convenient soothing aid for your little ones. Simply push on the bellybutton to activate the white noise to help your child drift off to sleep. It also plays music — just connect it to any Bluetooth enabled device and start streaming your favorite tunes.
The speaker also connects directly to Wavhello's free voiceshare mobile app, which allows anyone you love to record messages or songs for your little one to hear. This is great for soothing, stimulating or connecting with your child wherever you are. Bonus: You can clip it to the car seat, and it's made of soft, chew-safe materials, too.
RELATED: Olivia Wilde shows off her newborn 'drinking buddy' in breastfeeding pic
8. Baby's first monogrammed Converse sneakers, $55, Stichnola.com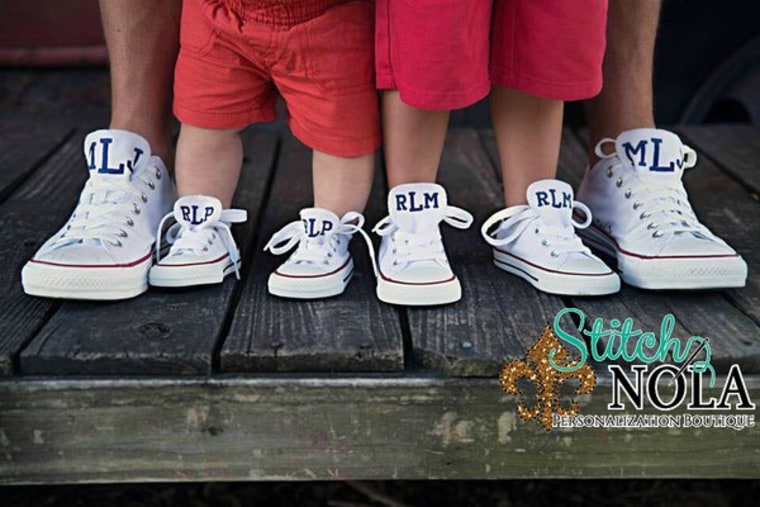 You're never too young for your first pair of Chuck Taylors! We love this as a baby gift — monogrammed Converse sneakers! Choose from a variety of monograms, which start at size 2.
9. Mommy + Me Cards and Personalized Stamps, $16, Giddypaperie.com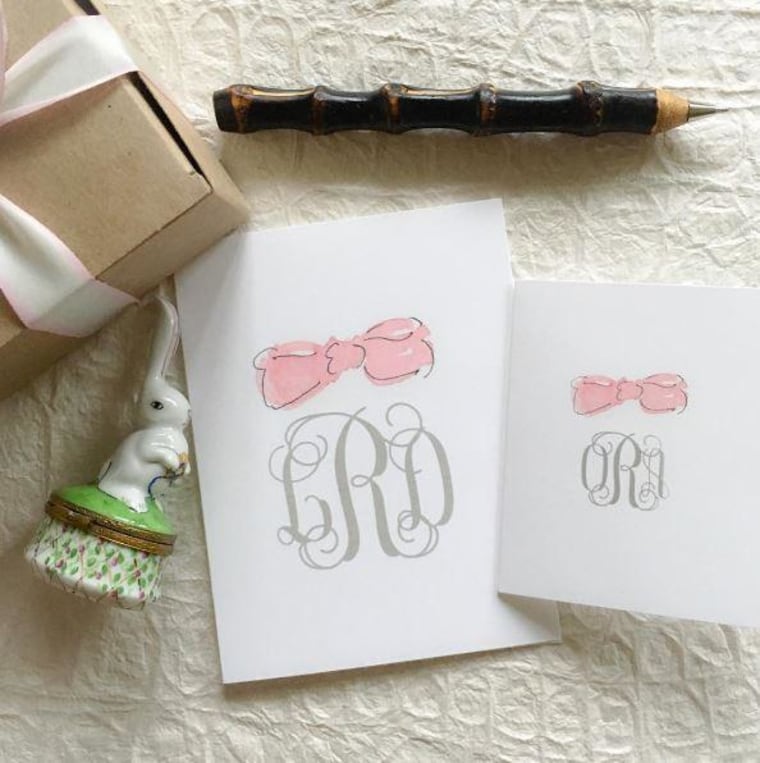 These Mommy and me cards are an adorable new way to say hello! This collection is designed for new moms who want to say "Thank You" when sending out notes for gifts. It's a set of eight note cards in regular and smaller sizes. Want to add a custom photo stamp of your new baby? Go to Minted.com com — they make it easy to create personalized stamps for your new note cards.
Custom stamps, $29.99, Minted.com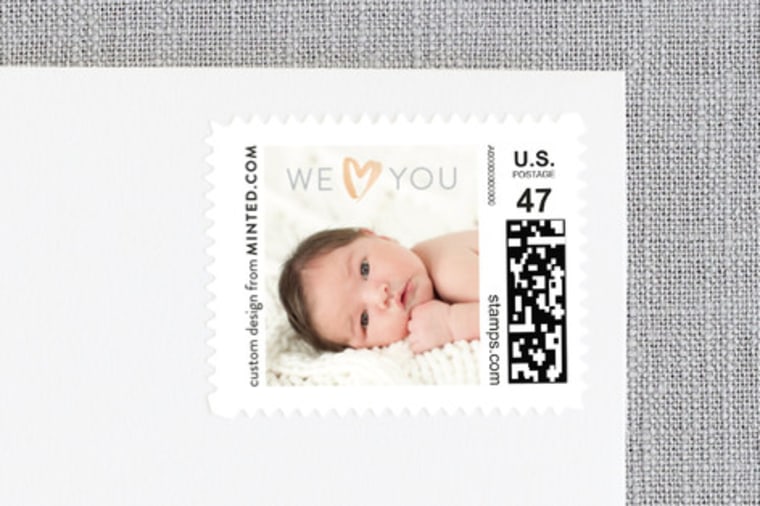 10. Mumbrella, $39.99, Gomumbrella.com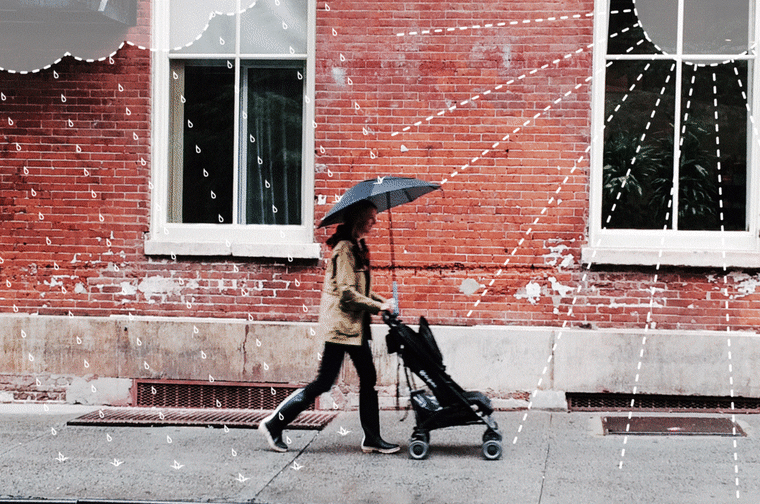 Any parent who has tried pushing a stroller during a downpour knows it's impossible to push a stroller and hold an umbrella at the same time. Two moms from Brooklyn, NY came up with a solution — the Mumbrella! This practical accessory attaches directly to the stroller, covering mommy and the little one when it rains. It features a wind slot to prevent the umbrella from blowing inside-out, and folds down flat against the stroller frame when it's not in use.