If you've never been camping before and always wondered what it must be like to fall asleep under the stars, Seth Porges has a perfect, tiny solution.
The 33-year-old journalist decided he had had enough of the city life and wanted a unique, personalized and portable getaway.
"I needed a way to disengage with the day-to-day stress," he told TODAY.
Porges spent more than a year searching for the right hideaway to nestle in the rolling hills of his friend's 27-acre farm, which is surrounded by vineyards, old horse stables and a chicken coop in Marlboro, New York.
"I was looking at everything from yurts to modified shipping containers," Porges said. "Then I came across this tiny house builder and traveled to Texas to see a model. I spent the night and was sold immediately."
He picked a design from Wisconsin-based home builder and RV company, ESCAPE Homes. Inspired by the prairie-style cottages in northwest Wisconsin, the ESCAPE Traveler home was meant to bring the outside in with a three-sided panoramic view — a "glass cocoon," the builder calls it — perfect when your only neighbors in sight are wandering chickens.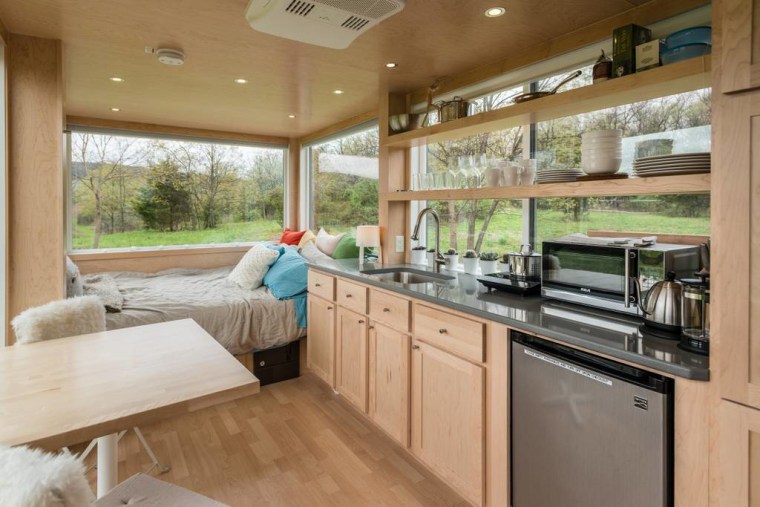 "The idea behind this getaway was to make the outside your living room," Porges said.
The exterior of Porges' wooded retreat features cedar siding and can function completely off the grid with an array of solar panels and a propane HVAC system for heating and air conditioning.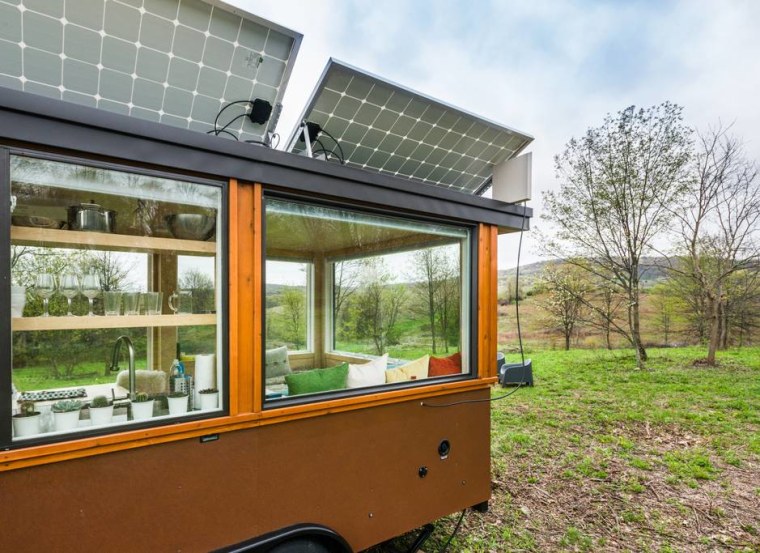 The interior is thoughtfully appointed with clean pine trim throughout, maple cabinetry, LED lighting and plenty of hidden storage.
"There's nothing in this house that doesn't serve a function and in some cases, multiple functions," Porges said. "The joy of tiny living is that it strips your needs down to the basics."
The space has a simple dining table with two chairs that can be used as a work station, and a sleek, stainless-steel kitchen with an induction cooktop, mini-fridge, microwave, electric kettle and deep shelving that fits a surprising amount of cookware and dishware.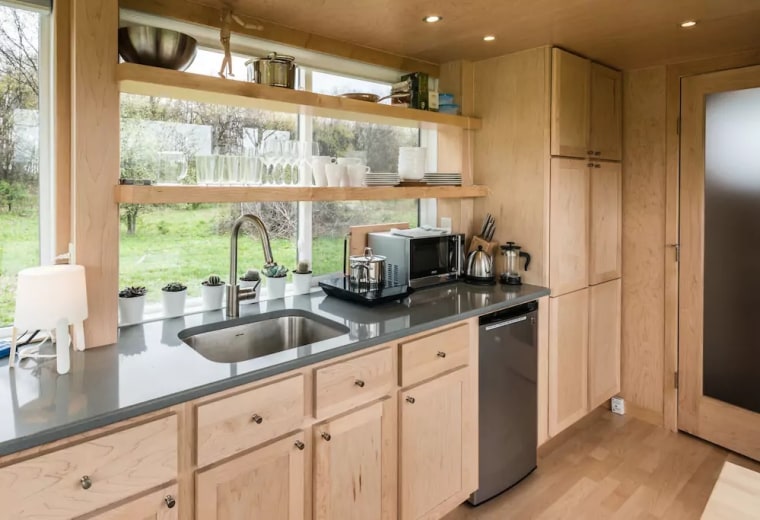 It's a good thing the chicken coop is only a few yards away — Porges can whip up farm-fresh scrambled eggs in minutes!
He decided to make his full bathroom as sustainable as possible, opting for a dry-flush toilet to conserve water.
Finally, the panoramic lounge area doubles as a queen-side bed, with storage beneath it and USB plugins for media. There's even an option to add a flat-screen TV, which would pop up from a hidden side panel.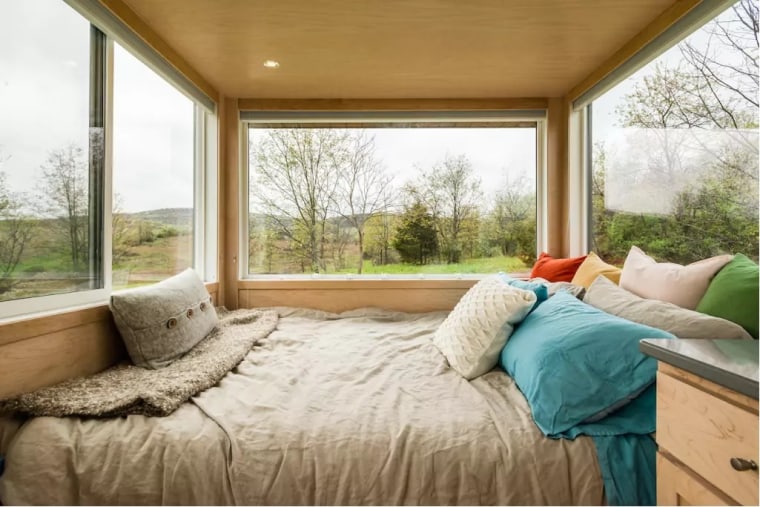 But there may never be a need for it when you can embrace your inner stargazer at the end the day, and wind down by gazing up at the galaxy.
"This is really about using what you need and nothing more," Porges said. "And really making the most of the outdoor space around you."
Porges, who splits his time between Beacon, New York, and Brooklyn, New York, rents his tiny house on Airbnb.
RELATED:
See how this grandma's garage was transformed into the cutest tiny home
Roll with it! This mini farmhouse on wheels is incredible — take a peek
Test drive: Inside a 204-square-foot tiny house
Obsessed with tiny homes? We are, too. See inside some of our favorites from across the country.