Washers and dryers can be must-have appliances. They can also be expensive and complicated if you're not sure what to look for. As part of TODAY's "Home-Improved" series, Consumer Reports editor Mandy Walker is sharing what you need to know when shopping for a new washer or dryer.
Washers
Front loaders vs. top loaders
When it comes to deciding between a front-loading and top-loading washer, the main things to keep in mind is efficiency. Front-loaders are typically more expensive, but they tend to be more energy efficient and fit more clothes. The main drawback to buying a front-loader is the initial cost, so a tight budget would be the only reason a top-loader would be a better buy.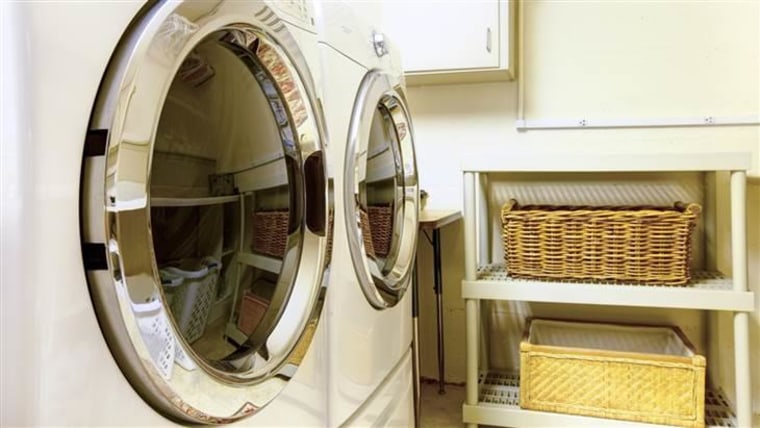 One drawback about efficient washers
The most efficient washers save approximately $1,400 over a decade using more than 100,000 fewer gallons of water than a 10-year-old conventional top loader, but you might pay more up-front and the wash cycles tend to be longer, so make sure they one you buy has an option for a quick cycle.
Focus on features
Today's appliances come with high-tech features built to make your life easier. A few highlights of the features washers are sporting today include:
Electronic controls that let users quickly choose cycles
Displays on the remaining cycle time and status
Dispensers that release detergent, bleach and softener at the right time
Steam settings — but Walker warns that these only slightly improve stain cleaning
Make sure you can reach
Manufacturers have increased the capacity in washers to help cut down on the amount of time you do laundry. One way they do this is by making the tub deeper, and for some, it can be difficult to reach the bottom of the washer. Walker suggests reaching into the washer when shopping. If you can't quite reach the bottom, consider another model.
Dryers
High-efficiency dryers
There isn't such a thing — yet. Walkers says that most dryers use similar amounts of energy, according to Energy Star, so don't buy into any ad that tells you otherwise.
Don't go overboard on features
When it comes to drying your clothes, a choice of heat level, timed and auto-dry and a few fabric options is usually all you need. Walker says that touch pads may look impressive, but they don't improve the performance, so be conscious of what features you really need.
Consider if you really need a new one
Dryers may look different today than a decade ago, but they all are relatively similar, using moisture sensors to detect how damp laundry is and adjusting drying time to match. If your current dryer has a sensor, it might be best to save your money by keeping your old dryer until it breaks.