Technically, Will Truman's apartment on NBC's "Will & Grace" got a few small updates when the show came back for a season nine reboot last year, but one design company had another take — imagining if the characters Jack McFarland, Karen Walker or Grace Adler took over.
Online interior decorating service Modsy (that has created modern designs for the apartments on "Friends," "Sex and the City" and "Seinfeld") redecorated Will's (Eric McCormack) masculine New York City apartment according to each of his friends' different styles.
Jack McFarland
Jack (Sean Hayes) would probably go bold, the Modsy team predicts, based on his original apartment design. They painted the walls a fun green hue called "Steamed Spinach" from Benjamin Moore and brought in an aqua version of his Swan chair.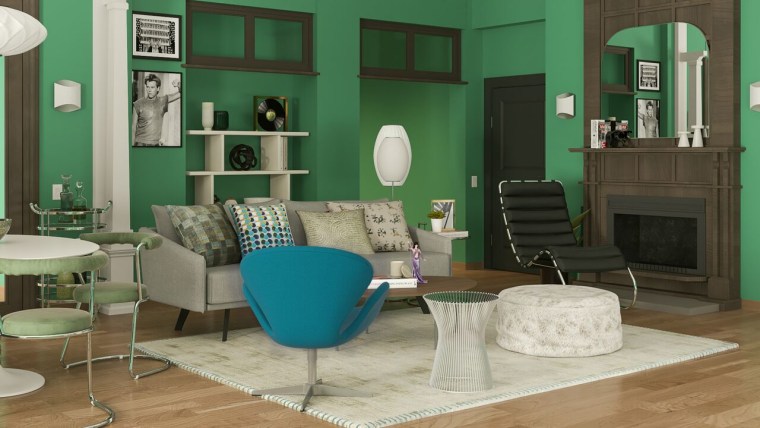 "We kept the fun, retro vibe from his original space but amped it up with velvet dining chairs, funky pillows and a faux fur white pouf," said Alessandra Wood, Modsy's director of style.
And the mirror over the fireplace, one of Jack's favorite pieces in the space, is bigger and better so the comically vain character can enjoy looking at himself whenever he wishes.
Karen Walker
If Karen (Megan Mullally) were to take over the space, there would be Hollywood glam elements with rich colors, animal prints and velvet, said Wood. "Her love for the finer things in life really shines through here with bold, trendy statement pieces that give an editorial, high society feel to the space."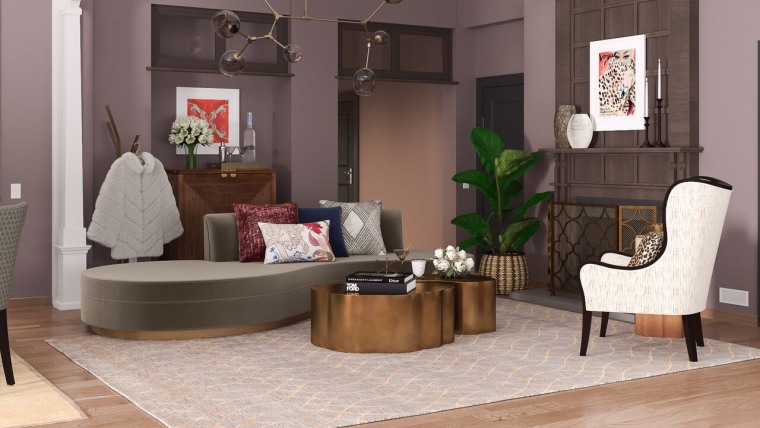 Some of the new features include a deep purple-gray paint on the walls called "Grapey" from Sherwin-Williams, as well as a statement chandelier, velvet sofa and sculptural coffee table.
Grace Adler
And if Grace (Debra Messing) were to have free reign over the apartment, the interior designer would probably bring in bold textures, prints, patterns and color to match her loud personality. "We had too much fun with Grace's designs for the space — broadening the palette and bringing in more risky elements such as eclectic art and printed fabrics," Wood said.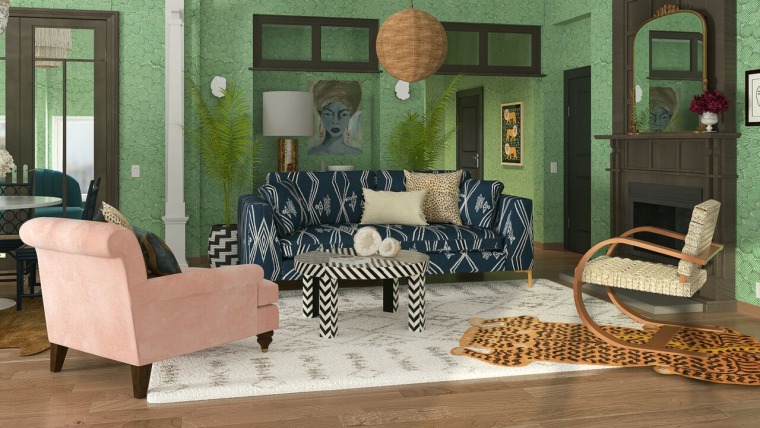 The updated space features statement pieces like the black and white coffee table against the backdrop of green printed wallpaper. There's also a patterned sofa, pretty pink chair and a tiger rug that Wood joked, "we can see her obsessing (and maybe irritating everyone) over."
The season 10 premiere of "Will & Grace" airs at 9 p.m. ET Oct. 4 on NBC.