Many are familiar with the feeling of being stuck in a rut in their careers and life, but how does one get out of it? Well, for Lauren Kennedy and her husband, Patrick, the answer lies in a tiny home.
Shortly after their September 2015 nuptials, the couple — both engineers — quit their jobs, sold their three-bedroom house in Kansas City, Missouri, and worked together to build a new home: a 140-square-foot one, to be exact.
"Changing to a tiny house gave us a new sense of adventure," Kennedy told TODAY Home. The couple spent over 40 hours a week for three months building it themselves. "There were definitely some challenges and things we didn't see eye to eye on, but we ended up with a house that is uniquely ours and we love living in it!"
RELATED: See this family's RV go from gloomy to glam after a DIY makeover
The two are currently on a six-month road trip across the country, and Kennedy thanks the tiny house for the experience. Without it, they may never have had the opportunity.
Besides the $32,000 investment to build the home, there is otherwise very little cost in terms of lodging while they're on the road. They're currently living off savings and won't be working during the trip — but as Kennedy points out, they're definitely on a budget until their journey is over and they are able to find new jobs they're passionate about.
"We chose the tiny house as opposed to a travel trailer because it will serve as our full-time home when we're done traveling, and that's when we'll really see the financial benefits of such a small home."
RELATED: This tiny home can rotate! Watch 2 kids make it move in no time
Another perk of the place? "Cleaning the whole house only takes about 20 minutes!" she said.
One of their favorite features of the house is the wrap-around corner kitchen.
A fold-up dining table provides additional counter space when needed. There's a three-burner propane stove top and an electric counter top toaster oven which allows them to bake anything when they're plugged into a power source.
Hanging pots and pans are moved into the sink when they're driving so they don't fall down. Another precaution: shelves with holes drilled into the bottom so that the pint glasses don't go flying around while they're on the road.
RELATED: See this kitchen go from dated to dashing after a DIY transformation
In the bathroom, there's a composting toilet and a 32-square-inch shower along with hanging baskets for toiletries.
RELATED: Here are the top 10 best states for a road trip
A storage loft with baskets gives them some extra space for their belongings, and up the stairs, a 60-square-foot sleeping loft features a queen-size bed and storage bench that doubles as a headboard.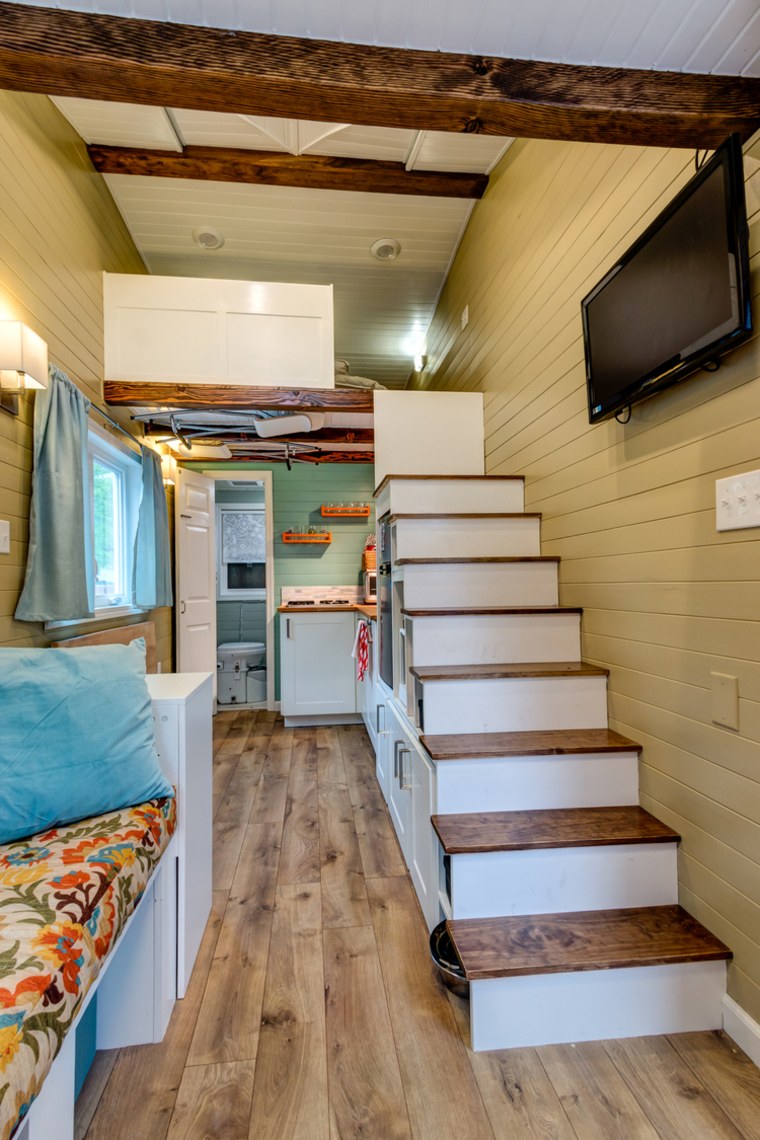 "We don't have a closet, so winter clothes are actually still stored at my parent's house for now," Kennedy said. But they do have a tiny washing machine to wash the clothes they have with them.
The couple plans to document their adventures on the road via their blog, Wanderlust Tiny House. You can follow along with their journey here.