Knowing that she'd never be happy in a house flipped to someone else's tastes and preferences, Andrea Selkregg had always dreamed about renovating an historic home and making it her own. So when her realtor showed her and husband Malcolm Bungcayao a crumbling, 100-year-old farmhouse that fit within the family's small budget, she was sold.
Piecing together gossip from neighbors, they were able to glean that the house had been abandoned after its elderly owner passed away. It went on the market last year and was quickly snapped up by a young couple who started renovating — but circumstances forced them to move away before they got very far.
So when Selkregg and Bungcayao bought it, the house had a great foundation to launch projects of their own. Working with Selkregg's contractor brother, they got to work, transforming their new home into their very own custom space.
Among the projects was turning one room into a sweet sanctuary for their 22-month-old daughter, Isla. See how they did it.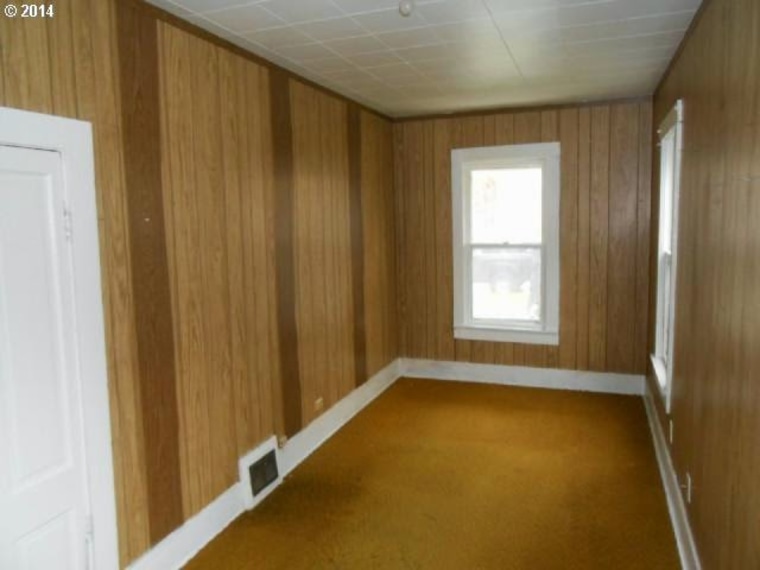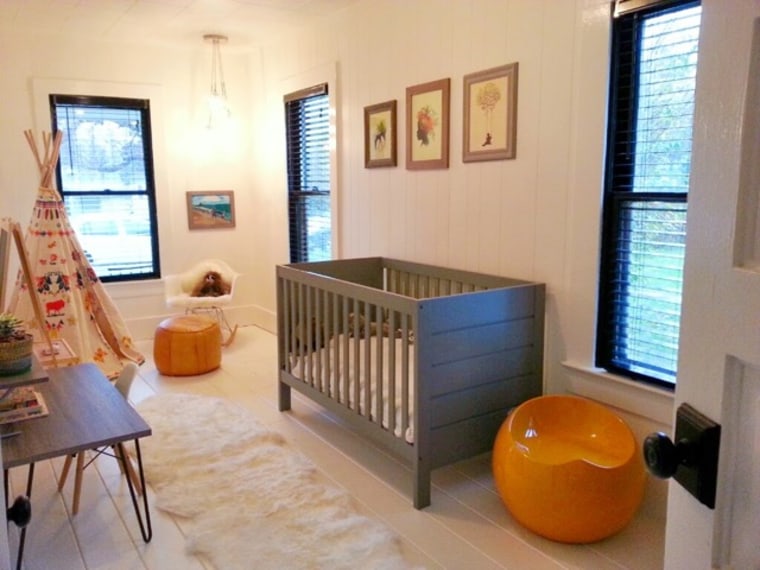 Ground work
By the time the family moved into the house, it had no floor. The previous owners had taken out the carpet to expose subfloor beneath. "You could see straight through the floor into the basement," Selkregg said. The couple installed wide-plank pine floors to get a farmhouse look, then painted the floors and walls Behr's Nude White to lighten up the space.
Los Angeles transplants
Because many of the family's favorite pieces traveled with them from their previous home in Los Angeles, they were able to create the look for this room on a tight budget.
"It was kind of nice because we really didn't have to buy much," Selkregg said, estimating the family spent about $300 on furnishings and accessories, and maybe another $50 on art.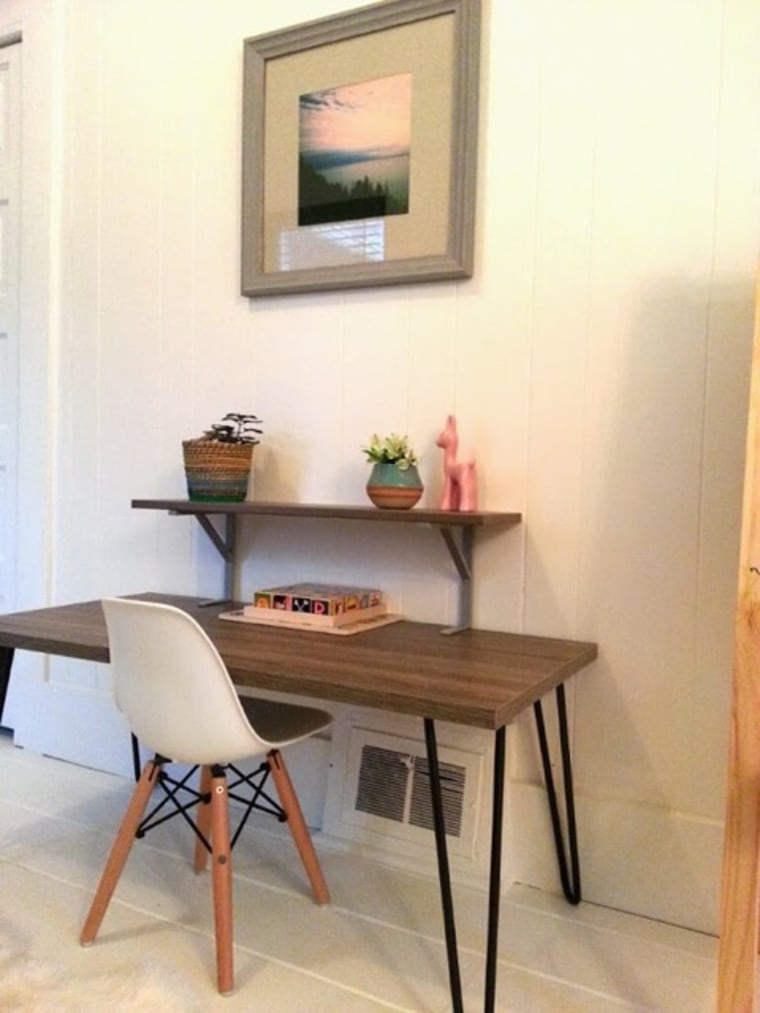 The light fixture, which was among the objects that came with the family from their previous home, is a favorite from West Elm.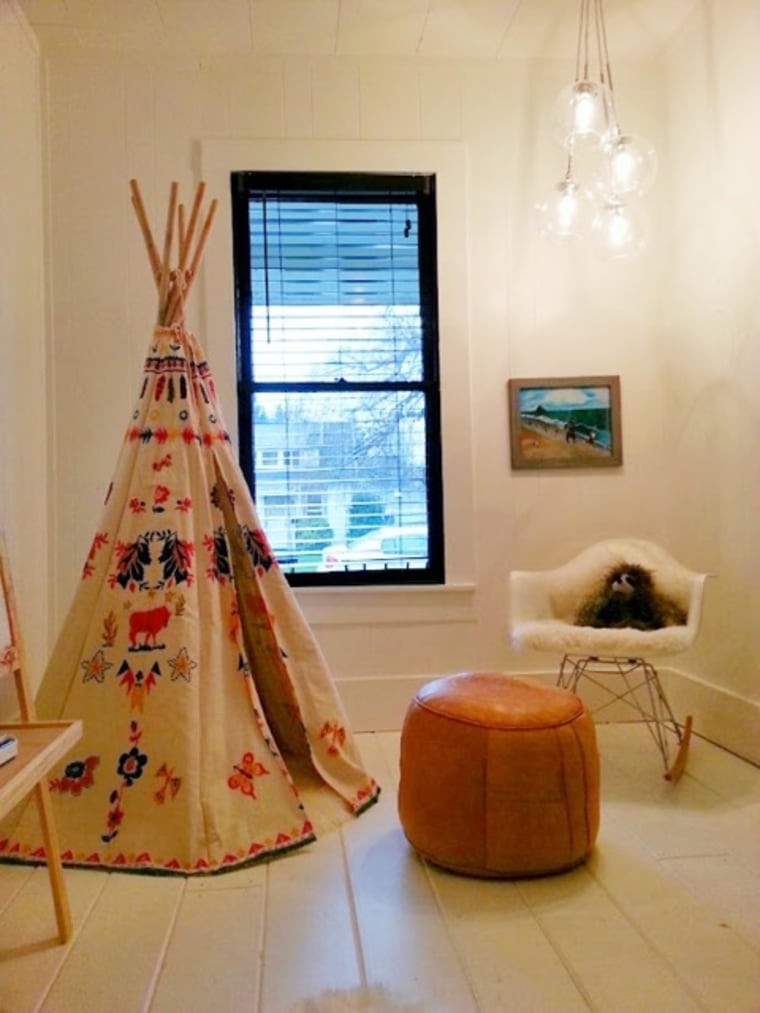 "I am drawn to round, globe pendants but this one is great because when put on a dimmer it can get really bright or really soft," she said, adding that it reminded her of a bunch of balloons. "We read books with Isla in that chair each night so it's nice to be able to dim the light."
Whimsical accents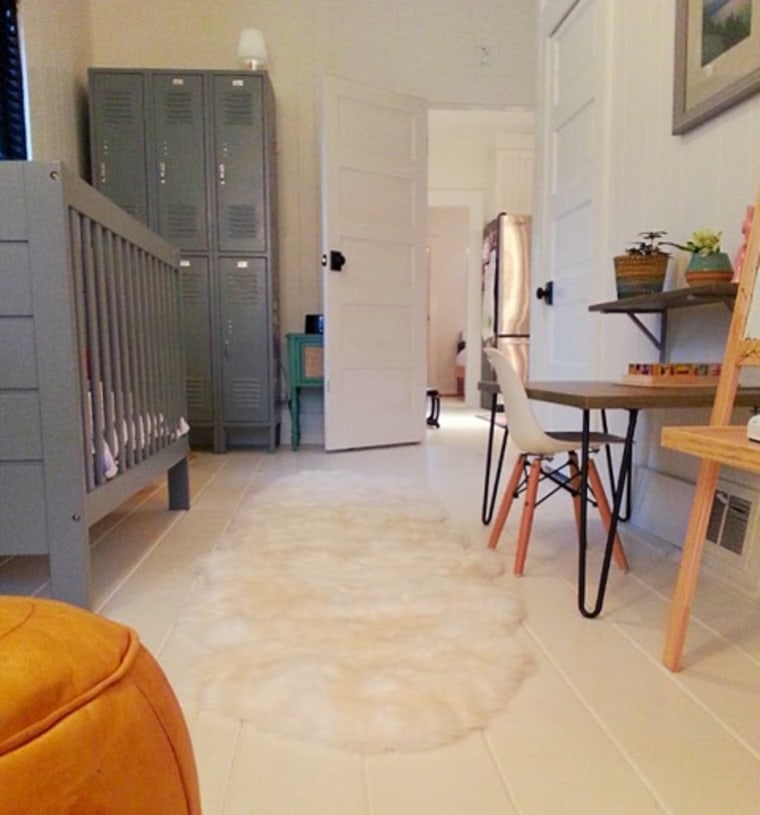 The lockers came from a reseller on Craigslist, and they just so happen to be from "the happiest place on Earth." Disneyland had recently updated all of its lockers to digital keypads, and the seller had purchased all of the old lockers.
"He had thousands of them," she said of the bright turquoise storage pieces. "The coolest part is that the inside of the lockers still have stickers and graffiti along the lines of 'Billy was here' from the years of use at Disneyland."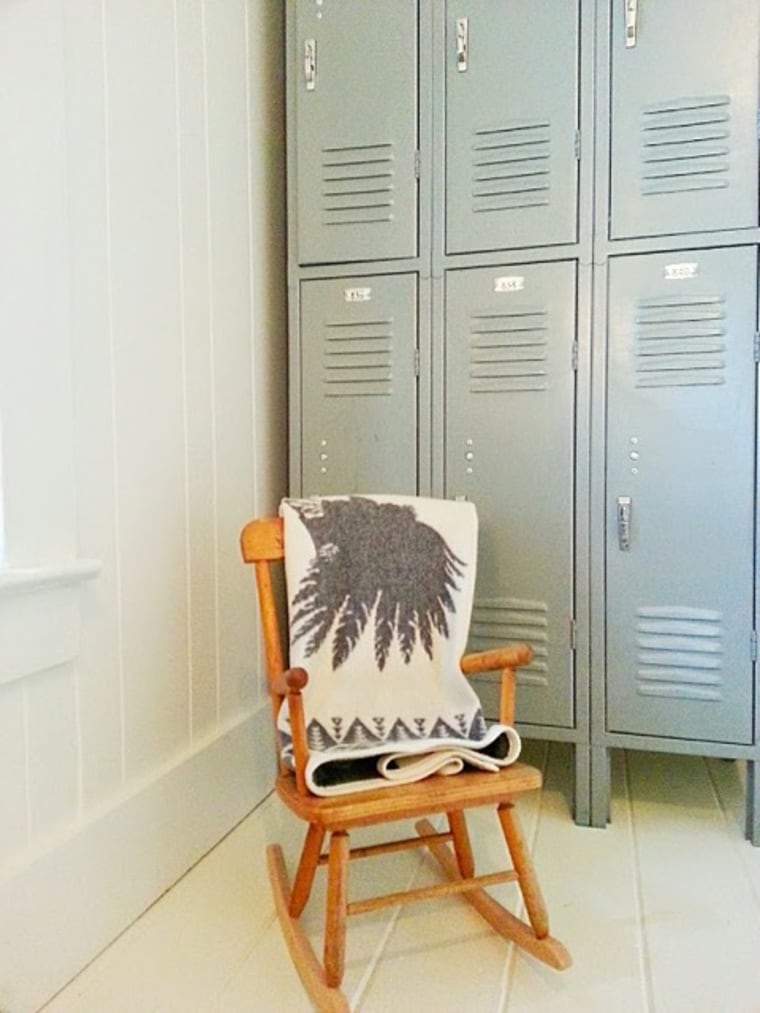 Selkregg found the teepee — an amazing place for a burgeoning imagination to run wild — from a sample sale for under $100. (You can find it on Amazon now.) "I always wanted a teepee as a kid so I'm living vicariously through my daughter," Selkregg said.
All pictures came from Society6, which, Selkregg said, "is the best place to find affordable art for baby or kid rooms." The rug is a sheepskin runner from Overstock, and kids' chairs came from Midcentury Modern Apartment.
A room to grow into
As far as the look and feel of the space, Selkregg said she was going for "the county-rustic-farmhouse thing, but also throw in some modern touches." Beyond that, Selkregg said, "Even though she's only a year old, I wanted to make sure her room would last a few years, so I tried to give it a look that would work for an older child as well."
See the whole house renovation here.
Alesandra Dubin is a Los Angeles-based writer and the founder of home and travel blog Homebody in Motion. Follow her on Facebook, Instagram, Google+ and Twitter.