Paige and Todd Hooper, both 27, couldn't be happier now that their Boulder, Colorado home has a sparkling new kitchen. On her blog, Paige described the former room as an "'80s nightmare of a kitchen," and combined DIY ingenuity plus hired help to transform it into a fresh, airy new space within a reasonable budget.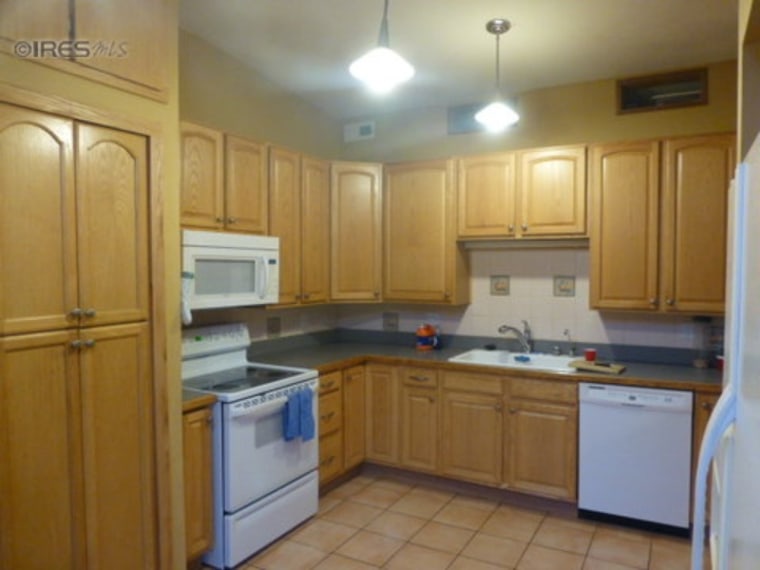 Here's how they did it.
Getting inspired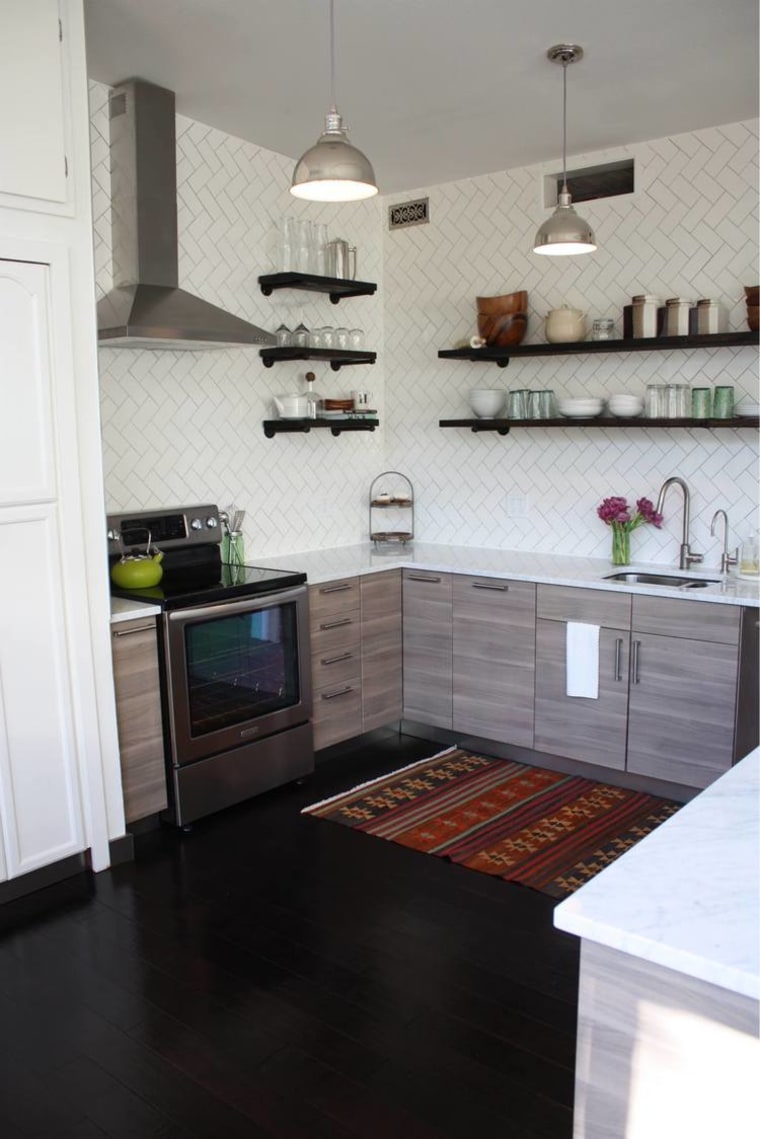 Paige said that, like many homeowners with projects in mind, she got ideas from Pinterest. "It's such a great tool for when you have no idea what you want to do and just need ideas, or when you've narrowed down what you want and need to see it all side by side," she said.
She also drew inspiration from particular design styles: modern, minimalism, bohemian and industrial.
"I like creating a space that has a bit of all those rolled into one. I think there is such a thing as too much of a good thing — like too much minimalism is boring and too much modernism can be cold," she said.
Opening up the space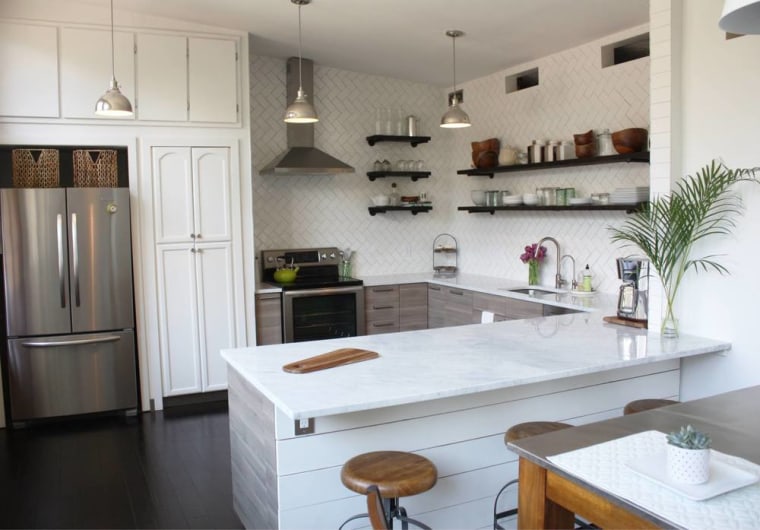 The couple knocked down the wall that divided the kitchen and dining area so that they could add a bar area that would provide additional seating as well as an airier feeling.
Then they DIY'd a cool herringbone backsplash in cheerful white. They also painted the pantry doors and stained and hung open shelving. Plus, they installed new appliances and a sink.
They hired people to help install their new white Ikea cabinets, along with a new Carrera marble countertop and dark flooring.
Family favorites Paige said her favorite thing in the new space is the tile — in part because of the "blood, sweat, and tears that went into that! Plus, it just made a huge difference in making the kitchen feel clean and open."
Splurges and steals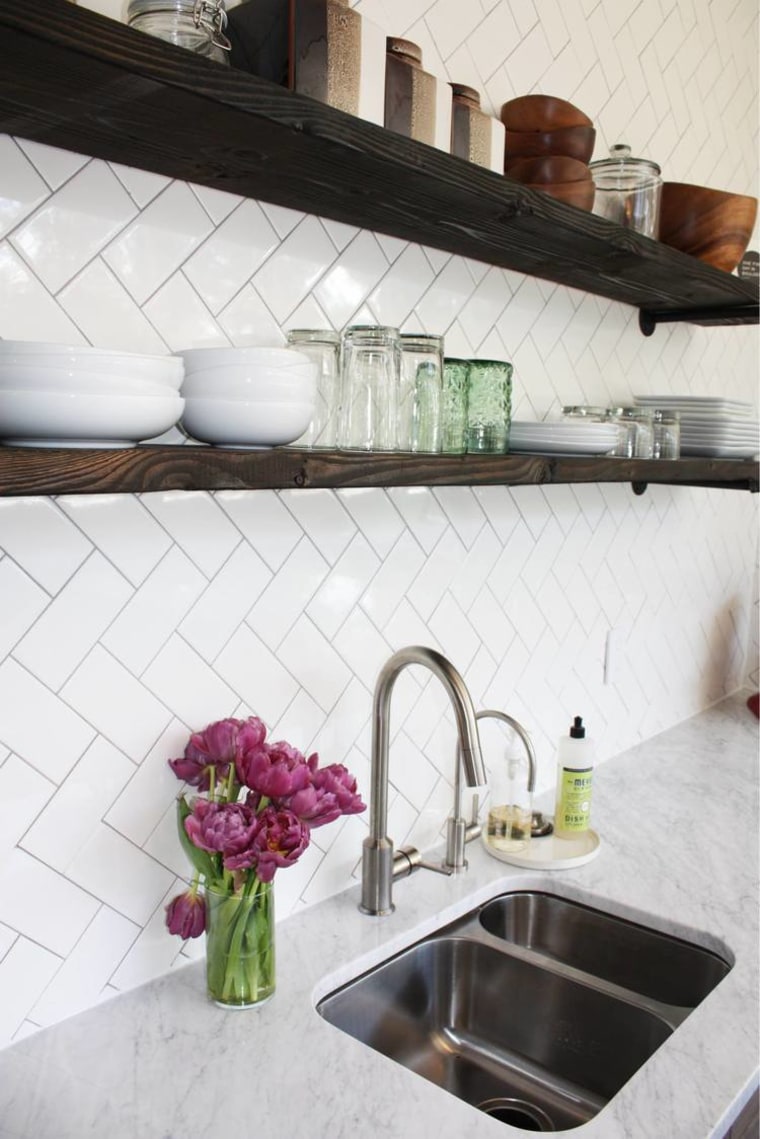 The couple feels they got the most bang for their buck through the open shelving, which Paige said "was pretty dirt cheap." All is took was 8-foot-long lumber pieces and stain, plus the industrial pipe pieces to hold them up.
"It was super easy, fast, and worked out great," she said.
On the flip side, their favorite splurge is the Carrera marble countertops, even though the price was comparable to quartz and granite. "But since we went with less expensive cabinets, I decided to go with a more luxurious-looking countertop to class them up," she said. "And they do make all the difference — marble is just so dang pretty."
Although the couple didn't set out with a specific budget, they knew they needed to be cost minded about the process. In all, they estimate they spent $15,000, "which, for a kitchen, is pretty good — you can spend that on cabinetry alone, " Paige said.
Sharing wisdom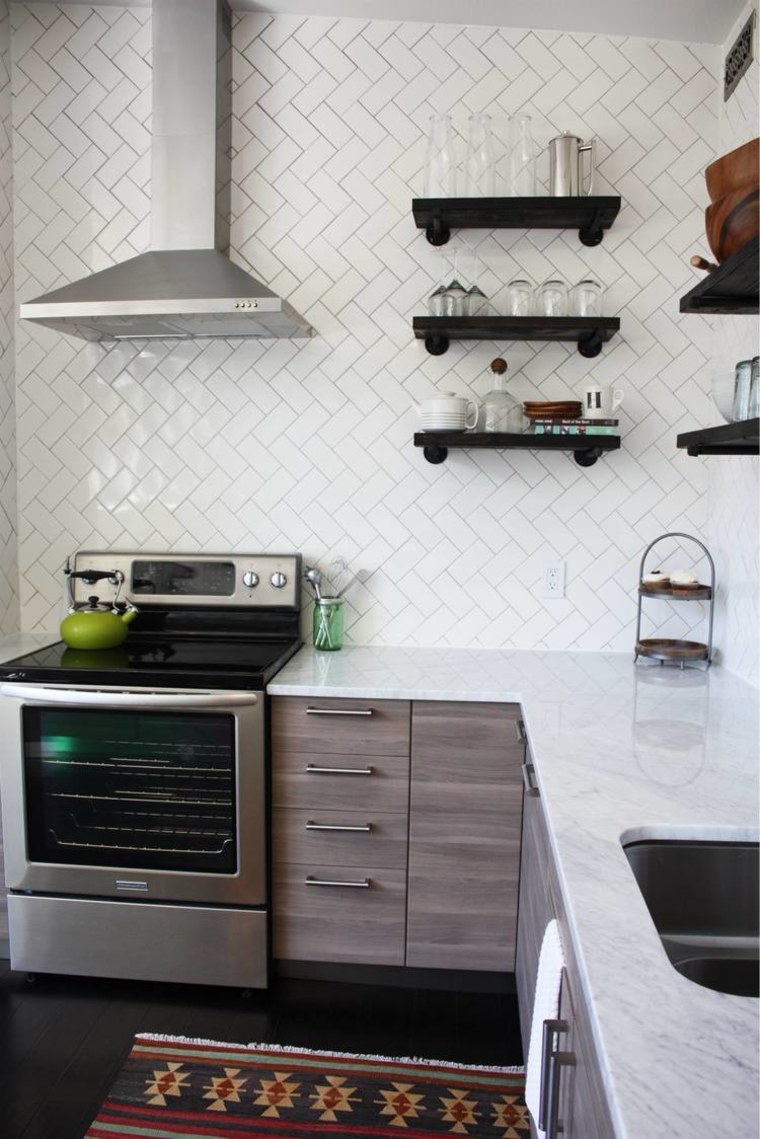 Paige said her best advice for other home improvers is to have patience.
"Just make sure you're in it for the long haul, because no matter how long it actually takes, it will feel long," she said. "Especially with a kitchen reno, daily life will be interrupted. So setting up a mini second kitchen somewhere else in the house would be great."
Beyond that, trust your DIY competence. "It will be messier and harder than you think, but it's great exercise!" she said. "Have realistic timeframes and don't try to kill yourself getting everything done as fast as possible — you will be miserable and most likely end up making costly mistakes. But, anyone can do it — as long as you don't give up, it will get done and will be worth it. So just push through and you will make it to the other side!"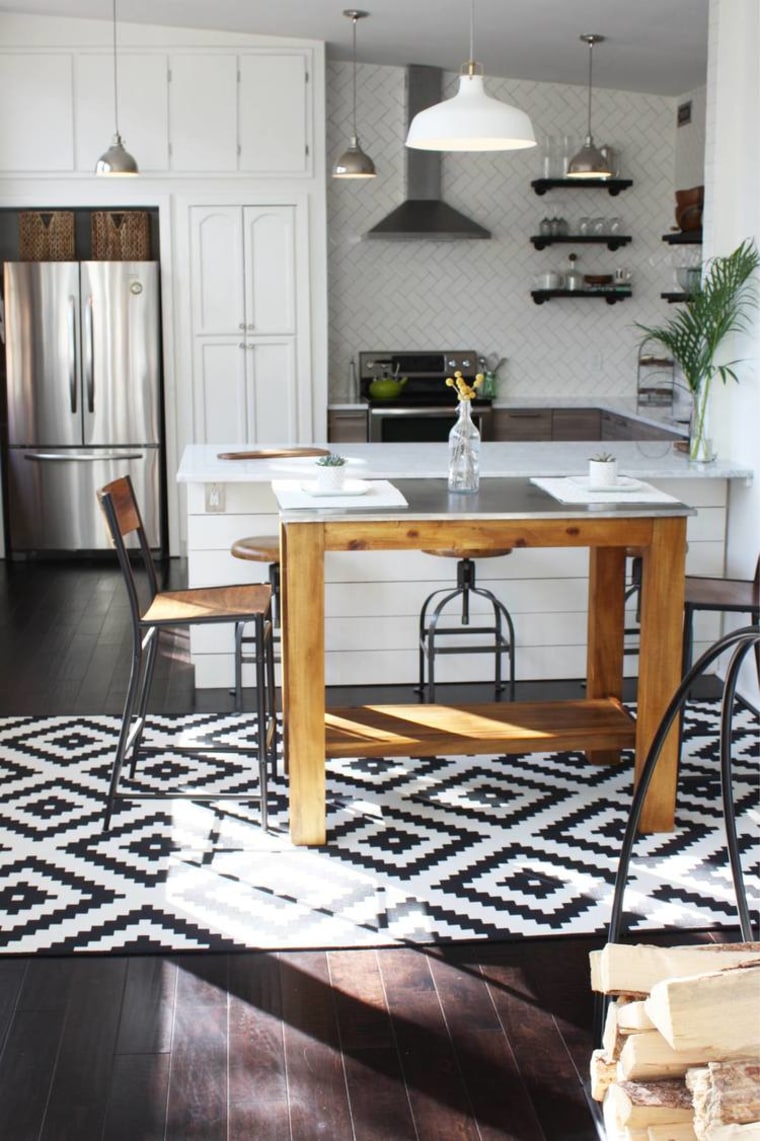 Alesandra Dubin is a Los Angeles-based writer and the founder of the lifestyle blog Homebody in Motion. Follow her on Facebook, Instagram, Google+ and Twitter.