We cover room makeovers weekly, but this transformation hits close to home.
We're letting you inside the TODAY.com newsroom to check out the once-bleak space that is executive producer Ashley Parrish's office.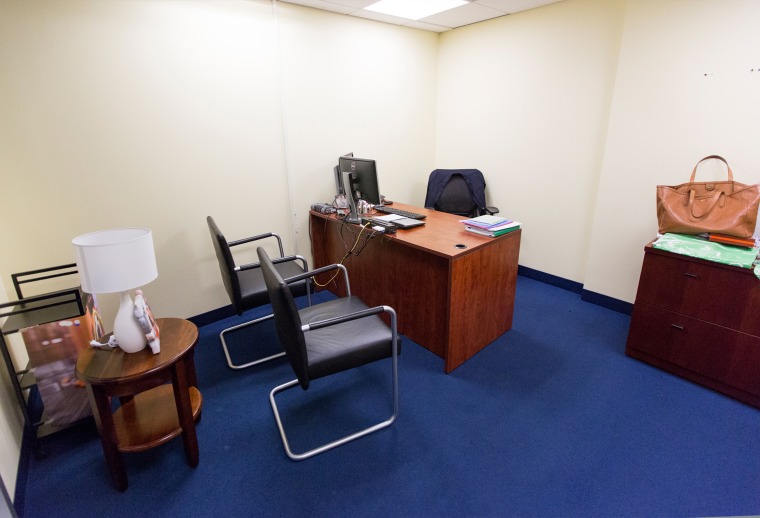 With dull yellow paint, harsh lighting and no outdoor windows, the office was anything but inspiring — until Francesco Bilotto worked his magic. The interior designer worked with Ashley to take the space from drab to fab, and his tips can be easily applied into any space.
RELATED: See what this retro bathroom looks like after a massive makeover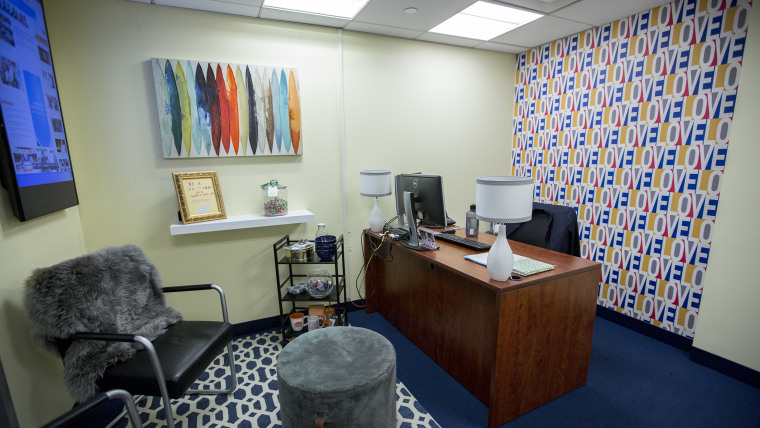 Here's how he did it:
Temporary wallpaper
With no outdoor windows in sight and neutral colors, the office needed a major splash of color — and that's exactly what it got. Bilotto took peel-and-stick wallpaper from Tempaper to create an accent wall behind the desk, adding a hefty dose of charisma to the space.
"I like to treat accent walls as art installations or large focal points in a room," he said. "When you have a little niche like in this room, it called for some design, depth and detail."
Tape DIY
If you're dealing with boring accessories — or in Ashley's case, two bland lamps — you don't necessarily have to shell out big bucks to replace them with something more exciting. Bilotto transformed her lamps using what he calls his "Five Fix."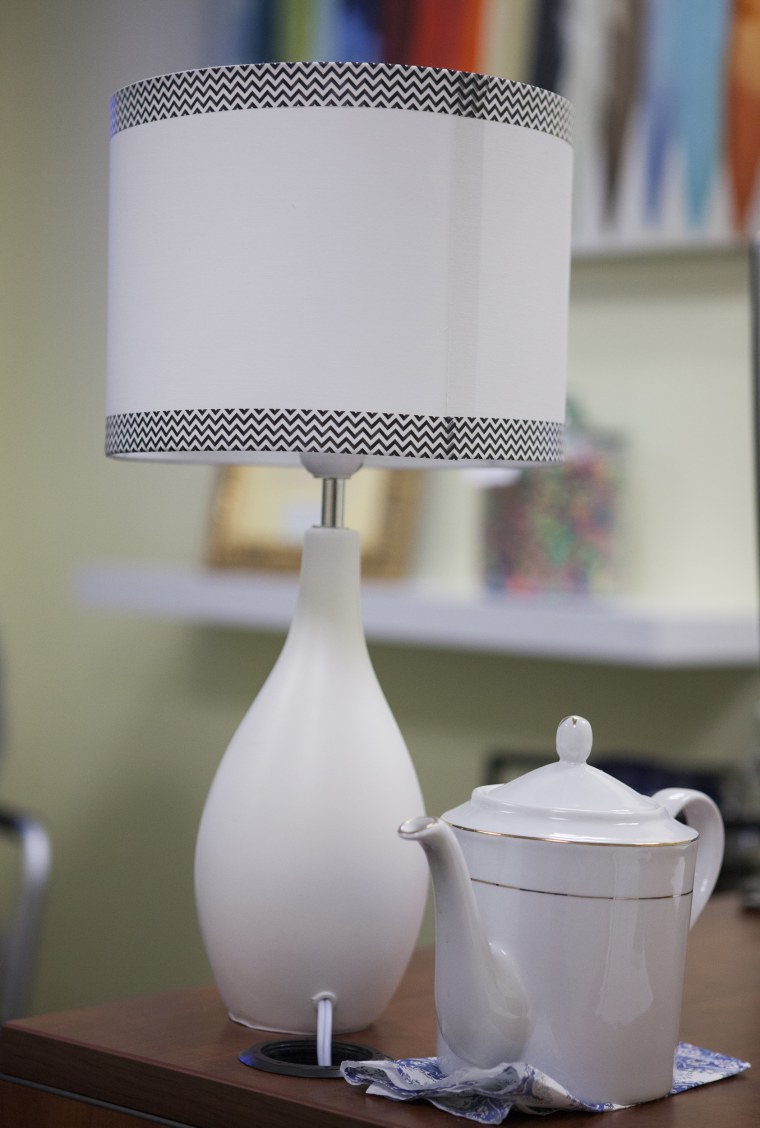 In only five minutes and for only $5, Francesco used washi tape from the craft store and applied a strip along the top and bottom of the lampshades, giving them a dynamic new look.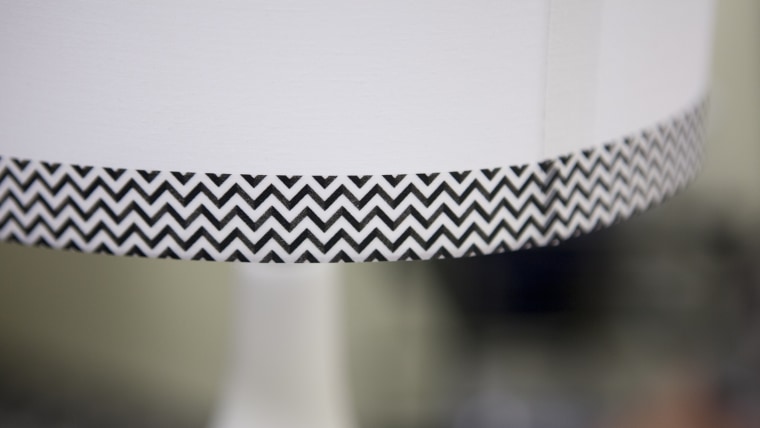 He also had a similar approach to the dull filing cabinet. Using a small roll of removable silver contact paper, he placed a strip on each drawer. Voila!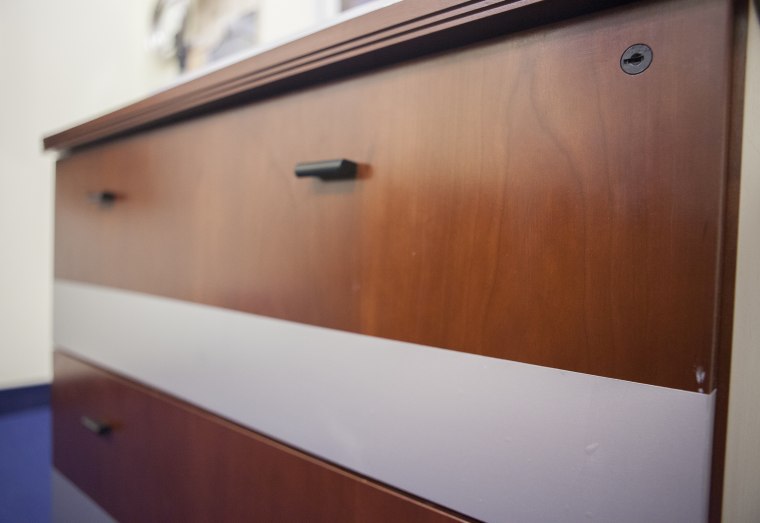 Rug on carpet
Some might say rugs only belong on hardwood floor, but you can toss that rule out the window. Bilotto took a trellis-patterned rug and placed it underneath the sitting chairs near the door, which also makes the room feel bigger by sectioning out a separate seating area.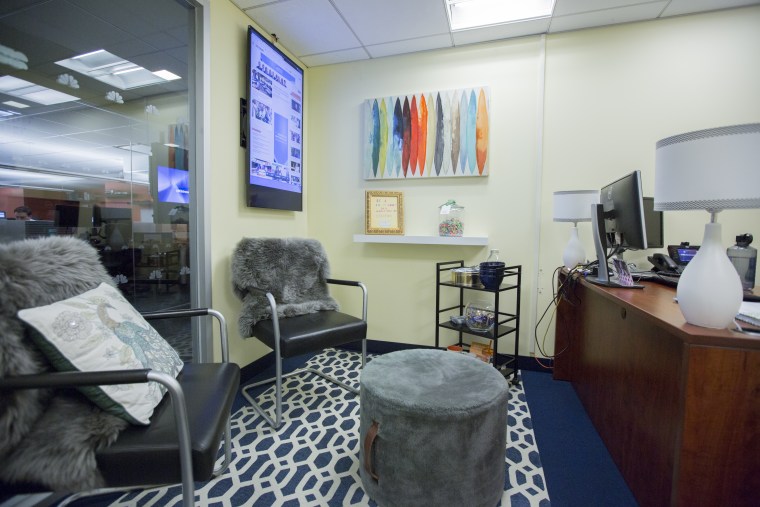 "It's a wonderful way to add dimension, personality, luxury and pattern to basic wall-to-wall carpeting," he said. In this case, he used a rug from Ruggable which is machine washable, making it ideal for high-traffic areas.
Use what you have
Bilotto is a major believer in using what you have, and that's exactly what he did when it came to transforming the stale metal office chairs. With a faux-fur rug that wasn't being used at home, he cut it in half and placed each piece over the chairs to "luxe" them up. "It went from lack luster to a blockbuster in seconds," he said.
Have fun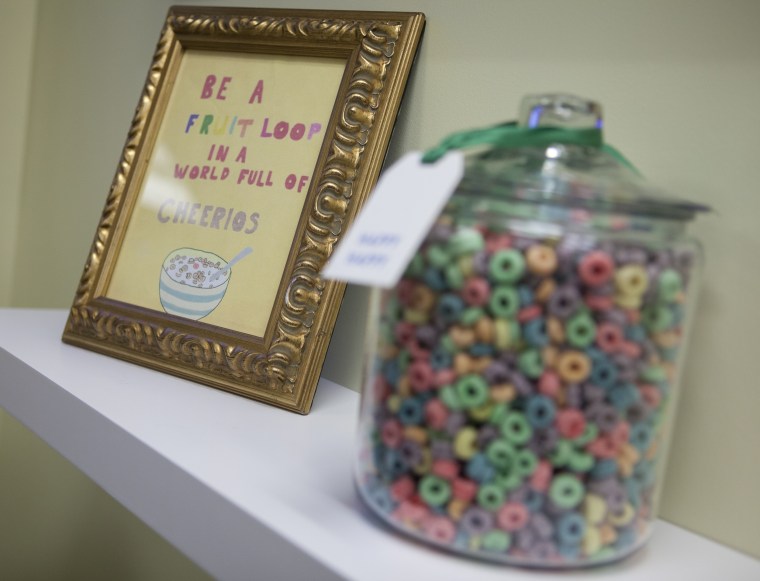 We spend hours at our desks every day, so why not have some fun creating a positive space? To boost morale and create a welcoming atmosphere, Bilotto installed a "cereal station" in one corner of the office. All that was needed was a small shelf, a jar of cereal and bowls with spoons.
"These are the moments that help showcase personality and implement a function of sorts in our offices," he said.
Gallery wall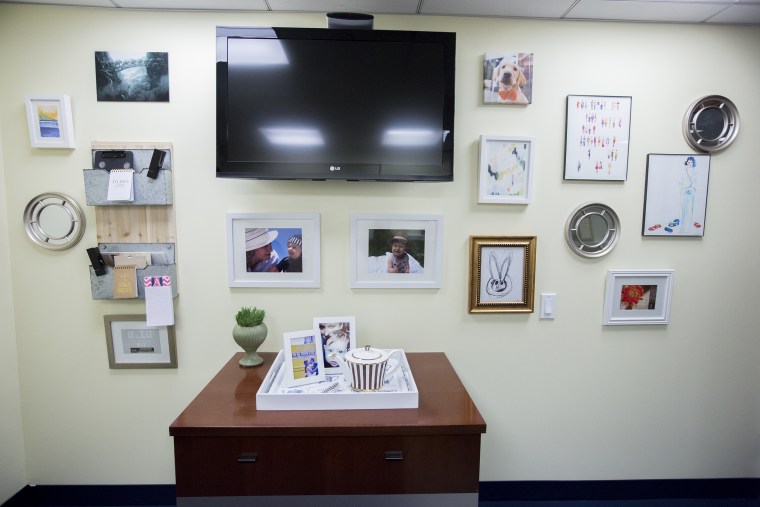 Situated smack dab in the middle of one wall of the office was a TV, and while it serves a purpose, it can be an eyesore to decorate around.
Bilotto's answer: install a gallery wall around the TV.
"When you have a TV mounted on the wall, why not just embrace it?" he said. It's a beautiful way to fill up the wall in a way that distracts from the TV and adds personal mementos to the professional space.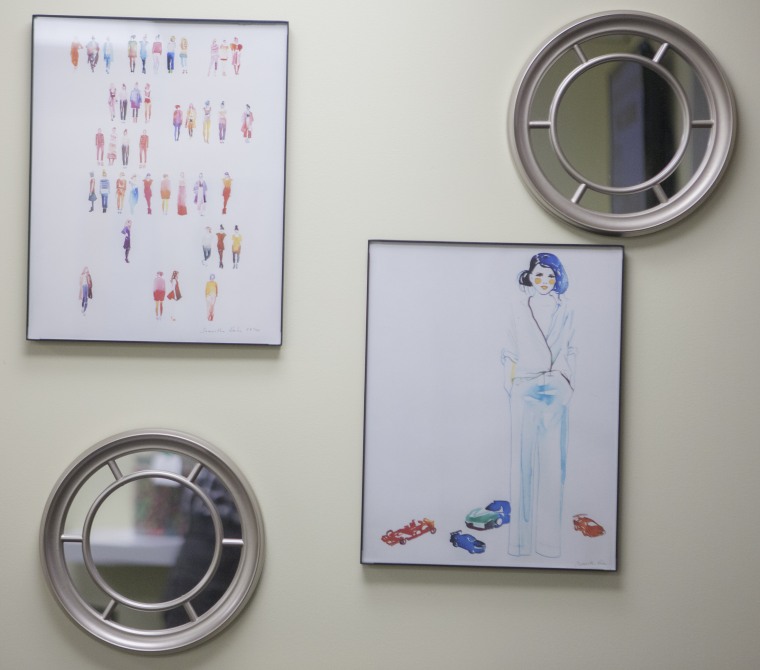 "Start with art you love," Bilotto says when it comes to creating a gallery wall. In this case, he used family photos mixed with framed artwork. Don't worry about matching every frame and size, and feel free to rotate photos and pieces over time.
"There are no rules," Francesco said. "A gallery wall is an evolving installation."