Far from just a place to toss keys and mail haphazardly, a home's foyer is the first impression it makes on guests. When viewed that way, it's actually one of the most important parts of the building.
Recognizing that fact was blogger Sabrina Scrivo of "Pink Little Notebook," when she undertook a foyer renovation project aimed at transforming her home's generic, dated entry space into a gracious area packed with personality — and functionality.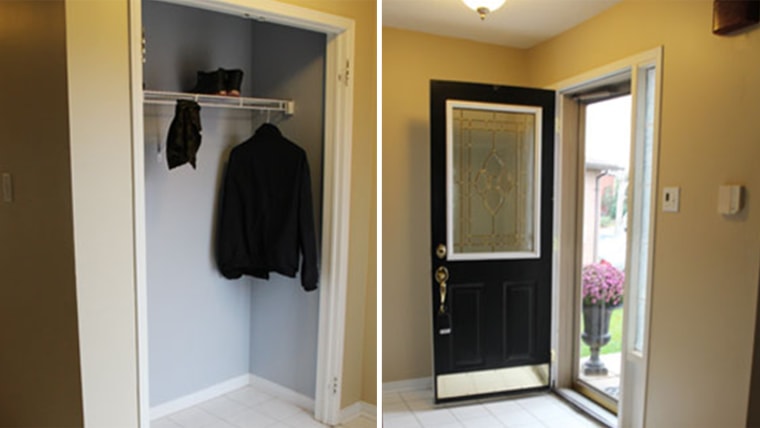 Design aesthetic
Although her foyer was small, Scrivo realized it was full of potential. She called it "the perfect blank canvas to have some fun." The approach she took for the design was "modern yet youthful," a look anchored by an unusual — and impactful — flooring choice.
RELATED: See what this retro kitchen looks like after a modern makeover
Rather than replace the tiles with hardwood as she did as part of a larger remodel of the rest of the main floor, Scrivo recognized the importance of sticking with the same material: "Living with Canadian winters, tile is more durable, and easier to clean when you stomp in the house with wet winter boots."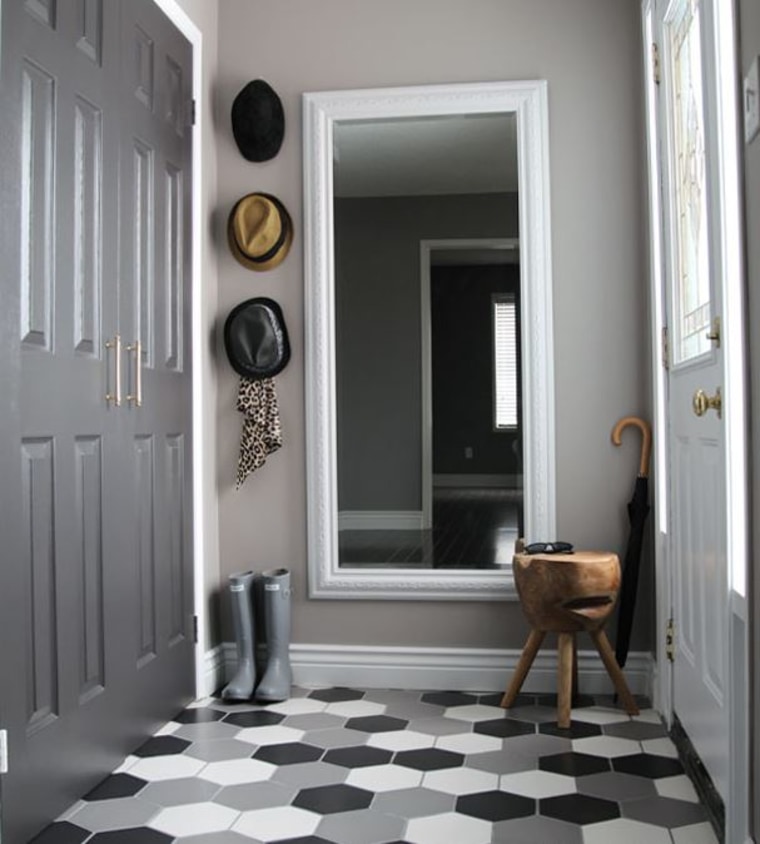 For a huge dose of graphic style, Scrivo replaced the stained and dingy square tiles with new, larger ones in a bold geometric pattern in three different colors: black, white, and grey. "This color combo is still neutral enough for an elegant look but also provides a striking pattern for the floor," she wrote.
RELATED: See this '80s living room transform into a modern marvel
She also opted to keep the grout on the darker side to allow for easier maintenance given the heavy traffic through the door.
Storage solutions
For her closet in the entry area, Scrivo said she wanted to "do something bold and unexpected." She drew inspiration from a trip to Las Vegas, where a design detail in her hotel's closet made a big impression: She added a pop of bright yellow paint on the inside of the closet, to inject a sense of whimsy and amp up an otherwise neutral palette.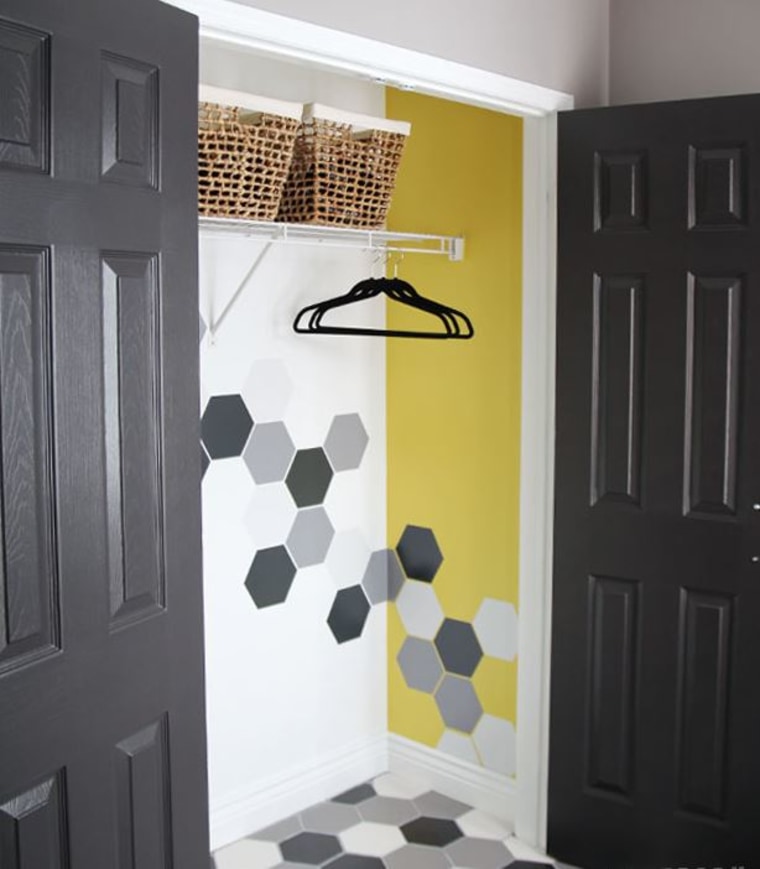 She also added wall art decal stickers that mimicked the look of the floor tiles for a bit more visual interest, and a set of baskets to tame mess and clutter on a high shelf.
Finishing touches Because the tile work was to be the graphic focal point of the new space, Scrivo chose to keep the other details simple.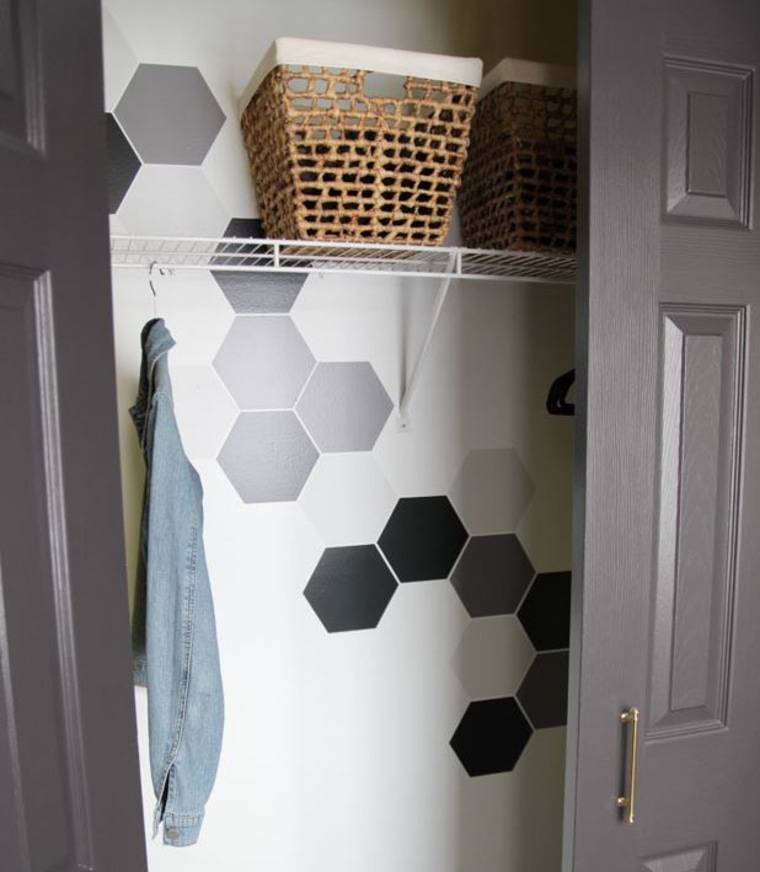 A fresh coat of paint perked up the walls, trim, front door, and closet doors — a big bang for the budget. "It really is the easiest way to breathe in new life and refresh a space," she said.
Finishing touches
Given the diminutive size of the space, Scrivo found no room for a bench or console within her updated foyer. But she instead found a wooden stool — upon which she could sit to put on boots before going out into the weather — small enough to clear the door with ease.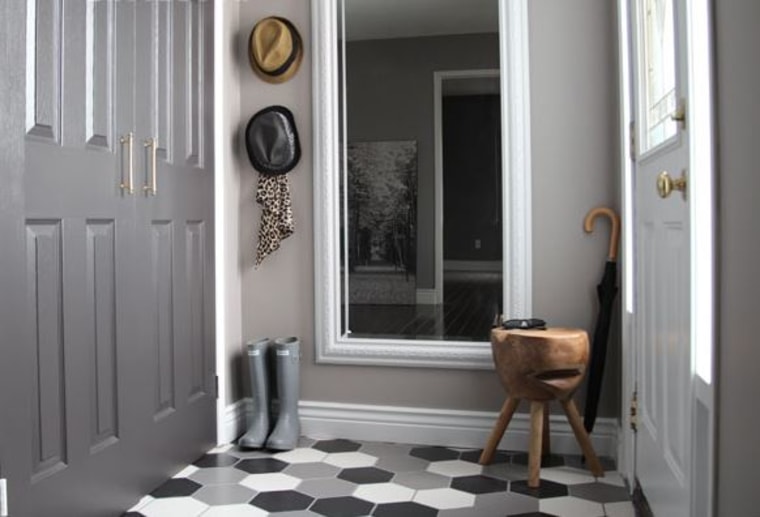 A large mirror and wall hooks for hats finished off the look.
Budget hack
While it wasn't in her budget to spring for a fancy new light fixture, Scrivo opted for a super-simple DIY alternative that looked every bit as rich: She found the cheapest fixture possible at a big box retailer, and spray painted it gold. "It's modern and simple," she wrote. "I'm really digging this look for $15!"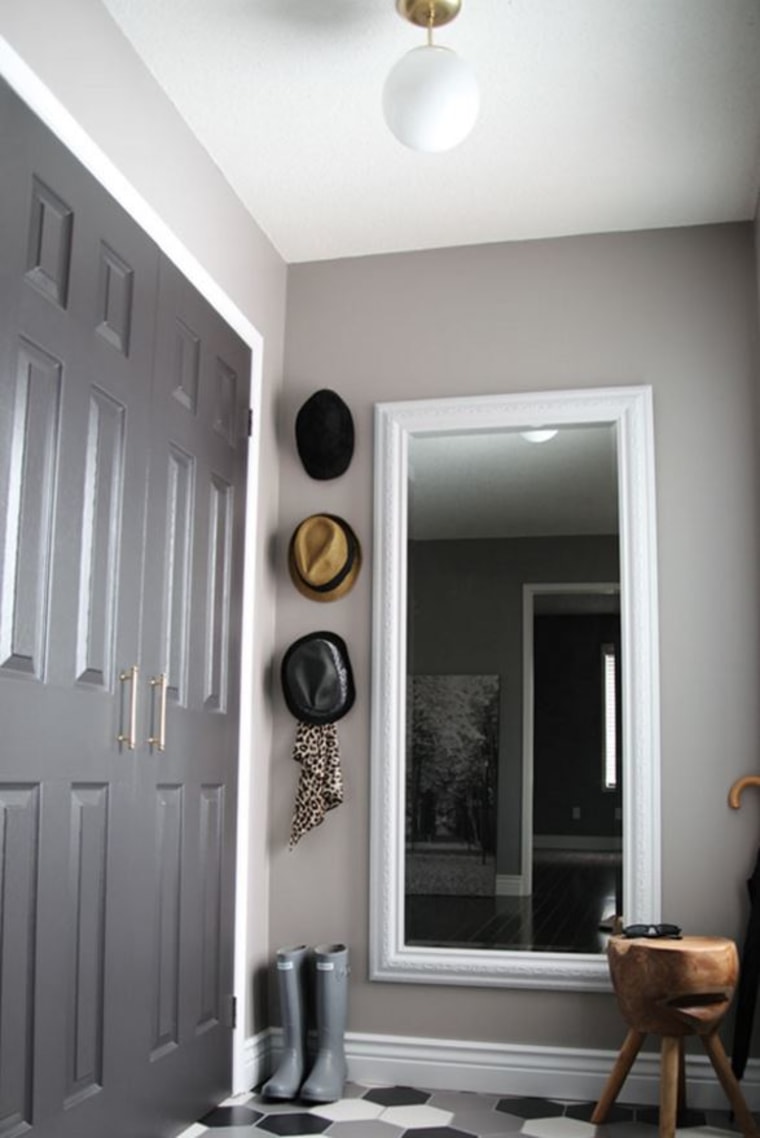 Alesandra Dubin is a Los Angeles-based writer and the founder of the lifestyle blog Homebody in Motion. Follow her on Facebook, Instagram, Google+ and Twitter.