Let's face it: When you have kids, they tend to take over your house. One family in Rocklin, California, even gave up their dining room to create a playroom for their two little ones. And after seeing the results, we're tempted to do the same thing!
Rebecca Plumb of Studio Plumb Interior Design transformed the room for her clients, who wanted the conversion to include an area for their two kids to play, a place for the parents to relax and plenty of storage for toys.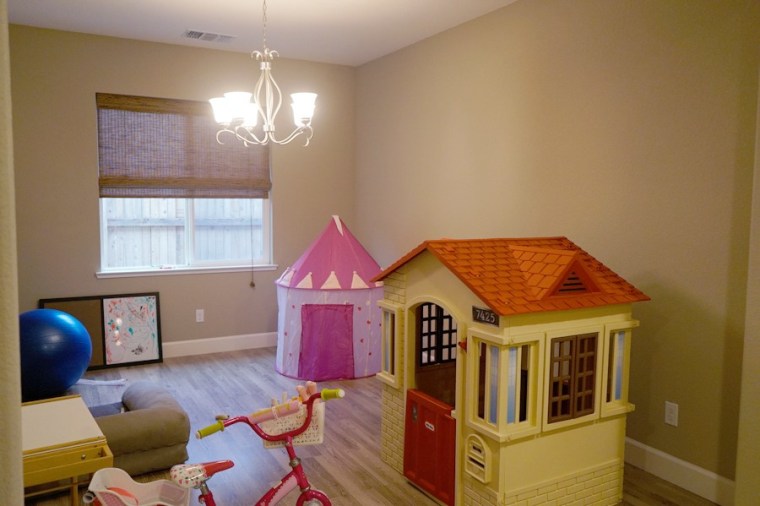 They got everything on their wish list, plus so much more.
"The room was fairly dark with a mid-tone neutral on the wall that didn't feel very playful," Plumb said of the space before. "We went with a barely there pink that added a ton of light reflection more fun for the two little girls that get to play there."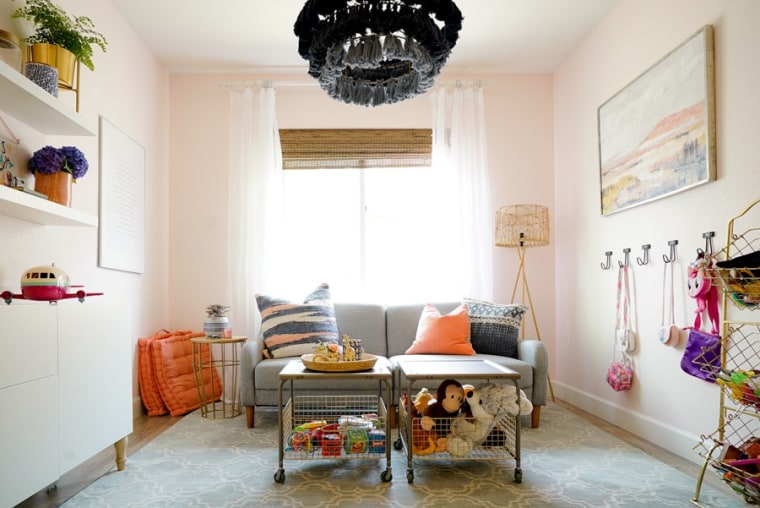 The only decor piece the client currently owned and wanted to use in the room was the large wool rug. All the other furniture and accents were purchased within a $750 budget.
Plumb replaced the builder-grade chandelier with one showing off dark-blue tassels. Besides making it feel less like a dining room, the new fixture added tons of texture to the space. "The dark blue kept the room from being too feminine," she added.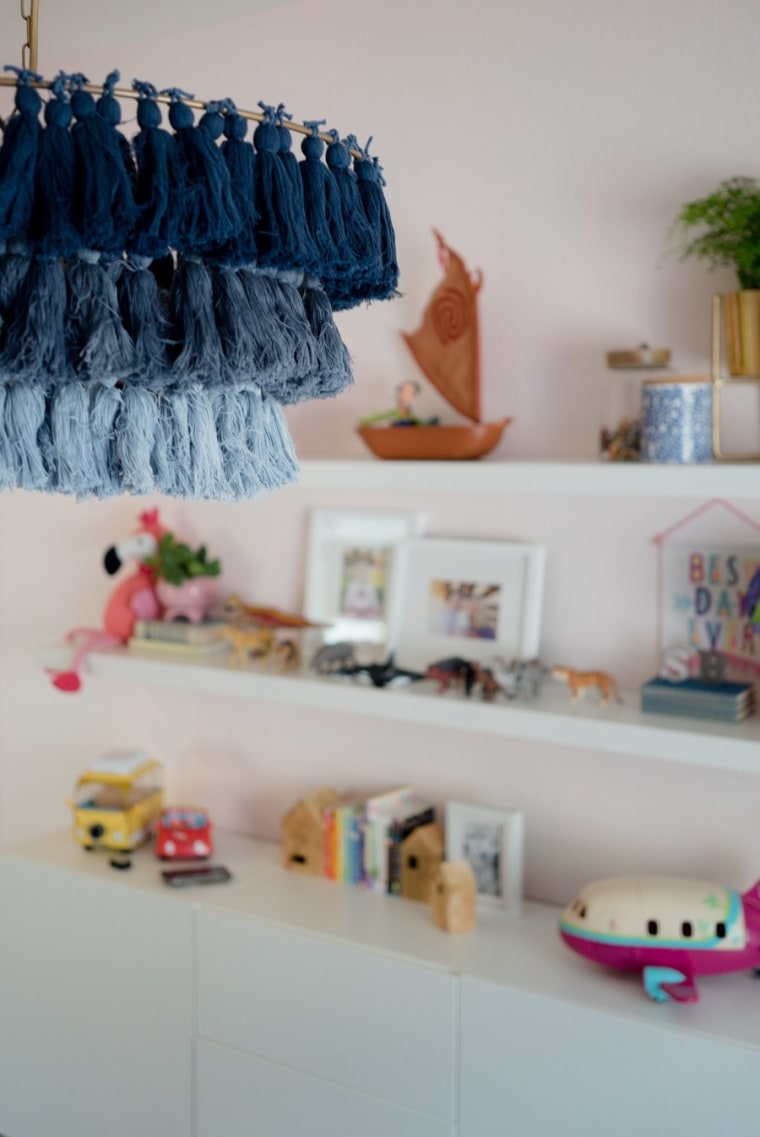 To keep clutter at bay, Plumb installed a storage unit with cabinets and drawers to hide toys. "By adding legs and eventually pull hardware, it adds a little personality to the piece," Plumb explained. And because kids like to see toys before they play with them, she also included open shelves and wire baskets to make it easy for cleanup.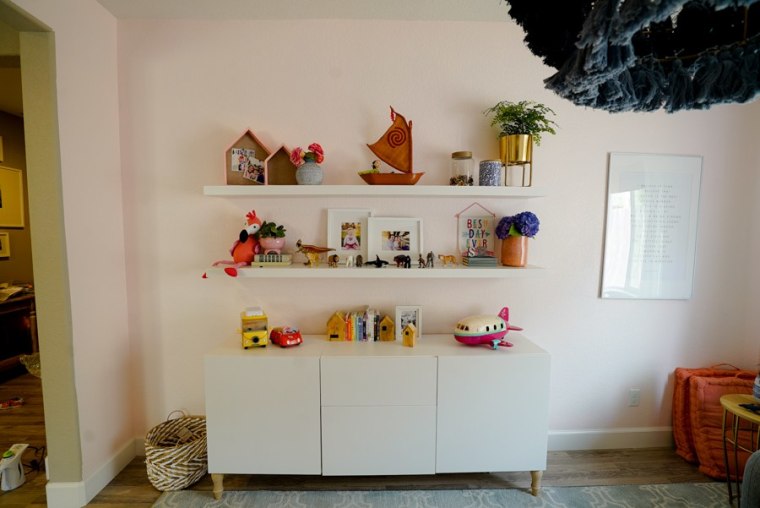 Inspired to make a cute playroom like this? Plumb's biggest piece of advice is to look outside the kids' section when shopping for pieces.
"I think playrooms should be fun for kids but still flow with the rest of the home, especially if like this one, they're central and visible to the rest of the rooms in the house," she said. "It's a place to add color and a little whimsy, but I prefer to work with 'grown-up' furniture that is kid-friendly."
She adds, "Durable coffee tables can double as a coloring station, buffet cabinets can evolve over time when they no longer need to hide toys, and rugs should be soft, but can fit the color scheme used in the rest of the house."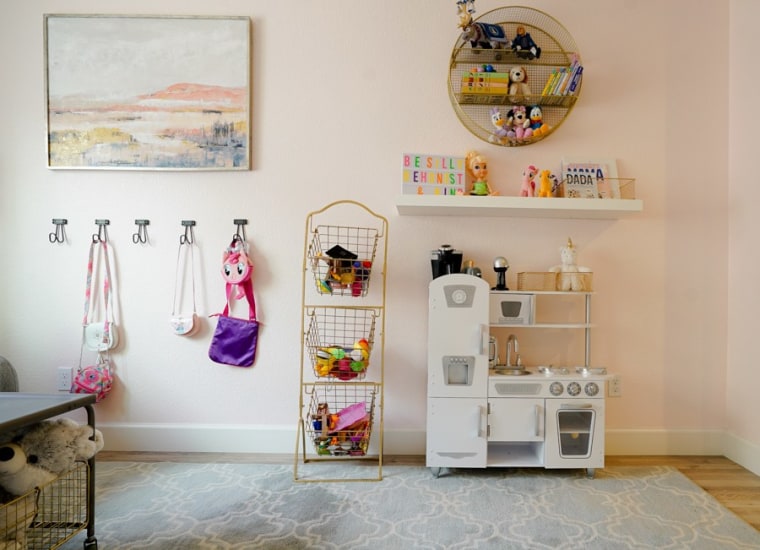 As for the young girls' reactions, Plumb said they loved it. The 4-year-old especially liked the dress-up area where the hooks display her dresses, tiaras and purses. And the 1-year-old's favorite part is the kitchen area.
See more of Plumb's room makeovers at Studio Plumb.