When they bought their home, Kelly Goldman and her husband Jonathan knew that every single element within its kitchen needed updating. So they wasted absolutely no time getting to work: In fact, they started the DIY demo the very day they closed escrow!
Then they found that various portions of the project took considerable time — and they also paced everything in order to pay for it. So it wasn't until a year and a half later that the family would be able to enjoy the fruits of their fully DIY labor. In the end, they created a spectacular transformation on a fraction of a traditional remodel budget that was so worth the wait.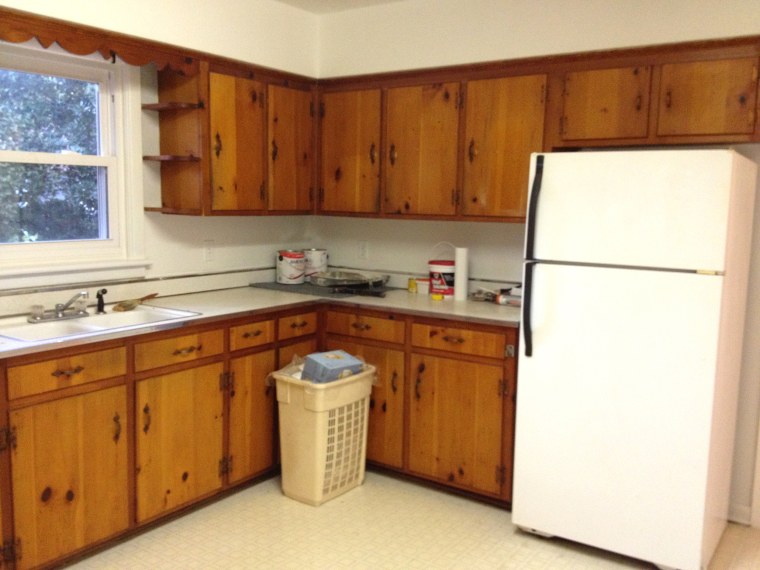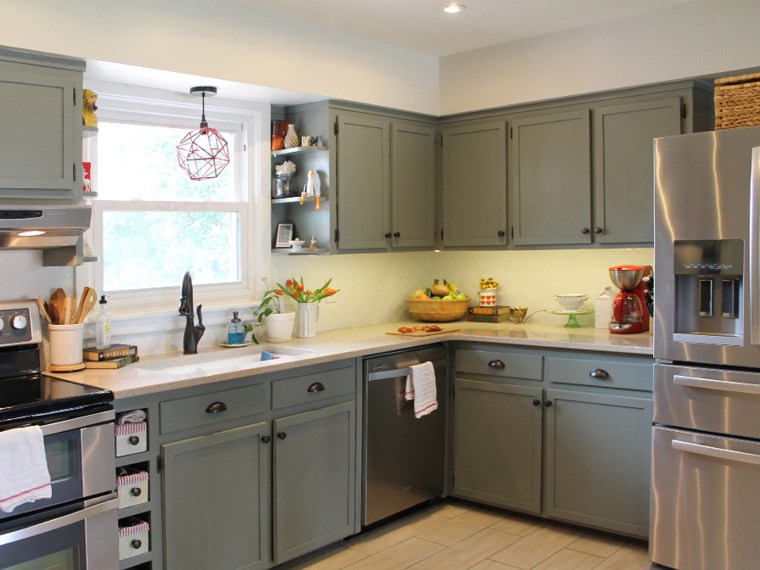 Facing the problem head-on
Kelly told TODAY Home that there was no good reason not to totally obliterate the original kitchen, given the scale of the work required.
"We knew we could limp along with the cooktop and wall oven until we were ready to modify the cabinets to accommodate a new stove, but the cabinets themselves needed serious help before I was about to put any kind of food or serving dish in them," she said. "They were disgusting!"
RELATED: Couple converts 480-square-foot garage into their home — and lives mortgage-free!
Rather than starting off with a clear vision, the couple kept open minds as they approached it.
"The kitchen, like the rest of our house, evolved into something comfortable that suited the both of us. Jonathan comes from a very traditional background, while I tend to lean more toward modern options," Kelly said.
A lot of elbow grease
For hard-working laborers, the couple looked no further than themselves! The pair tackled nearly the whole project entirely on their own, including sanding, painting, priming, adding trim and wood putty — and more sanding and painting.
Jonathan did all the plumbing work himself, some of the electrical, and all of the tiling, including the floor and backsplash.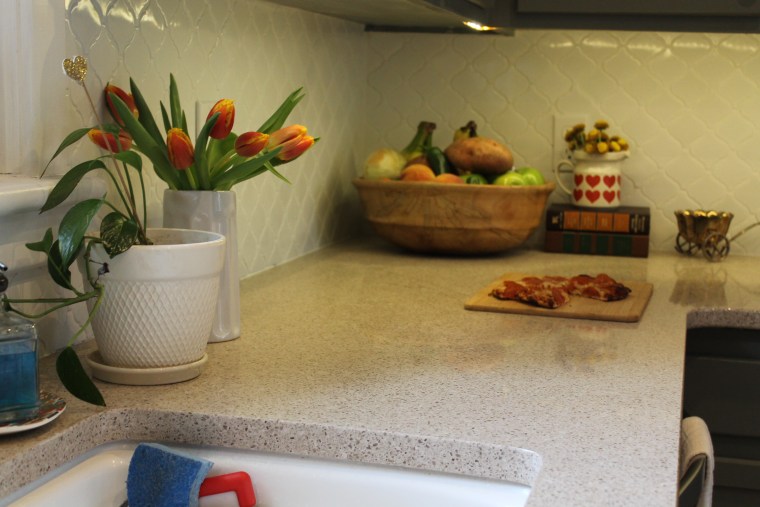 There were just a few elements of heavy lifting or dangerous projects the couple left for the pros: They hired out the task of running a new electrical line for the stove, plus new electrical for the dishwasher, garbage disposal, and recessed lights. They also farmed out the counter installation.
A long road
Like many home improvers who start out with big ambitions of a speedy wrap-up, Kelly learned the hard way that good intentions routinely get dashed. Their project took — wait for it — 460 days to complete.
"We closed on the house and literally started that evening, removing carpet, taking doors off cabinets," she said.
RELATED: This 1 dollar-store item will give your lamp a whole new look
The next morning, the pair went on a Christmas vacation while contractors showed up to cut a hole in the wall between the living room and kitchen. But then they moved in — and the realities of life and the complexity of a full kitchen remodel simply intervened.
"It just simply took a long time," she said.
A streamlined budget
Drumroll for the total cost of the whole project: just about $10,000, a far cry from the approximate national average of $30,000 for a kitchen remodel. That price tag included appliances — including $1,700 for the fridge alone — plus steals like the pendant light Kelly made for $30.
Lessons learned
Despite the dazzling look of the finished product, the process was hardly all Instagram-worthy perfection — as any home improver well knows!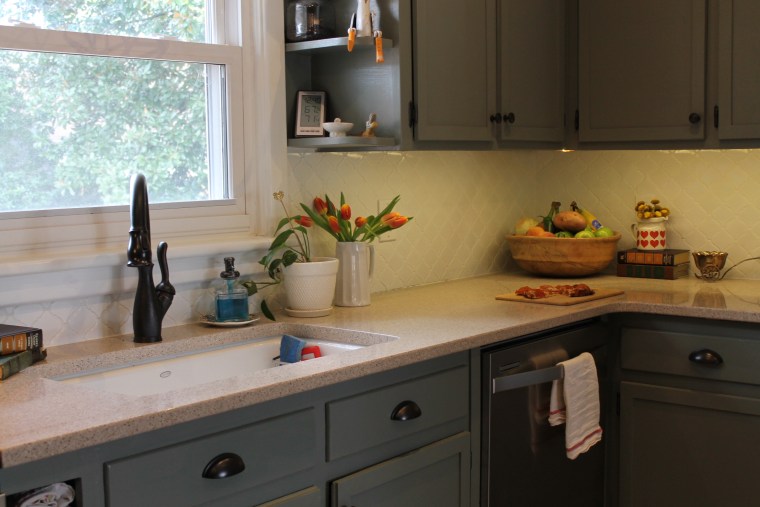 Along the way, they encountered crazy challenges and unexpected obstacles like this one: With the floor tiling project underway, two of the family dogs got into a fight, and Kelly had to take one to get stitches in his ear later that evening.
"I was completely covered in grout, water and a little bit of dog blood when I walked into the vet's office," Kelly said.
Looking back, Kelly says she would have done a couple of things differently. First, they would have opted to buy a dishwasher without a handle, given they later realized the drawer adjacent couldn't clear the handle to open. And they would have removed one of the layers of plywood subfloor and added a thin layer of cement board before laying the floor tile.
RELATED: See this kitchen go from boring to bursting with color
But these amount to merely small concerns. Overall, Kelly says, "We're still really happy with our choices." They love the counter, appliances, and the giant sink — in which they'd later bathe their baby son! And they still love the decision to keep the original cabinets.
Even though they're thrilled with the way it turned out, they won't be attempting a similar feat again any time soon. "Husband says he will never complete a project like this again — too much work!" she told TODAY Home. She added: "But I'm totally willing to give another kitchen a try."
See more photos from Kelly's kitchen makeover on her blog!
Alesandra Dubin is a Los Angeles-based writer and the founder of the lifestyle blog Homebody in Motion. Follow her on Facebook, Instagram, Google+ and Twitter.