As interior design bloggers, Chris and Julia Marcum are no strangers to renovations, but when it came to the nursery of their third child they took on a huge challenge: transforming a room in only six weeks.
Because of their short deadline, a part of the one room challenge, Chris and Julia knew they didn't have time to waste when it came to choosing furniture.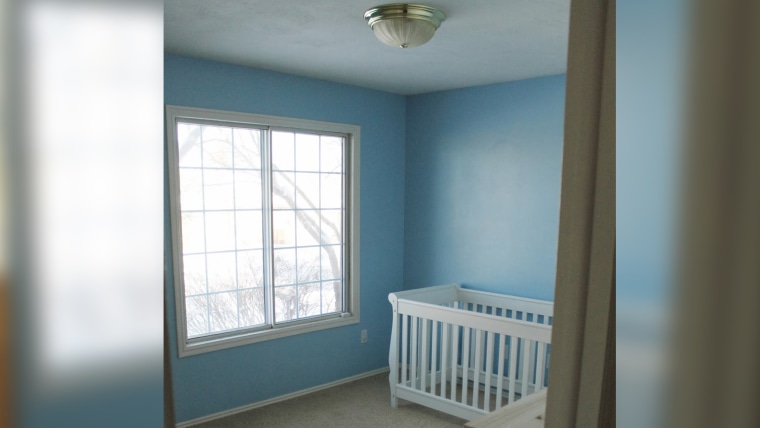 "It's a nine by 12-foot room," Julia Marcum told TODAY. "That means there wasn't a lot of room for error in sizing and furniture. Everything had to fit like a puzzle."
After ordering a nightstand online and finding out that it was too large for the space, the couple decided they had to find a better solution. For them, that solution was a 3-D imaging website called Modsy that allowed them to set up the room digitally using actual pieces from around the web.
This being her third child, Marcum also knew of a few non-negotiable items that she needed for the nursery.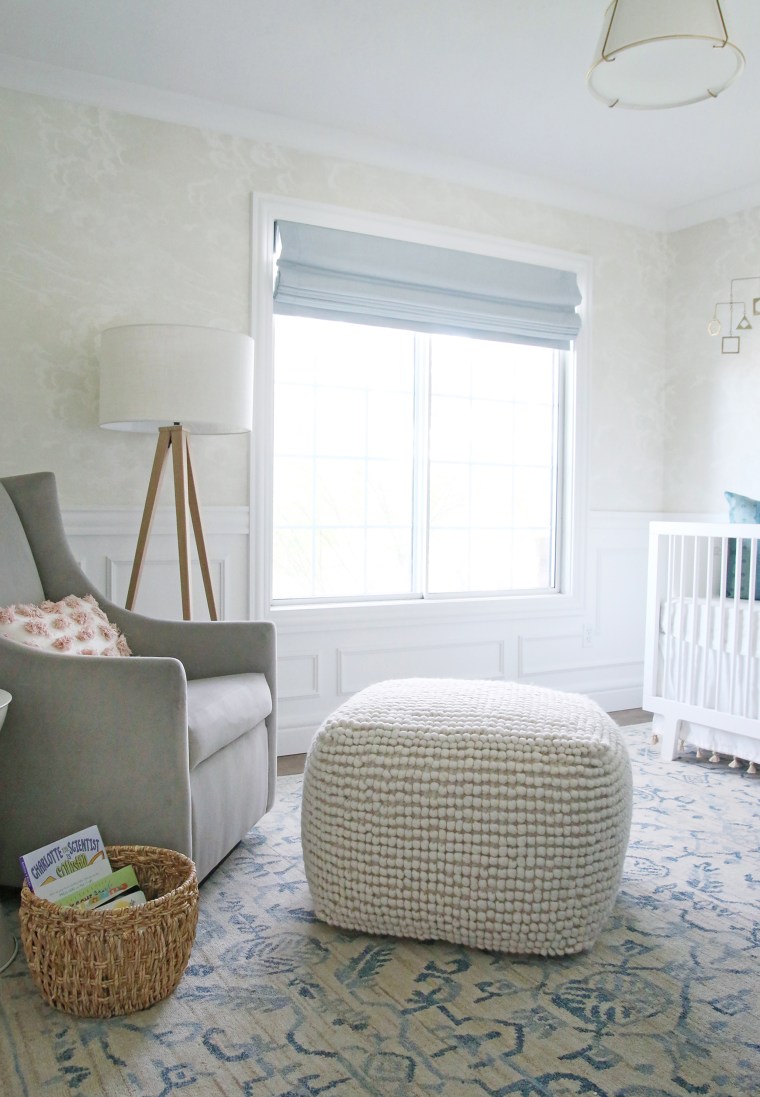 "The room didn't have a closet, so we needed a really good sized dresser with lots of storage," she said. "I also needed a glider — being my third child, I knew how much I would live in a glider once the baby came."
She also really wanted black-out shades, which are hard to find when hoping for both fashion and function.
In addition to the items that were purely functional, Marcum also spent time looking online for nurseries that she loved.
"I noticed that they all had one thing in common," said Marcum. "And that was a really calming color scheme and no theme."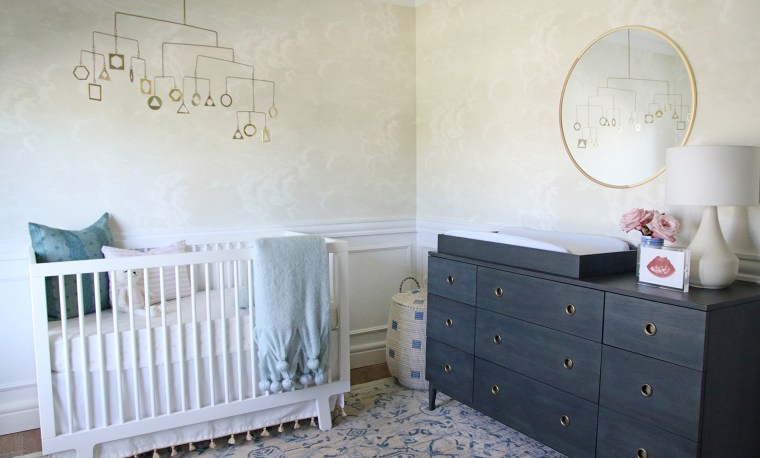 Marcum explained that, in the seven years since having her first child, styles have moved away from themed nurseries that used to seem like a requirement.
Now, she found herself leaning toward all things calming and serene.
"I loved a lot of the nurseries with wainscoting and wallpaper combinations," said Marcum. "I knew that was more the direction we wanted to go: a little more sophisticated, but still sweet."
This led Marcum to another non-negotiable: wallpaper. In particular, a cloud wallpaper. Because she wanted the walls to possess their own character, she knew she wouldn't have a need for wall art.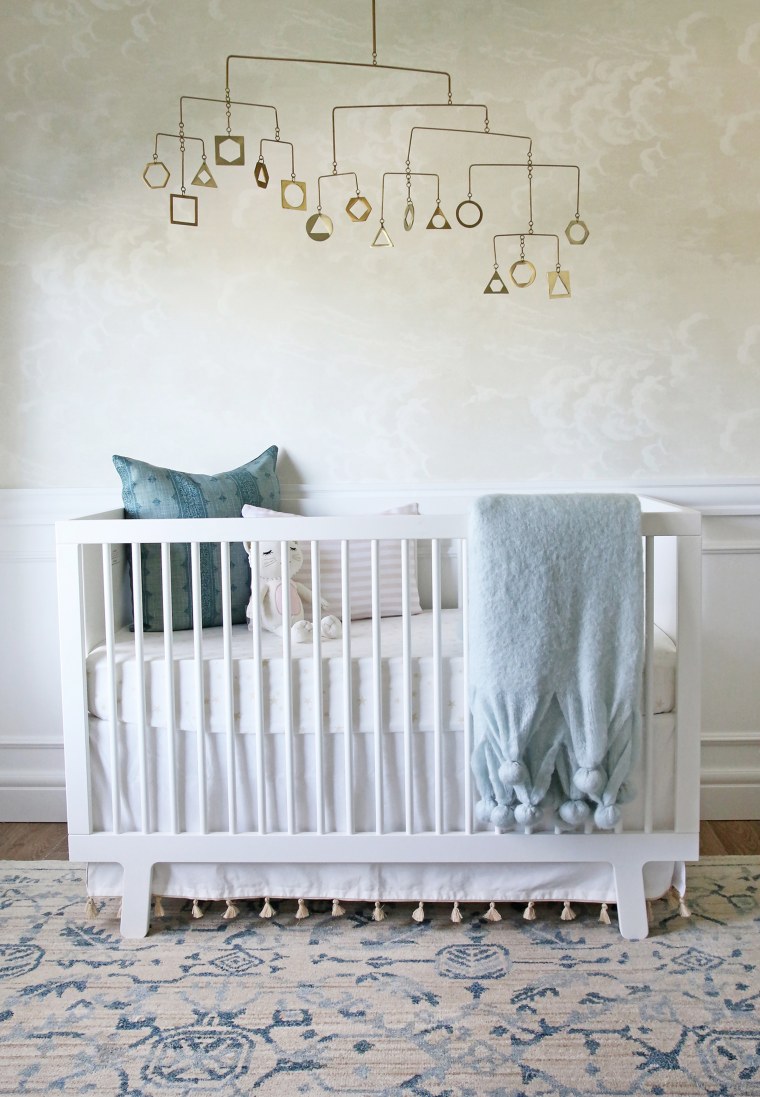 "I love the wallpaper, and we have a really big textural poof in there that plays up the wallpaper so nicely," said Marcum. "I think my favorite aspect of the room is that it feels super textural."
But don't worry, when it came to a personal touch, Marcum added in a very creative, sentimental piece that makes the nursery feel uniquely hers.
"There's an Etsy shop called Baby Blueprint, and they turn the little black and white ultrasound that you get into really cool prints," explained Marcum. "You can get it in any color — I picked a soft rose. Even though there's no art on the walls, it makes the room feel very personal and sentimental."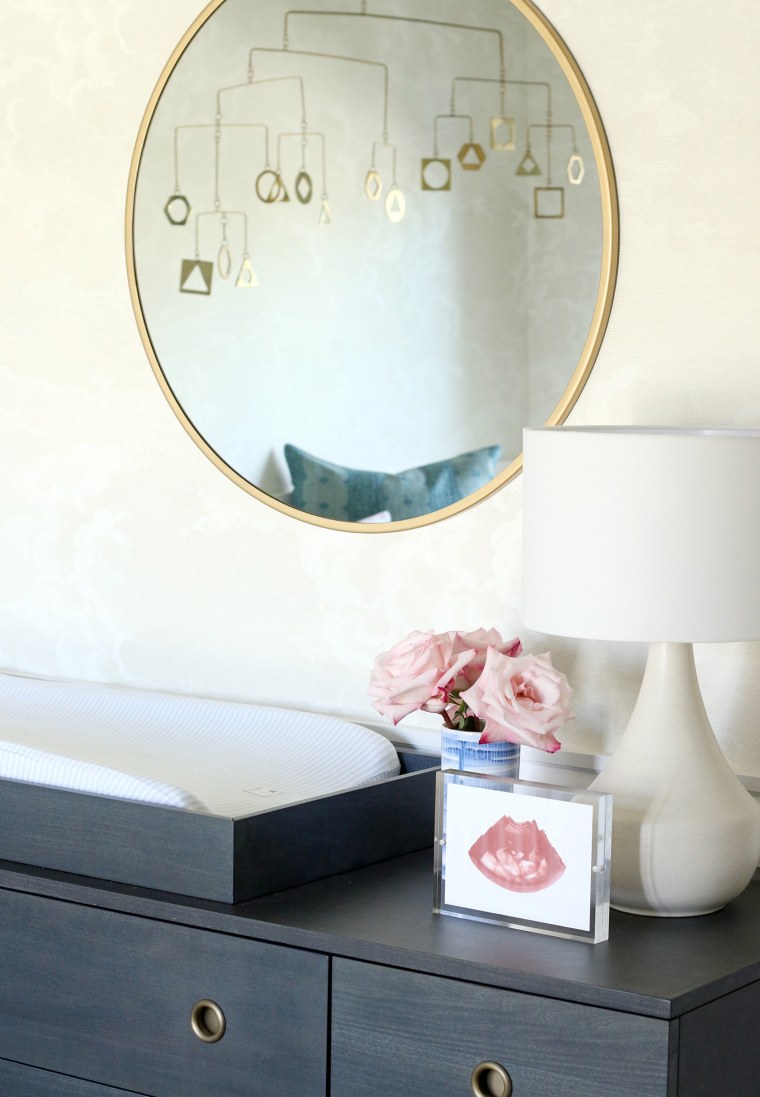 Not only is the ultrasound perfect for the nursery, but it will surely be a piece that her child holds dear for years to come.
The same can be said for many of the pieces in the nursery. Even the mobile that hangs above the crib could be used as an ornamental accessory in the child's room.
"Another really important aspect of designing our nursery was that we knew we wanted to have pieces that could transition into other places in our home," said Marcum. "We really wanted pieces that could stand the test of time as the baby grows up."
Overall, the nursery is a calming retreat — and we're in love.