About a year before we found out we were expecting twins, we'd bought a two-bedroom house in a lively area of Los Angeles, known for its 1920s and '30s Spanish character.
As soon as we found out those two babes were on the way, I knew I'd be losing the home office from which I'd been working as a writer, editor and blogger. That room, of course, would become the nursery. But then where would I work?
After looking into doing a major expansion project or even moving, we ultimately went with the idea of converting our detached garage into an office.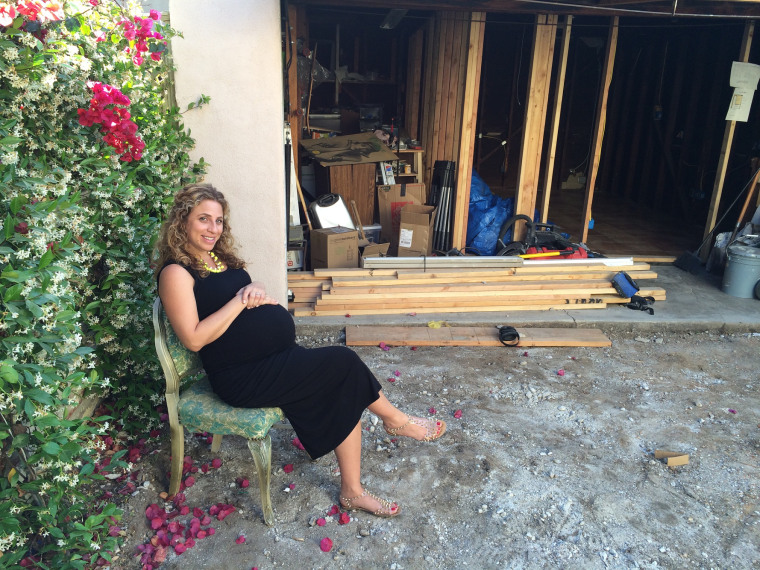 Here's how we made it happen:
Custom built-ins on a budget
Inspired by a friend's project, we bought three three-drawer file cabinets from Pottery Barn (not cheap, but on sale) and made them into a custom-width double desk using two Ikea countertops ($59 each) cut to size and L-bracketed to the wall. We also got a pair of desk chairs from Overstock that are very Pottery Barn-esque. The overall result looks much richer than the total cost for everything together.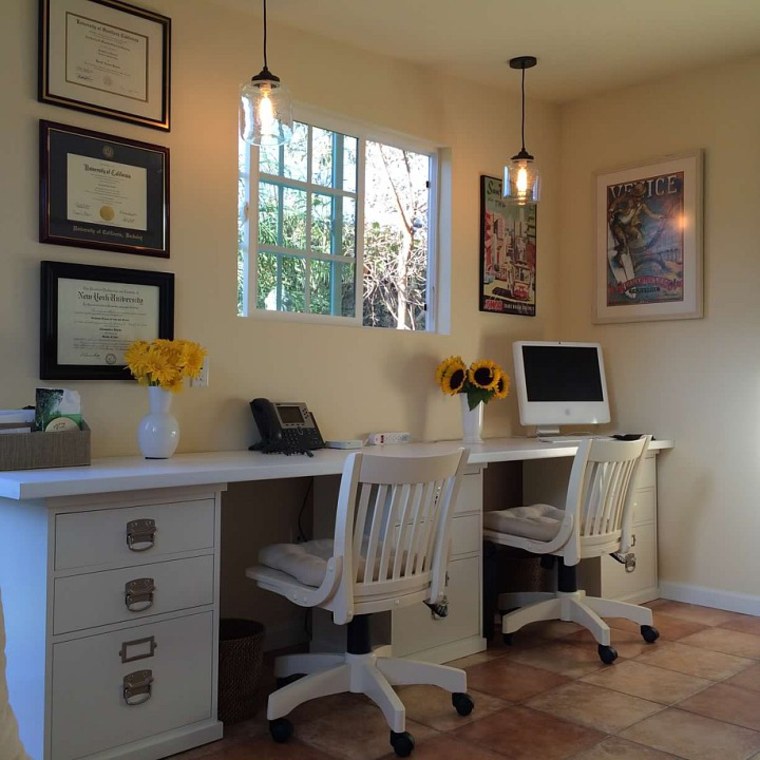 We chose a Spanish tile for the floor from a local discounter, at just a few dollars a square foot, to go with the overall look of the house. And we re-purposed our old sleeper sofa so we can actually accommodate overnight guests — as long as they don't mind coming into the main house for plumbing!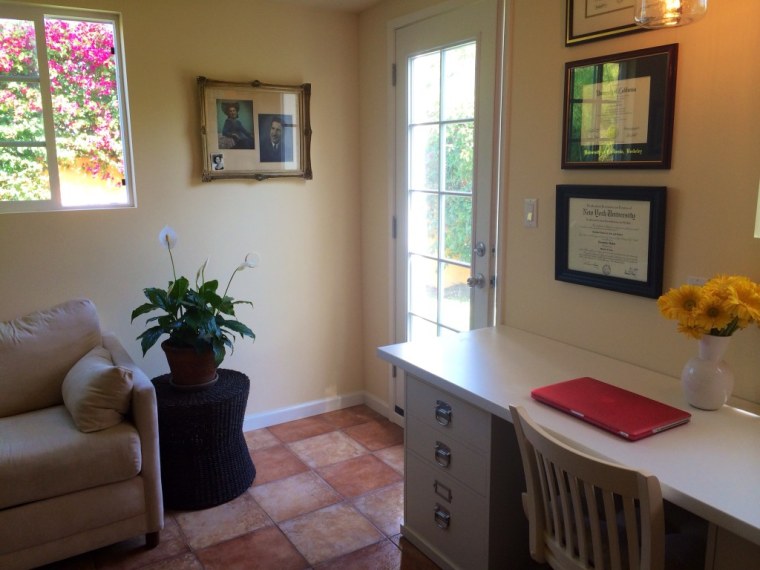 Decor details
Though we ran out of time to create the travel gallery wall we wanted, relics of our wonderful adventures nevertheless dot the space. The little Ganesh figure is a memory from Bali, for instance, and the canoe paddle is from Kona.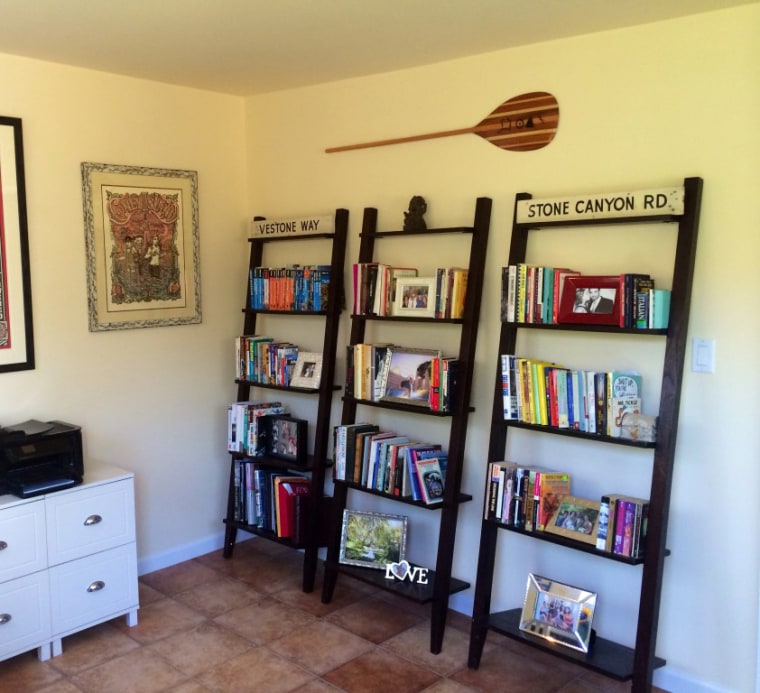 Those street signs are really special, too. My parents found them under the house where I grew up. They were the original signs in our neighborhood before the city signs replaced them in the '20s.
Vintage flair
One of my favorite little details about our vintage house has always been its sconces. I assumed the substantial-feeling pieces were original to the period. But it turned out they were actually totally new fixtures, and we found them available at 55 Downing Street. We were happy about how such a small detail added continuity with the main house.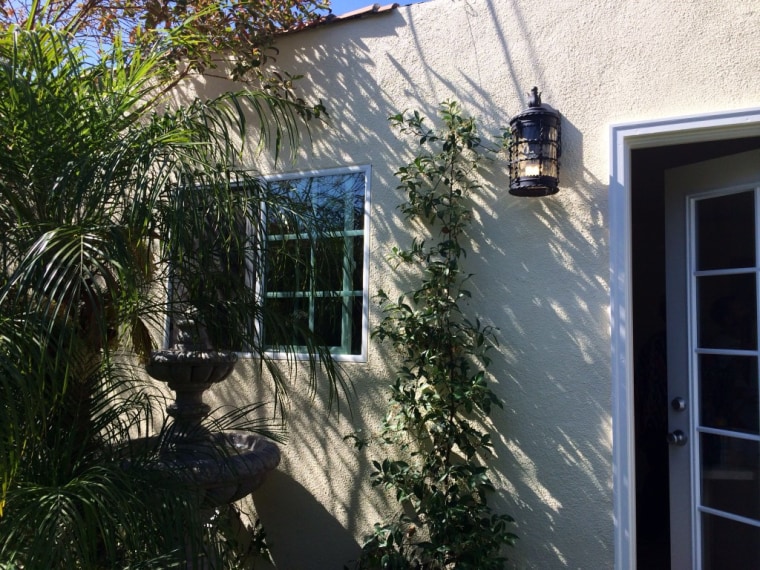 Saving storage
While I needed an office, we also needed to maintain some storage space. So we divided the garage into two areas: one raw space for storage and one finished office.
That meant we maintained an L shape around our office for storage, accessible through both the garage door and from inside the office. On one side is all of our family storage, and on the other, shallower side is a work space for my husband.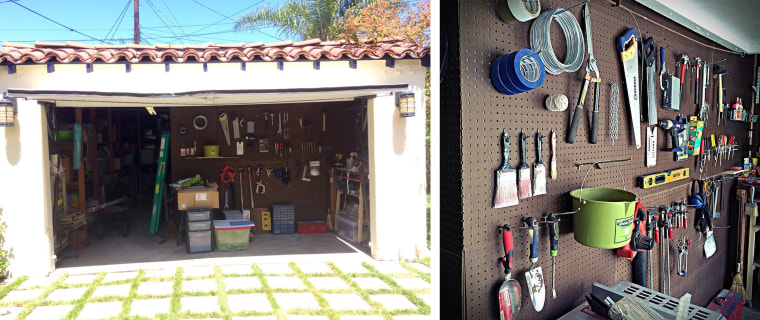 Worth it
Using mainly pre-fabricated materials (like windows and doors from Lowe's), we were able to complete the task for around $15,000, with the help of a contractor. If you have DIY skills and inclinations — and you're not in your third trimester carrying multiples — you could do this for substantially less!
Alesandra Dubin is a Los Angeles-based writer and the founder of home and travel blog Homebody in Motion. Follow her on Facebook, Instagram, Google+ and Twitter.