As any parent with a college-bound teen knows, dorm room makeovers are all the rage these days. What college kid wants to come home to a sterile cell when they can sleep in a place that feels a little more like home?
But tricking out even a tiny space can get expensive.
April Frailey, of Midlothian, Texas, had two children in college already. So when she sent her youngest, Sierra, off to Blinn College last month, she knew the dorm redo couldn't break the bank.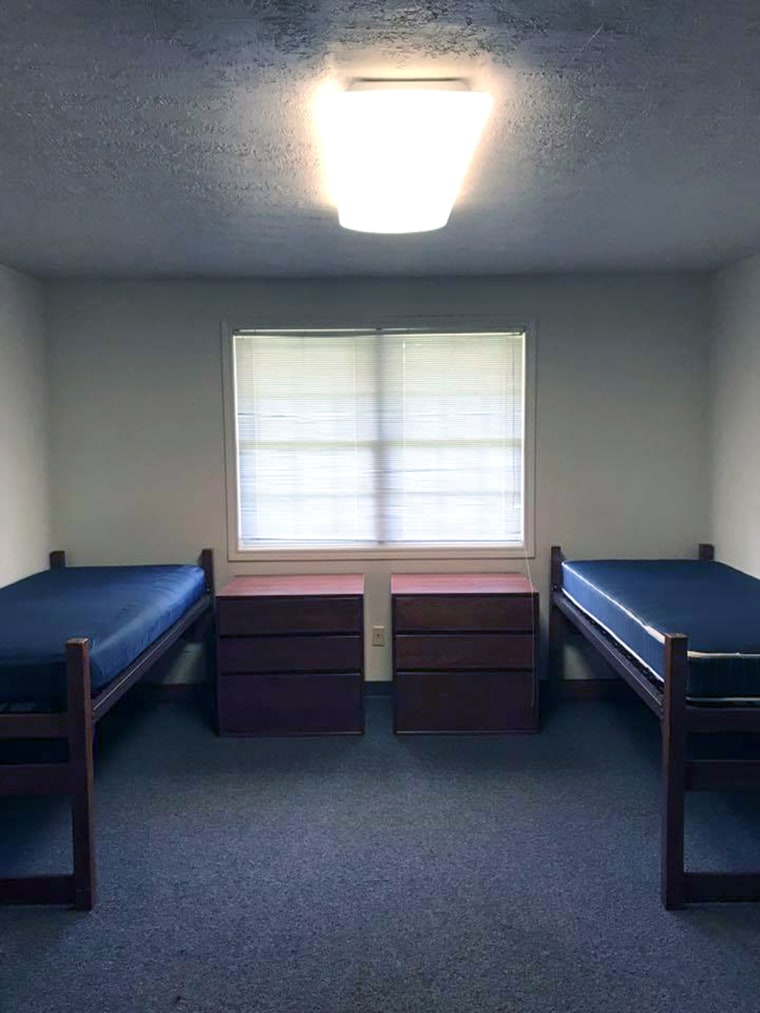 Still, Frailey wanted Sierra's room, which she'd be sharing with childhood friend Kira DeMerse, to feel like home.
After both girls decided to attend Blinn, April and Kira's mom, Shannon DeMerse, set off to make the dorm room luxurious — but on a crazy budget.
"With very limited budget, and when I say limited, I mean very limited, we went out and had a blast," April told TODAY.
After two months of hard work and smart shopping, they upgraded the room from a typical drab dorm to a teal and pink beach oasis, complete with kitchenette, breakfast nook and living space.
And they did it all for $560, which breaks down to $230 per family.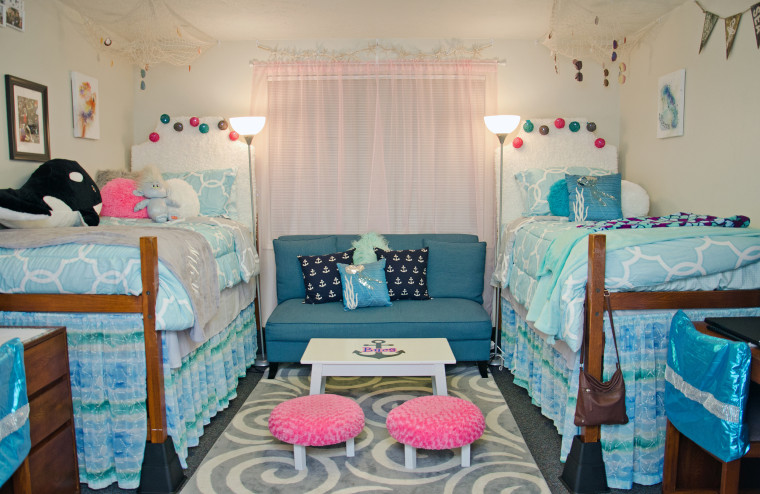 Along with all the decorations, that budget included a coffee table, couch, pair of ottomans, printer and microwave, among other things. The only things not included were snacks and school supplies — which in college are both a necessity.
Not too shabby. But lots of savings meant lots of work.
It all started back in May, when Kira got her acceptance to the two-year school north of Houston and its cheer team. April and Shannon took their daughters out to look for dorm decor. They discovered the girls had very expensive taste.
"We took them out to all the shops and all the furniture stores, just to give us an idea what they liked," April told TODAY. "Of course everything both of them chose was just outrageously expensive. The first thing they saw was $1,400 and we told them they were out of their minds."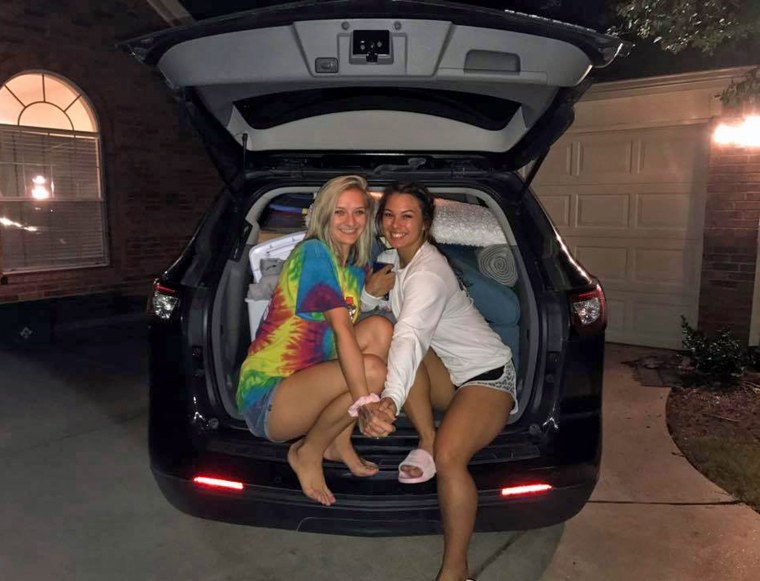 That kicked off a summer of thriftiness, creativity and bonding for the girls and their moms.
They pored over YouTube and Pinterest for design ideas. They became regulars at Hobby Lobby, which has weekly sales. They cut coupons, searched Craigslist and even hit up local college campuses, where students were moving out for the summer.
"I'm one of those impatient people. If I need something, I'll complain about the price, but I'll go and get it," Frailey told TODAY.
"The other mom, she's very smart when it comes to coupons and knowing when sales happen. From one mom to another, I learned how to smart shop, I learned how to be a little more patient. I even learned how to sew out of this experience."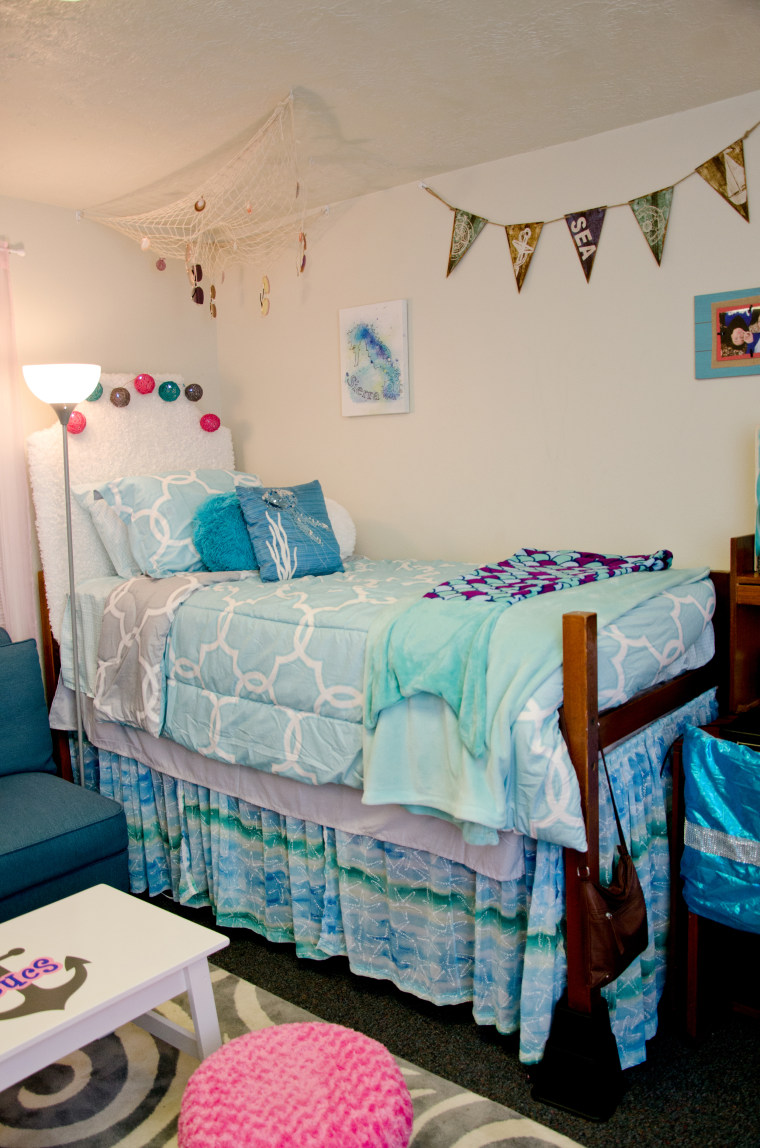 The bedspreads, sheets and pillow cases came from Kohl's. Originally $120, they came out to $35 each, after April and Shannon made liberal use of coupons.
Wall and desk decor were purchased from Hobby Lobby on major discount. Much of the furniture was made or recovered.
They bought the girls' couch from a student at a local campus, and cleaned it and dressed it up for $100. They found the stools and desk that make up the girls' breakfast nook on Craigslist. They also found the coffee table. It was in such poor condition, they had to replace the surface with a new board.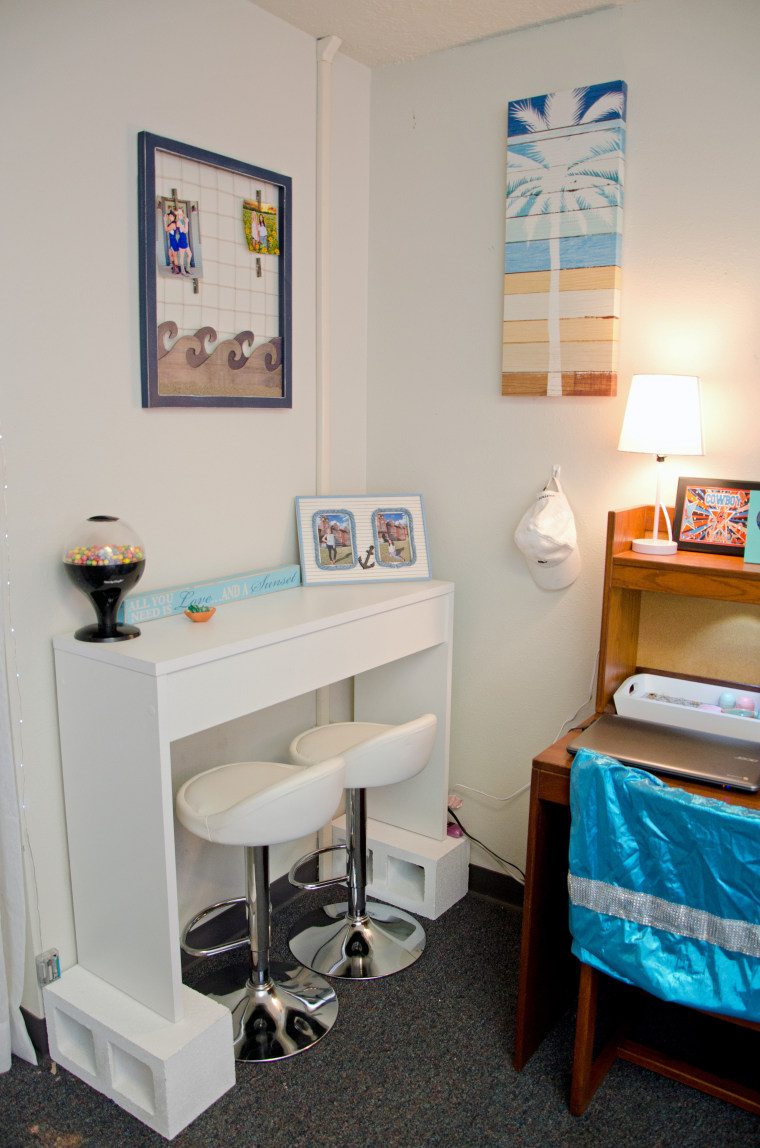 Building materials for the headboards, ottomans and cabinet above the minifridge (a graduation gift from a family friend) cost $50. Scrap fabric was purchased for about $25, while padding materials cost another $25.
Although the savings were key, April said the lessons the girls learned throughout the project were even more important.
"It made all of us closer, working together and knowing who we really were," April told TODAY. "Even though the girls grew up together and cheered together, they had no idea what it was going to be like to live together."
On move-in day at Blinn on Aug. 19, it took an additional 12 hours to get the room up to snuff, but the girls and their mothers were more than pleased with the results.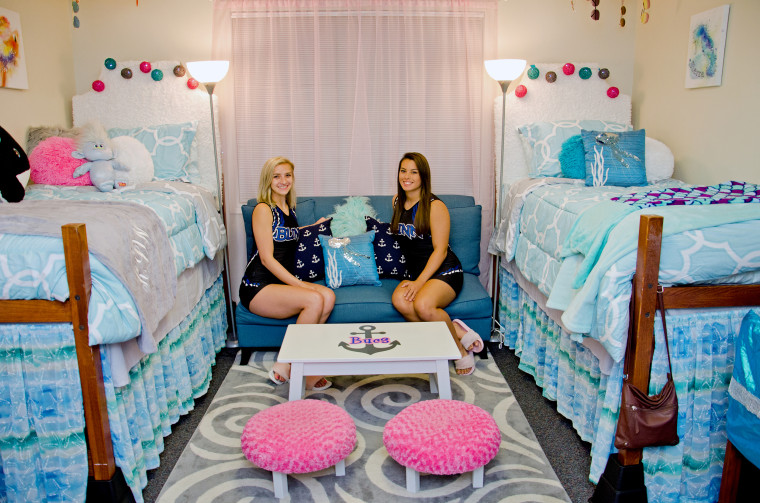 According to Kira and Sierra, the girls have gotten quite a bit of use out of their space already.
"A lot of their teammates and girls and guys from other dorms just come over and hang out," April told TODAY. "Even though they are busy, busy, busy with their first week, still they take time out every evening and they all go over there to hang out. They have a place to go and relax or do homework together."
It took a lot of work to create a dream dorm room on a budget, but if you ask April, the makeover was worth every minute and every penny.