A home's entryway is the first space guests see when they walk through the front door. But despite its prominence and importance, the foyer can get glossed over in homeowners' eagerness to remake other rooms like kitchens and bathrooms.
RELATED: Fall decorating: 11 ways to add autumn decor to your home
Blogger Jamie Lundstrom of "So Much Better With Age" describes her process like that: She'd been wanting to repaint the staircase in her front entry for five years since her family bought their home, but, well, "it's funny how long some tasks take to do sometimes," she wrote on her blog.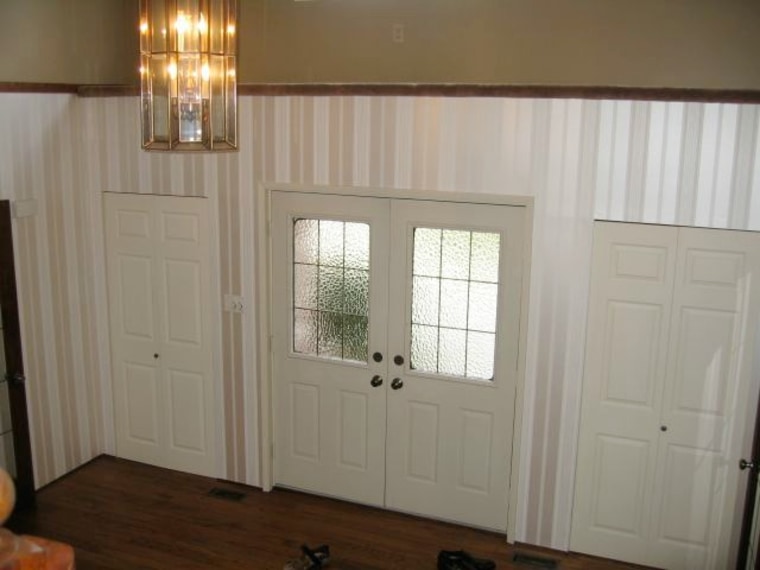 Thanks mainly to a transformative coat of fresh paint, Lundstrom finally tackled the space with a project that radically remade the space. Here's how she did it.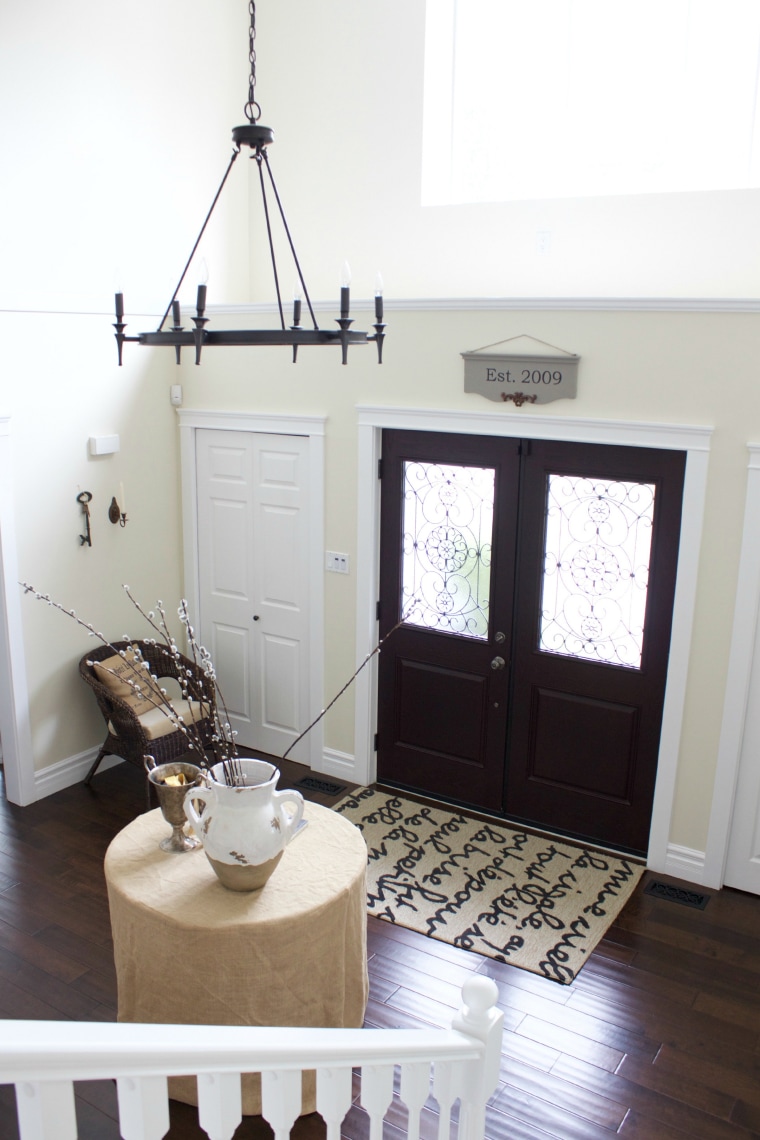 Homeowner intuition
When the family first moved into their home, a professional told Lundstrom the staircase couldn't be painted — that the stain would just continually bleed through the paint. So he re-stained it instead. And Lundstrom, taking the tradesperson at his word, held off painting it — but she suspected she had been steered wrong.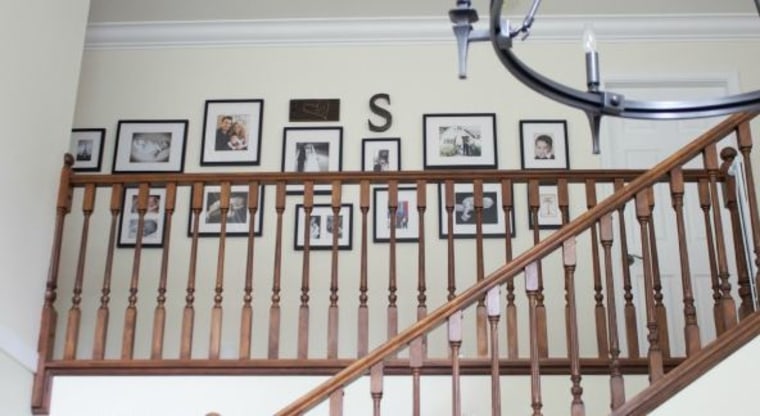 Meanwhile, she lived with an entry she described as "80s" as well as "dark and dingy," with its dated tone-on-tone wallpaper, aging light fixture and generic carpeting on the stairs.
A fresh coat
Lundstrom finally decided to take matters into her own hands. Over the course of about 12 hours of work, Lundstrom got two coats of paint on the staircase. And that's as far as she got before the family called in the pros.
"I guess my hubby was sick of looking at a half-finished staircase for over a month, and so he arranged someone to come in and finish it for me," she explained.
The main floor and the upper floor are painted two different shades of beige. "I like the slight contrast in color — it's just a touch lighter on the upper floor," she wrote.
As for the potential issue of the stain bleeding through the paint? "So far, so good," she told TODAY.com.
Defining details
A couple of years prior, the family had replaced the front doors with new ones, featuring elegant detailing on glass panels. Lundstrom also took the shades off of a Restoration Hardware chandelier "to give it a fresh look" and open up the space.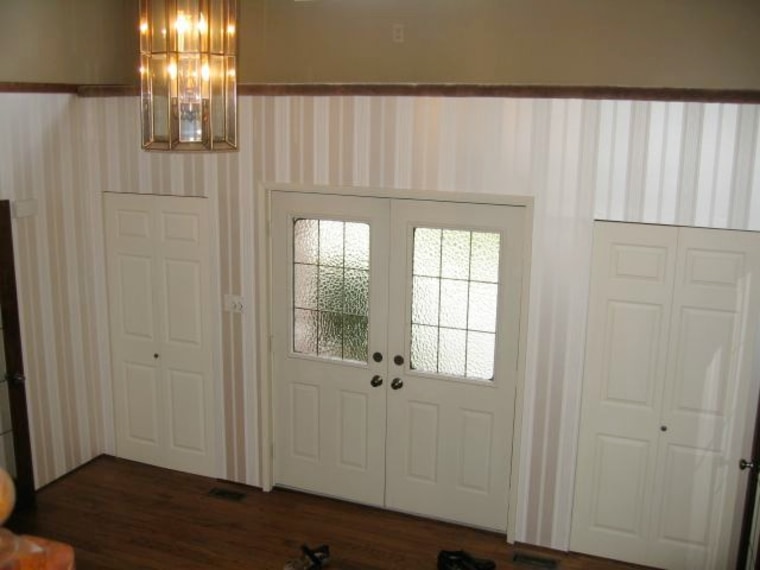 She staged the front entry area with some of her favorite decor pieces, like an old garage sale find trunk she bought back to life lovingly with fresh white paint. "I'm all about light and white," she wrote.
Not only does Lundstrom's new foyer serve as a welcoming entry into the home, but it's an inviting multipurpose space her family and visitors use all the time in various ways.
"It seems like a huge room that goes unused, but my kids play in here in all the time and it's where guests linger when they come and go from our house," she told TODAY.com. "It's also perfect for displaying seasonal decor, like a Christmas tree."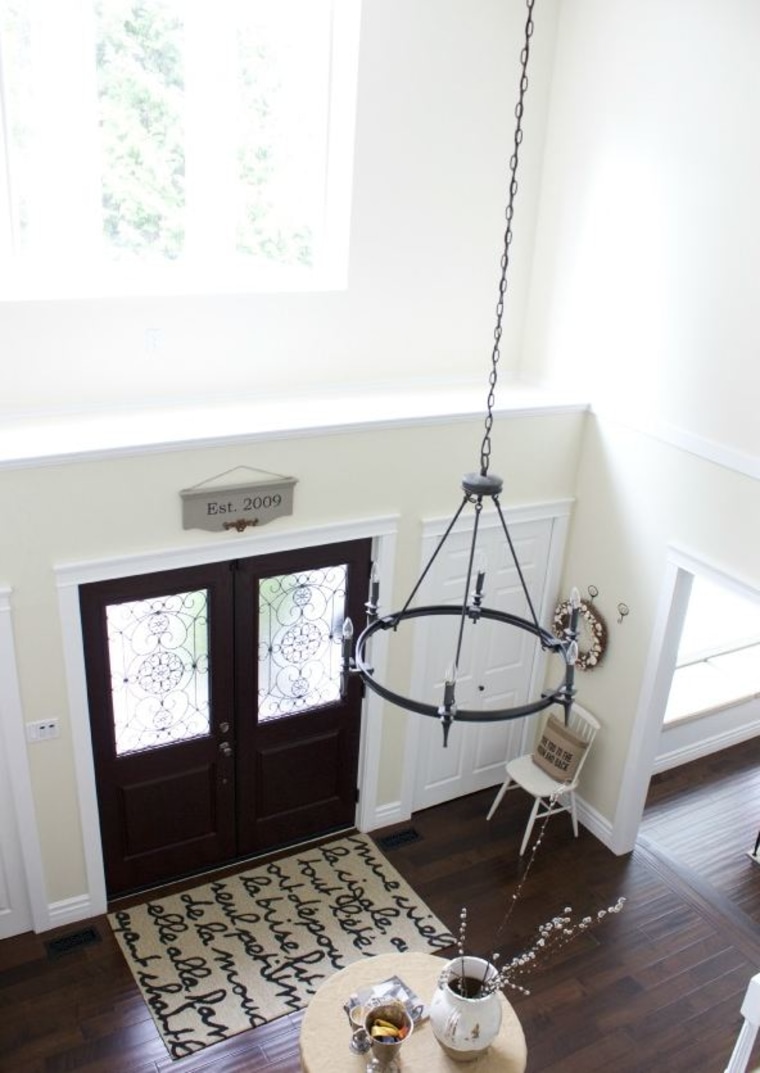 That's why she's so thrilled with how the project came together. "I love the openness and airiness of it all," she wrote.
Welcome Home: Love this makeover? Sign up for The TODAY Home Newsletter to get inspiration in your inbox.
Alesandra Dubin is a Los Angeles-based writer and the founder of the lifestyle blog Homebody in Motion. Follow her on Facebook, Instagram, Google+ and Twitter.