Just down the road from the famous "Grey Gardens" home where Jacqueline Bouvier Kennedy Onassis' reclusive cousins once lived, sits the century-old Hamptons estate where she summered as a child.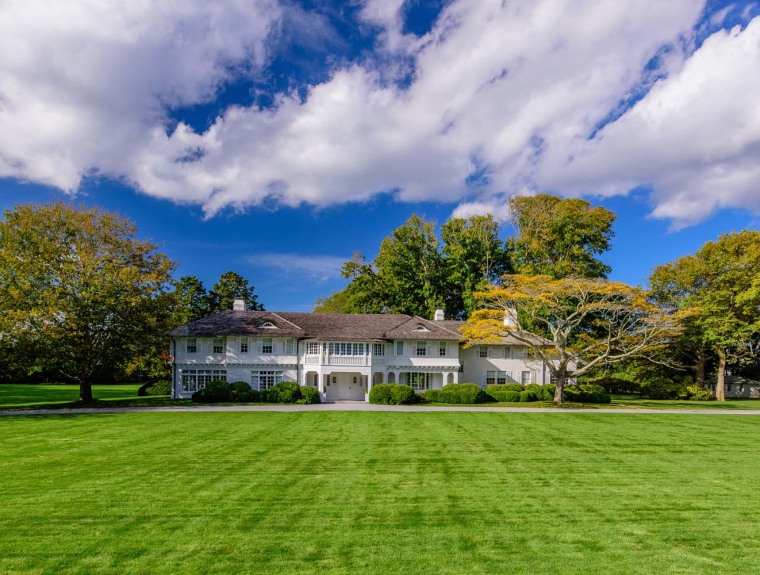 Dubbed Lasata, the property belonged to Jackie O's paternal grandparents.
When fashion designer Reed Krakoff and his interior designer wife, Delphine, bought Lasata in 2007, it had not been renovated in decades.
"Vintage wallpaper and vintage plumbing," Delphine told Architectural Digest earlier this year, evoking memories of those cousins, whose Grey Gardens estate was finally revamped by journalists Ben Bradlee and Sally Quinn.
The Krakoffs took on Lasata as people who are "drawn to places that scare everyone else away," Delphine said.
RELATED: Nostalgic for the past? You'll love this retro home that's stopped in time
She relished the time Martha Stewart walked through a refinished Lasata and "asked if we'd done anything."
The restoration stayed true to the Arts and Crafts original, with plaster walls instead of sheetrock, and damaged floors replaced by centuries-old oak boards to retain "that creaky feeling."
The former Bouvier estate encompasses a 10-bedroom main house, a one-bedroom guesthouse, and a two-bedroom pool house, and is offered for $38.995 million with listing agent Susan Breitenbach of The Corcoran Group.
The co-listing agent is Peter M. Turino of Brown Harris Stevens. An adjacent property with a sunken tennis court is listed at $14.995 million. Together, these two properties span approximately 11 acres.
RELATED: This house is full of joy! Peek inside this home that was painted by 27 artists
Built in 1917, the main home is light and airy, with walls of windows done Hamptons-style: traditional and with casements and French doors opening to the outdoors.
Floor-to-ceiling bookcases line one entire wall of the formal dining room — a design detail which may have inspired Jackie O's penchant for decorating with stacks of books.
RELATED: Hillary and Bill Clinton buy house next door to their current Chappaqua home
The old-style country kitchen features a farmhouse sink and metal countertops where you can imagine a young Jackie whipping up an afternoon snack.
The master suite boasts a fireplace, a sitting room and stunning views of the grounds, which have been landscaped to be "less Victorian" and now feature more cedars, lindens and rhododendrons.
Photos by Jake Rajs.
Related: