As they prepare to send their son to preschool in the fall, Becka Robinson and her husband decided they wanted to take a cross-country road trip this summer. And the Altamonte Springs, Florida, family is currently doing just that… in major style.
Back in October, they purchased a 2005 Coachman Chappperal for around $11,000.
"As soon as we stepped inside I knew this was the one," Robinson told TODAY Home. "I instantly saw the potential in it and it was perfectly inside our size requirements and budget."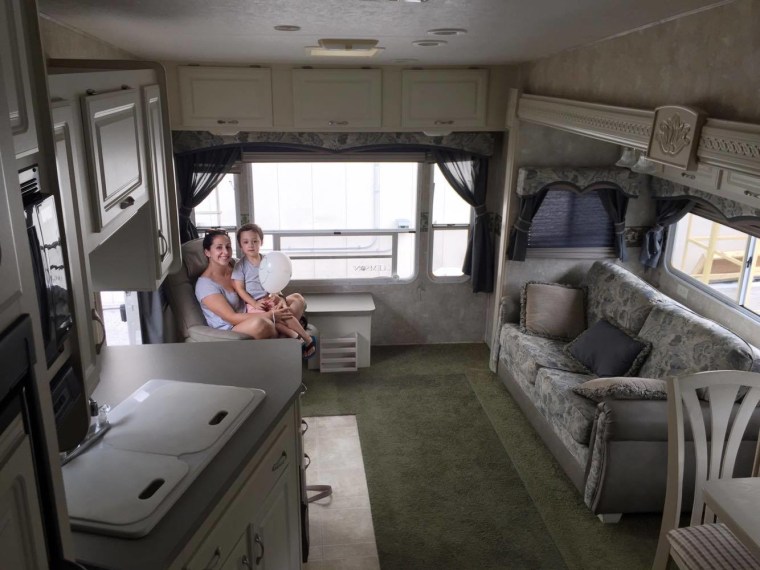 The camper — which Robinson says is around 300-350 square feet when the sides are expanded — needed some work though. They put around $5,000 into cosmetic upgrades and about $2,000 into electrical and water damage fixes, she said. The result: a completely transformed, light and airy glamper that looks like it's straight out of the pages of a magazine.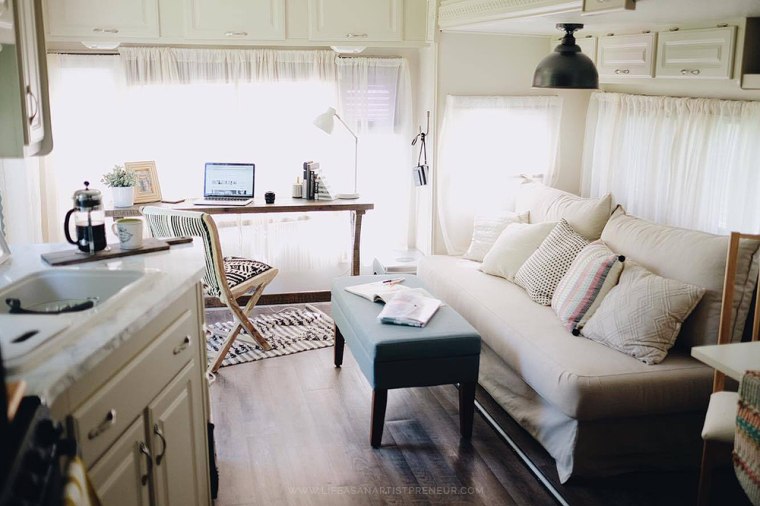 Of the projects, one of the biggest DIYs was replacing the green carpet and laminate flooring with a driftwood peel and stick vinyl planks.
"It made the biggest impact both visually and functionally," she said.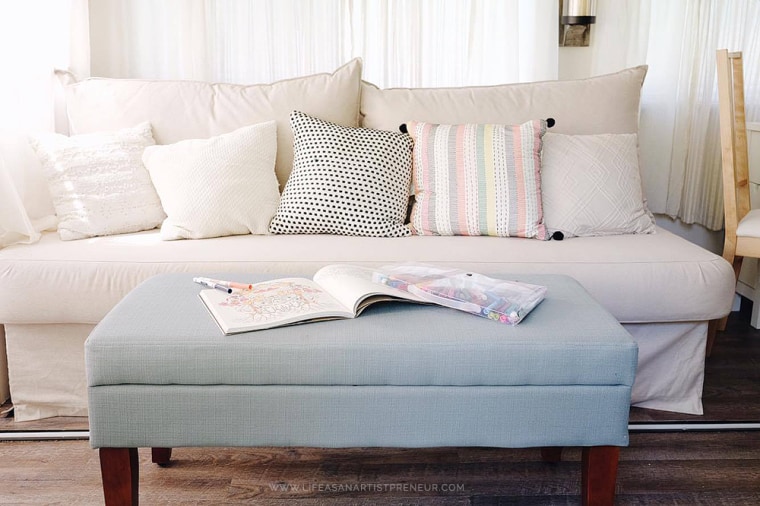 The RV's outdated floral sleeper sofa was replaced with a bigger, more modern sofa that pulls out into a bed for their four-year-old to sleep on.
They freshened up the walls with a light gray color which Robinson said completely changed the look and feel of the interior and made it so much easier to clean. Although she joked that because of the nooks and shapes of the RV's interior, it took almost as long to tape everything as it did to paint.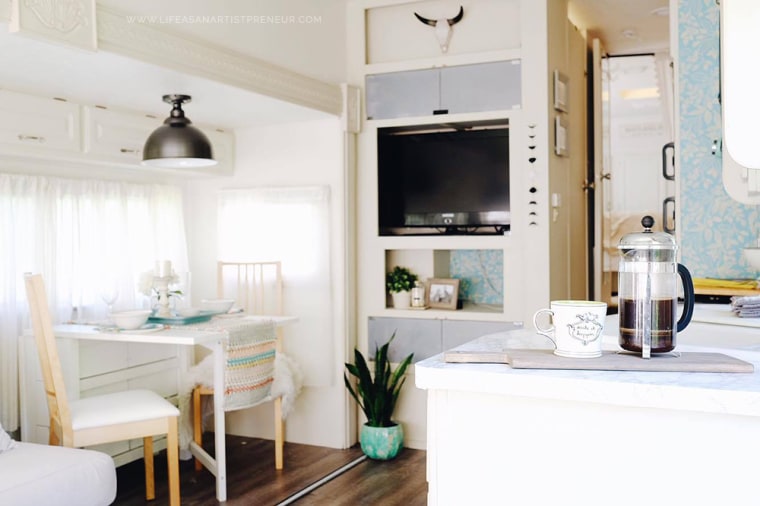 RELATED: See this kitchen go from dated to dashing after a DIY transformation
The living room, dining area and kitchen are all one big open space. Since her job as a virtual fitness coach allows her to work from the road, it was important for Robinson to have workspace.
"In the space originally was a captain's chair and ugly little box hiding electrical components," she said. "We removed the box, had the electrical parts re-wired, took out the chair, and put in a very narrow sofa table that I use as a desk. It's been absolutely perfect and definitely one of the best changes we made."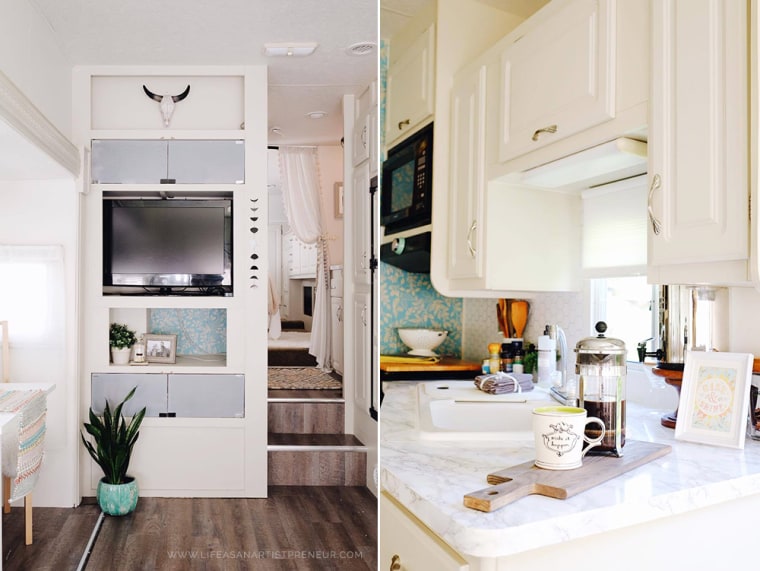 Marble contact paper covers the countertops and white honeycomb peel and stick tile creates a clean and dimensional backsplash in the kitchen. A wooden stove cover gives them more counter space when they're not heating things up on the burner.
They also brought in a white dining table and gave the area pops of color with bright decorations and wallpaper.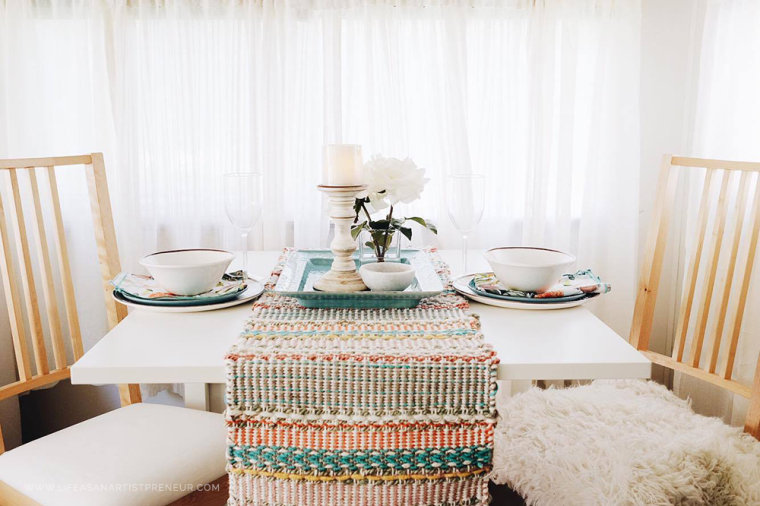 RELATED: See inside the cozy 1976 Airstream trailer a father and daughter call home
To make over the dark and dated bedroom, they replaced the window treatments with flowy white sheers, painted the walls a lighter color and added an upholstered headboard to give it a cozy feel.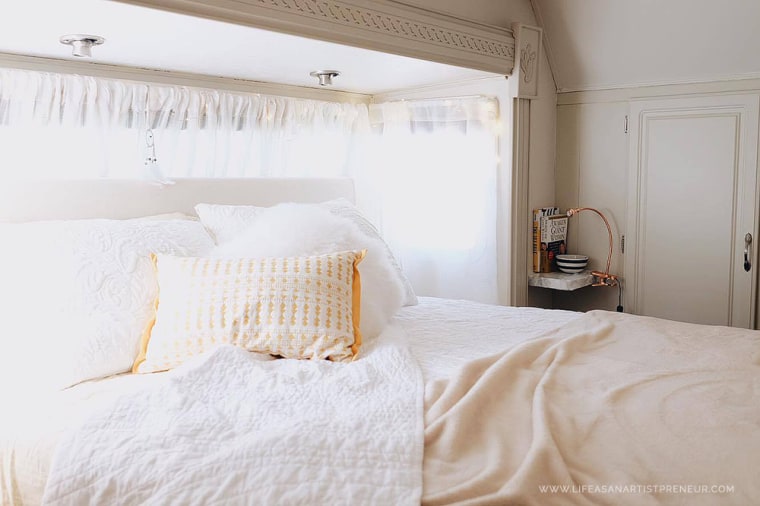 The family is currently on the road and plan on exploring Colorado, Texas and Louisiana before returning home to Florida. They've already seen a lot with their camper on this trip, including Chicago, Mount Rushmore, Yellowstone National Park and Jackson Hole.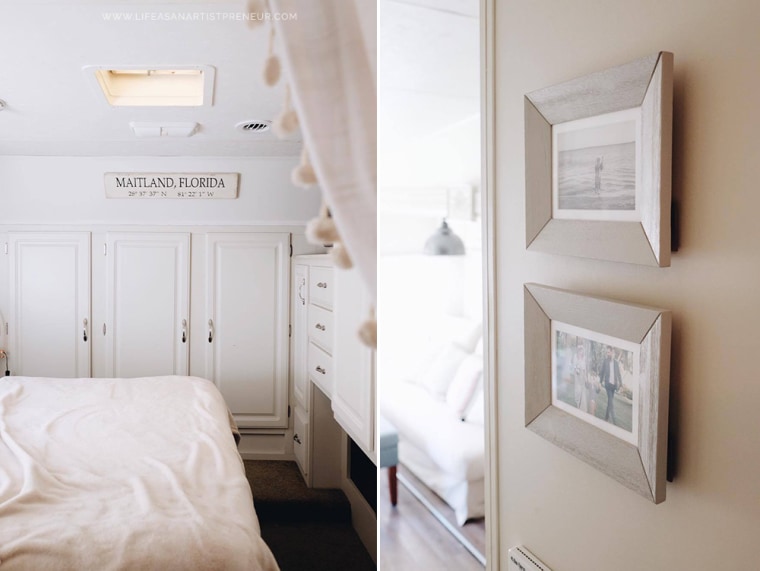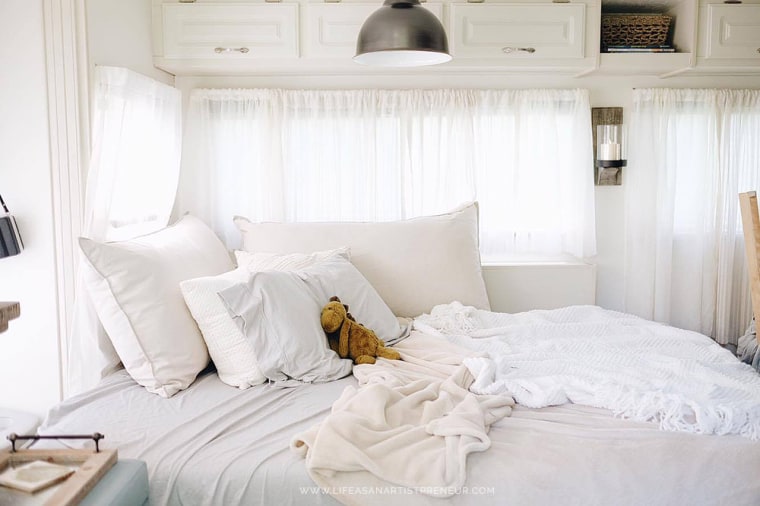 "Getting to experience America with our son has been nothing short of a once in a lifetime experience," she said.
For more pictures of the RV's makeover or to follow the family's summer journey, visit Robinson's blog, Life As An Artistpreneur.