Warning: These before and after pictures may cause a sudden urge to update your kitchen. But lucky for you, this blogger has found a way to do it without breaking the bank.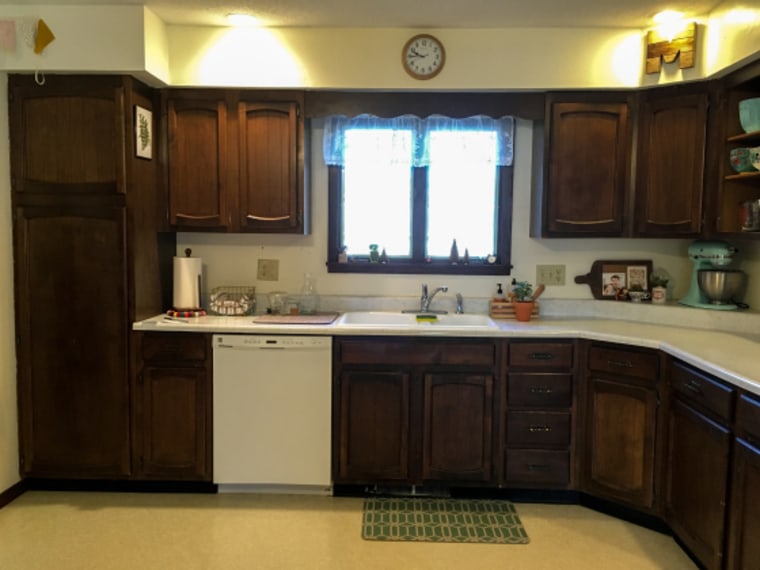 Avery Michaels of from the blog "Holland Avenue Home" recently shared her budget makeover project that cost her less than $250 to do — and the results are breathtaking!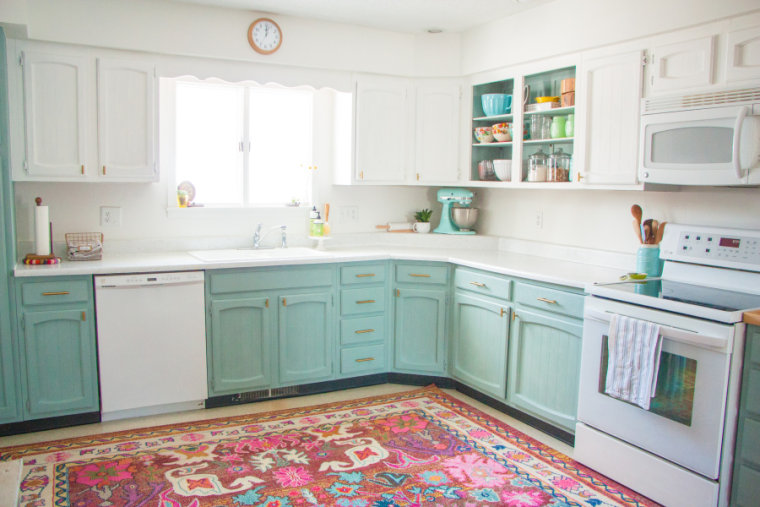 The bulk of her budget was spent on painting the dark wood cabinets. She chose to go with Annie Sloan Chalk Paint.
"When you use chalk paint, the doors can stay on the hinges, you don't have to sand or prime, and the process goes much faster," she wrote on her blog. It's a little more expensive per ounce (the two quarts she purchased were $34.95 each), but she says the tiny cans were enough to do two coats on the lower cabinets and three on the upper. For the bottom cabinets, she went with Duck Egg Blue, and for the top, Pure White.
"Chalk paint also requires a sealer wax to protect the paint," she wrote. "I used clear wax for a modern look, but you can use black or white wax for a rustic or distressed vibe." This wax cost her $25, bringing her total for all paint and supplies to $155.
"I used half a gallon of white paint that we already had in the house for the window frame, the backsplash, soffit, trim and walls," she said. The simple fresh coat really brightened up the room.
RELATED: 1 simple thing that will add value and ambiance to your kitchen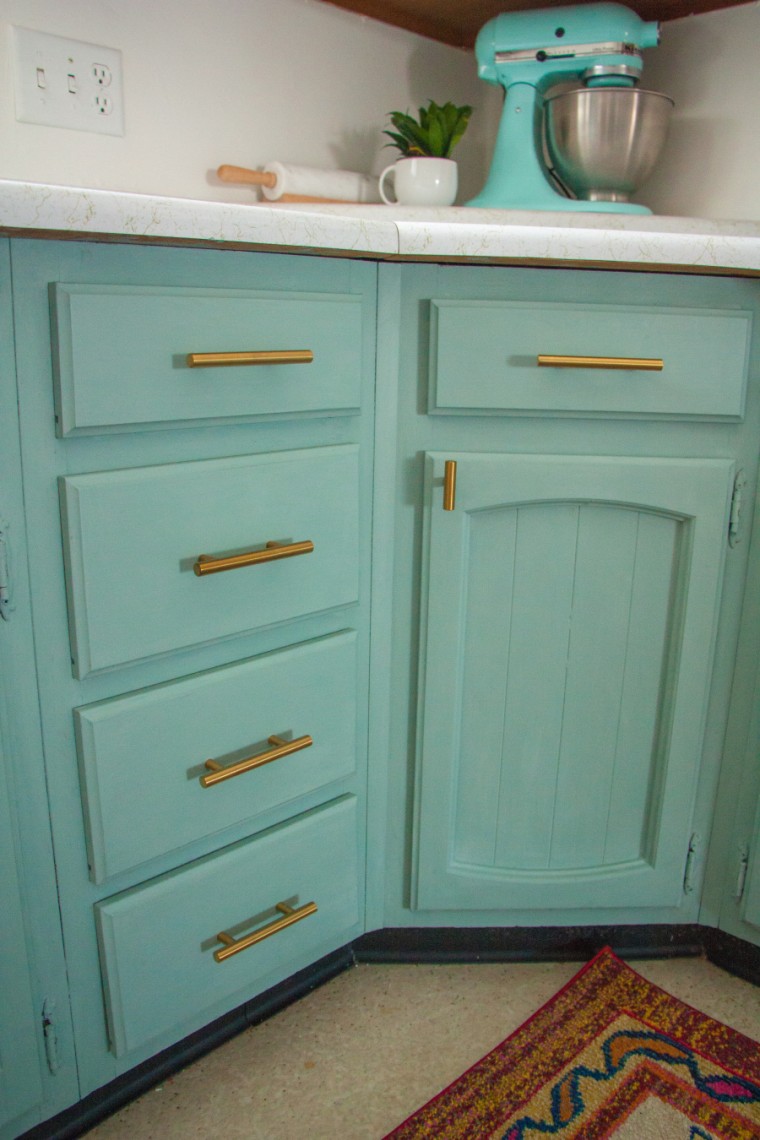 For the cabinet handles, Michaels says she had been eyeing some from Kohler that were $25 a piece. She found similar-looking ones on Amazon for $1.50. The matching knobs cost her $1.15 a piece. "I ordered the pack of 20 knobs, and the pack of 20 handles for a total of $53."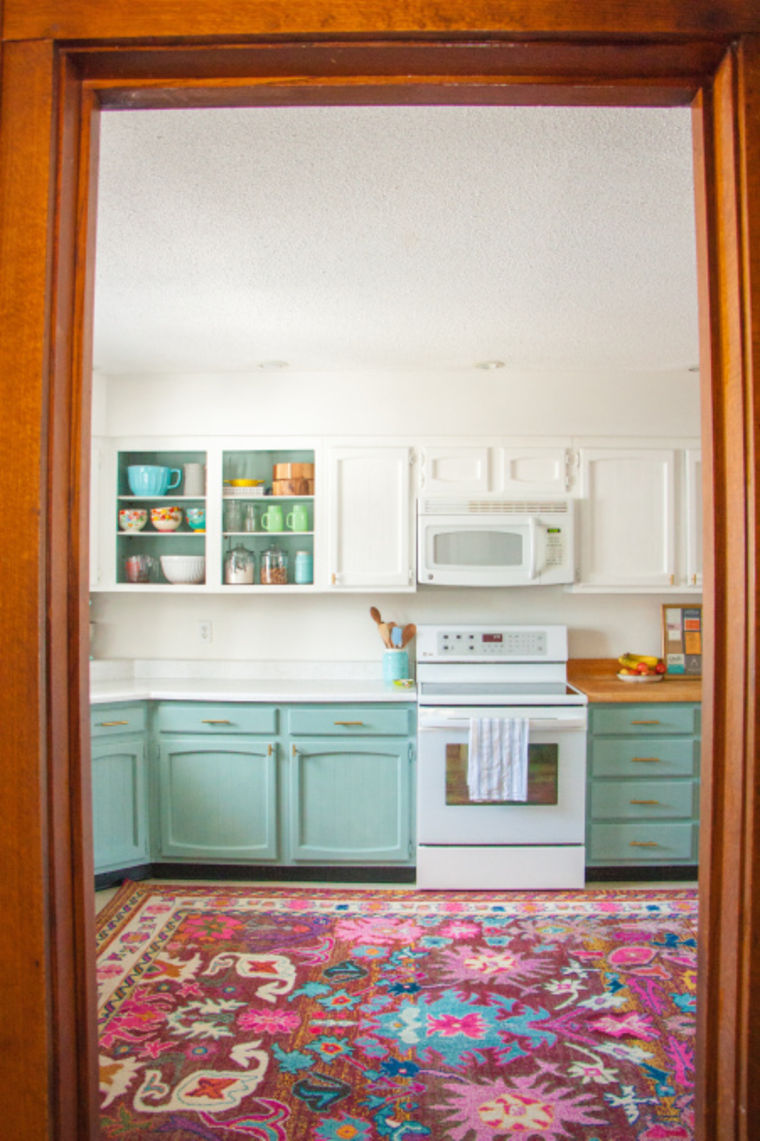 Holland said she and her husband considered replacing the linoleum floor with a wood-like vinyl, but that would have cost $350, so they decided to cover it with an area rug instead. This is something they can take with them when they move and "it adds major coziness to the kitchen," she said.
And one of the most simple things they did — that was totally free — was remove the screens from the windows, which she said brightened up the kitchen a bit more.
RELATED: See this kitchen go from bleak to beautiful after a major makeover
Thinking about giving your kitchen an update like this? Michaels says go for it. "It will be a lot of hard work, but painting provides immediate results in the most affordable way!"
See more pictures of the makeover at "Holland Avenue Home."