Blogger Emily Arbour, owner of Ontario-based retail craft shows and gift shop Cheerfully Made, had a guest room that hardly suited her lively aesthetic. The room was drab and boring with unappealing built-in furniture and irregular angles.
But what it did have is what homeowners (and realtors!) love to call "amazing bones" — including three windows and hardwood floors. Plus, it had a surprising feature: its own sink. That's what gave Arbour the idea to use the space as a guest room.
"It's actually pretty convenient to be able to allow your guests some tooth-brushing privacy," she wrote on her blog.
So she set to work applying her design talent…and converting the space into a perfectly whimsical and cheery room all set to welcome and inspire visitors.
Here's how she did it on a shoestring budget.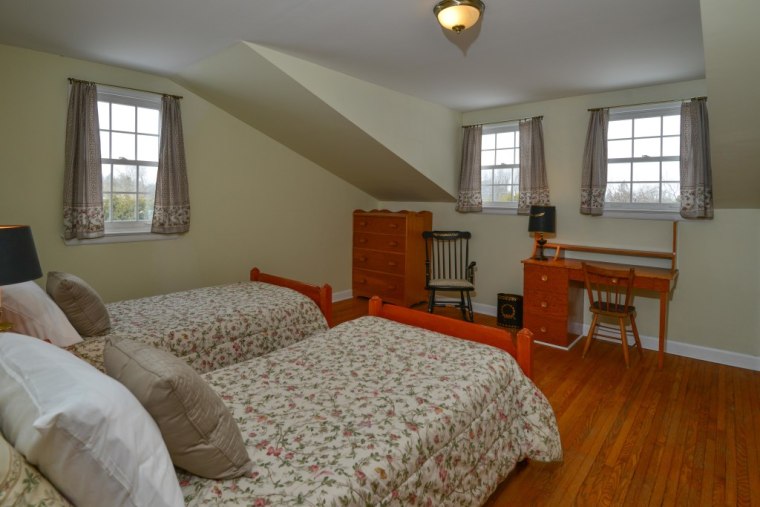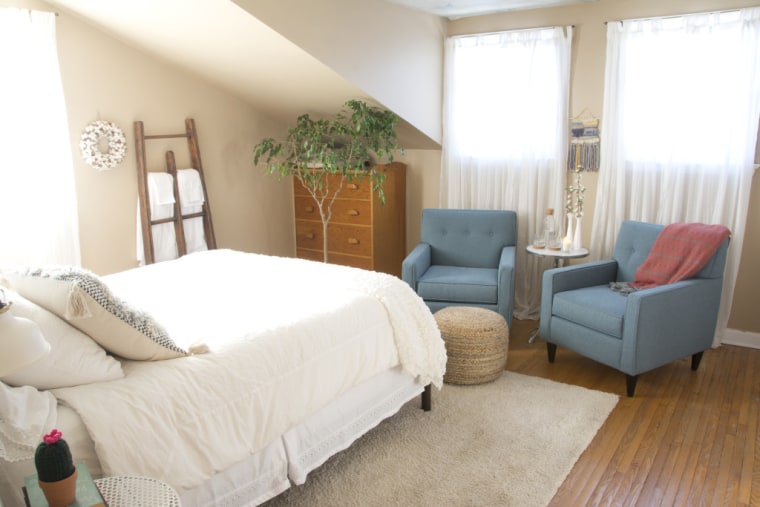 Spark of inspiration
The inspiration behind the look for the whole room began with a single roll of epic wallpaper. The paper — designed by Julia Rothman for Hygge & West and dubbed "Daydream Cream" — was perfectly charming, with a pattern of blue birds flying across clouds, rendered as graphic white swirls.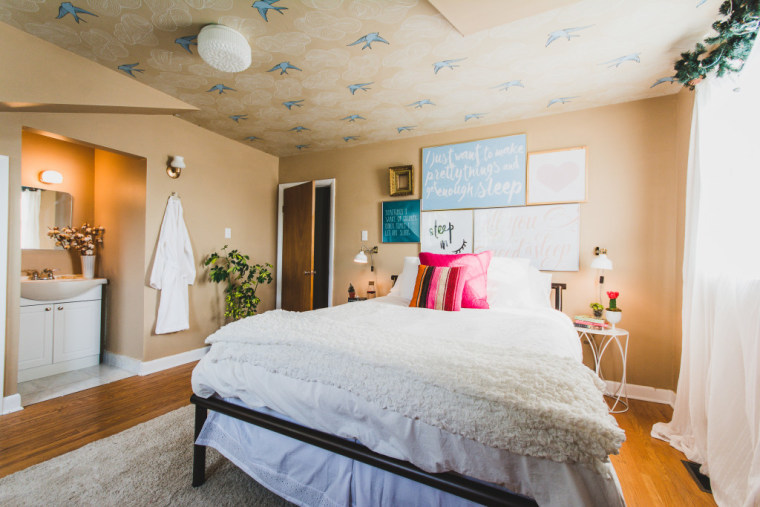 And for something completely different? Arbour decided to use the paper not on the walls — but on the ceiling! Working with a her best buddy and fellow blogger Melissa DiRenzo, the pair used three rolls to complete the job.
RELATED: See this kitchen go from ordinary to outstanding after a budget-conscious makeover
"It's a miracle we're still talking — she is one of the only people on the planet that I'm any good at laughing through frustration with," Arbour wrote on her blog. But she described the result of their efforts as "breathtaking." (And we agree!)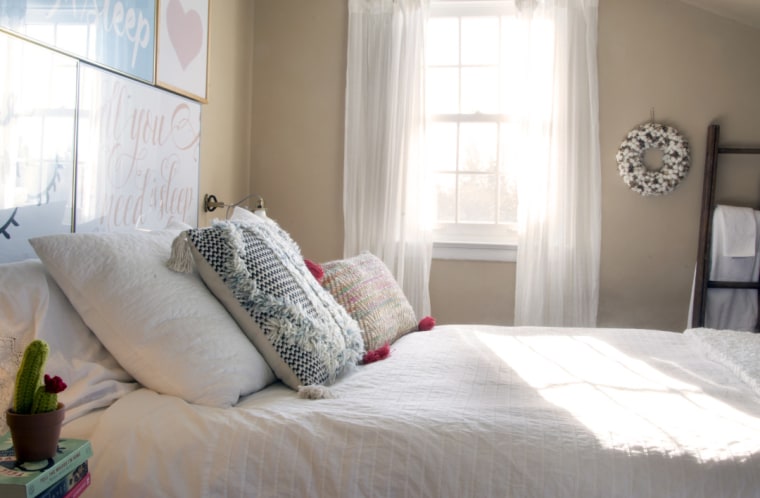 Arbour painted the walls to match the background color of the paper, deciding on a welcoming and versatile hue the tone of light wood. "It's warm and neutral," she wrote. Plus, it served as a perfect complement to a pair of blue chairs in a seating area she created. "[It] looks beautiful with all the white and pop of color."
Custom finishes
Given that the new room has a "pretty dreamy" effect, Arbour worked again with pal DiRenzo to create some bold graphic artwork that played up that feel. They scavenged a thrift store for some frames and had a little brainstorming session to come up with some quotes.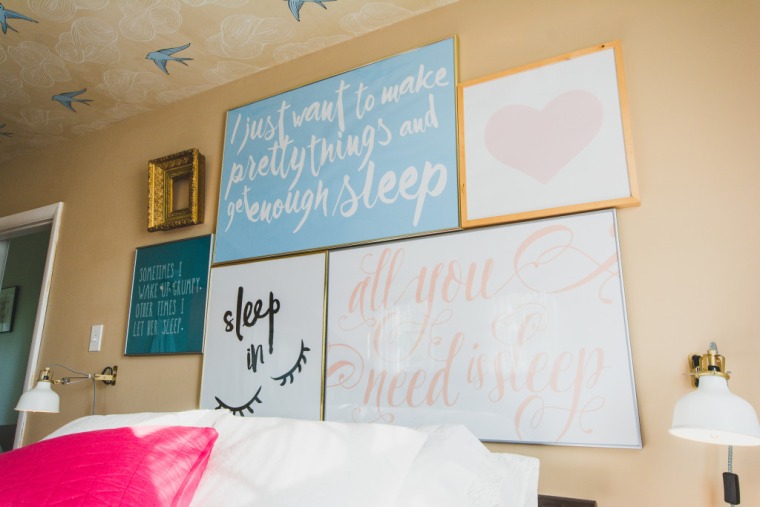 DiRenzo designed the graphics, and pair then had them printed. They hung the frames close together for a look reminiscent of one large artwork — or a headboard.
RELATED: See this 217-year-old home-turned-hospital get a massive transformation
Arbour chose affordable meta side tables to flank the bed, and IKEA sconces to finish the look.
Total transformation
The total budget for the room's complete — and epic — overhaul? Just $650 for everything but the chairs.
"I love this room," Arbour wrote on her blog. "Sometimes I just sit in here and stare at the ceiling. Other times I am forced to leave the comfort of my own bed because there's no room in between the flailing limbs of children, and I retreat to this little escape down the hall. And all is right with the world."
See more photos of the makeover on Arbour's blog, "Cheerfully Made."
Alesandra Dubin is a Los Angeles-based writer and the founder of the lifestyle blog Homebody in Motion. Follow her on Facebook, Instagram, Google+ and Twitter.