Becki Peckham and Chris Nicholas, the creative common-law couple behind the blog "The Adventures of the Uncommon Common Law," bought an '80s-era home a few years ago. When they originally saw it, they found one of the rooms was staged as a dedicated formal living room — or as Peckam called it, one of those "traditional rooms people don't actually use."
RELATED: See this 105-year-old home's bathroom go from blue to beautiful
So when it was time to redesign the space in accordance with their own personal usage and unique style in mind, they transformed it into a living room instead, "a comfortable place to hang out, watch TV, entertain guests, or even work," Peckham wrote on the blog. "Our goal was to really just put the living back into the living room!"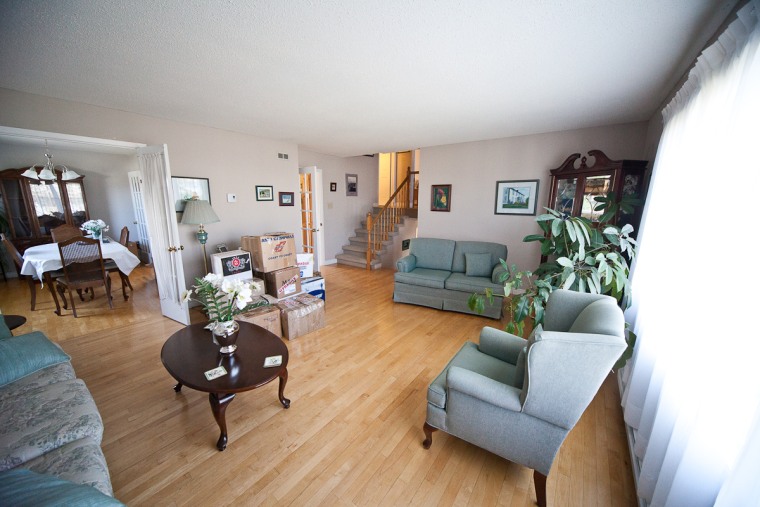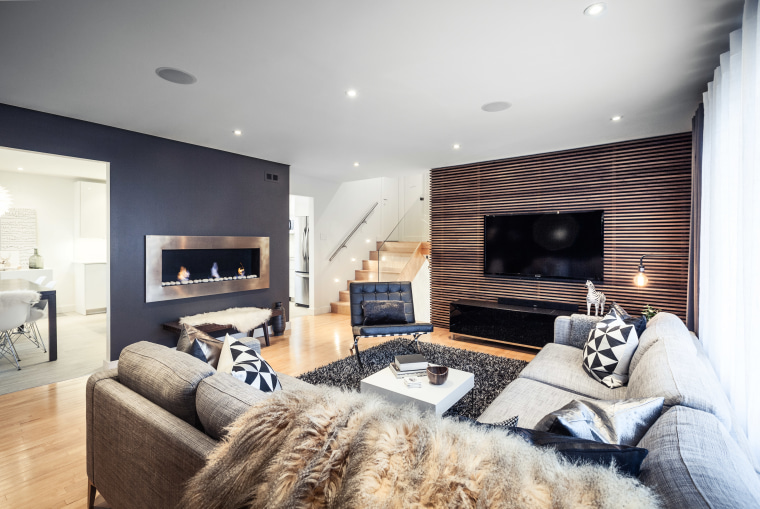 Here's how they made it happen with DIY ingenuity and major creative vision.
High end meets mass market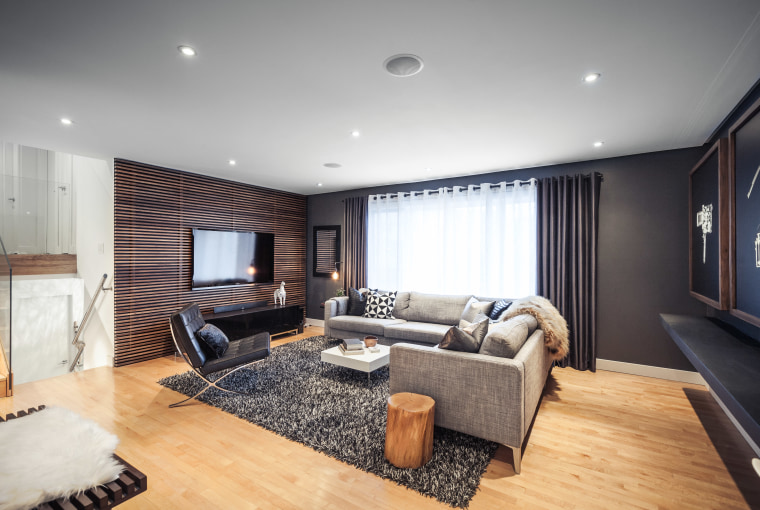 In order to stay on budget, the pair saved money by purchasing their largest pieces of furniture from IKEA. They then paired those pieces with a few higher-end ones they categorized as worthy splurges to make the space feel more sumptuous and rich — and less cookie cutter.
"Blending less expensive furniture in with choice higher end pieces is a great way to stay on budget without sacrificing the unique, high-end look," she wrote.
A neutral palette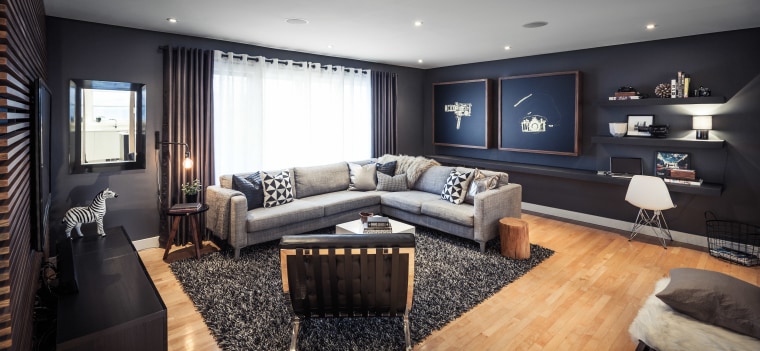 The couple painted the walls in the living room gray. This kept the space neutral so they they could easily change it up for holidays — or whenever they wanted to keep things feeling fresh and revived.
"We kept the room neutral so we could pop in a different accent color if we got bored or wanted to get a bit festive," she wrote.
Custom details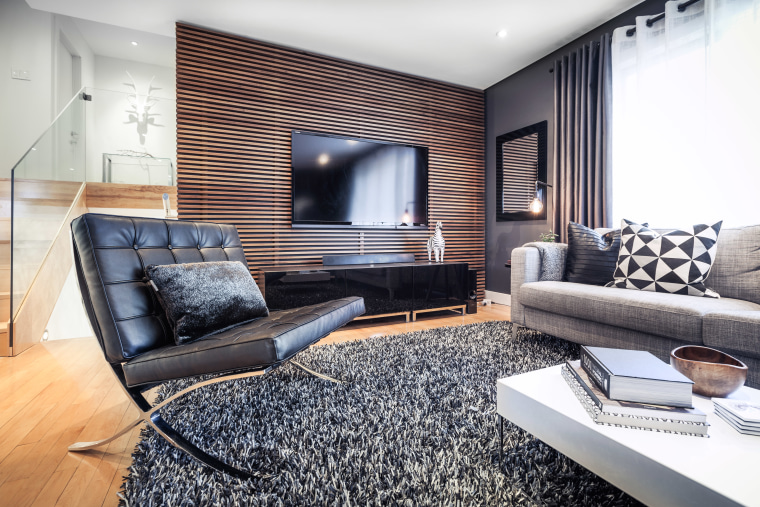 For a look that was completely their own — and completely high design — the pair added a wall-mounted ethanol fireplace. (They'd originally wanted propane, but found it way out of budget.) They also made a wooden slat wall for the TV, and surrounding custom floating shelves for the back wall.
"The custom wooden slat wall warms up the space and acts as our media wall," Peckham wrote. The TV bench houses unsightly technology, like the router, DVD player, and miscellaneous wires; in fact, in search of a totally tidy look, they framed the wall for the slats specifically for the purpose of concealing wires. "Wires hanging down would have ruined the ultra-clean look," Peckham wrote.
The pair also built the floating shelves to serve as a small area for working. And they framed artworks Nicholas made from two of the couple's old cameras, which are both sitting on the shelves in their space.
Artful lighting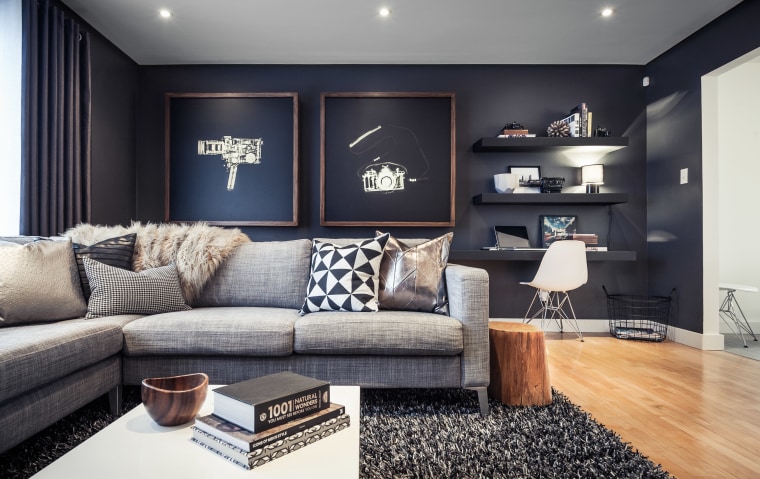 Peckham explained that lighting always plays a significant role in the spaces the couple designs. In their living room, they put all the lights and lamps on dimmers so they could control the vibe within the space. They also dropped the ceiling lower to create a sense of an architectural reveal that hides color-changing LEDs.
Then they grouped the lighting into what Peckham described as "commonly used scenes" that they can activate from their smartphones or via a keypad on the wall. They can program the LED strips they installed to create just about any color they dream up.
How's that for a custom redesign?
Alesandra Dubin is a Los Angeles-based writer and the founder of the lifestyle blog Homebody in Motion. Follow her on Facebook, Instagram, Google+ and Twitter.