Remember those pre-cell phone days where photos were captured on film using a point-and-shoot camera and then processed at the local drugstore? Rolls of film hardly exist anymore, but, as many know, old family pictures and Polaroids are still collecting space (and dust) in attics, shoe boxes and old picture albums.
Sadly, those stacks of touching (and sometimes hilarious) bygone family photos don't get the attention they deserve in today's digital era, and especially when you want them most (hello, #ThrowbackThursday!)
Google's latest invention — PhotoScan — is about to change all of that. With just a few taps of this free scanning app, old photos get new life when they are instantly transformed into digital shareable moments.
We tried it, and it works. Not only is it easy, but it's also extremely intuitive. We tested it on some of our beloved pictures from the past, and can't wait to tackle the many old photo albums that preserve our family history. Here's how it works: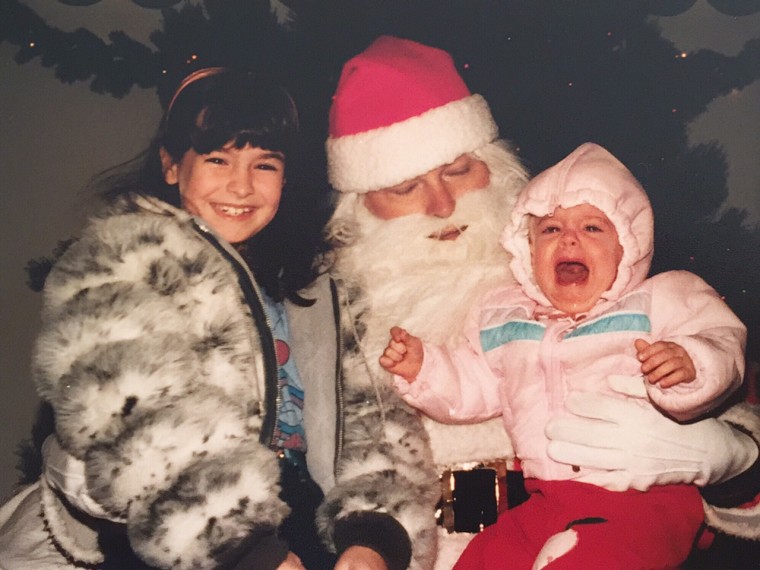 Easy as 1-2-3!
1. Download the app
Download the free app on your phone via the Google Play or the Apple app store. Then, grab that box of photos and get ready to bring some new life into old memories.
2. Scan away
Place the photo on a flat surface where direct light isn't shining on it, and position it within the frame on the app.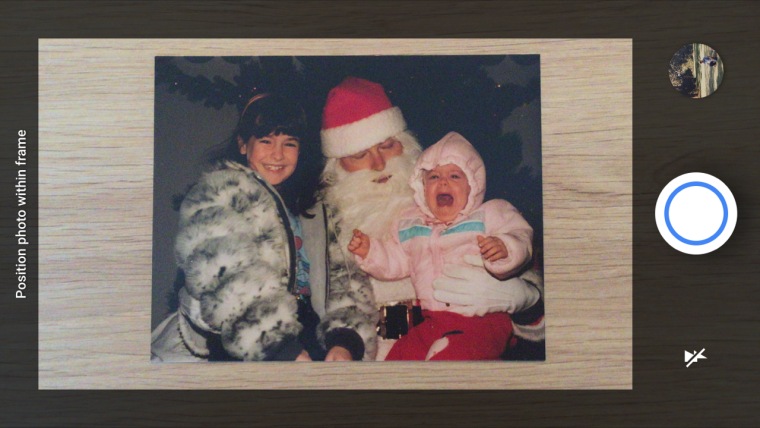 RELATED: Awkward holiday photos
Once you click the camera button, you'll see a round white circle and some dots will appear on the screen. Slowly move the circle so it covers each dot one at a time — this is the scanning process that essentially stitches multiple snapshots together to remove glare and improve the overall quality.
If you want to edit or enhance the picture, the Google Photos app offers easy-to-use tools to balance exposure and saturation levels. Or, apply any one of the 12 great filters if you want to give a specific stylized look to your image. And finally, it's easy to play with the highlights, shadows, and warm tones of pictures to get the optimal picture you're seeking.
RELATED: 6 easy storage solutions for your favorite sentimental items
On average, it takes less than 15 seconds to scan each picture. If you love the way the picture comes out, just save it directly to your camera roll!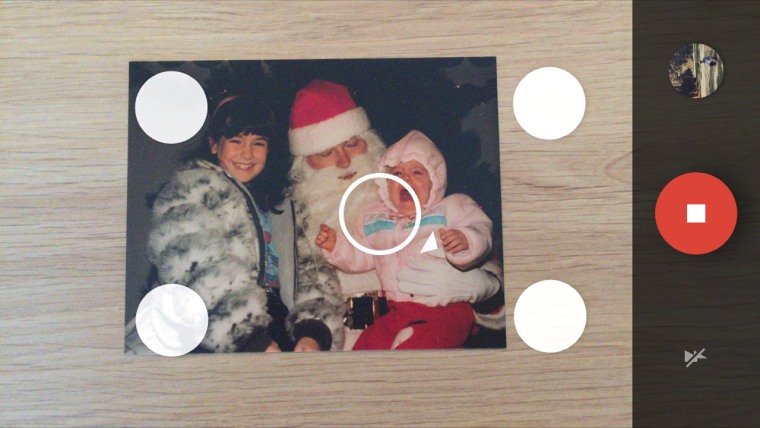 3. Share the love!
Now that your good-as-new photo is captured on your phone's camera roll, go ahead and share the love! With just a few taps of the screen, you can share photos on Facebook, Instagram or in an email to friends and family. Happy snapping!