At first glance, you'd probably never guess that the structure of this gorgeous contemporary home was once two industrial storage containers used to ship goods to the Port of Savannah in Georgia. You might not also realize that most of the interior features didn't come from a high-end home design store but instead were salvaged materials rescued right before they hit the trash.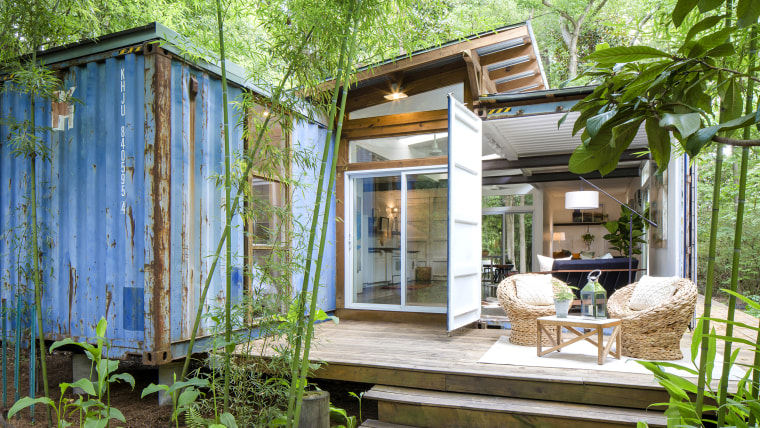 But this 970 square-foot building is proof that luxury living doesn't have to cost a fortune. It was designed by artist Julio Garcia of Price Street Projects, a fabrication studio based in Miami.
"When I was in college, I had seen projects like this in Europe and was always intrigued," he told TODAY Home. "When we needed to come up with a creative space for our company in Savannah, I pushed this idea through."
RELATED: Yes, this spacious home is made from shipping containers! See inside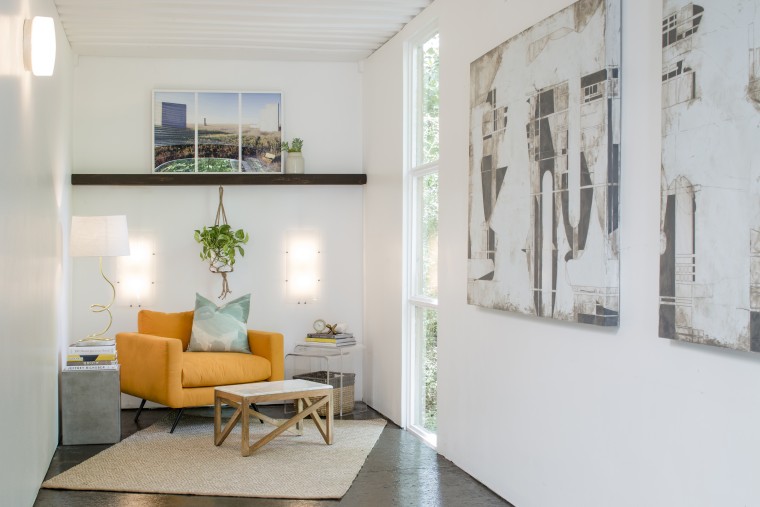 After about six months of research, Garcia and his team of designers began developing it. They were able to obtain two shipping containers from someone who worked at the port. He said one of the biggest challenges of the whole project was figuring out how to get the massive containers to the site — a gorgeous acre of tree-covered land — without hurting the landscape. The delivery and placement ending up taking two weeks because of the careful maneuvering.
The exterior of the containers was left in its original state, giving the structure an industrial finish with a stunning deep blue color. And although the outside of it looks rustic, inside is anything but.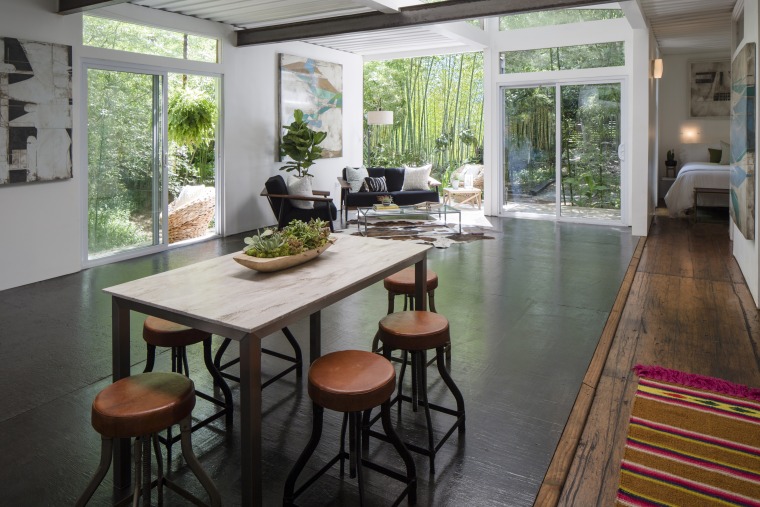 Sunlight floods the interior through installed floor-to-ceiling windows. There's also a set of white double doors that open up onto a finished deck. "We wanted to make sure that when we designed it, it would have indoor and outdoor use," Garcia said, adding that there's about 600 square-feet of decking.
RELATED: See what's inside this 107-square-foot mobile home
The drywall for the interior was salvaged from a nearby construction site. "We approached some contractors, knowing that there's a lot of waste in projects, and found a sympathetic guy. It was insane that we were able to obtain 100 sheets of drywall that they were just going to throw away." And those sheets are what created the clean white walls in the space.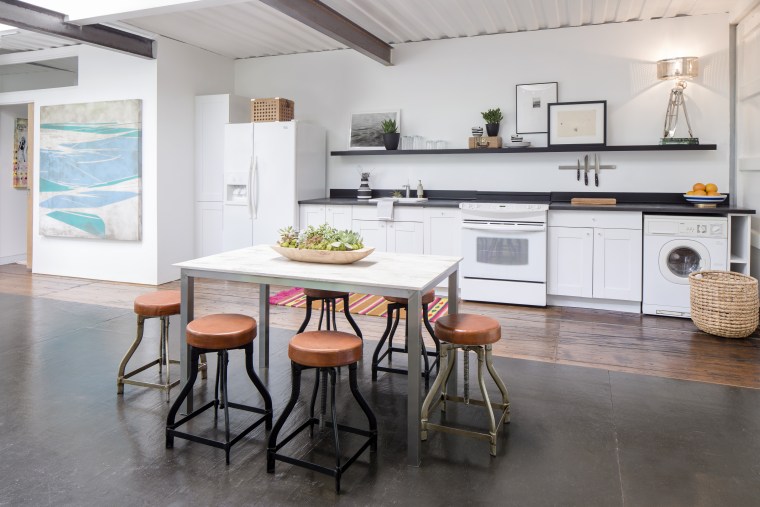 The appliances were salvaged too. One of the carpenters found a white refrigerator, which in turn predicted the white color scheme in the minimalist open kitchen. The black slate counter tops come from a local college's science department's lab which was getting demolished at the time of the project.
A separate room in the back was used as the creative team's office space, but is also a perfect size for a bedroom. There's also a full bathroom in the place.
The shipping container structure is part of a compound which includes a 1,420 square-foot main home and 210 square-foot carriage house/ efficiency apartment. All three properties are currently for sale as a unit. You can check out the full listing here for more details.