Mandy and Kevin Holesh got a taste of camper life during a two-and-a-half month road trip. After realizing how easy it was to live in a traveling home, the husband-and-wife duo decided it could be a permanent decision and never looked back.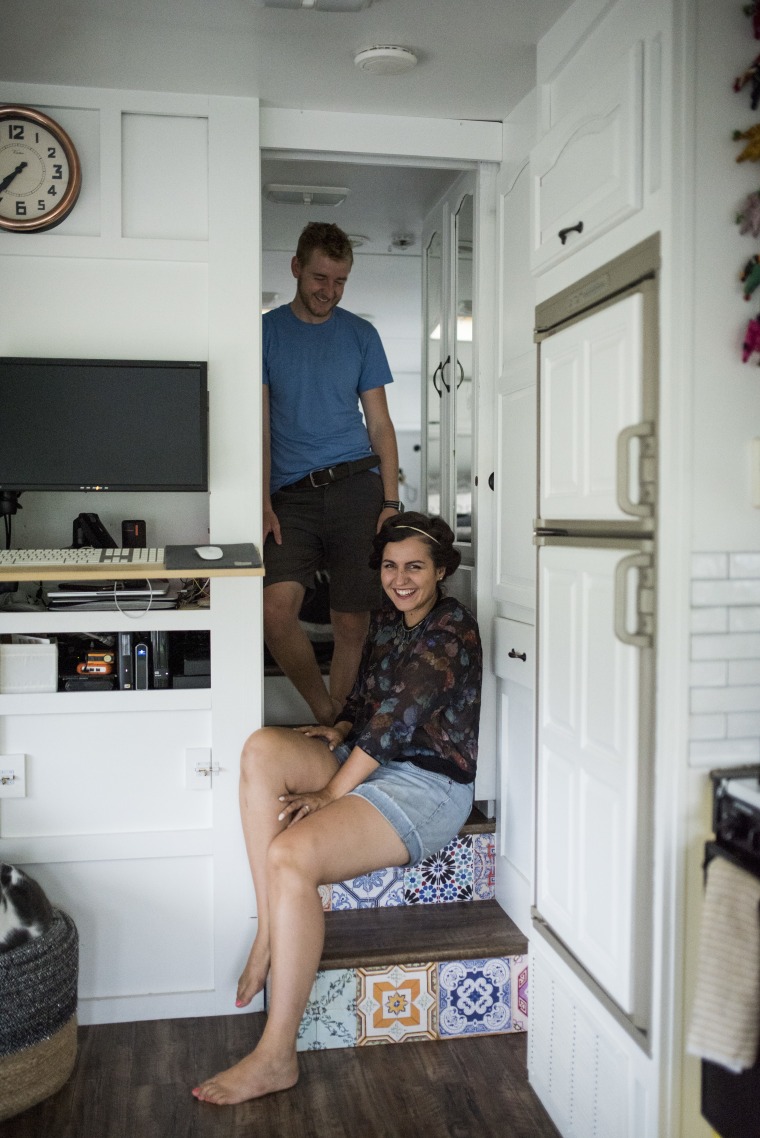 "Why spend $1,400 a month on an apartment when we could own a decent used camper for $10,000," they wrote on their blog, 188 SQFT.
In November 2015, about a year after their life-changing trip, they found a 2002 Keystone Cougar 276 that was perfect for their needs — and it was practically a steal at $4,911. Since they had saved up $10,000 to buy the RV, they had a huge chunk of cash left to fix it up and make it their own.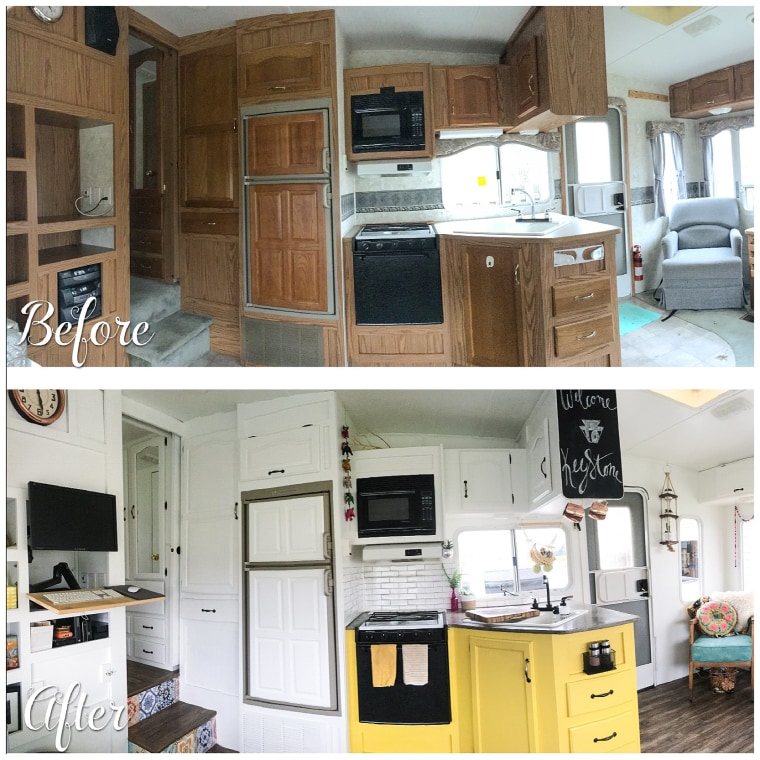 The outdated and dark RV got a light and airy makeover with crisp white paint on the walls and cabinets. For a fun pop of color, they painted the lower cabinets a bright and cheery yellow. To update the hardware, they gave the handles a coat of oil-rubbed bronze.
A crisp white subway tile design replaced the wallpaper backsplash, colorful plants around the kitchen gave it more life.
They removed the dingy green carpet on the floors, replacing it with wood paneling to give the space a more modern and rustic feel.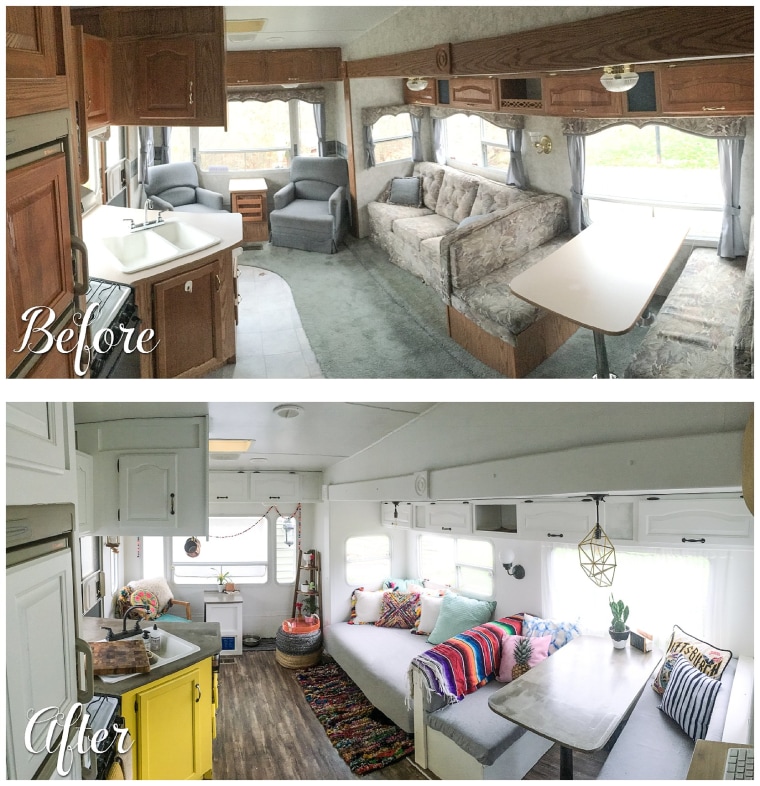 One of the updates that Mandy Holesh said she's most proud of is the new daybed/couch to replace the old moldy one that was there. "We found a $100 IKEA futon that fit perfectly in our space," Holesh told TODAY Home. "We bought that and covered it with a mattress pad and stapled fabric around it. Not only is it comfortable, but it's a great place for our guests to sleep."
The RV also has a master bedroom, which the couple transformed into a brighter version of itself thanks to white paint and crisp decor.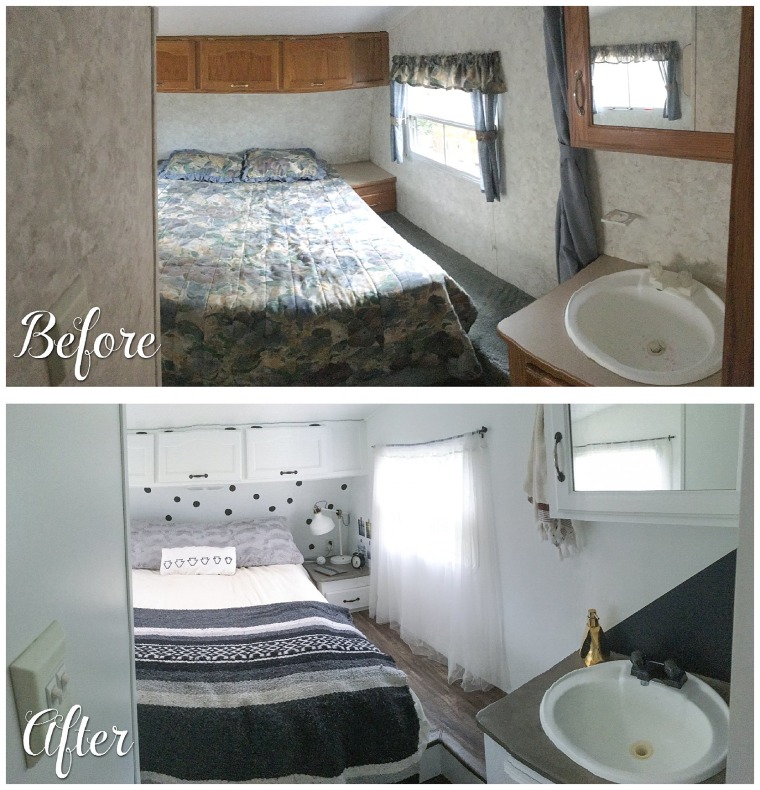 Holesh said the biggest challenge of living in the small space is the shower height. "We are both tall," she said. "Kev is 6-foot-2-inches and I am 5-foot-11-inches, and most campers are made for average height people."
Another tricky part was getting rid of 90 percent of her wardrobe, but she said it wasn't as hard as it sounds. "I think people make it seem like a bigger transition than it is," Holesh said. "We did get rid of a lot, but we still have a storage unit. I think the thought of this lifestyle is it has to be a huge leap to accomplish it, but it wasn't for us. We just decided to get rid of some stuff that didn't make us happy and haven't looked back."
Obsessed with tiny homes? We are, too. See inside some of our favorites from across the country.
See more of the gorgeous RV makeover at 188 SQFT.