In the wake of a deck collapse in Montana over the weekend that injured 32 people, TODAY national investigative correspondent Jeff Rossen has tips on how to secure your own deck to avoid a dangerous situation.
Pre-order Jeff Rossen's new book, "Rossen to the Rescue" here
Dozens of people were standing on a second-floor deck during a memorial service at Glacier Camp, a Presbyterian summer camp in Kalispell, when it suddenly collapsed on Saturday.
Thirty-two people, ranging in age from 3 to 90 years old, were taken to the hospital, including six who were airlifted, the Somers Rural Fire Department said.
More than 500 people are injured in deck collapses every year, and sometimes, they can be fatal. In 2015, a balcony collapse at a 21st birthday party in Berkeley, California, killed six people.
Rossen spoke with Scott Fischer, a structural engineer at Simpson Strong-Tie, about how you can tell if your deck is at risk. There are about 40 million decks in the U.S., half of which are not built to code, Simpson said.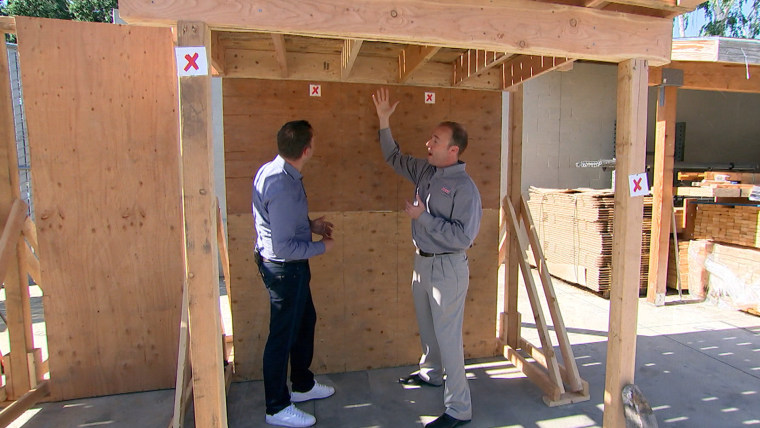 "If you see that the board that attaches your deck to your house is connected with only nails, that can make the deck very unsafe,'' Simpson said. "Nails are smooth and round, and they can pull away from the home."
Experts advise having your deck professionally inspected when it's 10 years old and then every three years after that.
In Jeff's new book, "Rossen To The Rescue," he provides key tips to securing your deck:
RED FLAG 1: NAILS. "The very first thing you want to look at is where your deck attaches to the house," advises Ricardo Arevalo, a safety engineer with Simpson Strong-Tie. If the only method of attachment is nails, this is a signal of cheap, shoddy workmanship that could later cause a massive (and deadly) problem. A nail is smooth and pulls out very easily. They're great for hanging pictures on your wall, but not so great as your deck's foundational linchpin. You need screws and bolts.
RED FLAG 2: ROTTING AND SPLINTERING WOOD. If the wood is rotted, it's far more likely to rip itself from the main house.
RED FLAG 3: A WOBBLY RAILING. Even if you tell your kids, "Don't lean against the railing!" it's human nature, and of course the kid will lean against the railing. So make sure it's sturdy.