Just when you thought we'd settled #TheDress debate — you know, the white and gold/blue and black dress that turned the internet upside down — another color conundrum has emerged.
Earlier this week, Reddit user agamiegamer posted a photo of a dresser and captioned it, "What Colour Do You See: Pink & White or Blue & Grey?" And so it began again.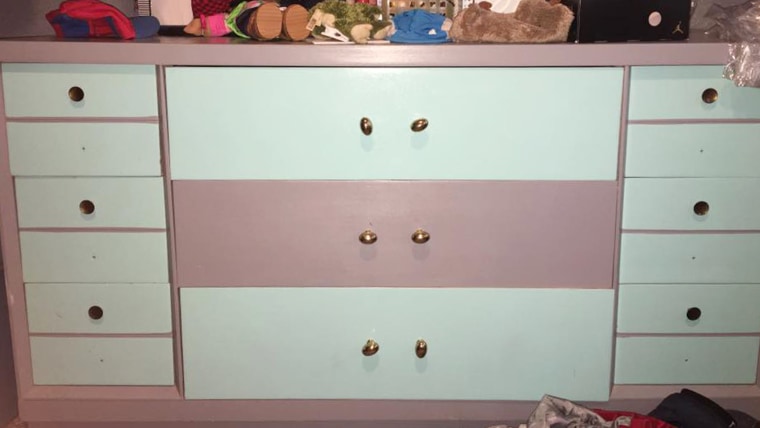 More than 60 commenters have weighed in on the social platform with a number of opinions. Some people see pink and white, some see blue and gray, and some see blue and pink or any number of other color combos.
"I see pink and white that somebody screwed up the white balance way too blue on," wrote one Redditor.
Another user tried using photo-editing magic to make sense of the mystery: "Changed the white balance to match the whiteboard on the dresser. Blue + Grey."
Yet another user cheekily weighed in while reviving #TheDress debate, saying, "It's black and gold!!!"
Luckily for the Reddit community, agamiegamer didn't leave it hanging in suspense for too long, posting a solution to the puzzle the next day: "ANSWER: it was painted grey and blue."
Still, some users weren't so sure, with one posting: "Are you sure though? Is this in your house? Do you have a picture with better lighting? I really find it hard to believe that it isn't pink and white. :P"
One individual seems to have had enough of color debates, writing, "Don't bring this back up. It's only lighting."
Roy Berns, who works at the Program of Color Science at the Rochester Institute of Technology, spoke with TODAY when #TheDress debate erupted in 2015. He said the culprit behind most of these color debates is simply overexposure.
"A lot of time in an overexposed image, colors can clip," Berns said. "It's kind of redefining what white is for you."
So, which side of the dresser debate are you on: Team Pink and White, or Team Blue and Gray?