You've seen them and probably pinned them: the endless stream of photos of perfectly organized, perfectly labeled and perfectly color-coordinated pantries on Pinterest. That kind of organization can be totally overwhelming, but a realistic approach will help you achieve results that work. Here's what works for me.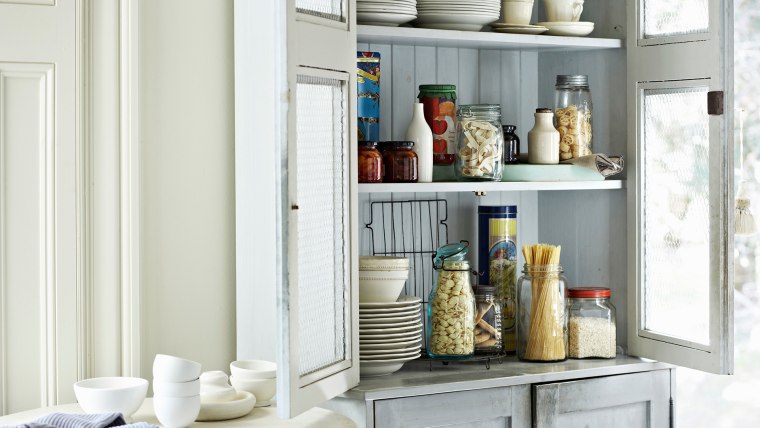 Create a fresh canvas. Take everything, and I mean everything, out of the pantry. Set up a portable table and boxes as temporary storage while you sweep and wipe down empty shelves.
Pre-sort your food into three categories. Food to throw away includes expired items and dry ingredients that are providing homes to moths and worms. Food to donate or give to friends includes anything that doesn't fit into your current diet- perhaps you've gone gluten-free, or something has been sitting there too long but is still edible. The last category is food to consolidate into one single container. Am I the only one who thinks we're out of brown sugar every time I shop and has three opened bags and two new ones crammed in my pantry?
Group the remaining food into general categories. You don't necessarily have to keep all canned food together. If you love to bake, dedicate a shelf to baking supplies. In my pantry, dried fruit, nuts, crackers and assorted snacks are stored together, as are miscellaneous condiments and sauces. Everyone's shelves will be organized differently based on their eating habits and lifestyle.
RELATED: The ideal pantry: Your guide to stocking and organizing your food
Focus on food you use the most. Group your go-to meal staples together and store them at eye level. You'll be less stressed and less likely to resort to take-out or fast food if you can gather these items quickly. Plus, a quick glance will let you know when it's time to grocery shop.
Stick with the tried and true. Adjusting shelves to accommodate taller containers and adding a few basic accessories such as a Lazy Susan, can-stacking organizer and under the shelf baskets are all excellent ways to make the most of limited pantry space. Also, use containers to group small items. Any container will do. Repurpose shoeboxes, cookie tins and Tupperware with missing lids.
It doesn't have to be pretty; it just has to work. The best containers I've found to store bulk beans, rice and flour are 5-gallon plastic buckets from our local donut shop. Instead of recycling these heavy-duty containers that once held apple filling, the owners sell them to us for a dollar.
RELATED: 23 ways to clean your home (and yourself) using lemons
Label as needed. Now I'm not completely anti-label; I'm just used to the fact that I am the only one on the planet who follows my own system. On the other hand, if your kids are budding writers or list makers, let them give you an organizing hand. Maybe this whole label thing can work if someone else is in charge. While they're at it, hand them a clipboard and let them take inventory.
Don't over do it. A little organization goes a long way. Once you accomplish these basic steps, checking in with your pantry organization every few months won't be as daunting. In the end, who cares how it looks as long as it helps streamline meal time and grocery shopping, right?
iVoice Christine Candelaria from Santa Cruz, California writes at her blog, The Aums, and you can follow her on twitter @TheAumsMama.
A version of this story originally appeared on iVillage.