If your home is baring some wounds from winter, Property Brothers Drew and Jonathan Scott are here to help.
From cleaning the deck to clearing the gutters, the home experts shared DIY ways to spruce up your home for spring — and they had some April Fools' Day fun pranking the anchors in the meantime.
Regrouting tile
One quick way to make your bathroom shine is to clean and, if necessary, regrout the tile.
"You don't have to redo all of the tiling," Jonathan said. All it takes is either picking up tools from your hardware store to scrub in between the tiles. If that isn't doing the trick, knock out any tiles surrounded by stained grout, remove mortar and any stained pieces, then reset the tile and it should look as good as new.
Stained siding
Take a look at your home's siding. If it's stained, don't break out the paint just yet. Instead, grab a scrub brush, get it wet and scrub down the siding to remove dirt and residue.
"It's just about cleaning up the outside of the house," Jonathan said. "Usually you can just clean up and repair."
Deck wear
Because decks wear quickly, you typically have to do an overhaul on a deck every two years. There are a few different options if you want to do this on your own. If you want a natural look, simply clean up the wood and reseal it with something that'd clear. If you want a bold appearance, you can stain the wood with any color you want. If you have a composite deck, you don't have to worry about staining. Just wash it!
Gutters
Cleaning gutters is often a dreaded chore, but going about it the right way can make the job much easier. The Property Brothers recommend the following process:
Begin cleaning the gutter near a downspout.
Remove the large debris (like leaves and twigs) with a trowel and dump it in a bucket.
To clean out smaller materials, flush the gutter lengths with a hose, starting at the end opposite the downspout.
If the gutter water doesn't drain, check the downspout as it may be clogged.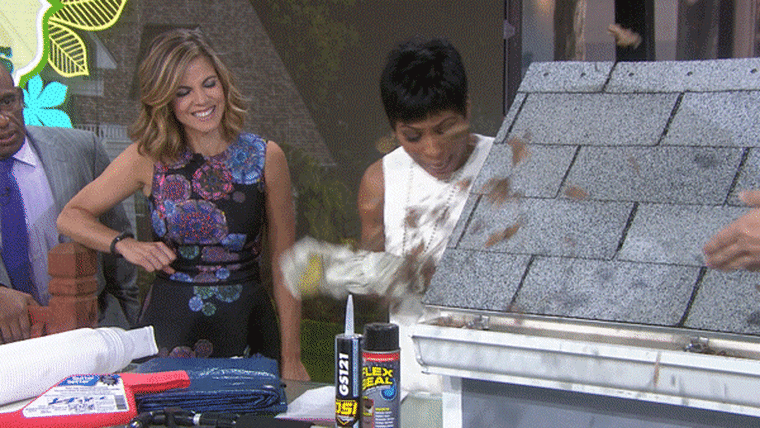 Tamron, Natalie, Al and Willie also learned a very valuable lesson about cleaning gutters after Drew and Jonathan played a little prank on the anchors: Watch out for snakes! Tamron reached into the gutter just in time for a fake snake to slide out.