Easter takes place on April 1 this year, but it's never too early to start planning for a bunny-ful holiday.
To help us out, we asked style expert Chassie Post to cook up six simple decorating ideas that are fun for the whole family. Best of all, everything you need is affordable and accessible. And yes, the (Easter) grass is always greener with these ideas.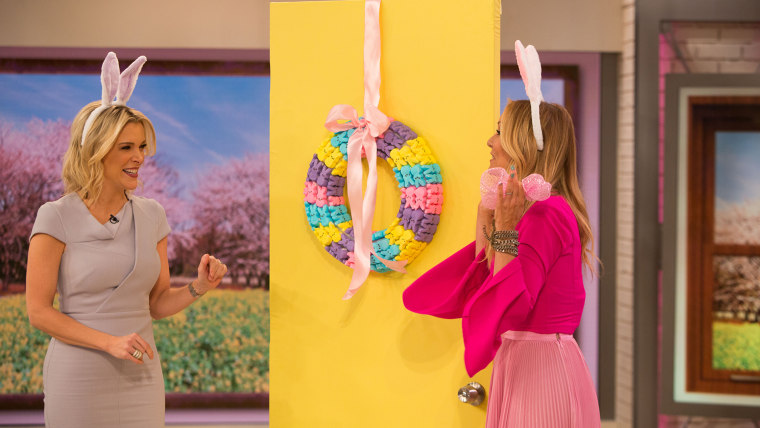 EASTER DOOR DECOR:
Peeps are an Easter staple. So how about using them to create a vibrant wreath for your front door?
We fell in love with this adorable wreath and you can find directions on how to make it at Triedandtrueblog.com
We started with about 100 bunny Peeps, which amounts to two packages of each color. Then, we used toothpicks and Elmer's glue to attach them to the styrofoam wreath. Try and let the Peeps go stale for a day by opening the package, and that makes them much easier to work with.
FUNNY BUNNY WREATH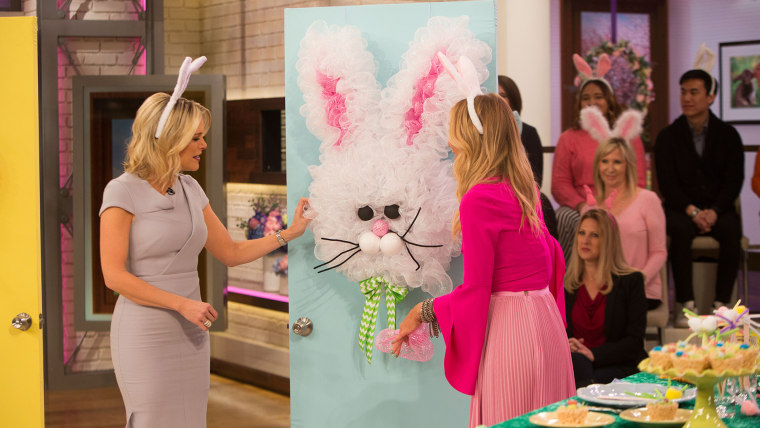 This creature is made from a heavier tulle/mesh. We just made little bows out of twist ties (like the ones you find on trash bags) and then twisted the bows onto a metal frame.
We then made ear shapes out of coat hangers and attached our bows the same way.
CHICK EASTER EGGS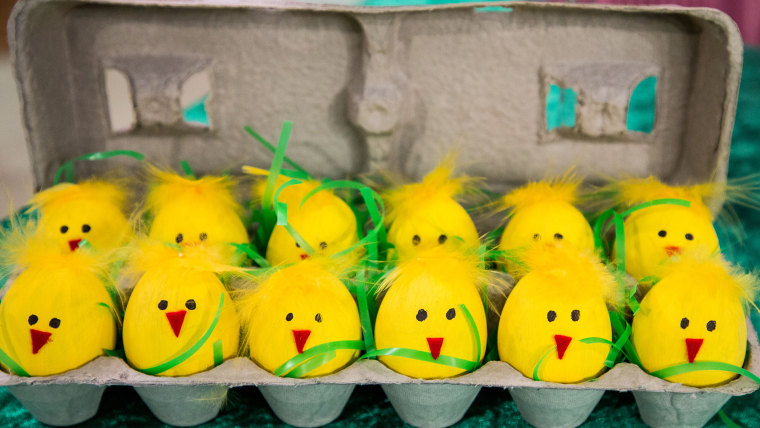 These are so easy to make, and so fun for the whole family.
We started with hard-boiled eggs and painted them with yellow acrylic paint. You can dye them as well but the paint is brighter and a little more opaque.
We then used a Sharpie to dot the eyes and found some red felt that has adhesive on the back at the craft store. Then we took some yellow feathers and cut them to shorter lengths and glued on their hair with some Elmers!
Save the egg carton, add some Easter grass and voila!
And for the full instructions you can check out Itallstartedwithpaint.com
GOLDFISH & CHEETO CARROTS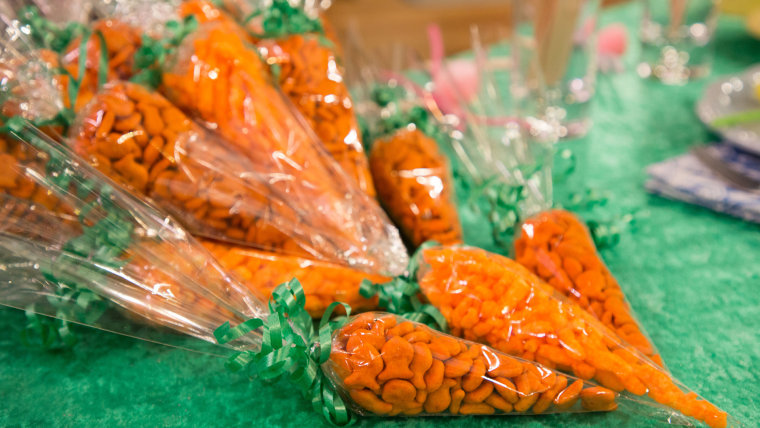 These are carrots made out of Goldfish and Cheetos.
We used clear cone-shaped craft bags that we found on Amazon for about $5 for a pack of 100! We filled them with orange snacks and tied them wth ribbon. These are perfect to put in the Easter basket, use as a centerpiece for the kids' table or even hide along with the eggs!
BUNNY WHISKERS/PLACE CARDS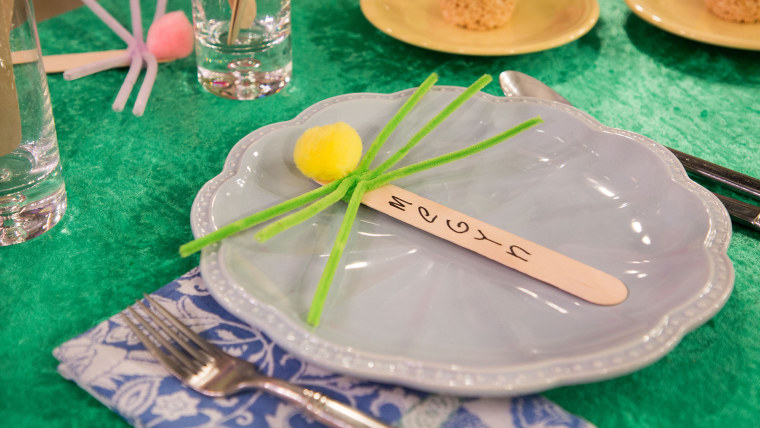 Here we made bunny whiskers with jumbo-sized popsicle sticks, pompoms and pipe cleaners.
These are perfect to use as place cards for Easter lunch. Just write the name on the popsicle stick and you and your gang can have fun playing Easter bunny and taking picks with a bunny nose and whiskers.
We just wrapped three of the pipe cleaners around the popsicle stick and glued a pompom at the top for the nose. And you can find all the supplies for a few dollars.
EASTER EGG GARLAND
This is made with our extra/leftover plastic Easter eggs. Luckily, most plastic eggs these days come with holes in them, so we just strung some together with fishing wire and added some ribbons at the end.
You can hang these on a door, a table or even on a mantel.
RICE KRISPIE NESTS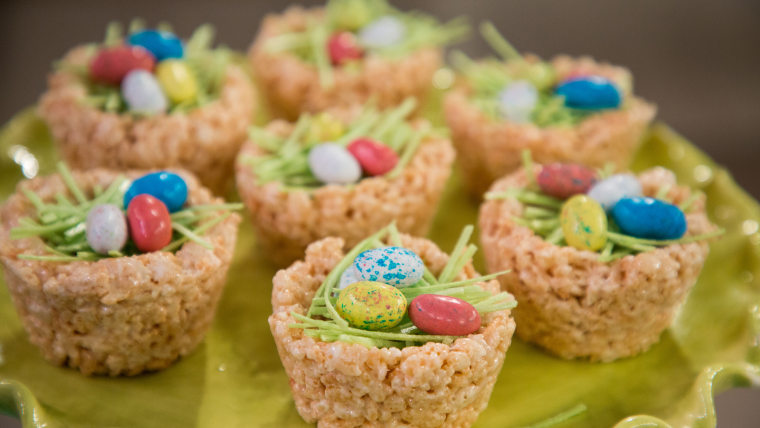 For a delicious and delightful new take on the Rice Krispie treats we love, just try making these adorable nests.
You create a nest shape with your Rice Krispie and marshmallow mixture and bake in a muffin pan. Then add edible Easter grass (who knew!) and robin's egg candies.
They're almost too cute to eat. Almost.